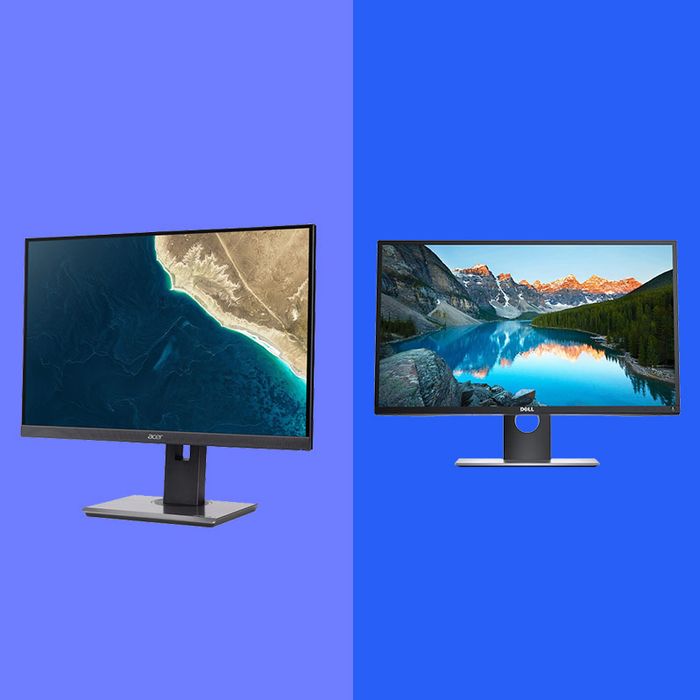 Photo-Illustration: retailer
You don't need to know anything about tech to understand the benefits of a dedicated monitor when your primary computer is a laptop. It can help you visually divide your work so your screen doesn't turn into a cluttered mess of windows, tabs, and videos that'll give you flashbacks to Myspace and the early aughts. (It's also nice if you want to keep something like your email, Slack, or Spotify always visible.)
One thing that should reassure you when you're looking for a new monitor is that you don't necessarily need top-of-the-line visuals. Sam Byford, an editor at the Verge, says most people can ignore refresh rates, a number that reflects how many times in a second the image on the screen is reloaded (or refreshed). "That isn't really relevant for someone just wanting something basic for working at home," he says. If you're editing photos or videos or just want the best colors you can get, Byford recommends finding a monitor with an IPS, or in-plane-switching, panel, which will give you a clearer image and improve response time. If sound isn't that important to you, you can often save money by finding a monitor without speakers. The ones in your laptop are plenty when it comes to alert sounds and the occasional video — or you can always connect to headphones or dedicated speakers.
For most of us, a dedicated monitor is simply about expanding visual real estate. You want something practical and reasonably priced that will give you the freedom to chuck windows over to another screen when you don't need them, and then drag them back over when you do. The first thing to look for is compatibility with your computer. Alvin Lee, IT administrator lead at New York Magazine (and the person responsible for picking all of the tech equipment we use at the Strategist), says "connectivity and compatibility" were among his main criteria in buying monitors for our office. He also points out that if you find a monitor that you like but it doesn't have adjustable height, you can still get it. Just grab a couple of books and prop it up yourself.
Below are the best monitors for any workstation or gaming setup, as recommended by Byford, Lee, and 11 other tech experts.
Best overall monitor
Lee chose this monitor for the New York offices because he needed something that would easily connect to all of the different machines people use, whether they're MacBooks, iMacs, or Windows laptops. This 21.5-inch size should be more than enough for most WFH setups, Byford says, especially if you're looking to save money and stick with an HD monitor. "Resolution is a function of size," he says, which means a bigger monitor with the same resolution is using the same number of pixels to fill a larger amount of space, leaving you with a blocky, less-crisp image. As an added bonus, this monitor tilts, swivels, and rotates to help you find the perfect placement.
Best 4K monitor
Two of our experts mentioned this monitor as the best 4K option, and Steven Acevedo, a buyer at Adorama, says, "We recommend LG monitors because they're a go-to brand for photographers, filmmakers, gamers, and any other type of content creator due to their high resolution and vivid color displays." Tyler Stalman, a photographer and tech podcaster, loves the LG UltraFine series. "They have good color accuracy out of the box, great pixel density and sharpness, and are the best match for pairing with a Mac," he says. Byford likes this monitor for its simplicity. "It's a little undersized and the design is boring, but the panel quality is excellent and it works more seamlessly with macOS than any other monitor," he says. And since it works with USB-C, it also charges your laptop as you use it, giving you one less cord to keep behind your desk.
Best 5K monitor
"If you're into drawing, graphic/game design, or trading, this is the choice for you," says Alan Zilberman of Laptop MD. This 5K screen has a 5120 x 2880 resolution compared to 4K's 3840 x 2160. That gives you more detailed and vibrant images, making it useful for serious visual creatives dealing with layouts and images. Andy To, a video director and creative director with over 168,000 followers on Youtube and Instagram, bought this monitor because he considers it to be future proof. "A lot of my creative work gets done onscreen — which is true for almost all of us nowadays. So having that 27 inches of real estate is definitely very beneficial." The LG 5K also has an IPS panel, USB-C compatibility, and a 60Hz refresh rate, plus speakers and a built-in camera. To says one of the deciding factors for buying the LG 5K was compatibly with the Mac. There's no need for extra software or fussy calibrations, he says. "Just plug and play."
Best monitor that also works as a television
Carl Pouty, the technologist at ABT, recommends the Samsung 27-inch M5 computer monitor. "It provides a bright picture with beautiful colors, built-in speakers, and remote control. And that remote is an indicator of the feature that truly separates it from other monitors: its smart operating system," he says. It's the same operating system you will find in modern Samsung televisions with built-in apps for Netflix, Hulu, and Prime Video. Plus, Pouty says, "you can watch content without needing to turn on your computer." There are some minor drawbacks, including the lack of a built-in tuner for over-the-air broadcasts and a 60Hz refresh rate that's fine for regular TV viewing but won't satisfy a serious gamer. But if you're looking to save space and have multiple screens built into one, you won't find a better option at this price.
Best midrange monitor
Zilberman also recommends this monitor, which has USB-C charging capability, along with an HDMI connection. The P2720DC strikes a good balance between price and performance, he says. You get 1440p resolution, also called Quad HD. That's halfway between HD and 4K, so the larger screen size won't mean a loss in clarity.
Best ergonomic monitor
The 27-inch display also has Quad HD resolution. One of its biggest selling points is its stand, which you can extend, swivel, tilt and even pivot for a taller portrait view. (Maybe you're a coder or just someone who likes to look at pictures of their very tall friends.) "The built-in ergonomics of the stand allow an incredible amount of flexibility and monitor adjustment. It's an all-star monitor that provides optimal workflow," Acevedo says. And it's "perfect for day-to-day working conditions or working from home."
Best monitors for spreadsheets
A majority of monitors are 16:9, the same widescreen ratio as most TVs. But 16:10 monitors like this one are a little more square, which some users find to be a little less cramped. "The 16:10 aspect ratio gives you that extra height that you sometimes need when looking at documents, spreadsheets or websites," says Miguel Melendez, a PC expert at B&H Photo Video. He's a fan of the B247W as a budget pick. It has 1080p HD resolution and uses IPS technology for quick response times and a clearer image from different viewing angles. It also tilts and swivels.
Editor's note: The Acer B247W is temporarily out of stock but should be available in January.
Melendez also recommends the 16:10 Dell U2412M. Along with the tilt and swivel capabilities of the Acer, it can raise as much as 4.5 inches.
Best gaming monitor
"I've been using this as my main monitor for about two years now," says Alexander "Alexotos" Medeot, a mechanical-keyboard builder and Twitch streamer with close to 12,000 followers. "I use the monitor for gaming while I'm off-stream. The best thing about this display for my streams is that it's 4K." Unlike lower-resolution screens, 4K can handle the extra visual real estate without feeling choppy. The most common refresh rate is 60Hz, and it's fine for most people, but if you're into gaming or video editing, you'll want something that's at leasts 120Hz. The Acer Predator is 144Hz. "The overall effect is that the system feels a lot more responsive," says Miguel Melendez, a PC expert at B&H Photo Video. Streamers often juggle between multiple videos, programs and chats so having extra room on a screen that doesn't feel sluggish is crucial.
"As a gamer, this is the monitor I want on my desk," says Steven Acevedo, gaming merchant at Adorama. He says the monitor elevated his gaming experience with "a new level of smoothness that cannot be matched. It is the pinnacle of gaming monitors." This LG style has a vibrant curved display and can reach up to 160hz, which means you get an even more responsive feeling while playing games. A responsive refresh rate is an important feature for gaming monitors—this allows it to keep up with the game's fast-paced movements and animations.
Keith McCord, category-marketing manager at Adorama, says the BenQ monitor has "excellent quality at a price point that won't break the bank." McCord also says the built-in speakers' crisp sound adds a level of immersion to the gaming experience. "With their reputation for building displays with the highest-quality graphics, BenQ has produced an excellent lineup of gaming monitors," he says. "As someone who has worked in the creative field, I found the color, sharpness, and detail in this monitor to be revolutionary."
Best monitor for content creators
Whether you're a Twitch streamer or just a console gamer looking for something that can do 4K at 120Hz, you'll be very happy with this monitor, Melendez says. The color accuracy is incredible, and the monitor can reach up to 144Hz at 4K, which is perfect for PC-gaming content creators who have to spend a significant amount of time making sure their streams or video recordings are color accurate to deliver a more seamless experience. Melendez also points out that this monitor has flicker-free and blue-light-reduction technology that should help reduce eye strain and fatigue.
The Alienware AW3420DW is perfect for multitasking with its ultra-wide curved display. Tony O, a technology-video creator who goes by TonyTechBytes, says he loves this monitor to death. He often uses its abundance of screen space to juggle multiple tabs and windows. "I can watch YouTube videos while answering emails or just use all the available screen real estate for my video-editing timeline. Speaking of video editing, the IPS panel allows great color accuracy, so I don't have to worry about oversaturated and contrasty content," he says. The monitor also has a 120-hertz refresh rate which Tony says is great for a smoother gameplay experience. "The combination of a large display, superb color accuracy, and a fast refresh rate make this one of the best ultra-wide monitor options out there," Tony says.
The Strategist is designed to surface the most useful, expert recommendations for things to buy across the vast e-commerce landscape. Some of our latest conquests include the best acne treatments, rolling luggage, pillows for side sleepers, natural anxiety remedies, and bath towels. We update links when possible, but note that deals can expire and all prices are subject to change.