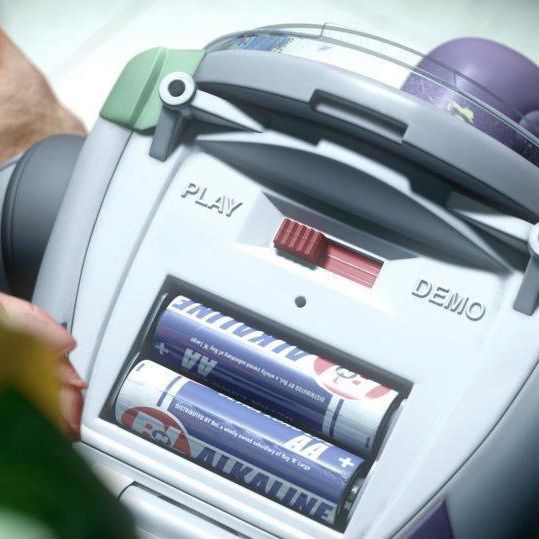 Stay powered up, like Buzz.
Photo: Pixar
Here at the Strategist, we like to think of ourselves as crazy (in the good way) about the stuff we buy, but as much as we'd like to, we can't try everything. Which is why we have People's Choice, in which we find the best-reviewed products and single out the most convincing ones. (You can learn more about our rating system and how we pick each item here.)
And while we've written about lots of chargers before — including the best wireless phone charger, one ten-foot phone charger, and the best portable chargers — here, we've rounded up the best rechargeable batteries, as praised by the most enthusiastic reviewers on Amazon.
Best-rated rechargeable batteries
Nearly 1,000 five-star reviewers call these rechargeable batteries "long-lasting." One reviewer uses them in "automatic candles, computer mice, gaming controllers, TV controllers, just about everything I have batteries in," and confirms that they last a long time. He says, "The only reason I got more is because I was running out." Another reviewer says he "generally gets about three to five years out of a set" even with "heavy use and frequent re-charging." One photographer uses these for "off-camera hot shoe flashes," writing, "The cost upfront might scare some people away but trust me, you will save money tenfold in the long run. No more guessing whether my alkalines have enough juice to give me the power and recycle time I need. And no more running to the store pre-shoot just to make a battery run."
Best-rated (less expensive) rechargeable batteries
Dozens of reviewers use these rechargeable batteries to power game controllers. One reviewer uses them for their Xbox One and says he got four years out of his last set. "They last for many hours each charge," he adds. Another bought his "a million years ago," writing, "I'm still using them. I use one in my wireless mouse and have to charge it maybe once per year, if that." A third reviewer calls these the "only rechargeable batteries I'll use" because his last set lasted for over five years. Many more customers agree they work well, but they're mostly just thrilled that they're eco-friendly. "Having rechargeable batteries is great. It is better for the environment and keeps you from having to go to the store for more," one reviewer writes.
And now for some micro-picks for every type of rechargeable battery you might be looking for.
Best pre-charged rechargeable batteries
A perk of these rechargeable batteries is that they come pre-charged, so upon arrival, they're immediately ready for use. And that pre-charge lasts. One reviewer says that these batteries "held up for over 10 hours before requiring to be swapped and recharged." Another who uses these batteries for his "controllers, mice, and Swiffer" loves that "you can instantly put them in and go." One reviewer prefers to charge them before the first use, just to be safe, but says "bringing them to a full charge is quick." He also points out, "The literature says these can be recharged up to 1,000 times, so this means they are very economical and should last a long time." And one more customer uses these every single day "for everything, from playing Wii games, to using Netflix, Hulu, and other apps," writing, "On average, these batteries seem to last about three to four weeks on a single charge."
Best rechargeable batteries for game controllers
"Once fully charged, these things kick butt and last a long time," says one reviewer of these rechargeable batteries. Many more gamers recommend these because they seldom die in the middle of a game and can last for weeks at a time. One reviewer uses these "primarily in Xbox One controllers," and says, "I have maybe 16 so far but they last so long, I only keep buying more because I keep finding ways to use them." Another uses his Xbox "on a daily basis for at least two hours" and says that one pair lasts "for at least three to four weeks with one charge." Another customer says this even saved them some family drama, writing, "Now my kids won't take the batteries out of my camera for the Wii controls."
Best rechargeable batteries for solar lights
"We have a redneck backyard motif, with strings of solar lights everywhere, spot lights for the little statues and the palm tree, and the cabana all lit up. These make an immediate improvement in the brightness of the lights," explains one reviewer of these AmazonBasics rechargeable batteries. And dozens more use these for their solar lights, as well. "We were worried we were going to have to replace all the lights, but luckily these little batteries saved the day," one reviewer with solar lights on their deck writes. Another reviewer says, "I have these in my wireless outdoor thermometer and it's been down to 30 below for most of January and they still have a charge in them." But even reviewers who don't like the great outdoors like these batteries and appreciate their durability, including one who writes, "Most of them I have now are going on 4 years old and are constantly being recharged and used on heavy demand items like cameras, RC vehicles, game controllers, etc."
Best rechargeable battery and charger set
These batteries come with a matching charger, a feature that many first-time battery buyers appreciate. One customer, who says he explicitly prefers battery-powered items to those that are charged directly, including a Walkman, purchased this specific set because the battery-charger combo is easier to use than other brands he's tried. "The Rayo's are slightly lighter and slide in and out of the charger easier without peeling the metal covers back," he adds. And one gamer is "in love with these batteries," writing, "On average I can get a weeks worth of gameplay (I usually play three to four hours per day, if not more) out of the batteries." He adds if the batteries die, "I put the dead batteries back on the charger, and they are charged and ready to go within a few hours." Another gamer who's been using this charger set for four years says, "The spring-loaded contacts on my charger are giving way and the labels on the batteries are peeling back but guess what … They still charge in six hours and give me four hours of play every time without fail."
Best long-lasting rechargeable batteries