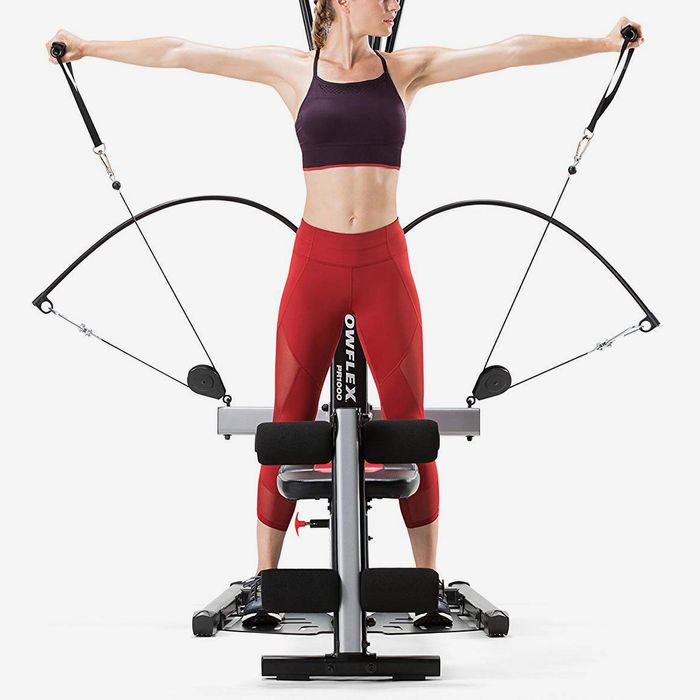 Photo: Courtesy of the retailer
Here at the Strategist, we like to think of ourselves as crazy (in the good way) about the stuff we buy, but as much as we'd like to, we can't try everything. Which is why we have People's Choice, in which we find the best-reviewed products and single out the most convincing ones. (You can learn more about our rating system and how we pick each item here.)
And while we've written about lots of workout equipment — including the best kettlebells, the best adjustable dumbbells, and yogi-approved yoga mats  — here, we've rounded up the best home gyms, as praised by the most enthusiastic reviewers on Amazon. 
Best-rated (least expensive) home gym
"Sure, it's a complete knock-off of the Total Gym," admits one reviewer, summarizing a common remark about this home gym, "but it will cost you a couple of hundred dollars less, it does the same thing, and it even has the added advantage of resistance bands." One user, who "always believe you get what you pay for," was pleasantly surprised to find, "In this particular case you get way more than you pay for." They describe this home gym as, "well made. Sturdy. The quality of the padding is the same as you'd find in a machine twice the cost. The cables and pulleys run smooth and relatively noiselessly." However, one reviewer writes, "Ultimately the mark of a good exercise machine is the quality of the workout that you get," and according to one now-fit mom, it fits that bill, too. "This might sound like a vain review, but I went to the beach for an annual family picnic," she explains. "Last year, I was covered up and hoping to look as great as some of the other moms in their late 30s. Ha! This year, after working out using my UBW, I am pleased to announce all the other moms' mouths were on the floor!"
And now for some micro-picks for every type of home gym you might be looking for.
Best power cage
"Sturdy" is the word reviewers use to describe this power cage. One 6-foot-4-inch, 210-pound user calls it, "Solid, Sturdy, and well built," adding, "It doesn't budge when I do pull ups." Another reviewer describes this power cage as "rock steady," and adds, "I lift fairly heavy in this cage. 315-345 bench press and 335-365 squats. Not to mention, I also do pull-ups/chin-ups on this power rack also. To put that in more perspective, I weight 295 pounds." Another even notes, "With my bar on it with a 10-pound plate on each side, I'm able to do well over 100 pounds of resistance bands pulling away from the pull up bar, and it doesn't move at all." They add, "Doing ring work, TRX work, or [resistance] bands directly underneath the pull-up bar works as you would expect, and nothing flexes, shakes, or moves. It's far exceeded my expectations for the cost." While installation times and difficulty of installation varied among reviewers, the consensus is that most appreciated the included installation tools. One reviewer points out, "All the same fasteners so no messing around with the 'fastener A with lock nut B' malarkey."
Best home gym for bad joints


One customer, who has "been an avid workout dude for 36 years" says, "This thing is a tank." They continue, "High quality and way more bang for your buck than the [Bowflex Xtreme 2 SE.] Blows away my Power Pro XTLU by a long shot. Bowflex advertises 60+ exercises when really there is over 80…It is so nice to have a great workout with all the safety so I can reach my goals without injury." Not only do users feel safe using this machine, but dozens also note how easy it is on their joints. "The resistance training is much easier on the joints and my body is taking a very nice shape without bulky muscles," one reviewer writes. Another who has "collected a few injuries along the way" during their 20-year weightlifting journey, calls this machine "a dream come true," adding, "I can get a great workout in that's really easy on my joints." Overall, reviewers love that they can do this workout from home, saving them time, money, and as one user puts it, they don't have to "listen to teen jocks discussing their weekend binges or old people discussing their Medicare plans (true stories)."
Best Olympic weight bench
Reviewers are convinced that this bench completely replaces the need for a gym membership. "Screw going to the gym, this gives me the workout I need," one reviewer writes, adding, "I was initially worried about how sturdy it would be on bench and squats but it barely moves when I rack the weight." Another asks, "Why pay for a gym membership when you can get one of these bad boys?" One even thinks, "This bench almost satisfies a commercial type bench." The quality of the bench might have something to do with its Olympic size, which many reviewers call out as a positive. "The frame is very sturdy and according to the book, max weight is 600 pounds including the user with weights," one reviewer writes, noting, "I use a 300-pound Olympic set so it's perfect." Another says they "Put a 7-foot Olympic bar on and I must say this thing is sweet," however they do warn it is "a little bigger than I thought it would be so make sure you have room."
Best weight bench with separate rack
"I like the fact that it is two separate pieces, the bench seat and uprights," one reviewer writes, highlighting one of the most popular features of this weight bench. "I can do bench, incline, squats, free weights, military press (with some moving around), etc. I'm not locked into a certain position, I can move things around to my liking." Another says, "With this bench, I find it easy now to do flyes without my weights clipping the rack arms or without having to hang my rear off the end." The preacher curler is also a selling point for users. One user who calls this feature a "big deal" writes, "I feel I can get better results by isolating my biceps with the preacher." Another customer, who can attest to this systems sturdiness, writes, "I'm 6'4", 280-pound big guy and I bench press 350+ weekly and it holds steady and strong. Also, I love that I can pull the bench away in seconds and use the squat rack with about 500 pounds with no issues." One reviewer does warn, "You have to use a 7-foot Olympic bar with this, 6 feet won't do."
Best versatile weight bench
"I can't believe how many different things this set can do," one reviewer writes, explaining, "It's very intelligently designed, because the squat rack is detachable. This allows you to use it for bench press, while also separating it for squats/dead lifts." Lots of other customers are also impressed by all the different ways they can use this bench. "At the time I purchased this product, there was no other product offering anywhere near the amount of features this weight bench has for the price," one satisfied reviewer notes, adding that what sold them was, "Having the bar rest independent from the bench to do squats." They continue, "Then seeing the preacher curl rest and comparing pricing, it was a no [brainer] for me to [choose] this weight bench." Dozens agree that this bench is a great value. Even one, who admits the "Instructions was crazy," still says, "Get this it's worth every penny"
Best home gym for toning
"As others have stated, this isn't something that will get you looking like a bodybuilder," one reviewer notes, but they continue, "If you're like me who is just looking for something to build strength and lose weight, then this is perfect." Many others agree with this user and say this machine is great for toning, like one who writes, "Easy to set up, this is a great machine for toning and strengthening muscle groups … I bought this to help my lower back and it is great for this." Others are impressed by the built-in rowing feature, with one calling it "a great system — especially in that it provides an aerobic rowing option — yup…Rowing! This thing is actually fun to use." As one reviewer concludes that this machine is made with, "Extremely high quality materials, plenty of exercise options including aerobic rowing, high quality [leather] seats, easy to use power rods, foldable front seat slider when not in use, easy assembling……and so many other options in a very attractive price."