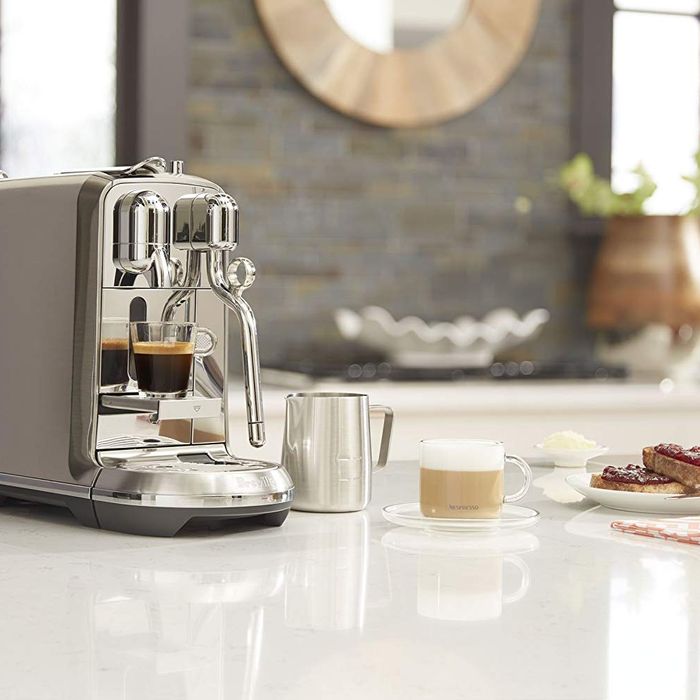 Because most of us are still working from home, grabbing a latte on the way to the office seems like a very distant memory. But you don't have to continue to settle for crummy coffee. To help you achieve barista-level drinks, we found a bunch of different espresso machines on Amazon, as praised by the most enthusiastic (and caffeinated) reviewers. We focused on electric espresso machines for our "best-rated" and "best-rated (less expensive)" picks, but we've also included a few well-rated stovetop espresso makers, as well as some Nespresso machines, farther down. And if you're still looking for something to take your coffee drinks to the next level, we rounded up the best milk frothers and the best drip coffee makers for you, too.
Related Articles: Best Gifts for Coffee Lovers | Best Coffee Subscriptions
Best-rated espresso maker
Experts have told us that Breville's line of espresso machines are the best for at-home, cafe-level coffee-making — and thousands of Amazon reviewers agree. New York City chef Missy Robbins calls the Barista Pro "the perfect balance of automation and manual abilities" for beginners like herself, but this less-expensive model has nearly all of the same bells and whistles — and over 9,000 five-star reviews. "If you're looking for a serious espresso machine with all included, this one is it," says one reviewer, who, like many, is impressed with all the features of this machine. Many reviews point out how convenient the built-in grinder and steamer are, as is the ability to customize each function. "I find it grinds beans consistently well and produces quality shots every time," writes one reviewer, adding, "I like that I can adjust not only the quantity of ground coffee but shot temperature and quantity as well." According to another reviewer, owning a machine like this will make more than your morning: "I decided I don't want another thing," they explain, adding that "[owning] an espresso machine of this caliber makes one's life complete." Actually making the life-completing espresso, however, requires a bit of trial and error, according to the dozens of reviews that mention the slight learning curve of such a high-tech machine. "When I first got the machine, I was struggling with a consistent cup of espresso," one such reviewer shares. "It seems difficult but all in all, it took me seven shots to get it down to a science."
Best-rated (less-expensive) espresso machine
With over 900 five-star reviews, this most-affordable espresso machine is easy to use but doesn't sacrifice flavor. "This little unassuming machine has been in my house for three days, and I've already used it about ten times … I'm not sure which I enjoy more, the cafe or making it," starts one reviewer. "I love that it's quick (under four minutes) and being able to steam the milk for a cappuccino is a nice, nice feature." Another describes it as a "great no-nonsense espresso maker," especially after they tried several different machines that either leaked, died, or both. "This one is like a rock, compact, no frills, no leaks," they write. "Worth every penny so far." And while it's not the most sophisticated machine on the market (that would be the Breville model above), it does get the job done. As one puts it: "It's a $29 maker, not a $500 maker, but it still does a good job. It is easy to use and clean, and the taste is great."
Best espresso machine with automatic frother
While this Mr. Coffee espresso machine is manual — meaning you'll still need to measure, grind, and tamp your beans — the steamer wand is automatic, so it'll turn off once your milk reaches optimum temperature and froth, depending on your preferred setting. And while some reviewers had their doubts it would be effective, one customer writes, "WOW. Now, that's a cup of java. I'm impressed." Another even thinks the built-in frother saves him time because he doesn't need to do anything, really. "I love that I don't have to sit there to use the frother," he writes, before adding that this maker produces a drink that's "pretty damn close" to what he'd get from Starbucks. You do have to clean the milk container, otherwise "it will start to smell," but luckily, you can throw it in the dishwasher and it's good to go.
Best double espresso machine
This machine from De'Longhi can brew two shots of espresso at once, making it a more efficient option for those who prefer the extra caffeine. "This machine has consistently made perfect coffee for me the last four months, is a cinch to clean, and is incredibly fast," one five-star reviewer writes. In fact, it's the fastest espresso-making method they've tried yet: "I just used a stopwatch and timed how long it took to make two double shots from the moment I turned the machine on, including grinding the beans in my Breville grinder. It took 90 seconds for the green 'ready' light to come on, and within 90 more seconds, I made two double shots. Espresso in about three minutes — not bad!" And even though it's a little more involved than the pod espresso machines below — because you'll still need to grind and tamp your beans — it's intuitive enough for beginners to use. "This is the first espresso machine we have owned," writes one such reviewer, and it "works great for our needs and heats up fast." The espresso has a "nice crema on top," and overall, it's "better than I expected given the range of prices for some espresso machines."
Best double espresso machine with smart-steam wand
Calphalon makes some of our favorite well-reviewed cookware, so it's no surprise that reviewers were also fans of its stainless-steel espresso machine. Unlike other machines on this list, the steamer wand on this model features so-called Temp iQ technology, which automatically adjusts while steaming to create a richer, creamier foam. One reviewer who upgraded to this machine from a simpler De'Longhi model "was hoping to up my game on the steaming and the Temp iQ is just the ticket," they write. "I can stretch it a little or a lot and still get a good homogeneous foam. No more over or under or burned milk. Wonderful!" And another reviewer found that their lattes rivaled those that they'd had while in Europe. "I've been spoiled ever since having espresso overseas and I've been eager to buy my own machine for years," they write. "Definitely worth the price, had beautiful crema and my milk turned out into silky perfection."
Best (less-expensive) double espresso machine
For less than $150, this electric double espresso maker is the second-most affordable on this list — without compromising quality. "I have now had this espresso maker for a month. I can say it makes the best espresso and is the best steamer of any maker I've ever had," one espresso veteran writes. "Even inexpensive espresso-grind coffee tastes good when prepared by this machine." And another reviewer, who was born and raised in Italy, finds that it's just as good as anything they've tried overseas. "I've had this machine for six months now, using it every day. It's awesome — like the espresso cup you'd get in Italy, 'al bar,'" they write. "It gives a thick layer of crema on top of each cup."
Best single-serve-pod espresso machine