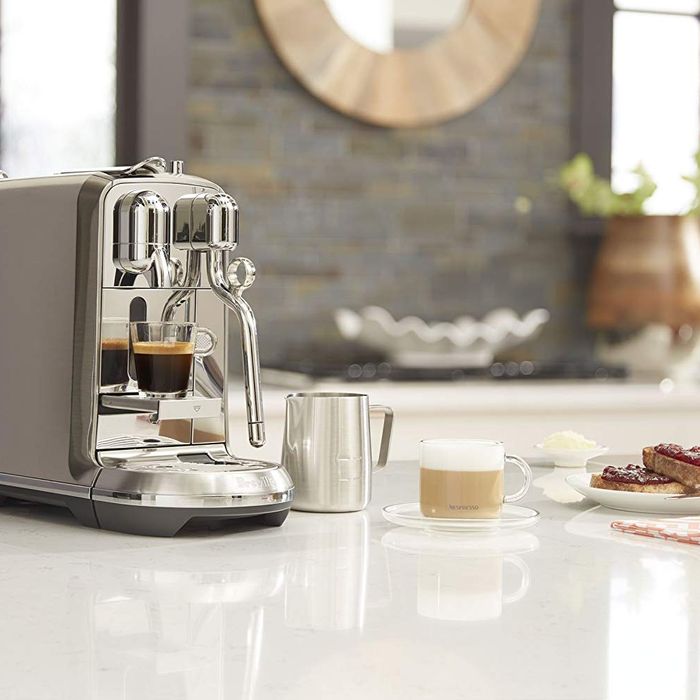 Here at the Strategist, we like to think of ourselves as crazy (in the good way) about the stuff we buy, but as much as we'd like to, we can't try everything. Which is why we have People's Choice in which we find the best-reviewed products and single out the most convincing ones. (You can learn more about our rating system and how we pick each item here.)
And while we've written about lots of ways to get the perfect cup of coffee at home — including the best milk frothers and the best drip coffee makers — here we've rounded up the best espresso machines, as praised by the most enthusiastic reviewers on Amazon. We focused on electric espresso machines for our best-rated and best-rated (less expensive) picks, but we've included a few well-rated stove-top espresso makers, as well as some Nespresso machines, further down.
Best-rated espresso maker
"If you're looking for a serious espresso machine with all included, this one is it," says one reviewer, who, like many, is impressed with all the features of this machine. Many reviews point out how convenient the built-in grinder and steamer are, as is the ability to customize each function. "I find it grinds beans consistently well and produces quality shots every time," one happy shopper writes. "I like that I can adjust not only the quantity of ground coffee but shot temperature and quantity as well." According to another, owning a machine like this will make not only your morning but your life. "I decided I don't want another thing," they explain, adding that "[owning] an espresso machine of this caliber makes one's life complete." Actually making the life-completing espresso, however, requires a bit of trial and error, according to the dozens of reviews that mention the learning curve of such a high-tech machine. One user says that, even as an "extremely domestically challenged" person, they are "having issues getting a cappuccino," but another says that " tinkering" with the "amount of ground coffee and grind settings" is key.
Best-rated (less expensive) espresso maker
Not only do reviewers appreciate the initial price of this machine, but they also appreciate the continued savings that come with making your espresso at home. "This has been the single best product I've ever bought in terms of ROI," one writes. "I used to buy a latte at Starbucks every morning, and since buying this it's paid for itself at least 50x over. The espresso it makes doesn't taste any different to me than any coffee shop I've ever bought it from." Another former barista, who was initially skeptical about "a machine that wasn't top of the line," now says, "I am not only really happy, but super impressed with it." Not only is it good for coffee but one reviewer says "it has no problem steaming and frothing milk" either. Another adds that "unlike other machines the milk frother does not get clogged, just wipe it clean." One user likes it so much they say, "This is one of those machines I almost want to buy a spare in case they quit making them." (Though fair warning: It's seemingly so popular that there's a monthlong wait on Amazon to buy one right now.)
Best espresso machine with grinder
Even though one user admits, "This is by far the most expensive coffee/espresso/cappuccino machine I have bought," they "don't regret it for a single moment." Like many, this person believes the ease of this machine makes it worth the price. "The machine is super-easy to operate — no grinding, filling espresso cup or filter, operating messy frothing nozzles, etc. All I need to do is pouring coffee beans, selecting flavors/strengths, filling water tank, and pushing the desired buttons." The built-in grinder is mentioned in dozens of reviews as a standout. "I worked in so many coffee shops over the years and always wanted a nice machine at home," one reviewer writes. "The problem was I didn't want to spend $400 on a good burr grinder. This amazing machine comes with one inside the machine!" Another says the "best part is it's super-customizable, and all you have to do is drop fresh beans in and it does the rest." Another happy user appreciates having "no problem grinding any type of bean": "We use very oily, dark-roast beans which often cause problems with grinders, but with the Magnifica it's been a minor issue."
Best espresso machine with built-in pressure gauge
"I am now a barista thanks to this machine," one reviewer writes, explaining that they owe it all to the built-in pressure gauge on this machine. "I have fine-tuned my grind, and with the pressure indicator on the front of the machine, I can see that I am using the right amount of tamping to get a full-flavored, creamy shot." Dozens of reviews mention that the key to this model is perfecting the grind. "The pressure [gauge] is very helpful in learning the proper prep technique and in refining your technique over time by providing clear feedback that helps you know how to refine your grind size and packing tightness," one reviewer writes. Once users get the hang of it, they love the ease of this one. "The automatic and adjustable shot sizes are great," one writes. "I couldn't recommend this machine more highly. For the money, I could not imagine getting a better machine."
Best customizable single-serve pod espresso machine
"You can trek off to Starbucks and get a decent espresso for $4 or $5, or you can buy this maker and get a better cup because you can customize each cafe to your taste for 70 cents or less," writes one reviewer about this "wonderfully easy to use" espresso machine. And many other reviewers love how easy it is to customize the drinks made with this Nespresso machine. "This machine is so easy to use with a screen and buttons to select the type of drink you want to make and then it walks you through it step by step," one explains. "The steam wand is easy to use, wipe clean, and it has an automatic self-cleaning of the steam nozzle when you are done steaming the milk. If you want to customize your drink, you can with options to adjust for the amount of coffee, temperature and amount of milk foam/froth." More than one-fifth of reviewers also praise this machine for being easy to clean. One explains, "Just a wipe on the steam wand and rinse the drip tray after the steam wand purges automatically."
Best single-serve-pod espresso machine
"Those not wanting to bother to tamper or grind, pre-infuse, and pray to the coffee gods that your shot turns out like you planned, need look no further," says one reviewer. Users love that the capsule system makes this machine easy to use and to clean, but it also makes excellent espresso, which according to one user (who wants to be buried with the machine), "begs to be lazily sipped and savored, preferably on a weekend." Another writes, "Blindfolded, I doubt I could distinguish a cup from this machine using a premium capsule from one produced by a hulking machine costing thousands of dollars."
Best compact single-serve-pod machine
This espresso machine is so beloved that one user would "definitely bring it with me if I could only bring five things to a deserted island." Luckily, this machine is compact enough to fit in a go bag, and that's a big draw for many reviewers. "I've wanted an espresso machine for a while now but just don't have the room for it," one reviewer writes. "I got the Pixie model because I don't have a big kitchen, and this thing takes up barely any space on my counter." As another reviewer explains, this model's size belies its strength: "This little machine has an impressive amount of power behind it, operation is basic common sense, it's stylish and shockingly low cost." The ease of the pod system is also a major draw. As Grub Street's Alan Sytsma wrote in a review of the Pixie, "All you have to do is put a pod in and hit a button and boom: a cute little cup full of surprisingly decent, if not exactly mind-blowing, espresso."
Best single-serve-pod espresso machine with milk frother
Dozens of reviews sing the praises of this machine's built-in, automated milk frother. One user even says the main reason for purchasing it is "the milk-frother option, with the ability to pull the milk container and keep it in the fridge." Many reviewers use that removable container to salvage leftover milk, and lots appreciate that it's dishwasher safe. One reviewer claims all you have to do is "pop in the coffee pod, plug in the removable milk container, press the button, and wait for the best-tasting espresso or cappuccino ever." One consistent complaint in the reviews is the price of the Nespresso pods, but, as one user puts it, you're paying for quality: "The Nespresso pods ARE expensive, but so are the tires on my car, because all the best things in life are expensive!"
Best single-serve pod espresso machine and coffee maker with milk frother
"You want quality espresso? Check. You want a quality cup of coffee to jump start your day? Check. You wanna mimic that $10 cup of coffee you get at Starbucks, and THEN some? Check! Checks all around," writes one reviewer of this Nespresso machine–coffee maker combo. Reviewers appreciate that they're getting the best of both worlds, but the standout feature is the milk frother, mentioned by nearly 15 percent of reviewers. "I actually stopped going to Starbucks because I like my mocha cappuccinos better than theirs," writes one customer. One-fifth of reviewers also describe this as easy, and as one user concludes, "You literally don't have to do anything except pour the milk in the frother, pop in a pod, combine and enjoy."
Best less-expensive espresso machine and coffee maker with milk frother
Nearly 80 percent of reviewers give this espresso machine five stars. It makes coffee in addition to espresso and comes with a milk frother, which makes one reviewer feel "the options are endless." They add, "Love the frother that comes with it. Clean up is easy and convenient. The machine itself is compact and sturdy. The variety of pods that come with it are a great option to get a taste of all the variety options." The taste is so good that dozens of reviewers compare it to Starbucks and one even says they "thought coffee from Starbucks was the best but it taste mediocre now that I have a Nespresso machine." More than 20 percent of reviewers also say how easy this is to use. One even writes, "This is almost too easy to use … You twist the top, pop in a capsule, push the button and boom — delicious, strong cup of coffee every time." And while pod coffee machines aren't exactly great for the environment, reviewers appreciate that these pods are easy to recycle. The same reviewer adds, "If you go on Nespresso's website, you can order prepaid postage bags where you can send the capsules to be RECYCLED. I absolutely love this."
Best espresso machine with espresso pods
"This machine is simply amazing," writes one user who typically does "not like the mess or hassle of making espressos." This machine, however, "takes up zero space and spits out high quality espressos so fast it will make your head spin," they say. And 10 percent of other reviewers either refer to this as quick or fast. "The Essenza probably gets used 10 times a day in our house," writes one user, who adds, "It warms up fast and quickly makes a great shot of espresso with outstanding crema (if you use good quality coffee)." Another reviewer who bought this in the interim while their $2,000 machine got fixed says they like this model better "due to the fact that the Essenza produces a 'hotter' cup of coffee." Their only complaint, however, is "is the cost of the capsules," a common drawback for many reviewers, but this model actually comes with a few. One says, "It comes with a variation of the espresso pods, which allowed me try them all and proceed to order my favorites."
Best stove-top espresso machine
"I am addicted," one reviewer writes, after explaining how this stove-top espresso maker has saved their family $300 a month on specialty drinks. Hundreds of other reviewers have found this Bialetti isn't just a better deal than the coffee shop but better than a fancy machine, too. "If you are ever thinking about buying an expensive espresso maker, think again," one writes. "Save yourself tons of money and counter space, and spend less than $30 on this." Not only is the price right, but many shoppers argue that they're getting a better-tasting drink with this manual model. "We ditched every fancy coffee/espresso maker years ago in favor or our Bialetti stove-top espresso maker," one writes. "I get a hot, strong espresso in two minutes, and there is something hands-on satisfying about making an espresso with such simplicity." Many note that the espresso this product makes "isn't like that from a high-pressure machine but more like a very strong cup of coffee," as one shopper explains, but they don't seem to mind. "I work at Starbucks, and although this isn't 'actually' espresso, it tastes just about exactly like it."
Best less expensive stove-top espresso machine
A self-proclaimed "coffee fiend" thinks this stove-top espresso maker is just as good as its bigger-name competitors. "If you order that leading brand in this style, you'll be throwing money away," they write, adding that this model is "of equal or even greater the quality of the other brand. In fact, the build seems identical. This makes delicious coffee, and the unit is a great value." An "espresso addict" agrees, writing, "This little stove-top pot is better than anything that comes out of Starbucks … and is just as good as my $1,000 Costco machine." The word strong is used in many reviews to describe the type of coffee this machine churns out, and, according to one shopper, that makes it even more of an incredible value: "You will not regret spending the small amount of money after you taste the [absurdly] delicious, strong, and bold coffee that comes out of this device."
The Strategist is designed to surface the most useful, expert recommendations for things to buy across the vast e-commerce landscape. Some of our latest conquests include the best women's jeans, rolling luggage, pillows for side sleepers, ultra-flattering pants, and bath towels. We update links when possible, but note that deals can expire and all prices are subject to change.
Every editorial product is independently selected. If you buy something through our links, New York may earn an affiliate commission.