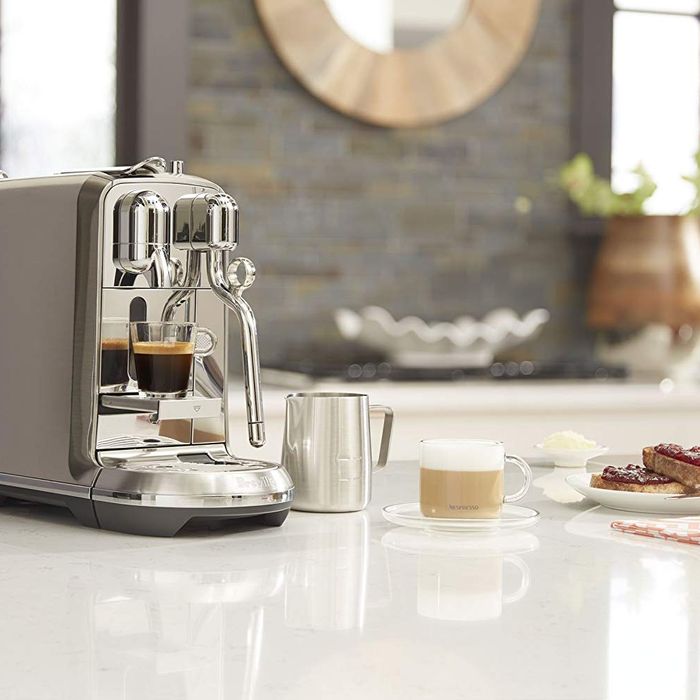 Because we're all still working from home, grabbing a latte on the way to work seems like a very distant memory. But you don't have to continue to settle for crummy coffee. To help you achieve barista-level drinks, we found a bunch of different espresso machines on Amazon, as praised by the most enthusiastic (and caffeinated) reviewers. We focused on electric espresso machines for our "best-rated" and "best-rated (less expensive)" picks, but we've also included a few well-rated stovetop espresso makers, as well as some Nespresso machines, farther down. And if you're still looking for something to take your coffee drinks to the next level, we rounded up the best milk frothers and the best drip coffee makers for you, too.
Related Articles: Best Gifts for Coffee Lovers | Best Coffee Subscriptions
Best-rated espresso maker
"This is not the most expensive or elaborate caffeine machine, but, wow, when you can make it at home just the way you like it … Mmm," writes one reviewer of this top-rated Sowtech espresso machine. For her, that dream cup of coffee is "like a warm mountain morning in the valleys below, like a smooth energy flowing over the tongue, and like the blissful breeze that takes the fog away before a gentle sunny summer day." But even reviewers without such a poetic reaction appreciate this espresso maker, including one who always wanted one of these but "never wanted to spend the money not knowing if I will actually use it." Sure enough, she loves this machine because "it does everything you need it to do" — filter, brew, steam, and froth — without the high price tag. Some reviewers didn't think the frother worked as well as other models they've tried, but she "100 percent disagrees," reporting, " I use the frother to heat up the milk, then angle the cup at a slight tilt and I get amazing foam to make my drink like a real cappuccino." And if you're still struggling, she suggests you Google it.
Best-rated (less expensive) espresso machine
Dozens of reviewers find this budget-friendly machine from Sboly easy to use — and especially easy to store. "This has been a godsend," one reviewer raves, who was "tired of waiting in long lines at Starbucks for a triple shot." They share that they now "LOVE" making espresso at home, and assure that it's "easy to use, easy to clean and it takes up very little space." Another reviewer agrees that it "takes up little counter space compared to other coffee machines … and looks sleek." And a third was impressed with both its compact size and ease of use. "I am in love with this little machine. It not only makes good coffee, it is small enough to be stored in my cabinets when not in use, but easily accessible when needed which was very important to me because I like to keep my kitchen countertops clear of clutter," they write. "If you are looking for a small powerful espresso machine, this is it."
Best café-level espresso machine
Experts have told us that Breville's line of espresso machines are the best for at-home, cafe-level coffee-making — and thousands of Amazon reviewers agree. New York City chef Missy Robbins calls the Barista Pro "the perfect balance of automation and manual abilities" for beginners like herself, but this less-expensive model has nearly all of the same bells and whistles — and over 9,000 five-star reviews. "If you're looking for a serious espresso machine with all included, this one is it," says one reviewer, who, like many, is impressed with all the features of this machine. Many reviews point out how convenient the built-in grinder and steamer are, as is the ability to customize each function. "I find it grinds beans consistently well and produces quality shots every time," writes one reviewer, adding, "I like that I can adjust not only the quantity of ground coffee but shot temperature and quantity as well." According to another reviewer, owning a machine like this will make more than your morning: "I decided I don't want another thing," they explain, adding that "[owning] an espresso machine of this caliber makes one's life complete." Actually making the life-completing espresso, however, requires a bit of trial and error, according to the dozens of reviews that mention the slight learning curve of such a high-tech machine. "When I first got the machine, I was struggling with a consistent cup of espresso," one such reviewer shares. "It seems difficult but all in all, it took me seven shots to get it down to a science."
Best automatic espresso machine
Hundreds of reviewers appreciate that this De'Longhi espresso machine is automatic, meaning that it'll grind, tamper, and brew your beans with just the press of a button. (Though, unlike the espresso maker below, the steamer wand is still manual.) "This is by far the most expensive coffee/espresso/cappuccino machine I have bought," one such reviewer begins, but they "don't regret it for a single moment." Like many others, this person believes the ease of this machine makes it worth the price. "The machine is super-easy to operate — no grinding, filling espresso cup or filter, operating messy frothing nozzles, etc. All I need to do is pouring coffee beans, selecting flavors/strengths, filling water tank, and pushing the desired buttons." The built-in grinder is called out in dozens of reviews as a standout, even according to one former barista: "I worked in so many coffee shops over the years and always wanted a nice machine at home … The problem was I didn't want to spend $400 on a good burr grinder. This amazing machine comes with one inside the machine!" Another says the "best part is it's super-customizable, and all you have to do is drop fresh beans in and it does the rest." And one reviewer happy user appreciates that they have "no problem grinding any type of bean": "We use very oily, dark-roast beans which often cause problems with grinders, but with the Magnifica it's been a minor issue."
Best espresso machine with automatic frother