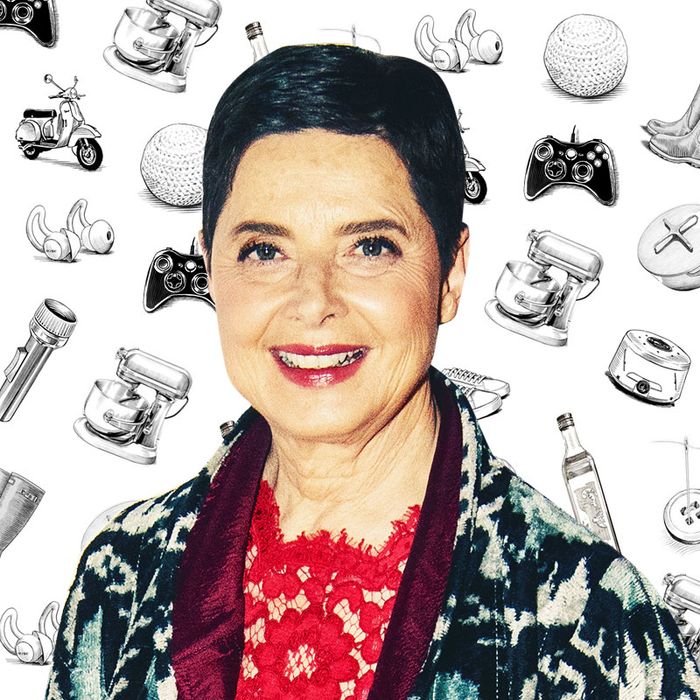 If you're like us, you've probably wondered what famous people add to their carts. Not the JAR brooch and Louis XV chair but the hairspray and the electric toothbrush. We asked actress Isabella Rossellini — a brand ambassador for Lancôme's Rénergie Multi-Glow line and Trésor fragrance — about the pasta, cardigan, and perfume she can't live without.
I always have the basics for any Italian cooking — spaghetti, parmigiano reggiano, and cold-pressed olive oil — at home or any place I stay for a long period of time, like an apartment while on location for a film. De Cecco is a good pasta brand and widely distributed, so it's easy to find wherever I am. Neither of my parents cooked on a regular basis. Occasionally, my father cooked some pasta — his favorite was pasta with all different raw herbs (basil, parsley, oregano, and dill) cut very fine with olive oil and parmigiano, of course. But I love to cook. Most often, I make this sauce my daughter invented for spaghetti. She has it in her book Impatient Foodie. It's spaghetti with a paste made of red beets, ricotta cheese, lemon zest, and parmigiano.
Of course, I need my espresso. I use a macchinetta from Bialetti Moka to make it. In the morning, I make it into a cappuccino with frothed milk. Then, after lunch, I drink an espresso without milk. But that's it. I don't drink coffee past 3 p.m. or so. I buy my coffee from Illy — it's a good brand. I don't know how to describe different coffee flavors, so I don't know what makes this one better, but I like Italian espresso best because I grew up in Rome. I think certain tastes are shaped by one's own culture and by where we come from.
Photo: retailer
Khaki pants from Brooks Brothers are basic and always easy to wear. They are kind of like my uniform. I don't know that Brooks Brothers makes the very best khakis in the world, but I do know that their khakis fit me and I know exactly what shades I like. I generally keep a couple of pairs in my closet — I only buy a pair when the old one becomes too worn and needs to be substituted. Once I find something I like, I keep buying it. I can buy them easily and don't have to think much about how to dress, which is the advantage of wearing a so-called uniform.
Photo: retailer
I find khaki pants pretty elegant with a white shirt and black sweater. I get my shirts and sweaters at Agnès B. I think I discovered Agnès B. in Paris in the '80s, when I started to go there frequently as a model. Her fashion is consistent — it doesn't change drastically every season but changes enough to make me feel like I'm trying out new items.