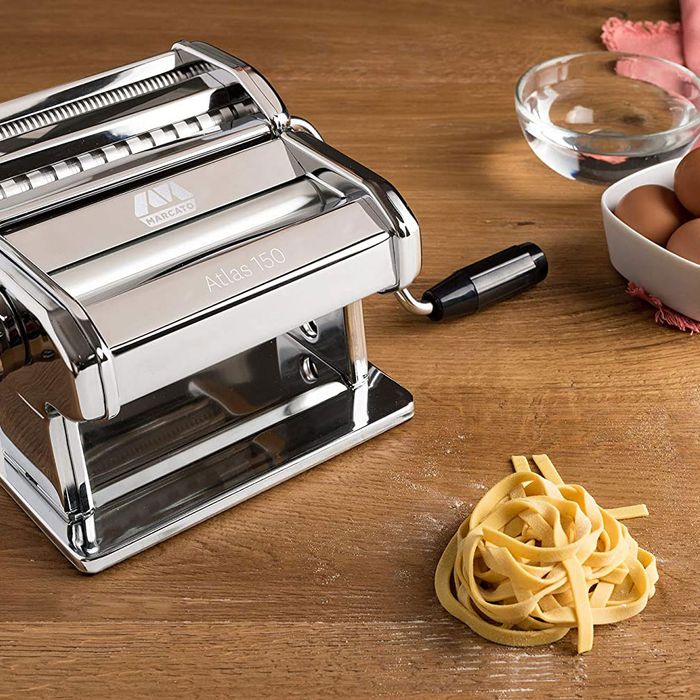 Photo-Illustration: Courtesy Retailer
Making pasta at home is easier than you think. The dough itself comes together with a few ingredients that you're likely to already have on hand. Other than that, all you need are tools. But narrowing down what to buy is the hardest part. Should you buy a hand-cranked pasta machine, or is it smarter to splurge on an electric model? Do you need a ravioli pin, or will a tablet suffice? What about a drying rack? To figure out which pasta-making tools you really need, we asked six pasta-makers and professional chefs to walk us through everything they use to cut, shape, and cook all sorts of freshly made pasta, from fettuccine to ravioli. And to help you find the tools you're looking for, we've organized the products according to when you would use them in the pasta-making process, starting with tools for working with dough, followed by tools for making pasta, tools for drying and storing pasta, and tools for cooking it. (If you know what type of tool you're after, simply click on any of the links above to jump straight to that section.)
Tools for working with dough
Wooden board
While you can roll out your pasta directly onto your counter, a wooden board or cutting board can be helpful as a work surface. "Unlike pie, biscuit, or croissant dough, pasta dough loves warmth — the warmth of your hands from kneading and the warmth of a wooden board," says Domenica Marchetti, the author of The Glorious Pasta of Italy and the founder of Domenica Cooks. Meryl Feinstein, the founder of Pasta Social Club in Austin, adds, "Wood absorbs excess moisture, which helps with kneading and getting your dough to the right consistency. This is especially helpful if you make a Southern Italian–style dough with just flour and water." Marchetti's favorite wooden board is two-sided, and each side has a lip, which she says helps you position the board securely against a countertop so it stays put when you're kneading or rolling dough. That board is currently sold out, but for those who like the sound of it and don't want to wait for it to come back in stock, we found this option from Overstock that is double-sided and has a lip on both sides.
Kitchen scale
If you're a beginner to pasta-making, Feinstein believes a kitchen scale is super-helpful. "Making dough is really more of an art than a science," she says, "but until you've practiced a bunch and have a good idea of what your dough should look and feel like, you should start with precise weights." Not only can measuring cups of flour differ greatly in weight from one cup to another but a standard large egg can weigh anywhere from 40 to 60 grams — a big difference when it comes to pasta. "Starting with workable ratios will make your life so much easier," says Feinstein.
Bench scraper
Another must-have tool is a bench scraper, which can evenly divide dough and help mix ingredients. Ayinde "AJ" Sankofa, a co-founder and the executive chef of New Jersey–based pasta shop ESO Artisanal Pasta, says his absolute favorite is the Dexter-Russell bench scraper. He uses it every shift because it has a "very ergonomic and aesthetically pleasing handle and a consistently sharp stainless-steel cutter" that together allow him to "quickly plow through gnocchi and scrape up bits of dough that are stuck to my butcher block," he says. He uses its "decently wide frame to transfer product from point A to point B with ease."
Rolling pin
As opposed to a rolling pin made for baking, "this one is extra-long and handle free, which allows you to roll out large, thin sheets of pasta dough," explains Marchetti. She loves that it's available in maple, cherry, and walnut woods.
Spray bottle
According to chef Joe Sasto, "moisture management is critical for successful pasta-making," which is why he suggests buying a set of these affordable glass spray bottles. A little water goes a long way, whether it's getting the right consistency for your dough, keeping your pasta sheets from drying out as you work, or sealing your filled shapes. Sasto says a few spritzes from a spray bottle are usually all you need, and as long as you're using small increments, you'll never have to worry about oversaturating your dough.
Tools for making pasta
Hand-cranked pasta machine
For most people making fresh pasta at home, an electric pasta machine is overkill. But even if you're getting a modest analog pasta-maker, it's important to invest in the right one. Pasta machines are basically made of two rollers, which start at a wider width, then taper inward. "As you reduce the space in between them, that's what makes the pasta sheet get thinner and thinner, and the calibration on those two rollers is very, very important," explains Linda Miller Nicholson, the author of Pasta, Pretty Please and the "pasta artist" behind the Instagram account Salty Seattle. "Even if it's a 64th of a millimeter off, you'll have one side of the pasta sheet pulling and being a little bit more narrow, whereas the other side doesn't grab it quite as much." That will leave your pasta more prone to tearing, which will undo all your hard work. One brand that has very much solved this problem, according to Nicholson, is Marcato Atlas, an Italian company that has been making pasta machines since 1930. Marchetti is another fan of Atlas's hand-cranked machine, telling us "it's efficient and especially useful for people with repetitive-strain issues." According to Marcato Atlas, the machine as is can make lasagna, fettuccine, and tagliolini (and you can buy accessories that let it do even more).
Electric pasta machine
If you do want to invest in an electric machine, Sankofa says this one is "durable and consistent." And he would know: He says the Imperia is what they use at ESO to make fresh tagliatelle, telling us the machine can cut up to ten pounds of pasta per hour.
Electric pasta attachment
If you like the idea of an electric machine but don't want to shell out so much money, consider the pasta attachments you can buy for your KitchenAid Stand Mixer. The catch, of course, is that you have to own the mixer, but if you do, Feinstein says, this is a nice option. "In all honesty, I use a manual one at home," she says, "but this works well if you're really looking for that efficiency."
Gnocchi board
If you want to make textured pastas, you'll need something with a ridged surface to roll the dough over. Marchetti says that in the Abruzzo region of Italy, where her family hails from, "pretty much every cook has a 'rigagnocchi,' or a textured board on which to roll and shape gnocchi." Her favorite rigagnocchi is this one from Fante's, which can also be used for making garganelli, a hand-formed pennelike pasta. Such a board gives whatever pasta you make on it a texture that "is perfect for catching sauce," adds Feinstein.
Cavarola board