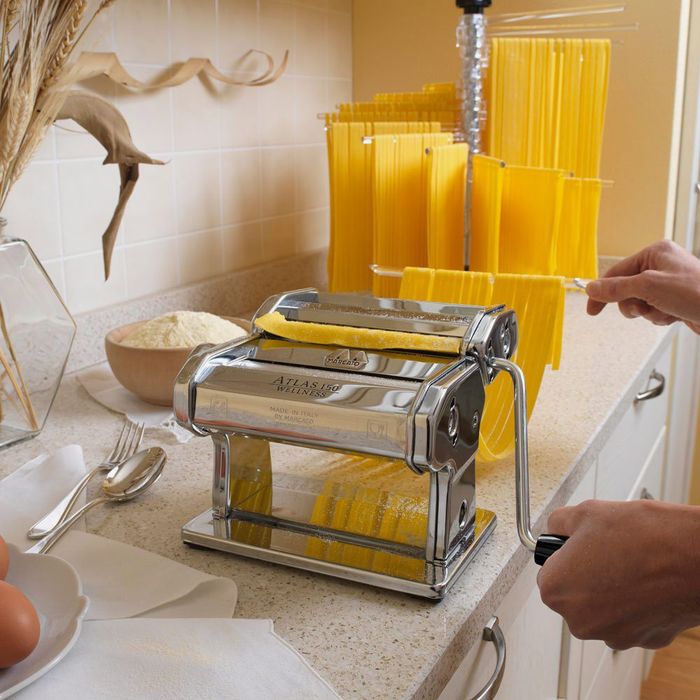 Your kitchen could be this carb-filled all of the time!
Photo: Courtesy Retailer
The secret to making pasta at home is that it's not actually that hard, especially once you have all the right tools. But even decisions as seemingly simple as whether you should buy a hand-cranked pasta machine or an electric one can quickly become daunting if you don't have a guide. Do you need a ravioli pin, or will a tablet suffice? What about a drying rack? To figure out which pasta-making tools you really need, we asked six pasta-makers and professional chefs to walk us through everything they use to cut, shape, and cook all sorts of freshly made pasta, from fettuccine to ravioli. And to help you find the tools you're looking for, we've organized the products according to when you would use them in the pasta-making process, starting with tools for working with dough, followed by tools for making pasta, tools for drying and storing pasta, and tools for cooking it. (If you know what type of tool you're after, simply click on any of the links above to jump straight to that section.)
Tools for working with dough
Wooden board
While you can certainly roll out your pasta directly onto your counter, a wooden board or cutting board can be helpful as a work surface. "Unlike pie, biscuit, or croissant dough, pasta dough loves warmth — the warmth of your hands from kneading and the warmth of a wooden board," says Domenica Marchetti, the author of The Glorious Pasta of Italy and the founder of Domenica Cooks. Her favorite wooden board is two-sided, and each side has a lip, which she says helps you position the board securely against a countertop so it stays put when you're kneading or rolling dough. That board is currently sold out, but for those who like the sound of it and don't want to wait for it to come back in stock, we found this option from Overstock that is also double-sided and has a lip on each side.
Bench scraper
Another must-have tool is a bench scraper, which can evenly divide dough and help mix ingredients. Ayinde "AJ" Sankofa, a co-founder and an executive chef of New Jersey–based pasta shop ESO Artisanal Pasta, says his absolute favorite is the Dexter-Russell bench scraper. He uses it every shift because it has a "very ergonomic and aesthetically pleasing handle and a consistently sharp stainless-steel cutter" that together allow him to "quickly plow through gnocchi and scrape up bits of dough that are stuck to my butcher block," he says. He uses its "decently wide frame to transfer product from point A to point B with ease."
Rolling pin
As opposed to a rolling pin made for baking, "this one is extra-long and handle free, which allows you to roll out large, thin sheets of pasta dough," explains Marchetti. She loves that it's available in maple, cherry, and walnut woods.
Spray bottle
According to chef Joe Sasto, "moisture management is critical for successful pasta-making," which is why he suggests buying a set of these affordable glass spray bottles. A little water goes a long way, whether it's getting the right consistency for your dough, keeping your pasta sheets from drying out as you work, or sealing your filled shapes. Sasto says a few spritzes from a spray bottle are usually all you need, and as long as you're using small increments, you'll never have to worry about oversaturating your dough.
Tools for making pasta
Hand-cranked pasta machine
For most people making fresh pasta at home, an electric pasta machine is overkill. But even if you're getting a modest analog pasta-maker, it's important to invest in the right one. Pasta machines are basically made of two rollers, which start at a wider width, then taper inward. "As you reduce the space in between them, that's what makes the pasta sheet get thinner and thinner, and the calibration on those two rollers is very, very important," explains Linda Miller Nicholson, the author of Pasta, Pretty Please and the "pasta artist" behind the Instagram account Salty Seattle. "Even if it's a 64th of a millimeter off, you'll have one side of the pasta sheet pulling and being a little bit more narrow, whereas the other side doesn't grab it quite as much." That will leave your pasta more prone to tearing, which will undo all your hard work. One brand that has very much solved this problem, according to Nicholson, is Marcato Atlas, an Italian company that has been making pasta machines since 1930. "The hand-cranked version is fun if you're with someone else or even by yourself," she says, adding that it's reliable enough for even the biggest batches. Marchetti is another fan of Atlas's hand-cranked machine, telling us "it's efficient and especially useful for people with repetitive-strain issues." According to Marcato Atlas, the machine as-is can make lasagna, fettuccine, and tagliolini (and you can buy accessories that let it do even more).
Electric pasta machine
If you do want to invest in an electric machine, Sankofa says this one is "durable and consistent." And he would know: He says the Imperia is what they use at ESO to make fresh tagliatelle, telling us the machine can cut up to ten pounds of pasta per hour.
Gnocchi board
If you want to make textured pastas, you'll need something with a ridged surface to roll the dough over. Marchetti says that in the Abruzzo region of Italy, where her family hails from, "pretty much every cook has a 'rigagnocchi,' or a textured board on which to roll and shape gnocchi." Her favorite rigagnocchi is this one from Fante's, which can also be used for making garganelli, a hand-formed pennelike pasta. Such a board gives whatever pasta you make on it a texture that "is perfect for catching sauce," adds Meryl Feinstein, the founder of Pasta Social Club in Austin, Texas.
Cavarola board
According to Marchetti, this larger cavarola board is used the same way as her favorite rigagnocchi board; it just has a crosshatch pattern instead of ridges. "Beyond shaping gnocchi and cavatelli, the cavarola can also be used to make pretty patterned sheets of pasta that can be used for lasagna, ravioli, or noodles," she explains. The board's designer, Terry Mirri, was one of the first to produce artisan-made pasta tools in the U.S., Marchetti adds.
Ravioli tray
If you have your heart set on mastering ravioli, Nicholson recommends this tray, which is easier to use than a ravioli pin and creates less waste. "The ravioli tablet actually has the perforations on an overlay," she says. "You roll a pin over, and the pin, in conjunction with those perforations, actually cuts the ravioli in one movement, rather than having a step to cut afterward." Feinstein adds that if you don't want to spend money on a ravioli tray, you can use a cookie cutter or a fluted cutter to make square ravioli.
Round stainless-steel cutters
These round stainless-steel cutters are great for making tortellini and cappelletti — pasta shapes that start with circular pieces of dough that are then shaped. But Nicholson says they're also just nice to have in the kitchen: "You can use them for everything — biscuits and cookies and pasta and making funny Halloween shapes of things for my kids. They come in very handy."
Rolling cutters
Another pasta-making tool that's worth investing in is a rolling cutter. "You wind up using them so much that you don't want the cheapo, stainless-steel ones," says Nicholson. Also, because those lesser-quality ones are "not ergonomically comfortable, they don't have the ability to cut nearly as well." That's why she likes this brass one with a wooden handle, which is heavy enough to smoothly and evenly slice through dough without tweaking your hand unnecessarily. Thomas McNaughton, the author of Flour + Water: Pasta, calls this rolling cutter "a must" and recommends applying mineral oil to the handle as soon as you get it to help prolong its life; he says this tool can last for generations.
Pasta bike
Nicholson says the trick to making friends with this funny-looking gadget from Marcato Atlas is to think of it not as a cutter but as a scorer. It won't cut through every line consistently and firmly because it has so many moving parts, but it is a handy tool for "anything that needs essentially, like, fairly precise squares or rectangles — like garganelli or cannelloni — or really anytime you want to cut a lot of something quickly," she says. "Just remember to go over the scored lines with a rolling cutter, which will be a lot smoother.
Tools for storing and drying pasta
Sheet pans and covers
Once your pasta is cut and shaped, you need a place to store it or let it dry out a bit, especially if you're not eating it all at once. And the easiest way to do this is to lay out your pasta on a sheet pan. Nicholson recommends getting full-size sheet pans if you can because "you have more pasta-drying power with that." But if space is a constraint or you want something a little more versatile, she suggests these half-size sheet pans. Whether you use these or any other style, she recommends having separate sheet pans for pasta-making so you don't risk warping them by putting them in the oven. And Feinstein adds that using generous amounts of semolina on a sheet pan is a good way to prevent sticking.
You may want to consider buying a lid for your sheet pan, which makes it easier to store fresh pasta in the fridge or take it on the road if you're traveling to someone else's house for dinner. Just be sure to buy a lid integrated with the pan from the same brand; otherwise, it may not fit. This one is made to top the half-size sheet pans above.