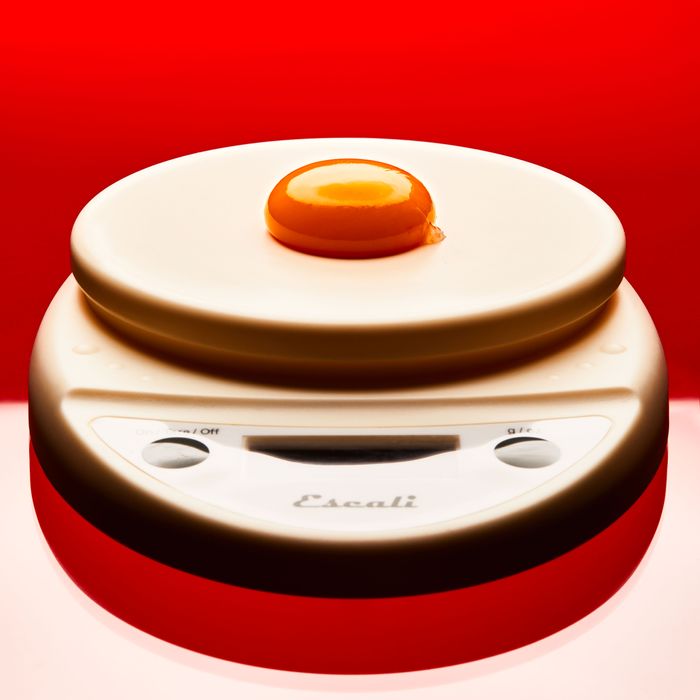 Ask any chef, baker, or barista: A kitchen scale is a necessary piece of culinary equipment. Volume measures, like cups and tablespoons, are notoriously imprecise, but the best kitchen scales allow you to be exact about the amount of any ingredient, which means more consistent results in your baking and perfectly calibrated cups of coffee. As a food writer, I feel near-religious about using a scale, and I'm not the only one. "When I was first getting into cooking, a kitchen scale was the tool that radicalized me," says New Yorker food writer Helen Rosner. Using a kitchen scale also cuts down on cleanup — rather than using many cups and spoons, you can measure ingredients in a single bowl or quart container. Here, food obsessives, chefs, and bakers recommend the best digital scales.
Kitchen scales max out at different weights. If you're planning on using yours for baking and coffee measurements, you probably don't need one that can weigh an industrial amount of dough. But if you're a serious baker or cook who regularly makes large batches, a scale with a higher upper limit can be helpful.
Most recipes call for measurements in grams or ounces and don't get a whole lot more precise than that. But in cases when extreme precision is called for, you'll want a kitchen scale that can measure fractions of grams. Most kitchen scales don't offer more precision than single-gram increments — no fractions or milligrams — and a few meant for heavier-duty weighing measure weight in only 0.2-pound increments. What you're doing in the kitchen determines how precise you need it to be, but most home cooks will do just fine with a scale that measures one gram.
Most scales tend to automatically shut off after a certain period without movement to save power. That's helpful in preserving battery life, but it can be frustrating if you're doing several kitchen tasks at once and the scale blinks off. We've noted the auto shutoff time for each pick below.
Below, any scale under $20 is denoted as $. Anything from $20 to $50 is $$, and anything above $50 is $$$.
Best overall kitchen scale
Weight limit: 11 pounds |Precision: 0.05 ounce / 1 gram | Auto shutoff time: 4 minutes| Price: $$
"Escali is tried and true from my culinary school days, and I have yet to find a reason to replace it," says Food52 food editor Emily Ziemski. Lightweight, reliable, and affordable, the Escali Primo should suit most home cooks. It's easy to use, has a clear display, and can weigh ounces, grams, and pounds. It's compact enough to slide into a kitchen drawer, but the base is large enough to fit most bowls, and it cleans up easily. And for first-time scale owners, it's an easy entry point. "I find the buttons to be super-intuitive. It does everything it needs to and nothing more," says Strategist kitchen and dining writer Emma Wartzman.
The Escali does have an auto-shutoff function, but the four-minute window is generous enough for most home cooks and short enough that it doesn't burn out the batteries very often. And unlike most kitchen scales, it's just cute — it comes in nine pleasing colors, including grass green and bright orange, a feature reviewers appreciated in a previous version of this story. "I have the pink one, which is just a perfectly calibrated level of pinkness: kind of Necco wafer-y like an Italian throat lozenge invented in the 1800s, not Barbie pink," says Strategist writer Erin Schwartz.
Best less expensive kitchen scale
Weight limit: 11.24 pounds| Precision: 0.05 ounce / 1 gram | Auto shutoff time: 2 minutes| Price: $
As a culinary student at the Institute of Culinary Education, I picked up the Ozeri Pronto on the advice of my chef instructor to keep in the kit of tools I toted back and forth from class. It was durable enough to handle being schlepped back and forth on the subway for weeks and to withstand being used constantly while I was in class.
While I've upgraded to the Escali Primo above, I still recommend the Ozeri to beginner bakers and cooks as a precise and budget-friendly (under-$15) option. It has an easy-to-read, intuitive display and a wide base that can handle quart containers and bowls well. The main drawback is the short auto-shutoff time of two minutes, which can be frustrating if you're multitasking.
Best kitchen scale with pullout display
Weight limit: 5 pounds |Precision: 0.125 ounce / 1 gram  | Auto-shutoff time: 15 minutes | Price: $$
The OXO doesn't have as high a weight capacity as other scales, but its movable screen — so you aren't trying to read the number under the shadow of a bowl — is a huge advantage. "The pullout display is just one of those absolutely genius things that makes you angry and sad that you ever lived without it," says Rosner, who has had her OXO for close to a decade and reports that "it's still working perfectly."
The OXO Good Grips scale also has a long auto-shutoff period, which is a real selling point, says Strategist senior editor Jen Trolio, who has the Escali Primo and the OXO Good Grips scales and uses both. But she says she particularly appreciates the OXO "when baking and large mixing bowls are involved" because there's a more forgiving time frame if you get distracted doing another step of a recipe.
Best kitchen scale for big batches
Weight limit: 17 pounds |Precision: 1 gram / 0.05 ounce  | Auto-shutoff time: None | Price: $$
Dayna Evans, a food writer who runs a weekend-only bakery out of her basement, needs a scale with a higher capacity for making large batches of dough. The My-Weigh KD-8000 goes up to 17 pounds and has an additional feature Evans loves: a "hold" button that prevents the scale from shutting off so she can run and get more flour.
"It's also just insanely sturdy," Evans says. "Some of those small, thin ones that you can put in a drawer, you can barely see the numbers. This one lights up really well and is clear." Plus it has the option of either being run by battery or the AC adapter. It's also a favorite of Strategist senior editor Winnie Yang, who appreciates that the large platform makes it "a lot easier to weigh bulkier or irregularly shaped items" and that there's a plastic shield on the button pad that prevents it from getting mucked up with dough.
Best heavy-duty kitchen scale
Weight limit: 150 pounds |Precision: 0.2 pounds | Auto-shutoff time: 30 minutes | Price: $$$
"You can't run a poke restaurant without getting seriously invested in scales," says Kiki Aranita, a James Beard Award–nominated food writer and chef who formerly ran the Hawaiian restaurant Poi Dog and now caters pop-ups and events with the same menu. For portioning out fish, Aranita uses two scales to double-check measurements, and her Rubbermaid is an essential part of her setup. "My scales withstand a lot of abuse," she says of how often they get roughed up in the course of moving into different kitchens for pop-ups and catering. "This one has gone through a lot without losing accuracy."
This model has capacity for up to 150 pounds, which makes it suitable for a commercial operation. It also has a nine-foot power cord and a removable digital display so you can put the scale on the ground but keep the display at eye level.
Best USB-rechargeable kitchen scale
Weight limit: 22 pounds |Precision: 1 gram / 0.05 oz | Auto-shutoff time: 3 minutes| Price: $$
For finer measurements than the Rubbermaid above, Aranita turns to this scale, which she calls "pretty heavy-duty" for a rechargeable one. Aranita says this scale, which also has a high weight limit than the Rubbermaid, operates "like a dream" when she's weighing out poke. "It's not ideal for spices," she says, "but if it's a portion that you don't mind being a hair off here or there, this is practical and stands up to a lot of abuse." It operates by battery or USB charge, a nice feature in case either power source drains midway through a cooking project.
Best analog kitchen scale
Weight limit: 2 pounds |Precision: 1 ounce / 20 grams | Auto-shutoff time: None| Price: $$
If you really, really never want to deal with battery life, plugging in a scale, or charging it, go analog. "When in doubt, skip the battery-powered kitchen scales altogether," Aranita says. Old-school mechanical scales are clunkier, but they work great and can be a lifesaver when you can't find an outlet. When I was in culinary school, my entire class worked off these dial scales, which have a capacious bowl that can be easily removed and washed, a must since students were handling it multiple times a day.
Best highly precise kitchen scale
Weight limit: 20 grams |Precision: 0.001 grams | Auto-shutoff time: None| Price: $
If you're looking for a scale that's super-precise for measuring, say, spices, Rosner recommends going with a jeweler's scale, particularly the Smart Weigh Gem20, which is an affordable pick that can still measure very small increments. For most home cooks, this level of precision is probably overkill, but if you're developing recipes and want to make sure you're recommending the correct amount of seasoning or leavener, it's useful. "I don't do much yeast baking, so I don't need ultraprecision, but when I do, it's this scale," Rosner says.
Some more kitchen scales we've written about
The Strategist is designed to surface the most useful, expert recommendations for things to buy across the vast e-commerce landscape. Some of our latest conquests include the best dining room decor items, coffee makers, knife sets, Japanese coffee brewer, charcoal water filter, and drinking glasses for water and more. We update links when possible, but note that deals can expire and all prices are subject to change.
Every editorial product is independently selected. If you buy something through our links, New York may earn an affiliate commission.