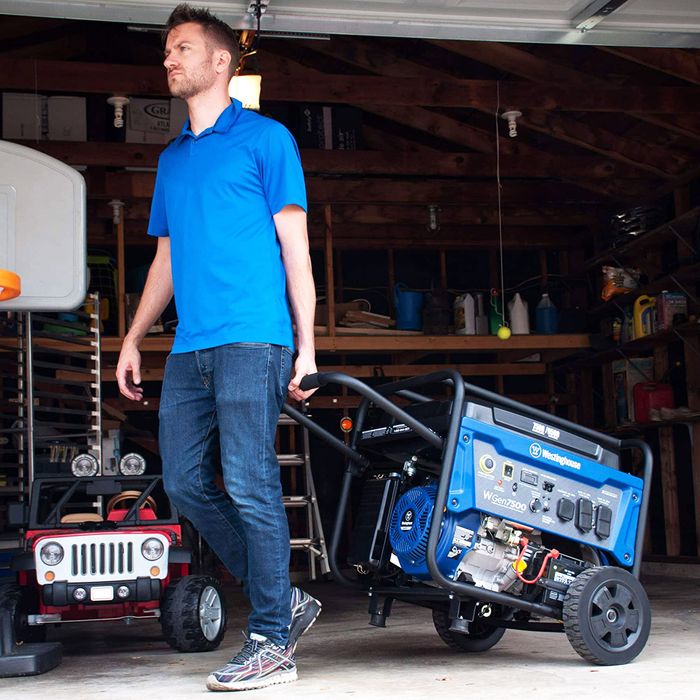 Photo-Illustration: The Strategist; Photo: Amazon
Whether you're heading out on a camping trip or prepping for a natural disaster, it never hurts to have a backup power source. We've written about lots of external power sources before — including everything you need for a blackout, one writer's favorite power station, and the best portable chargers. Here, we've rounded up the best portable generators, as praised by the most enthusiastic reviewers on Amazon.
Related Articles: Items To Stock for Any Emergency | Emergency Preparedness Kits
Best-rated portable generator
This is an electric start portable generator, a feature that appealed to many five-star reviewers, like one who says, "The electric start and remote worked perfectly. A very nice touch that everything was included (battery, oil, funnel, spark plug socket, etc.) and that the battery was already charged and ready to go." Another has "had this generator for a year now and started it again in preparation for Hurricane Florence," and calls it, "Well-designed and well-built, starts first try. The electric start is a nice perk, but pull start is there when you have a dead battery." One says that for "a portable generator, Westinghouse is great" because while "you have to get a transfer switch installed by an electrician," he adds "it is very easy to start thanks to the electric start button. It holds a lot of gasoline and has to be filled up twice per day depending on how much load you put on it." And the battery, according to one reviewer, really holds a charge, even after five years: "Got it out of storage yesterday, put in fresh gas, and it immediately started and ran great. I could hardly believe that the battery still had a charge and i did not have to jump start."
Best-rated (less expensive) portable generator
This compact portable generator is a hit among campers. "It's small, holds a strong, long lasting charge and has a heavy duty plastic body that looks like it'll take a beating," one reviewer writes, adding, "I really love that I can plug a solar panel in so we don't have to use the stored charge while it's sunny out." It also charges with a standard AC plug or DC car plug, and it takes about eight hours to reach full battery, and that "means it can be used on successive days." When it is fully charged, it has a capacity of 155 watt-hours, which "means it can power two 9-watt LED bulbs (60 watt incandescent equivalents) for a full 8+ hours. We also have a very low-wattage small AC-powered fan that only consumes 4 watts, which means we could get theoretically 38 hours of run time from that," according to one reviewer. A majority of users bought this to power their CPAP machines, which help people with sleep apnea breathe at night while camping and have had a lot of success. "Most importantly for ME it will run my CPAP (Resmed Airsense 10) for NINE HOURS on a full charge, provided I turn off the humidifier/ heated tubing function on the unit," one writes, while another says, "8.5 hours running CPAP, no problem and only used one bar on charger, so should run cpap two or three nights on a charge."
Best quiet portable inverter generator
Half of all five star reviewers describe this portable generator as "quiet," including one who keeps it on the porch without disturbing any neighbors: "My first impression was 'Wow, this thing is quiet.' I really didn't expect it to be that quiet. I chose an inverter since I live in a townhouse complex and was concerned about powering my necessities when power went out but didn't want to annoy my neighbors. I was very pleased when I finally heard it run." Another is impressed that "This little baby just keeps on purring away and uses very little fuel," adding that it ran, "13 hours on one gallon. Love it." And it can run a lot. According to one reviewer, "I've being using it for four weeks as home backup power after hurricane Maria struck PR leaving the Island off the power grid. In average, I use it daily for 12 hours powering a refrigerator, 1 55-inch LED TV, 1 40-inch LCD TV, 1 Blu-ray DVD, 8 16-watt lamps, two big fans, one 800-watt espresso coffee brewer running six minute cycle in the morning, charging my cell phones, tablets and laptops and washing two laundry loads per week." A fourth reviewer also purchased this after his home was hit by Hurricane Maria in Puerto Rico, writing, "I have to say this little unit has been a life saver for me and my family. It has made our life much easier and I'm planning to buy another one for back up."
Best (less expensive) quiet portable inverter generator
This portable generator gets top marks for its low noise level. As one reviewer explains, "At up to about 600W, this unit is so quiet, you can actually run it outside on your balcony, without disturbing the neighbors." Another exclaims, "This generator rocks," explaining, "It kept two refrigerators and two freezers going 24 hours/day with a little room to spare for four days in the aftermath of the Irma induced storms in Atlanta." One reviewer even calls this "one of the best investments I've done," explaining, " We live in south Florida and this generator got us through the hurricane Irma. The reason we got it because the price and performance; very fuel efficient, compact, light and quiet." Another reviewer used this after Hurricane Maria hit Puerto Rico and concludes, "The generator has been used every day for at least eight hours per day and it's still going strong with no problems whatsoever. That is at least four months, people!"
Best lightweight portable generator
Portable and lightweight are not always synonymous, but this Powermate generator gets top marks for both. It weighs in at just under 62 lbs (one-third the weight of our top pick from Westinghouse), which one reviewer says is "light enough to be carried by one person easily" and makes it "the perfect size for camping." They say it was able to support "lights, running a fan, and the coffee maker" without burning through its gas too quickly. Not only is the generator lightweight, a second reviewer says it's very easy to use. That's not just because it "stores away easily until needed," but also because it comes with "everything you need to set it up and run it," including a funnel and a "spark plug tool for when you need to do maintenance." These features came in handy for a third reviewer, who had to use the generator during a "huge snow and wind storm" at their horse ranch in the mountains of Northern California. During a five-and-a-half-day power outage, they say the generator "started every morning with one or two pulls of the cord in freezing temperatures" and ran from 6 a.m. to 9 p.m. "without a hitch." This generator is "fuel thrifty (0.1 Gallon/hour)" and easily powered "the lights, fridge, freezer and a small booster pump that supplies water to the house."
Best heavy-duty portable generator
This A-iPower generator is built to run for long periods of time at maximum capacity, unlike others that are better suited to temporary situations. This was essential for one reviewer, who had purchased this generator before Hurricane Irma took out their power in 2017. "My generator ran flawlessly," they write. "[I'm] extremely impressed. [It] ran 14 hours before having to refuel, about 36 hours total." And, they say, it has held up well over time. "I have had this generator now for 3.5 years, still starts first turnover!" Another reviewer reports that this generator powered their entire household through an intense hurricane. "It ran for a total of 80 hours and never let me down and handled everything I tried to power with it," they say. "I had my full size, Whirlpool double door refrigerator/freezer, 12,000 BTU AC window unit, 65 inch LED TV with a surround sound system, 2 PlayStation 4's, Internet modem and router, another 40 Inch LED TV, 4 box fans, 2 standing fans, 7 lamps and a cell phone charger all running off it at the same time." And a third reviewer, who used the generator for two years before leaving a review, says they have determined it's "excellent value for the money … I live in rural WV and we lose electricity often. This generator powers our entire house that includes central air, electric water heater, 3 freezers, well pump, multiple TVs, etc."
Best portable generator with fuel shutoff
This generator comes with a fuel shutoff feature that uses up the remaining fuel from the carburetor before automatically shutting down — and though that's very technical, it's a feature that completely sold one reviewer. "This is very important because fuel will gum up carburetor if left in too long. It takes little over a minute for it to run out of gas," they explain. Another points out that this feature will add to the generator's life span: "Use stabilizer in your fuel, and use the fuel shutoff feature, and this generators should last a decade with no problem." In general, though, reviewers say this generator uses a conservative amount of fuel: According to one reviewer, "This thing uses like NO fuel." Another reports, "I have ran it during two power outage events now for about 6-8 hours each time, and I was nowhere near going though the 1 gallon of gas." It's not the most powerful generator out there, but one reviewer says it ran all their lights, refrigerator, entertainment center, internet, and security system, all at once.
Best dual-fuel portable generator
"Wow, what a great generator," rejoices one reviewer after testing out this dual-fuel portable generator. "After making the connections for the battery and adding some gas, I fired her up. Three cranks and away she went. Sounds smooth and fairly quiet. The quality is really great as it looks like it was assembled with pride. The dual-fuel makes it especially appealing." Another reviewer appreciates the dual-fuel feature because she has "the ability to use both gas and propane," which she calls "the selling point. With propane no worries about gas gumming up in the engine. Propane is clean." One customer bought it for his RV, also saying that "the selling point was the dual fuel use." He explains, "Pulled over that night and ran our A/C in our RV from midnight to 7AM. It was a little loud and was concerned with our neighbors but after hearing the semi engines, and other RV'ers with their generators all was good. We slept comfortably and still had propane to spare." As this reviewer concludes, "Bottom line, it 'just works' for me, and I couldn't be happier with this product. The dual fuel aspect is a real selling point, no need to worry about how old your gasoline is."
Best easy-start portable generator
"Take your old Honda, Generac, Kolar, Homlite, and all the rest and toss them in the recycling bin. Nothing beats this brand of generator," one reviewer passionately reports, before adding, "It's got to be the best generator made. And I have numerous generators. I have Champions with over 5,000 hours on them." Another reviewer writes, "God bless this generator," and explains, "This generator has more than paid for itself just keeping my refrigerators powered during Dominion Power's numerous outages, so we do not have to toss out hundreds of dollars worth of food at a time. It always starts up with the electric push-button starter, and operation and maintenance are a dream if you use the propane option." A third reviewer admits he "hates dealing with gasoline engines and I'm at that age in my life where I can't deal with the frustration of pull starts, so the propane option and the electric start were a big factor in my purchase," concluding, " Started like a dream and runs much more smoothly than other generators. Plus, it looks great and I keep joking that we now have Bumblebee the Transformer living in our garage. Overall, another awesome Champion Power product."
Best easy-start portable gas generator
Unlike the above, there is no "electric push-button starter," but more than 20 percent of reviewers still describe this generator as easy to use, which is uncommon for gas generators. "Amazingly, it started on the first pull after adding fuel, using the choke for only a few seconds," one reviewer writes. And others have had similar experiences. "Super easy to start (even I can do it and I have trouble with other pull start machinery)," says one, while another reviewer says, "It starts with the first pull every single time." What's also impressive is how many gadgets this 2,200-watt generator can power. "We used it all summer long to run the 5,000 BTU AC unit," one says. "We also used it for the coffee maker (shut off ac first) and for lights, charging computers, etc." Another reviewer listed off a laundry list of appliances this powered, remarkably all at the same time: "Two 24" monitors, An engineering computer (a beast), Modem, Sonicwall VPN, A 50" tv, Bose speaker, Side by side fridge, Every single light (leds for bulbs),The furnace, Ceiling fans." And while there are other 2,200-watt generators on the market, one savvy comparison shopper said this one is slightly better than the others: "I researched many of the 2,000 watt to 2,200 watt portable inverter/generators, and chose this one based on the slight 100 watts of running power over the 2000 watt models, even though this one is just a few db's louder, while still being as light as, or lighter than, competing 2000/2200 watt options," they say. "It also has a slightly larger fuel tank, netting a claimed 10 hours plus of runtime on eco (which works well for situations i have that require clean minimal power for long periods (a few hundred watts)."
Best portable solar-powered generator
At least according to one reviewer, this Jackery solar-powered generator's combination of features and form factor make it "the Tesla of generators!" Like most generators, they say, the one from Jakery " can help power lights, phones, laptops, TVs, blenders and much more." But it also has a lot of other abilities, including "surge protection, short circuit protection, [and] temperature control," that other solar-powered generators don't. Another reviewer, who disdains "smelly/loud generators," uses this generator while working with drones out in the field. " The display lets me know how much battery I have left and shows how much I'm currently drawing, letting me make smart decisions about what I charge when, and what to let run off of battery for the time being," they write. The generator has earned the favor of a third reviewer, who, after experiencing multiple tornadoes, floods, and hurricanes, decided 11 years ago to wean themselves of all electrical items entirely and switch to solely solar-powered appliances. Having tried "damn never every prepping device you can think of" — including a solar oven, solar radios, and battery-operated tools — they say the Jackery Power station is a great option for someone who needs a solar generator. "I would highly recommend it for living in an RV, homesteading, camping, van life, preppers, tiny homes and basically anyone needing a good, portable, and reliable, emergency power, in God forbid, an emergency situation."
Best (less expensive) portable solar-powered generator
This mini solar-powered generator isn't meant to power your whole home but, according to one reviewer, it holds enough juice to provide "emergency lighting, charge your phones, and run basic computer stuff." This makes it a great option for use on the go, like while on a fishing or camping trip. "This tiny unit is perfect to throw in the backpack and go," another reviewer writes. "I charged it with the solar panel in full sunlight today for about 6 hours and the power indicator is 100%." And a third reviewer calls it a "lightweight charger that seems to work quite well. It's not super fast, but definitely good enough to get by for camping or power outages." While they might have been better off with a larger, more powerful generator, the reviewer writes that they used this generator when the California wildfires knocked out the "power in [their] apartment for over four days." They were able not only to use their lights and charge their phones but to cart the generator down the street "to help [their] neighbors."
All of the portable generators that we've included here have more than 100 reviews and an average rating of at least 4.1 stars, and are fulfilled by Amazon. That means that Amazon, not a third-party seller, will handle customer service and product returns if anything isn't to your liking. Our best-rated pick is the generator with the most reviews overall, and our best-rated (less expensive) pick is the one that meets all of our criteria at the lowest price in the category, in case you're looking for a reliable generator that'll keep you safe in any situation but don't want to spend too much money. The rest of the products are categorized based on what users are looking for and what reviewers are raving about.
The Strategist is designed to surface the most useful, expert recommendations for things to buy across the vast e-commerce landscape. Some of our latest conquests include the best acne treatments, rolling luggage, pillows for side sleepers, natural anxiety remedies, and bath towels. We update links when possible, but note that deals can expire and all prices are subject to change.
Every editorial product is independently selected. If you buy something through our links, New York may earn an affiliate commission.