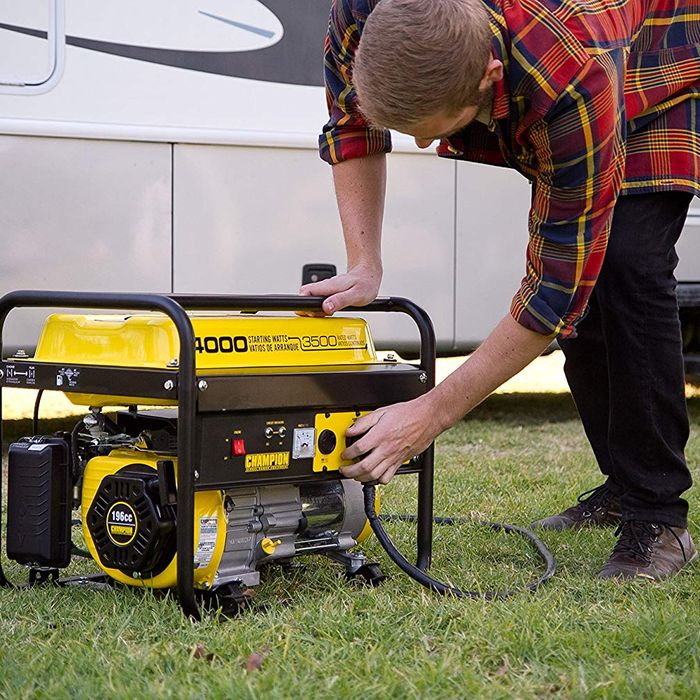 Photo: Courtesy of the retailer.
Here at the Strategist, we like to think of ourselves as crazy (in the good way) about the stuff we buy, but as much as we'd like to, we can't try everything. Which is why we have People's Choice, in which we find the best-reviewed products and single out the most convincing ones. (You can learn more about our rating system and how we pick each item here.)
And while we've written about lots of external power sources before — including everything you need for a blackout, one writer's favorite power station, and the best portable chargers — here, we've rounded up the best portable generators, as praised by the most enthusiastic reviewers on Amazon.
Best-rated portable generator
Half of all five star reviewers describe this portable generator as "quiet," including one who keeps it on the porch without disturbing any neighbors: "My first impression was 'Wow, this thing is quiet.' I really didn't expect it to be that quiet. I chose an inverter since I live in a townhouse complex and was concerned about powering my necessities when power went out but didn't want to annoy my neighbors. I was very pleased when I finally heard it run." Another is impressed that "This little baby just keeps on purring away and uses very little fuel," adding that it ran, "13 hours on one gallon. Love it." And it can run a lot. According to one reviewer, "I've being using it for four weeks as home backup power after hurricane Maria struck PR leaving the Island off the power grid. In average, I use it daily for 12 hours powering a refrigerator, 1 55-inch LED TV, 1 40-inch LCD TV, 1 Blu-ray DVD, 8 16-watt lamps, two big fans, one 800-watt espresso coffee brewer running six minute cycle in the morning, charging my cell phones, tablets and laptops and washing two laundry loads per week." A fourth reviewer also purchased this after his home was hit by Hurricane Maria in Puerto Rico, writing, "I have to say this little unit has been a life saver for me and my family. It has made our life much easier and I'm planning to buy another one for back up."
Best-rated (less expensive) portable generator
Many five-star reviewers mention that this generator ran their sleep apnea CPAP machines overnight. "It has literally been a lifesaver here in Puerto Rico after Irma and Maria. It ran my CPAP for three days before being recharged," notes one thankful reviewer. Another who bought this after Hurricane Irma agrees that this is a "wonderful product," explaining, "It saved us. The power was knocked out very early. This little bad boy came fully charged and has a light on it which is a really nice added bonus. It had enough juice to recharge phones after a nights use. Once we got the outside generator running, we could recharge it." One reviewer bought this in preparation for monsoon storms that hit their home in Phoenix, Arizona, and warns, "FYI you can run anything that has a heating element in it, no hair dryers, no toasters not even a heating pad or blanket, just too many watts of power being drawn through them." But overall, he concludes that this little generator worked great for smaller electronics: "What I wanted this for, is when we lose power I need to run a full size 120 volt AC fan and my breathing nebulizer. It runs both just fine."
And now for some micro-picks for every type of portable generator you might be looking for.
Best quiet portable inverter generator
This portable generator gets top marks for its low noise level. As one reviewer explains, "At up to about 600W, this unit is so quiet, you can actually run it outside on your balcony, without disturbing the neighbors." Another exclaims, "This generator rocks," explaining, "It kept two refrigerators and two freezers going 24 hours/day with a little room to spare for four days in the aftermath of the Irma induced storms in Atlanta." One reviewer even calls this "one of the best investments I've done," explaining, " We live in south Florida and this generator got us through the hurricane Irma. The reason we got it because the price and performance; very fuel efficient, compact, light and quiet." Another reviewer used this after Hurricane Maria hit Puerto Rico and concludes, "The generator has been used every day for at least eight hours per day and it's still going strong with no problems whatsoever. That is at least four months, people!"
Best portable generator with electric start
The electric start feature appealed to many five-star reviewers, like one who says, "The electric start and remote worked perfectly. A very nice touch that everything was included (battery, oil, funnel, spark plug socket, etc.) and that the battery was already charged and ready to go." Another has "had this generator for a year now and started it again in preparation for Hurricane Florence," and calls it, "Well-designed and well-built, starts first try. The electric start is a nice perk, but pull start is there when you have a dead battery." One says that for "a portable generator, Westinghouse is great" because while "you have to get a transfer switch installed by an electrician," he adds "it is very easy to start thanks to the electric start button. It holds a lot of gasoline and has to be filled up twice per day depending on how much load you put on it." And the battery, according to one reviewer, really holds a charge, even after five years: "Got it out of storage yesterday, put in fresh gas, and it immediately started and ran great. I could hardly believe that the battery still had a charge and i did not have to jump start."
Best dual-fuel portable generator
"Wow, what a great generator," rejoices one reviewer after testing out this dual-fuel portable generator. "After making the connections for the battery and adding some gas, I fired her up. Three cranks and away she went. Sounds smooth and fairly quiet. The quality is really great as it looks like it was assembled with pride. The dual-fuel makes it especially appealing." Another reviewer appreciates the dual-fuel feature because she has "the ability to use both gas and propane," which she calls "the selling point. With propane no worries about gas gumming up in the engine. Propane is clean." One customer bought it for his RV, also saying that "the selling point was the dual fuel use." He explains, "Pulled over that night and ran our A/C in our RV from midnight to 7AM. It was a little loud and was concerned with our neighbors but after hearing the semi engines, and other RV'ers with their generators all was good. We slept comfortably and still had propane to spare." As this reviewer concludes, "Bottom line, it 'just works' for me, and I couldn't be happier with this product. The dual fuel aspect is a real selling point, no need to worry about how old your gasoline is."
Best portable generator for RVs
Reviewers with RVs chose this generator because it's small enough to carry, quiet, and has just the right amount of power for a trailer. One RV-er calls this generator "awesome," explaining, "Runs great, functions amazingly well and isn't too loud to use while boondocking. It also started with only one pull after adding gas and oil." Another customer admits he "picked this up for the insanely great price," which was another main selling point for many, but overall, he's impressed with how well it functions: "I filled the generator with oil, added some gasoline, and it literally fired up on the first pull. I hooked up my travel trailer RV to it and turned on The air conditioner and the generator did not skip a beat." And as this food truck owner concludes, "This has been one of the best purchases we have made. In 2-1/2 years of hard constant use, this generator just keeps going. Rarely does it ever take more than one pull to start it. It has never let us down and left us hanging."
Best gas-powered portable generator
"This is the best generator I have bought so far," raves one reviewer who compares it to more expensive competitors, adding, "This one has much more wattage than others at a much lower price. I provide electrical power to my place and 3 other neighbors around me and other people in the neighborhood." Many more also prefer this portable generator to that of competitors, specifically because it's gas-powered, which, according to some reviewers, is more reliable than other options. "Well built, reliable, functional generator for those on a budget," sums up one reviewer, who previously owned a battery-powered portable generator. "For $300, you can't go wrong by purchasing the DS4000S and having the peace of mind knowing you have a back-up power source ready at a moment's notice," he adds. Another reviewer, who thinks they have "the most unreliable electric service," explaining that "every time the wind blows my lights go out," says that this gas-powered generator has been a game-changer. "Most of the time it takes at least one or two days before power is restored. I used to go get a motel room at $85 per night until the lights come back on. That all ended when I got this generator," he writes, adding, "I have used it for about 15 or 20 times in the last 3 years. All my neighbors are suffering w