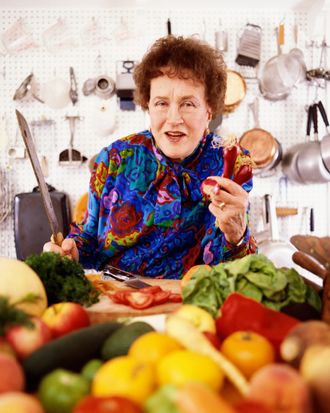 Photo: Aaron Rapoport/Getty/Corbis via Getty Images
Even if you think of yourself as handy in the kitchen, it can be hard to find a gift for a chef or serious home cook. You don't want to give them something they already have — no one needs two identical blenders in their home kitchen — but you also want to find them something that they'll actually use, which is easier said than done. After all, chefs often have exacting standards, with refined preferences for salt, knives, and even vegetable peelers and storage containers. To point you in the right direction, we surveyed more than 30 chefs and restaurant owners, including James Beard Award winners and Michelin-star holders, about the kitchen items that they like to give as well as the stuff they have on their own wish lists.
Flynn McGarry, the owner and head chef at New York City's Gem restaurant, told us that one of his favorite things to give people who like to cook is this miniature copper pan from heritage French cookware brand Mauviel. While it's made for warming butter, McGarry says, "You can heat up any sauce with it." He adds that the pan is "just adorable," which makes it even more giftable (as does the fact that a pan as specific as this may be something that even an experienced chef or home cook might not buy for themselves).
Photo: retailer
If you want to take the plunge and get the chef in your life something they can actually cook a meal with, Mike Lata, the chef and owner of FIG and The Ordinary in Charleston, South Carolina, says you can't go wrong with this paella burner. "It's a very compact unit that's lightweight, portable, and super-easy to clean," he says, assuring us that it's a more practical gift than you might think. "If you want to have an impromptu dinner party and you only have rice, vegetables, and some meat, you can easily impress a crowd."
Another adorable cooking tool — or set of cooking tools — that McGarry likes to give (and use) are these cheery rubber spatulas. "I use them for everything from scraping out containers to cleaning my blender," he told us. "They can get to the hardest to reach places, and I love how many different colors they come in."
"I really want a copper tamagoyaki pan," Craig Koketsu, the executive chef of Quality Branded, the restaurant group behind Quality Meats and Quality Italian, told us. "I'm really into making omelettes right now, and this pan allows you to roll a perfect omelette that's evenly filled from end to end." As it's smaller than most pans (at six-by-six inches), it'll also please any chef in your life whose kitchen isn't as big as they'd like.
Bon Appétit associate food editor Sohla El-Waylly told us this fish weight — a stainless-steel press designed to hold fish in a pan, allowing for even cooking and a crispy skin — is one of her favorite tools. And, according to her, the weight would make a thoughtful gift whether or not your recipient cooks fish, because it is quite versatile in the kitchen. "It's heavy enough to weigh a fillet down, but not so unruly it bruises the flesh, with a thick body that retains and transfers heat," El-Waylly says. "This makes it perfect for more than just fish — I use mine for everything from grilled cheese and quesadillas, to smashed crispy potatoes and chicken thighs." [Editor's note: Fortnum & Mason lists prices in British pounds, so the price below is an approximate conversion in U.S. dollars.]
Chef Jeremy Blutstein told us this charcoal grill setup makes a great gift for chefs of any experience. "I just bought this combination for my sous chef," he told us. "It has tons of applications, can achieve a high heat, it's compact, and produces a great flavor." If you really want to impress your recipient, Blutstein says to throw in some charcoal. The Binchotan charcoal he recommends is known for burning without any smoke, making it a favorite for chefs who like to hover over their grill and perfect what's cooking.
Chef Chad Shaner says he'd love to receive a nice juicer. "I'm usually on the run in the morning," he explains, "and if I don't start my day healthy, it snowballs throughout the day." As for what juice he'd make with it, he says he'd replicate his "shift drink" that he has while on the job: a mix of kale, green apple, ginger, orange, and matcha juice. This Breville Juice Fountain also made our list of the best-reviewed juicers on Amazon.
Genevieve Ko, cooking editor at the Los Angeles Times says she would love to be gifted a Yaki Yaki San smokeless indoor grill. Its clay material (heated over an electric or gas stovetop) prevents smoke while a reservoir of water captures excess fat. "I'm fascinated by how it works and would love to be able to grill indoors without smoking up my kitchen," says Ko. "Also, it's gorgeous enough to bring to the table as a serving piece."
If you'd like to splurge on a top-of-the-line blender as a gift, Brandon Jew, the chef and owner of Mister Jiu's in San Francisco, told us he's "really into the Vitamix Ascent." Among its many features, Jew "likes the blender's timer, which is built right in," he told us. "The auto functions are great, too." If you think your chef would like a blender, but want to shop around, we've written about plenty of other options at various price points in our lists of the best-rated blenders on Amazon and the best blenders for making smoothies, according to experts.
Preeti Mistry, the author of the Juhu Beach Club Cookbook, has a slightly more techy item on her wish list. "I have some ideas I want to play around with on a home sous vide machine," she says. "I'm not big on modernist cuisine, but I do think a sous vide machine's interesting when it serves a purpose." Grub Street editor Alan Sytsma has written about this very gadget for the Strategist, calling it one of only "two real contenders in the at-home sous vide game."
If you're going to sous vide, you might also want a vacuum sealing machine. Heck, even if you're not going to sous vide, it's nice to have one, according to Ko. "Whether or not you want to sous vide, you want this home cryovac machine," she says. "I use mine to cure salmon, marinate meat, and, more often than anything, to save and seal ingredients and leftovers. The airtight seal prevents freezer burn and the sealing function works on any bag, so open packages of chips stay fresh without wasting a Ziploc bag."
If you want to see a grown chef cry, gift them an Ooni. "The Ooni oven is brilliant at achieving very high temperatures near 900 degrees," says writer Nik Sharma, author of the upcoming book The Flavor Equation. "And not only is this oven wonderful at cooking pizza, I've also found it to be an amazing tool to replicate the conditions inside a tandoor oven. Naan, tandoori chicken, and all sorts of kebabs turn out wonderfully." The oven also comes in wood and gas varieties and can easily be transported for cooking on the road.
A few years ago, chef Felipe Donnelly of Colonia Verde and Cosmico was gifted a knife roll from Boldric by his wife and business partner, Tamy Rofe and he thinks it would a great gift for any chef. "Not only is it a good looking bag, but it has the capacity to carry all the knives and tools I need safely," says Donnelly. "Plus it has compartments for other constant use kitchen equipment."
"These scissors are small and sharp enough to do fine tasks like cutting herbs, but they are also strong enough to go through fish bones, lobster shells, and chicken backs," says Mike Reilly, the chef de cuisine at NoMad New York. And though scissors don't seem like the most exciting gift, for a serious home cook, they'll definitely come in handy. "I use these scissors as much as any other tool in the kitchen," Reilly says.
According to Marco Canora, the chef at Hearth and the creator of cult soup brand Brodo, every kitchen needs a mortar and pestle. "The mortar and pestle is one of the oldest kitchen tools in existence today," he told us, and "speaks to the connection of food and medicine. Pulverizing herbs or spices right before we use them enhances [their] flavor and nutrient value dramatically."