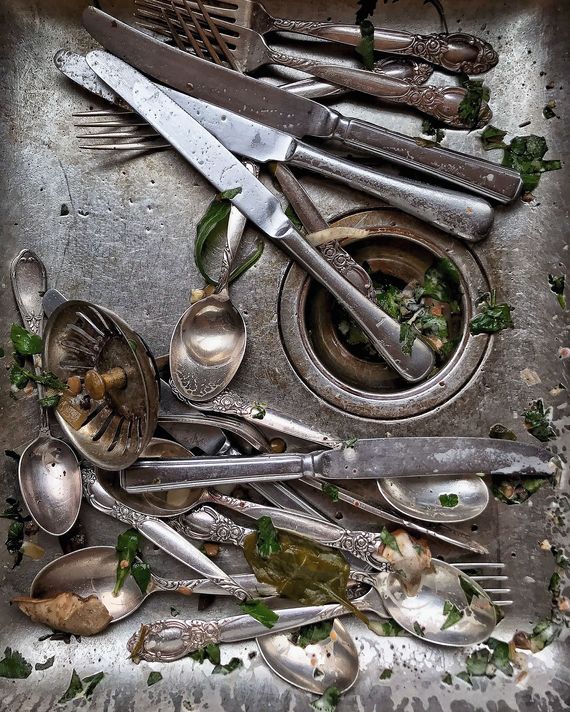 Flatware is not especially easy to shop for online — or in general, for that matter. There is just a lot to consider: weight, style, materials, dishwashability … and much of it looks so similar. So we decided to piece together a guide that would both help a novice know where to start and surface unusual sets for those who want something beyond the basics for a wedding registry or cutlery-drawer refresh. Most modern flatware is made of stainless steel, making a lot of it more affordable than the silverware of yore. Dung Ngo, the editor-in-chief of August, a design-and-travel journal and small press, says that stainless steel actually "democratized cutlery for everyone." Ngo, a flatware collector who runs an Instagram account dedicated to utensils, explains the change from silver to steel followed the advent of the Bauhaus and other early 20th-century design movements that celebrated everyday substances like plywood, plastic, and stainless steel. If you're not going with actual silver, we found, it's best to try pieces made with 18/10 stainless steel — "the safest option if you want heft and something that will stand up to daily abuse," according to Kelsey Keith, the editorial director for Herman Miller. The 53 sets below include something for most everyone, from traditional silverware, to traditional-looking (silver-colored) flatware made of stainless steel, to some rainbow-colored utensils beloved by writer Chloe Malle, to the official flatware of the 1972 Munich Olympics, which Ngo calls "the Rolls-Royce of cutlery." Beneath all the sets, there are also standout singles — from soup spoons to knives with circular heads — for those who like to mix and match.
I.

The Best Sets Across the Board
Utensils that were recommended repeatedly.
The Interior-Designer Favorite
Photo: Retailer
Combining three trends in one — gold, mixed materials, and color — Burke Decor's Prism flatware set in tortoise was recommended by three interior designers, including Leah Alexander, Decorist designer Tina MartinDelCampo, and Modsy's creative stylist Karina Lameraner, who calls it "a statement by itself." Alexander agrees, telling us the flatware has a "chic and energetic" quality to it. The pieces are made of 18/10 stainless steel and acrylic; while the brand says they're dishwasher-safe on a low-temperature setting, it recommends hand-washing as a better way to preserve the materials and construction.
The Could-Go-Anywhere Set
Photo: Retailer
Bistro-style flatware, a classic of French design, is typically characterized by handles made of a nonmetal material, which give the pieces a more casual feel. (Some of these handles have little rivets that are used to hold their nonmetal parts to their metal bodies.) "I've always loved these because of their high-low design approach," says Shane Davis, a partner and the creative director of community space Public Records, of this set of French-made flatware. "I can just as easily see them in a fine-dining restaurant as I can in a school cafeteria." It has another fan in Claire Olshan, the founder of snack brand Dada Daily, who says the 18/10 stainless steel, dishwasher-safe flatware evokes "beauty, femininity, and untouched rawness of nature."
The Café Kitsuné President's Favorite
Photo: Retailer
According to Vinod Kasturi, the president of Maison Kitsuné and Café Kitsuné in the Americas, the Linea Q flatware (which interior designer Elaine Griffin also happens to use) "has low-key swag." He says the "squared-off ends make it feel contemporary," but the pieces still have a "simple, classic style." Made of lightweight 18/10 stainless steel, Kasturi sums up the appeal of the set (which also comes in black) this way: "It's no-frills, super high-quality, and still looks fresh after infinite dishwasher cycles."
And a Less-Expensive Dupe
Photo: retailer
Like Sambonet's Linea Q, this flatware has a classic silhouette with squared corners, but it comes at a lower price. Decorist designer Christina Manzo calls it "a beautiful everyday set that's simple and elegant," adding that the brushed finish on the 18/10 stainless-steel utensils "gives them a unique aesthetic that can easily transition from casual brunches to formal dinners." While this set can be put in a dishwasher, the manufacturer recommends hand-washing. Shown as a set for one place setting, you can also get a set with 20 utensils (enough for four settings) for $160.
A Moody Black Set
Photo: Retailer
MartinDelCampo and Havenly's Heather Goerzen are both fans of this black set. "Their slender yet sculptural shape and stark black finish makes them both modern and dramatic," says Goerzen. If you like them, just know that, according to the manufacturer, the 18/8 stainless-steel pieces should be hand-washed.
The Best Value
Photo: Retailer
If you're starting from scratch, you can't do much better than this 65-piece, 18/10 stainless-steel set, which was recommended by two folks, Decorist designer Mikayla Keating and Ameena Walker, an editor at Design 233. Walker says the pieces "feel lightweight but sturdy" and that, along with table settings for 12, "you get a serving spoon, a serving fork, a slotted serving spoon, a butter knife, and a sugar spoon."
An Apple Design Researcher's Set
Photo: Retailer
Alyse Archer-Coité, who works in design research for the tech giant, calls these made-in-Portugal utensils "elegant forever" thanks to their exaggerated proportions — long, slender handles topped with large, rounded heads. While it's dishwasher-safe, the manufacturer recommends removing the 18/10 stainless-steel set immediately after a cycle and hand-drying with a soft cloth.
The Best Basic Bistro Set
Photo: Retailer
Each piece in this 18/10 stainless-steel, dishwasher-safe set has a riveted thermoplastic handle, and you can get those handles in either black or white. We heard about it from Lameraner and Elena Frampton of interior-design studio and art advisory Frampton Co., who says its simple look makes the flatware feel approachable — an element that "puts people at ease" when you're entertaining.
II.

The Best Flatware With a Design Pedigree
Collectible cutlery from various architects, designers, and furniture-makers.
Arne Jacobsen's Danish-Modern Flatware
Photo: Retailer
"You can't pick this up without thinking how gorgeous and streamlined it is," says interior designer Ghislaine Viñas of this set, which was designed in 1957 for Copenhagen's SAS Royal Hotel — and used by the crew in Stanley Kubrick's 2001: A Space Odyssey. Made of 18/8 stainless steel, it's also dishwasher-safe.
Ettore Sottsass's Cinched Flatware
Photo: Retailer
Those who can't justify the price of an Ultrafragola mirror might consider investing in Sottsass's more affordable (than furniture) flatware. "There's something charming," designer Ellen Van Dusen says, "about the wide handle and pinched neck" on the 18/10 stainless-steel utensils, which the manufacturer recommends hand-washing.
Antonio Citterio's (Slightly) More Rubenesque Flatware
Photo: retailer
The longer necks on these utensils give their curved proportions a bit more of an hourglass shape. Designed by Italian architect Antonio Citterio for Iittala, the flatware is made of 18/10 stainless steel and is dishwasher-safe. Viñas calls the utensils "bold and distinct" thanks to what she says are their "perfect proportions."
Alessi's Achille Castiglioni-Designed Flatware
Photo: retailer
Keith calls Alessi's Dry Cutlery "a classic designed by Achille Castiglioni in 1982." After polling a bunch of her design friends and visiting Castiglioni Studio (where she "manhandled" all the Dry prototypes), she put this flatware on her wedding registry. "I love the contrast between the matte finish of the handles and the shiny finish of the cutlery," she says, adding, "We don't have to be precious with it — it looks beautiful in a real place setting but it's still practical for everyday use." Made of 18/10 stainless steel, she adds that the dishwasher-safe pieces have a nice heft.