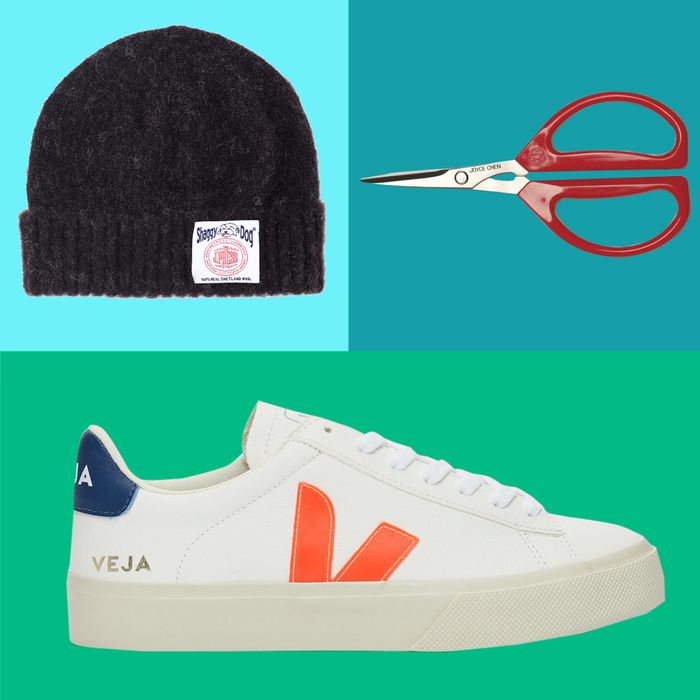 Photo-Illustration: retailers
If you follow our monthly feature "Your Shopping Cart," you know we have some eerily good intel on what you all are buying. Which led us to think that, as Strategist editors, we could turn the tables and highlight all the things we've been buying for ourselves. As you'll notice, it's both a blessing and a curse to be a Strategist editor; we're picky, but sometimes we just have to get on with it. (It's online-shopping expertise meets IRL needs.) Below, what we all bought in November.
Dominique Pariso, writer
I'm bracing for winter, so in addition to snapping up an oversize cashmere chesterfield coat from the Jil Sander x Uniqlo collab, I stocked up on more hand and toe warmers for future outdoor hangouts.
Crystal Martin, senior editor
I've always liked an occasional dog bandanna on my wheaten terrier, Lupo. But I've been Dance Mom–level committed to her wearing them during the pandemic because of the joyful reactions we get from our neighbors on walks. Tail Trends makes appliquéd bandannas for every season, so she's had lots of looks: a sunglasses-clad pineapple this summer, spooky spiders for Halloween, and a clueless-looking turkey for Thanksgiving. This month, I purchased Lupo's holiday collection: a snowman, smiling Christmas trees, Rudolph with a rhinestone nose, and Mr. and Mrs. Gingerbread.
I recently lost 20 pounds and needed to restock bras because all of mine were suddenly too big. At $40 to $60 a pop for my trusty Calvin Klein styles, the whole exercise started to get really expensive. So I decided to try some cheaper bras from Amazon. This bra is a nice dupe for one of my favorite pricier sheer bras. It's comfortable and supportive — I'm 34C-ish now — despite the cups being made of just two layers of mesh. And the hot-pink color cheers me up even though it's mostly hidden.
Lauren Ro, writer
I already have two pairs of kitchen shears, but after reading about these chef-recommended ones, I wanted another. I finally bought them this month, and while at first I was skeptical of their petite size, they've become my go-to scissors when I need to cut up food for my toddler. Their sharp, pointed tips make them perfect for snipping off florets of steamed broccoli (the only vegetable he eats plain) or for cutting up radish kimchee (his new favorite) into bite-size pieces, and I can do it all one-handed, right on the plate — no more fussing with a knife and cutting board. They're also really well made and just nice to look at; I love the red handles. I use them every day.
Jessica Silvester, editor
This month, I took deliberate steps toward not being so negative all the time — less Twittering, more gratitude journaling, etc. And for this reason (in addition to the fact that the author happens to be my good friend), I bought three copies of this book on, essentially, how to feel better about yourself through the prism of Frida Kahlo. The cover art alone is enough to brighten your mood; I've got one copy on my kitchen windowsill and plan to give the other two as gifts.