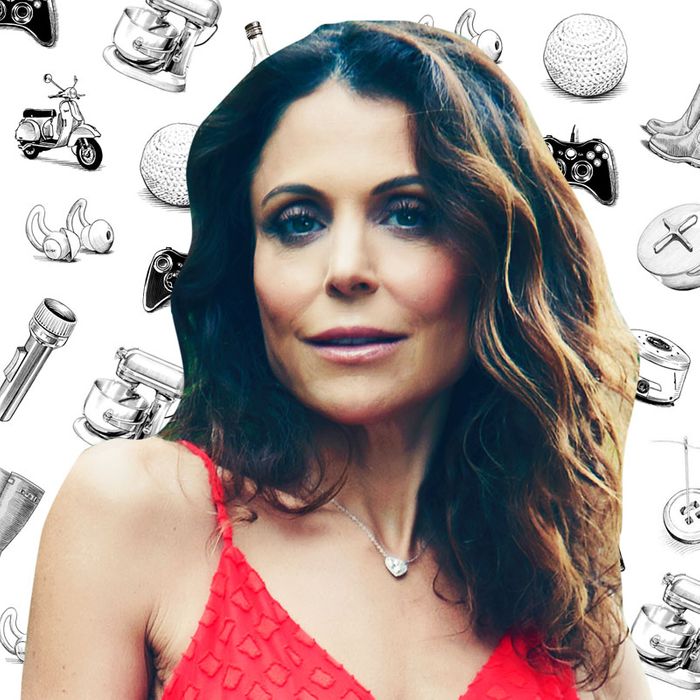 Photo-Illustration: Zev Sarr-Tambor
If you're like us, you've probably wondered what famous people add to their carts. Not the JAR brooch and Louis XV chair but the hairspray and the electric toothbrush. We asked Bethenny Frankel — who recently launched her podcast Just B with Bethenny Frankel — about the carpet steamer, perfume, and kombucha she can't live without.
It's a good throw-in-your-purse item: Like just this morning, I was doing The Drew Barrymore Show and it was too early to think about food, but I didn't want to be there and be hungry. Or for when I'm in an airport or just in a car. I like the dark-chocolate ones; I like that they have texture.
This is No. 1. I literally want to cry thinking about it. My dogs, Biggy and Smallz, are 4 years old and they sometimes have accidents. So I keep this in my closet. It's not the size of a vacuum cleaner. It's small. It's not gigantic. It has two sides: One to put the cleaning solution and the water in and another for the garbage water. It's so satisfying, too. You use a spray handle to spray it and then there's another part that just soaks it up. A lot of steamers do not work and they're so unwieldy. This is a really good one. It works. I can't say enough about it.
I love Frederic Malle fragrances. I love Carnal Flower and the new geranium scent they have, but if I had to pick just one, it would be Portrait of a Lady. It smells like musky femininity. I've worn it for several years.
Eternal Fleur makes these flowers that last a long time. You don't have to water them. They're gorgeous. They're amazing as a gift or just for your house.