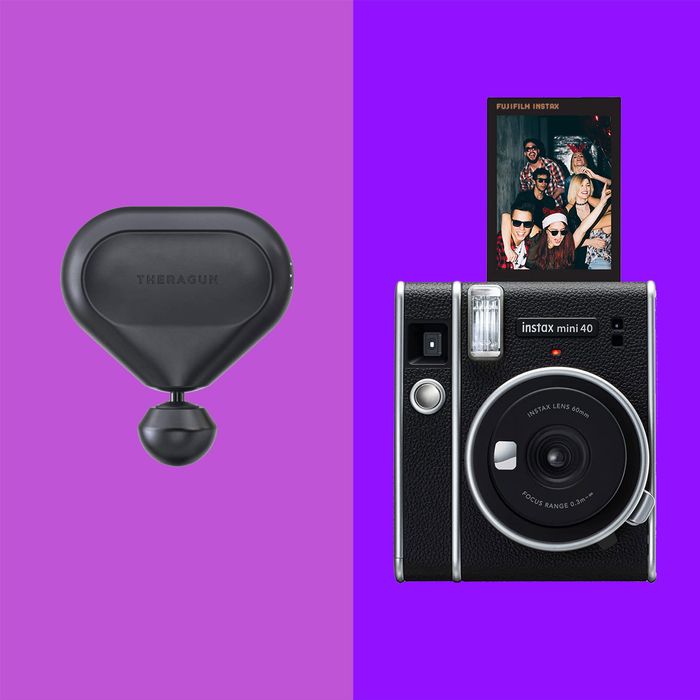 Photo-Illustration: The Strategist; Photos: Retailers
Whether you've been together for five years or five decades, it can be hard to shop for your husband, especially if he's a has-everything, doesn't-want-anything kind of person. To make things a little easier on you, we've rounded up picks for all types of guys with all types of interests from our archive of delightful products that double as great gifts. We divided up these presents by different price points — click here for those under $25, under $50, under $100, under $200, and over $200. And if you're looking for supply-chain-proof gifts or fodder for those super-hard-to-shop-for recipients, we've got you covered, too.
Under $25
This is longtime tech writer Kyle Schurman's pick for the best budget smart plug. "The Wyze lets you set up simple daily on-off schedules, like turning on your electric toothbrush's charging station for only an hour a day, so it isn't drawing — and wasting — power the other 23," he writes. For smart-plug doubters, this is Schurman's top choice to convert them.
If he took the news from his eye doctor hard, these barely there reading glasses will come in handy. Strategist contributor David Pogue raves about ThinOptics' thin, light frames. "You don't feel it; these things weigh less than a nickel," he writes.
For the husband who's more into DIY-ing than buying
It's a classic for a reason — as we heard from hikers, adventurers, and people who like to fix things in our guide to the best multi-tools. The knife features scissors, a nail file, a screwdriver, a key ring, a toothpick, and tweezers: all the essentials for any emergency. Arborist Alex Vaught describes the knife as both small and light, easily fitting into a pocket and "unlikely to look intimidating to anyone."
For the husband who's a new dad
A full night's sleep might be a thing of the past, but a strong cup of this dark-roast brew will give him the energy he needs to make it through the day. As one satisfied Amazon reviewer writes, "If you like coffee that kicks you in the butt, this is that coffee."
For the husband who drinks everything but water
Maybe Lance Bass's favorite water bottle will help. When we asked Bass about what he can't live without, this Owala bottle made an appearance on his list. "It really did change my life," he told us. The bottle has an easy-to-use straw and keeps drinks at the same temperature for long stretches of time — helping Bass remember to take sips during the day.
For the husband who's hyperspecific about ramen toppings
Photo: Retailer
For a grab-and-go lunch or a quick make-ahead dinner, these instant noodles come highly praised by New York Times food reporter and Indian-ish author Priya Krishna. "They are India's answer to instant ramen, and they are perfect — spicy, salty, and equally delicious whether prepared really soupy or more like a loose sauce," she says. Krishna adds aromatics like cracked black pepper and sautéed ginger and garlic.
For the husband whose favorite part of the meal is the bread basket
Like bottles of wine, different olive oils have distinct notes — experts have explained to us that some are milder, while others are more peppery. This tin comes courtesy of James Beard Award–winning chef Jonathan Waxman, who uses it for roasting meats and making marinades. And if you need even more reason to get it, New York City institution Zabar's sells this olive oil, describing it as "bright and fruity with just a hint of pepper."
For the husband who always craves something sweet after dinner
Strategist contributor Steven John has tried to find healthier alternatives to the sweet treats he has known and loved over the years. These caramel bites remind him of Rolos but have about half the sugar. John describes them as "tasty little spheres [that] are a great choice for anyone who wants a candy that really does taste like candy."
For the husband looking to spice things up (in the kitchen)
Several chefs cited this cookbook as the best for vegetarian recipes. Stacy Seebode, a Michelin-trained private chef, says it's "truly globally forward and flavored: You will see Korean and Syrian ingredients living harmoniously together, all with texture and 'of the season' highlights in one recipe."
For the husband looking to spice things up (in the bedroom)
Packaged in a surprisingly tasteful glass bottle, this fancy lube is one of our readers' favorites. We learned about it from Samantha Bard, co-owner of Brooklyn-based Shag, who says it's "one of the highest-quality silicone lubes out there." Plus, it's compatible with most sex toys.
For the husband who's always jotting down his great ideas
Minimalist notebook-maker Moleskine is a favorite with our Strategist staff. New York editor Katy Schneider calls these Moleskine journals "the Frances McDormand of notebooks: handsome, no-nonsense, and timeless." They were one of the best-rated styles in our ranking of 100 notebooks.
For the husband who does his best thinking in the shower
Photo: retailer
For to-dos, must-dos, and any thoughts he just needs to jot down, this waterproof notepad is essential.
For the husband with just a little peach fuzz on top
In our guide on how to care for a bald head, both a dermatologist and a barber told us that shaving foam doesn't have the moisturizing properties to protect the skin from stripping. So they say to look for a thicker shaving cream. Barber Hung Nguyen of Fellow Barber uses this moisturizing cream from statusy soap brand Claus Porto on all of his bald clients, saying that it lathers nicely. 
For the husband who hates putting on sunscreen