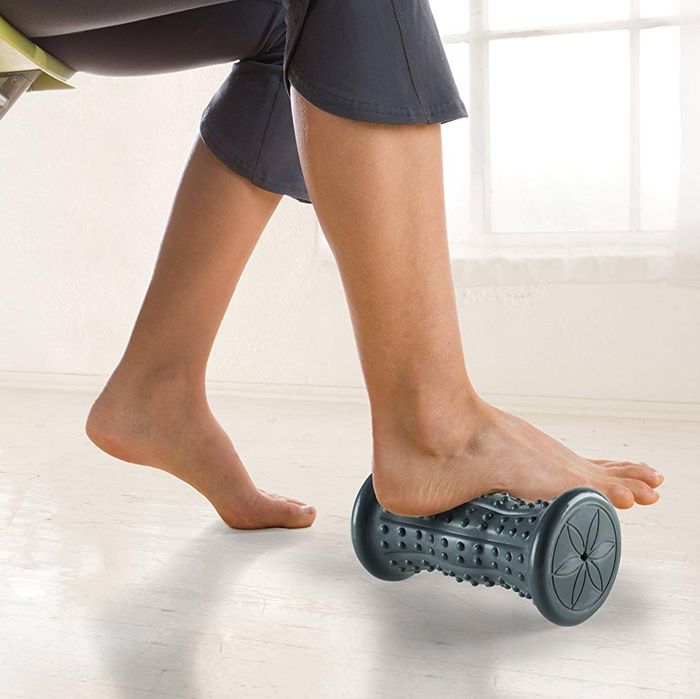 Photo: Courtesy of the retailer
Here at the Strategist, we like to think of ourselves as crazy (in the good way) about the stuff we buy, but as much as we'd like to, we can't try everything. Which is why we have People's Choice, in which we find the best-reviewed products and single out the most convincing ones. (You can learn more about our rating system and how we pick each item here.)
And while we've covered massage chairs and recliners, back massagers, and electric foot massagers, here we've rounded up the best manual foot massage tools as praised by the most enthusiastic reviewers on Amazon.
Best-rated foot massage tool
Whether they're dealing with plantar fasciitis, tendonitis, or just everyday foot soreness, more than 2,200 reviewers give this roller five stars for its pain-soothing powers. One reviewer (whose "feet hurt so bad, it's made me become a hermit") writes, "after just one day with this under my desk at work, I feel a huge difference." Others also report quick relief, writing "even though I've only had it a few days I'm already having less foot pains," and "I can't believe it – three days of using this three times a day and my foot pain is much better."
"It does what you would expect only better, and it is way better quality than you would expect," writes one reviewer. "The wood is great, and it feels extremely sturdy even with all my weight on it." Because it's a manual tool and users decide how much weight to put on it, this reviewer says, "the best part is being able to control the speed and pressure of the input depending on the day/moment." Others like that it can massage "both feet at the same time" and one buyer says "this foot massager has literally knocked my socks off." A reviewer even admits she likes it more than her expensive, electric massager: "Just a few minutes on this roller, and my feet feel SO much better. I hate to say it, but I think it does a better job than my fancy shiatsu massager.
Best-rated (less expensive) foot massage tool
Exceptionally affordable and compact, this little massage ball impressed lots of reviewers. "I'm not sure what kind of magic this ball is made of, but it exceeded mine and my husband's expectations," writes one reviewer, and another says, "this item was the key to starting to actually begin recovering from a foot injury." A ballet teacher who recommends the ball to her students says she likes using it for "amazing foot relief after teaching or just 'waking up' [the] muscles in my feet before class." Reviewers also like how portable it is for travel or just daily use. "It is small enough to fit in my purse so if my feet start hurting at work I can massage [them] while I sit at my desk," one reviewer says.
And now for some micro picks for every type of manual foot massaging tool you might be looking for.
Best wooden foot massage stick
Like our best-rated pick, this wood massager from TheraFlow has nubs and grooves to target pressure points in the foot, but since this one is just a single set of rollers, it can be used to soothe sore spots. A reviewer who bought it for their husband says, "the single roller allows him to focus on specific areas of his foot and … gives him more control," while another raves, "this gizmo deserves way more than five stars." One reviewer says, "it feels super high quality, it actually stays in plays unlike other rollers that slide all over the place, and provides the perfect amount of 'good pain.'" It's also available in a (very well-reviewed) single-foot version.
Best foot massage foam roller
This massager — "a small, made-for-feet equivalent of the foam roller" according to one reviewer — gets great reviews from plantar fasciitis patients, runners, and those who work on their feet all day. "This roller works miracles on breaking up that scar tissue, speeding up healing, and getting flexibility back in your feet," says a reviewer with foot pain issues. "I suffered for two years before finding this little gem." A runner writes, "after long runs, my feet are often fatigued and sore. This foot roller has provided immediate and intense relief — after just a few minutes my feet feel fantastic."
Best extra-firm foot massage foam roller
We've talked to lots of athletes and trainers who are fans of TriggerPoint foam rollers for achy muscles, and this foot-sized version offers the same firm density and pressure point relief. "If you have pain in your feet from standing too long, this helps out a lot," writes one reviewer, "if you're sore from workouts, running, being overweight, or just plain standing at work, this thing is a blessing." Another reviewer adds, "I was skeptical, but my foot pain is pretty much gone within two days." Others say it "feels amazing" and is "an outstanding product!"
Best foot massager for heat or cold therapy
"This simple foot massager has made life enjoyable again," writes one reviewer who previously experienced "unbearable" foot pain. With the option to soak in hot water for heat therapy or toss in the freezer for cool relief, many reviewers agree that it's a versatile tool for alleviating pain. "[It] feels great warmed up and the real treat is rolling your hot, tired feet on it after it has been in the freezer," writes a reviewer who likes both modes. Another reviewer loves that "you can put as much pressure as you need, and you can adjust your foot to isolate troubled spots."
Best foot massage ball with handles
A runner and physical therapist calls this massage ball "AMAZING" and says, "one of the keys to this product is the hardness of the wood ball, and the control the string gives you. You have perfect control over where you want to target the pressure, and the string allows you to apply more or less pressure as you need." Another runner reviewer writes, "the rope allows me to add as much pressure as I need and not worry about the ball flying out across the room." And a plantar fasciitis sufferer says "this remarkable product is ingeniously and well designed, and well crafted," and "because the ball is so well finished, it's also a pleasure to use on one's bare foot, and not unattractive to leave lying about."
Best foot massage tool set