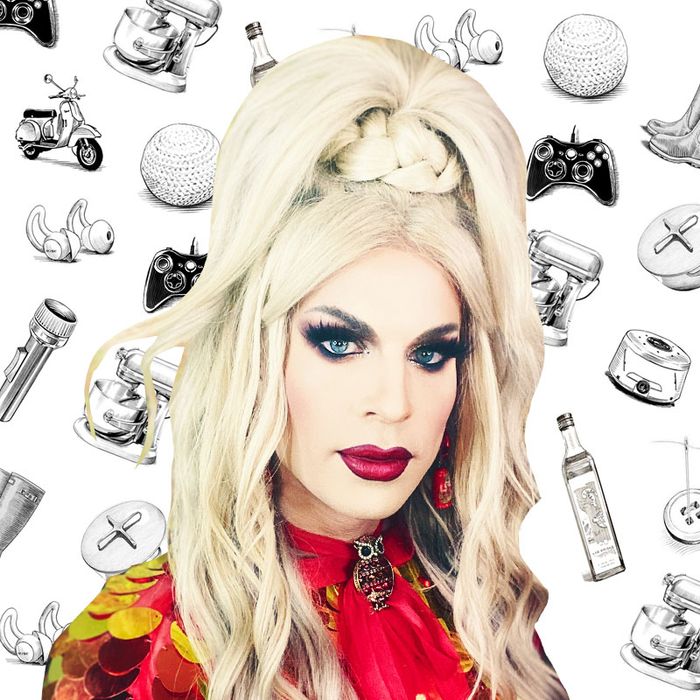 Photo-Illustration: courtesy
If you're like us, you've probably wondered what famous people add to their carts. Not the JAR brooch and Louis XV chair but the hair spray and the electric toothbrush. We asked drag queen Katya Zamolodchikova — who will star in a new unscripted dating show From Katya With Love with Trixie Mattel — about the burnt pretzels, woody perfume, and dish soap-turned-makeup remover she can't live without.
Trixie Mattel turned me onto these flushable wipes actually. I learned that other cultures regard using toilet paper as literally disgusting. They do other things like bidets and whatnot. I don't have a bidet, but I was like, Why am I wiping my ass with these dry-ass rolls of tissue? Then I switched to Cottonelle. They're moist, and they flush well. I have had no plumbing issues. I don't even know how I lived without these. What kind of savage was I, using those nasty, unhygienic pieces of paper? Now my butt is cleaner than ever.
Teeth are so important. I forget how I learned about a water flosser, but I had an aversion to flossing, and a Waterpik is a great way to get the chunks out of your teeth fast, especially if you're in a hurry or just had lunch, because you don't have to full-out brush your teeth. If you eat a nasty pulled-pork sandwich with corn on the cob for lunch, you can take your Waterpik to the bathroom, spray your teeth down, and walk out without crap in your teeth. It's very strong. I can squirt it across the room. It has a very thin, tight stream of water, which can be quite dangerous. Like, if a killer came into my bathroom while I was flossing, I'd spray them right in the eye. I also gift the Waterpik to a lot of people — not to use as a defense tactic, but to help them take care of their teeth. One friend mentioned to me that he hadn't gone to the dentist in years, uses a manual toothbrush, and doesn't floss. I was like, "Oh, my God, dental intervention happening immediately." He might as well have told me he uses regular toilet paper. Or heroin.
There is not one ounce of guilt in me when I enjoy these pretzels. I found them randomly at a supermarket back in Boston. But they're so hard to locate in grocery stores for some reason that I actually now have to order them online. I love pretzels, but I'm very particular about what type of pretzel. They're a thick sourdough with chunks of salt and are cooked extra long so they're almost burnt. Some batches are less burnt than others, and I experience a significant level of disappointment when I get a lighter batch. But when I do get one that looks like it has been on a grill for three weeks, I'm like, Oh, wow. They taste better burnt. I love burnt toast, burnt pizza — there is no nutritional value to burnt things at all because it's just ash. But it's tastier to me.
Well, I smoke, so there's that. I smoke probably a pack a day. But here's the thing: When I go out to a party or dinner or whatever, I'm typically with some friends who smoke every once in a while, but because I smoke habitually, I'm usually the only one with a lighter — this black BIC lighter. So I don't just carry it around for me, I'm doing everyone a service by keeping it on me. Also, it's good to have one on hand, because what if the power goes out and you need to light a candle? What if you need to burn a letter? Or you have to set a house on fire? This is all hypothetical, but the BIC lighter has a lot of purposes besides lighting cigarettes.
When I started to make a little bit of money — i.e., when I crept above the poverty line — one of the things I wanted to get was a really nice perfume because I decided I needed to smell really good doing drag, especially when we're at a meet and greet. The first boy I fell in love with always smelled so good and unique. He wasn't wearing Drakkar Noir or Axe or any of those typical boy scents. He wore a mix of patchouli oil or something like that, and I always loved how he smelled, so I wanted something like that. I remember when I bought the first bottle of Tom Ford, which is like $300 or something, I was like, Fuck. It's so expensive. But then I quantified it by thinking it's a gift for 200 people in one night, so if you really think about it, it's not a nonsense splurge. Just a few spritzes, and I smell amazing. I'd rather wear shitty shoes and smell like heaven than smell like a dumpster in Louboutins. Also, because I smoke, the oud, woody, earthy scents turn me from an ashtray to a Cuban cigar. At pretty much every meet and greet, People are like, "Wow, you actually smell good." It's very backhanded because they're like, Oh, you're a trash gutter hooker — I was expecting you to smell like shit. But I don't! Kate Beckinsale once complimented me on my scent too.
I do wash dishes with Dawn, but I also wash my face with it. I take my makeup off with it. There was one queen in Boston who told me she washes her face with Dawn at the end of the night, and I was like, "Excuse me?" And she's like, "You'll see." So I got in the shower and tried it. My makeup was gone in 90 seconds. It's harsh, but I'm wearing tons and tons of makeup all around my chest and neck — like, full Cirque du Soleil makeup. And when you want to get out of drag, you want to get the fuck out of drag, and Dawn does it right. I avoid my eyes, though. It's not good for your skin because it's very harsh, but makeup wipes and remover take forever. Then, also, you're scrubbing, scrubbing, scrubbing your skin raw, which is just as irritating, honestly. If you use Dawn, you just follow up with a strong moisturizer, then you'll be fine.
After Dawn, I love to follow up with this CeraVe. It's a big tub of moisturizing cream, and I just slather it all over my face and head and body. Putting this much makeup on frequently is so bad for your pores and complexion — it gets rough real quick. And as soon as you take your makeup off, you look like a corpse, and your skin needs some serious help. I think this helps a lot.
I used to work at this costume shop back in Boston, and we sold fake Casio watches. These counterfeit ones from China were huge back in 2005, and they were $20. So when I went to buy a watch, I looked into the real thing. I love it. I'm the only person I know who wears a watch that isn't some type of smart watch. My trainer gushed to me about FitBit. But I was like, "I don't need to know all that stuff." And Trixie Mattel gushes about her Apple Watch, but I tell her, "I don't want email on my arm." I don't want to look at my phone because when I go to check the time, then I open Twitter or Instagram and start answering texts. So I love my Casio watch. It has the time and date. It's a stopwatch, timer, and alarm. It lights up if you need it to, and it's comfortable. I use all of the features, especially the stopwatch. I use it for working out, or if I have a friend with some problems that they've been yapping on way too much about, I tell them, "I'll listen for three more minutes" and start the stopwatch. Listen, you have to create limits and boundaries somehow.
I shave so much, to the point where I've often fantasized about having my hair fall out and prayed to God, Please give me alopecia. It's at that level now. Getting into full drag oftentimes means I have to buzz everything then get into the shower and closely shave half my eyebrows, beard, chest, armpits, and all the way down my body. I shave literally everything. I've had this razor for years, and she works. She's my right hand. I can count on her. I put a little oil on her, and she says, Hi, I'm ready for you. Because I have to shave so much of my body, I use this as prep before I go in with a wet razor and shaving cream in the shower. I hate the term manscaping, so I'll just say this is the weeding before I mow the lawn. It makes getting a close shave much easier. And it's better for shaving my head.
Photo: retailer
I own about 50 different wigs in various states of decay or glamour. Clip-on bangs can change your life. I'm a different person when I put this on — you probably won't even recognize me. I love little wiglet pieces because they're actually a really great way to test out a new style or bring a wig new life. You just clip it on, and bang-bang-boom — new look! Wigs by Vanity is the superior, drag-royalty-run wig company. They're so fantastic. With the Pam bangs, I make a part in my full wig, then with the three clips I snap it in and put my hair over it to mix it in and make it look a little more natural. It's very fun and can be very Katya. I wear this a lot when I wear a headband.
This is not cheap, but it's a great splurge. It's basically just a massage that you can do yourself. But sometimes you need a partner, like a boyfriend or a girlfriend or whoever is around, because you need to be held down while they really get in there and go to town on you. My trainer did that to me. He did my glutes and hamstrings and lower back. I was squirming because it was intense. There's various levels of intensity and also different attachments to target different things. There's a flat one, a round one, and a prong that looks torturous — and is — to accommodate the different shapes of the musculature. I use the big round ball the most. It's like a catch all. It's good for everything. The thing pays for itself in, like, four tries because getting a massage is expensive.
Photo: retailer
When I'm in drag, even if I look like a whore, I'm wearing so many layers — the pads, the pantyhose, the shapewear, the garments, the wigs, so much makeup — that I get hot and sweat a lot. The wigs especially are very hot. And a lot of the time I actually am wearing two or more wigs. If I'm on camera, I have to look flawless and can't appear like a sweaty mess. The only real trick to keeping cold is air conditioning, baby. Trixie and I were working with Netflix the other day, and we told them the studio needs to be like the Arctic fucking Circle. Everyone needs to be like Santa Claus, all bundled up. If the crew is not in parkas and hats, it is not cold enough. RuPaul actually, famously, will not appear on set if the air conditioning is not subzero. And now that I'm getting a little further in my career, I feel like I can make temperature requests. My ideal temperature when I'm in drag is 50 to 55 degrees Fahrenheit. But because sometimes it's still so fucking hot, I always carry an emergency fan so that I always have a little control over the temperature and can quickly cool down if I need to. I get them from Downtown Chinatown for $2. I'm surprised more people don't use them, because on a hot day it's really just a relief, and they're actually easy to find. They're on Amazon! Plus they're cheap. These tiny fans can be a real lifesaver.
These are time-tested and meticulously designed. I wear them everyday with shorts, and I swear they are so comfortable. I stand by them! I really did not want to sell shitty merchandise, because then more crap ends up in the garbage and landfills and my fans deserve better. I wore them for about three months every single day before I decided to sell them. And aside from the fit, I love the Cyrillic alphabet and how it looks, so I wanted to include that somehow. I figured it would be helpful for people to know which foot is left and which foot is right, so that's what it says on them. Now, if you get disoriented, you can just look at your feet and reorient yourself. I also basically only wear black and white. Yesterday I was wearing a black-and-white undershirt and black shorts and these flip-flops, and I was like, Oh no, this is too much matching. But black-and-white is just so easy. It goes with everything.
The Strategist is designed to surface the most useful, expert recommendations for things to buy across the vast e-commerce landscape. Some of our latest conquests include the best acne treatments, rolling luggage, pillows for side sleepers, natural anxiety remedies, and bath towels. We update links when possible, but note that deals can expire and all prices are subject to change.