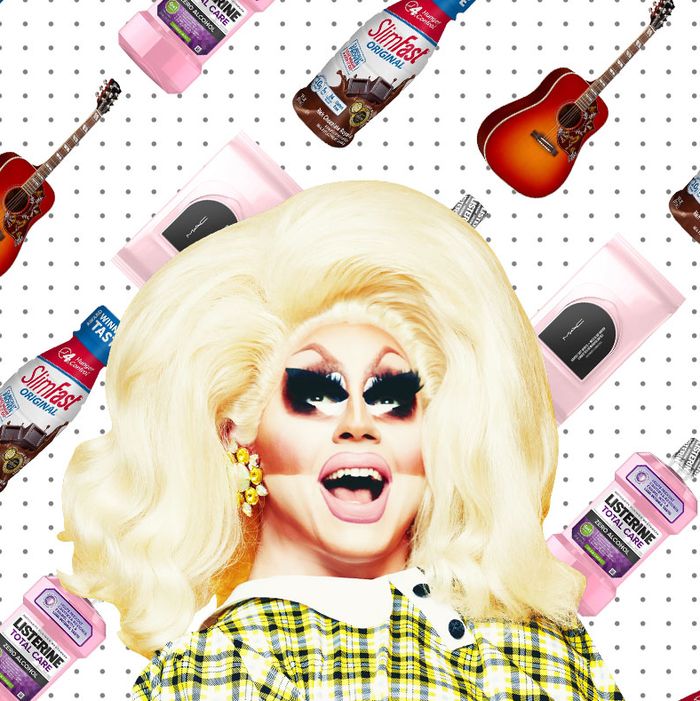 Photo: Courtesy of Magnus Hastings
If you're like us, you've probably wondered what famous people add to their carts. Not the JAR brooch and Louis XV chair, but the hand sanitizer and the electric toothbrush. We asked Trixie Mattel — drag queen and founder of Trixie Cosmetics — about the lipstick, mouthwash, and guitar she can't live without.
This is the foundation I actually use out of drag. On a day off, when my skin is irritated from all the drag makeup, I use this to even everything out, especially around my eyes — they get super irritated from the lashes or maybe I used glitter that's not really supposed to go on your face. I have supersensitive skin, like if I'm in a hotel and I take a shower where they use harsh cleaners, I break out in a rash. I have three bottles of this going at any given time. I use the shade Medium Light. And I put two pumps on the back of my hand, start in the center of my face, and buff it out all the way down my neck. Even in bright light you can't tell I'm wearing anything.
I grew up in the woods, and didn't always take great care of my teeth. So after Drag Race, when I had a little bit more money, I started going to the dentist for the first time in a long time. This is great because it's alcohol-free, so it's good if you have sensitive gums. If I don't use this before I go to bed, I can't sleep.
I'm a geek. Instagram gays are always like, "I'm a geek," and I'm like "Honey, come to my house to see a real geek." I feel like some parts of my personality don't always make sense with the other parts. But drag queens, if we like something, we just go and explore it. And I'm sort of an introvert, I spend a lot of time alone, so this is a nice way to still spend time with people. I'll put my headset on and play with friends or even strangers. When I'm performing, I'm with people, but there's space between us and no touching. This is sort of like that — I can put on my headset and talk to people, but be in a room by myself. And if I'm on tour, you better believe I have my assistant hooking this up to play.