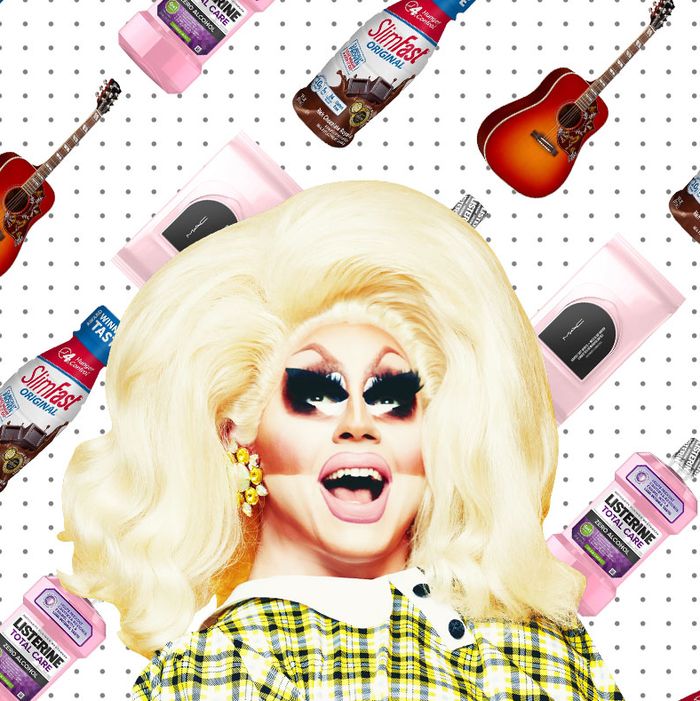 Photo: Courtesy of Magnus Hastings
If you're like us, you've probably wondered what famous people add to their carts. Not the JAR brooch and Louis XV chair, but the hand sanitizer and the electric toothbrush. We asked Trixie Mattel — drag queen and founder of Trixie Cosmetics — about the lipstick, mouthwash, and guitar she can't live without.
This is the foundation I actually use out of drag. On a day off, when my skin is irritated from all the drag makeup, I use this to even everything out, especially around my eyes — they get super irritated from the lashes or maybe I used glitter that's not really supposed to go on your face. I have supersensitive skin, like if I'm in a hotel and I take a shower where they use harsh cleaners, I break out in a rash. I have three bottles of this going at any given time. I use the shade Medium Light. And I put two pumps on the back of my hand, start in the center of my face, and buff it out all the way down my neck. Even in bright light you can't tell I'm wearing anything.
I grew up in the woods, and didn't always take great care of my teeth. So after Drag Race, when I had a little bit more money, I started going to the dentist for the first time in a long time. This is great because it's alcohol-free, so it's good if you have sensitive gums. If I don't use this before I go to bed, I can't sleep.
I'm a geek. Instagram gays are always like, "I'm a geek," and I'm like "Honey, come to my house to see a real geek." I feel like some parts of my personality don't always make sense with the other parts. But drag queens, if we like something, we just go and explore it. And I'm sort of an introvert, I spend a lot of time alone, so this is a nice way to still spend time with people. I'll put my headset on and play with friends or even strangers. When I'm performing, I'm with people, but there's space between us and no touching. This is sort of like that — I can put on my headset and talk to people, but be in a room by myself. And if I'm on tour, you better believe I have my assistant hooking this up to play.
My boyfriend and I love cologne — we're sort of competitive about it. Like, I'm white trash so I always thought, if you can smell someone coming, it's like, RICH! This used to be made in small batches for JFK, and he asked that it be made for his brother and his cabinet. That's why it's called "Eight & Bob."
It's about $200, but the bottle is big and lasts about a year. Actually, I think I've used three bottles in four years, so even longer. It reminds me of the first summer I lived alone on the Cape. I was living in a house with no Wi-Fi, AC, or refrigerator, but it was when I first started taking my career really seriously. I was putting on makeup every day and working — I think it was the summer I grew up a lot.
This is fierce. I have one Tile for my wallet, one for my keys, and one for my phone. It's a little childish but every time I leave the house I go "Phone, keys, wallet. Phone, keys, wallet." And this just helps with that. The premium version, which I don't have but want, will even send you an alert when you leave the house if you've left something behind. True story: I thought I had left my wallet in my hotel room, and it turns out I had packed it into my checked luggage that was in the belly of the plane. The Tile App let me know that it was there.
Everything with drag is kind of gross. I come back from a gig and my vanity is a mess. Or if I'm working on a wig, the table just gets a film on it from all the hairspray. So, I use these to clean everything. They even have ones with micro-scrubbers. Also, one goes a long way. People use too many of them.
I worked at M.A.C so I know what's good and what's not good. Like, their old makeup wipes aren't as good as these. It's almost like a gel and it can get all my makeup off without stripping my face. And they are like $30, which is a lot, but my fans know I love them and will bring them to give to me after the show. Actually, put that in there so they know! I have tiers of makeup wipes. Like the Neutrogena ones, those are five dollars, and I'll use those on my arms, hands, and neck, but thirty dollars is worth it to not rip my face off. And I know it doesn't really matter, but the packaging is pink. Like, I'm the kind of person where if I need a toilet brush, I'm going on to Amazon and typing in "pink toilet brush." My whole house is pink.
I love Alexa. I have four of them in my house, I have the Echo, the Dot, and I forget what it's called, the big square one with the screen. I'll walk into my house and say "Alexa, play the Go-Go's" or whatever I'm in the mood for. And if I'm getting ready and walking around, the same music is playing everywhere in my house. It's fierce. I'll be getting in drag and I'll be out of bobby pins and be like, "Alexa, buy bobby pins" or I'll be cooking and be like, "Alexa, add this ingredient to the shopping list." I have a lot on my mind all the time, so this helps.
So I have a tendency, when I'm working or on the road, to not eat and to skip meals and then binge and eat everything later. And when you're in drag, you can't eat, you just can't. And skipping meals is the worst thing you can do, so I'll drink one of these to get something in my body. And it's crazy, it's a small bottle, but you drink one and five minutes later you're not hungry anymore. I don't know how they do it. When I was getting in shape, I drank two of these a day, with a SlimFast Bar and one small meal, and I lost thirty pounds. Girl, it works. The chocolate flavor, when you chill it, is probably the best one. Oh, and by the way, nobody is paying me to say that.
I have four Gibsons. I have a pink one, a sunburst one, a twelve-string one, and I'm working with them now to make me a white one for my 2020 tour. I grew up playing it. For my last tour, I used the pink one during every performance. Guitars have different qualities to them. I think the Hummingbird adds a brightness to the music. It's a little expensive. It's over $3,000. But if you love playing guitar and want to treat yourself, buy it. You'll never put it down.
I worked at beauty counters for years, and whether you're a drag queen or a regular person, we all want the same thing. We want makeup that's fun and that works. And I was always attracted to pro formulas that work super well but the packaging I love is like kid's packaging that you could find at a toy store. This combines both those things at a super-affordable price point. I met this girl at a meet-and-greet and she was wearing this bright pink lip and I said, "Wow, you do great makeup." She said, "I really don't know what I'm doing, I just wear bright colors and it looks like I know what I'm doing." "Stacy" is a megawatt matte pink that you can easily apply with clean skin and look like you know what you're doing.
And we donate a portion of our sales to saving honeybees. Honeybees and honey are super-depleted because of the beauty industry. I think it's cool when a beauty brand can give back a little bit. We're actually working on vegan formulas for Trixie Cosmetics now. The Honeybee Conservancy keeps inviting me to come see the hives when I'm in New York, and I'm like, "You can have the money, I don't want to get stung."
The Strategist is designed to surface the most useful, expert recommendations for things to buy across the vast e-commerce landscape. Some of our latest conquests include the best acne treatments, rolling luggage, pillows for side sleepers, natural anxiety remedies, and bath towels. We update links when possible, but note that deals can expire and all prices are subject to change.