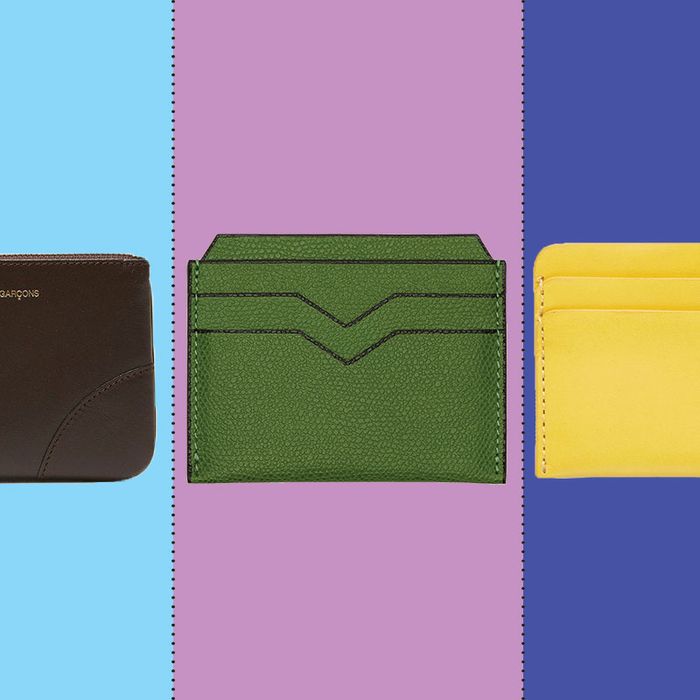 Photo: Courtesy of the retailer.
If you follow our monthly Strategist Haul, you're familiar with the idiosyncrasies of our editors' and writers' shopping habits. While we think of those as the highlights, there are plenty of other, less glamorous things we buy — and love — on the regular, too. So whether you've wondered about the work bags we tote around or the underwear we're most loyal to, this is the Stuff We Buy Ourselves. In this edition, the wallets that our editors rely on day-to-day to keep track of receipts, bills, and the requisite cards.
Simone Kitchens, senior editor
I got my first one of these in 2011, I think. It was a hand-me-down from my sister and in perfect worn condition. I loved it and used it until I left it in a Long Island rest-stop bathroom one August day in 2015. It was not there by the time I remembered and ran back to get it. Getting new cards and IDs was annoying, but mostly I missed my wallet. I bought the exact same one and it's just now starting to get that nice gently-used feel. The CDG wallet is a classic, and the neon green and orange and zany polka dot iterations are fun, but in unassuming brown it only gets better-looking after a few years.
Karen Iorio Adelson, writer
When I got my first job out of college, I made the rookie mistake of spending my first paycheck all in one place and treated myself to a long wallet from Proenza Schouler (similar to this one), which I very much could not afford. I ultimately got my money's worth though as I used and loved it for seven years, until I started to want something more compact. I downsized to this much more budget-friendly Cuyana wallet (which shouldn't be surprising since I've already confessed my love for their tote bag and bag organizer) and couldn't be happier. For a small wallet, it holds a lot — though the zipper will sometimes get stuck if it's too full — which is good, because I'm always shoving in a dry cleaning receipt or coffee shop punch card. With pebbled leather and gold hardware, it's stylish in a subtle way, and not in a my-wallet-costs-more-than-everything-inside-it way.
Lori Keong, writer
Karen and I always share knowing looks when we spot each other with the Cuyana wallet. It's one that I came to after a failed experiment with a snakeskin cardholder that was small enough to fit in virtually any bag, but so small that it fell out of my coat pocket and was immediately snapped up by a grifter. This one has the looks of the zip-around Comme des Garçons wallet, but in my opinion, the pebbled leather looks fancier and the tiny envelope for your coins is a nice, delicate touch.
Liza Corsillo, writer
I have a two-part wallet system that I can layer or carry separately depending on my pocket or bag situation. For my credit and debit cards, driver's license, and other essentials, I use a minimal card case from a company that no longer exists. It's similar to this one from COS, which I have been eyeing in bright yellow. If I'm not carrying a bag and want to go super lightweight I'll just stick the card case in my back pocket and go.
But for days when I am carrying a bag, or a coat with big pockets, I stick the card case inside this simple leather envelope so I can also have cash, coins, coffee cards, and business cards on hand. It also fits a passport for vacations. I love how pared-down the envelope is and how thin they both are, even when they're layered like Russian nesting dolls.
Katy Schneider, associate editor
I've had the same cream-colored leather Abas wallet for over a decade now. The thing is absolutely huge, approximately the size of a paperback book. Which is precisely what I love about it! It fits about 2,000 cards, so I never have to throw anything out (who knows, I may need a Hudson Valley masseuse at some point in the future), and it's impossible to lose, because it's just too huge to leave anywhere.
Editor's Note: The cream colorway is no longer available, but you can still buy it in this lovely, melodramatic purple hue.
Jason Chen, deputy editor
My wallet only has four card slots and one big pocket in the middle, so it forces me to edit (even so, mine's totally overstuffed — it does stretch). It's just simple and compact and nice-looking without being loud. I like the case's color, too, and that it's not some anonymous black or brown thing.