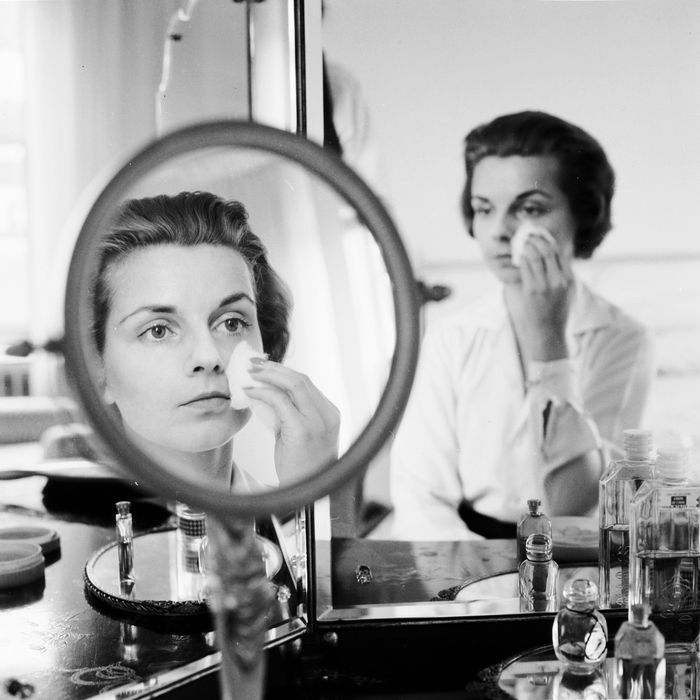 Photo: Getty Images / Jacobsen / Stringer
While it's probably common knowledge that you need to take your makeup off before bed to keep your skin in good health (and avoid issues like breakouts and blackheads), not all makeup removers are created equal. Some are so inefficient they require you to scrub your face raw before you can get that long-lasting eyeliner to budge; others are so potent that you start crying mascara tears just from taking a whiff of the open bottle. In order to find the best removers out there for both facial makeup and eye makeup, we polled seven dermatologists and makeup artists, who offered suggestions based on skin type as well as makeup type (yes, there is a standout option great for taking off waterproof mascara). The wipes, gels, creams, and balms that follow can also help you worry less about clogged pores, irritated complexions, and myriad other skin-care concerns — all while giving your face a totally clean slate.
Best overall makeup remover
Almost all of the dermatologists and makeup artists we spoke to recommended micellar water for all kinds of skin-types — including normal, sensitive, acne-prone, and dry skin — because as Dr. Hadley King, an NYC-based dermatologist, explains, the micelles in micellar water "draw out impurities without drying out the skin." They cling to "dirt, oil, and makeup on your skin and dissolve them while leaving behind a hydrated finish," she adds. And thus, micellar water "can therefore be used as a facial wash, makeup remover, and moisturizer all in one." While each expert had different favorites, this cult-followed French pharmacy option came up the most. "This micellar water gently breaks down makeup and oil without stripping the skin," says makeup artist Mary Irwin. And dermatologist Dr. Y. Claire Chang at Union Square Laser Dermatology thinks that's one of the reasons it works well for sensitive skin, too. "It's alcohol-, fragrance-, and paraben-free" on top of being "lightweight and nongreasy." If you're on the go, though, and want something more portable, makeup artist Misha Shahzada recommends their makeup wipes as an equally good alternative, especially for sensitive skin.
Best makeup remover for oily skin
This micellar water was specifically formulated with oily skin in mind. It's oil-free, so while it removes excess oil on top of the skin, it also won't add any back in. But, Chang notes, just because it's oil-free doesn't mean that it isn't "hydrating and lightweight." It still "gently removes makeup, dirt, and oil from the skin," because of the micellar technology, without exacerbating the problem or stripping the skin. It's even noncomedogenic, so those with mild acne can consider it too.
Best makeup remover for acne-prone skin
Or, if you consider your skin specifically acne-prone, not just oily, this oil-free eye makeup remover is perhaps an even better choice. "It's nongreasy and won't cause breakouts," says Dr. Malini Fowler, dermatologist at Westlake Dermatology. Much like La Roche Posay's formula, this makeup remover is oil-free, which makes it particularly effective for acne-prone skin that's already struggling with balancing out excess oil. Chang adds that it's also "gentle and lightweight but effectively removes makeup, including waterproof makeup," thanks to the low percentage of alcohol and surfactants. And although it's technically just an eye-makeup remover, you can use it for removing your foundation and lipstick, too.
Best makeup remover for dry skin
Sarah Lucero, Stila Cosmetics global executive director of creative artistry, loves this Algenist cleanser for those with "dry, dull, and lackluster skin." Although it's a cleanser and not specifically a makeup remover, Lucero notes that with ingredients like surfactants, it "dissolves all traces of makeup," including so-called long-lasting and waterproof formulas, while at the same time hydrating and improving your skin's radiance. It also happens to be her own personal makeup remover of choice, and she always carries it with her when she's traveling in dry climates and spending time in hotels: "The air vents dry me out, and this always helps my skin feel and look better," she says. It's also soap-free, noncomedogenic, and hypoallergenic. Plus, it even came recommended to us before as the best cleansing oil for dry skin.
Best makeup remover for sensitive skin
Drugstore brand Cetaphil is always popular among dermatologists, and their makeup remover is no exception. Chang recommends it because not only is it "hypoallergenic and fragrance-free, making it perfect for those with sensitive skin," but it also is extra gentle and lightweight. The formula includes "soothing and anti-inflammatory botanicals," according to Chang, like aloe, green tea, and ginseng, so it won't cause irritation. Despite how gentle it is, it still manages to be an effective remover because it's formulated with a very lightweight (nondrying) detergent, so you won't have to scrub your easily irritated skin to get everything off.
Best makeup remover for eczema
Irwin calls this cleaning oil "great for Über-sensitive skin," especially eczema. "It's hypoallergenic, fragrance-free, and deeply soothing," she adds. The formula is even approved by the National Eczema Association. It promises to not exacerbate any issues or cause further flare-ups, and on top of it all, Irwin says it completely removes all of your makeup due to a formula of a lightweight detergent and cleansing oils.
Best makeup remover for eye makeup
"What I love about this particular formula is that it doesn't sting or irritate the eyes," says makeup artist Hannah Biddle. She uses it for herself and for her clients who aren't the most efficient at taking off their own makeup, because it does all the work for you: As a "biphase" makeup remover, it lifts makeup off through a lipid phase, then thoroughly removes it with the water phase. "It's so common that I have a client in my chair with remnants of last night's mascara or lash glue, and this does the trick every time at removing all of it," she says. This formula can work for all different skin types, such as normal, dry, and sensitive, because it's an ultralight formula. To have it work at its full effect, Biddle recommends you "pour some onto a cotton pad, press, and hold onto the eyelid to allow the product to loosen up the mascara." After the product is loosened, then you can wipe off.
Best (less expensive) makeup remover for eye makeup
This eye makeup remover is about $10 less expensive than Lancome's for the same size (depending where you buy it), and it still comes very highly recommended by makeup artists. Shahzada rotates her makeup remover depending on her clients' skin type, but she tends to use this one the most. "It removes everything without irritating the eyes and does not leave a greasy residue," she says. When picking out an eye-makeup remover, she thinks it's especially important to find one that "doesn't require any rubbing or pulling — the eye makeup should just slide off." And Biddle agrees that this makeup remover takes everything off easily, especially mascara. Plus, "It's suitable for most skin types, is unscented, and doesn't sting your eyes like others," she notes. Just keep in mind: While some of the makeup removers on this list can work as a cleanser, not just a remover, that's not the case here. As Biddle stresses, this formula is just the first step and "meant to be used on dry skin before a traditional facial cleanser."
Best makeup remover for waterproof makeup
Lucero loves "anything made by La Roche-Posay," especially for sensitive skin, and this Respectissime formula is her "go-to and must-have for removing any long-wearing makeup and waterproof mascara." The formula consists of both a water-based cleanser and oils that, when shaken, combine to remove waterproof, long-lasting makeup without having to scrub. And it's also nonirritating, so it won't bother sensitive eyes or skin.
Best makeup remover balm
If you're partial to the ultrahydrating properties and the melting feeling of a cleansing balm on your face, this one works for normal, oily, combination, and dry skin, thanks to ingredients like sunflower and ginger root oils that will dissolve even your most stubborn makeup without stripping or drying your skin. Biddle tends to recommend this balm for those with oily skin because it gently exfoliates with ingredients like papaya enzymes, and while it is hydrating, it won't overmoisturize the skin.
Best makeup remover wipes
For those on the go, Chang recommends these extra-gentle Cetaphil wipes. They're not all that different from the liquid Cetaphil remover she highlights above; just more portable. Chang adds that they're also "very gentle and contain soothing ingredients, like aloe, green tea, and chamomile." Plus, they're noncomedogenic, fragrance-free, and alcohol-free, so they can work for all types of skin, especially the sensitive ones.
The Strategist is designed to surface the most useful, expert recommendations for things to buy across the vast e-commerce landscape. Some of our latest conquests include the best acne treatments, rolling luggage, pillows for side sleepers, natural anxiety remedies, and bath towels. We update links when possible, but note that deals can expire and all prices are subject to change.