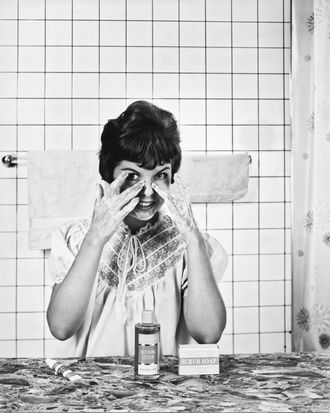 Photo: Authenticated News/Photo by Authenticated News/Archive Photos/Getty Images
While using an oil to cleanse your skin may sound, at first blush, entirely counterintuitive, the simplest way to understand its efficacy is this: Like dissolves like. "Oils are lipophilic so they are attracted to other oils, which means cleansing oils can actually remove oil from the skin when they are rinsed off with water," explains medical esthetician Jordana Mattioli. And the best cleansing oils can do it without zapping the skin of moisture, adds celebrity facialist Joanna Czech:"They have more humectants than other cleansers and they offer a deep clean without stripping the lipidic layer or leaving you with that tight, uncomfortable feeling," she says. Besides having (obviously) more oils than their soapy, foamy, and gel-ish counterparts, another factor that makes cleansing oils more hydrating is that they often have fewer, and sometimes, no, surfactants (cleansing agents).
But don't just slap any oil on the skin, says Crystal Greene, an aesthetician at New York's CAP Beauty. "Oils are nutrient-dense and feed the cells of the skin, so quality is important," she explains, citing components like the correct balance of omega 3 and 6 fatty acids. And the method matters too: Experts go both ways on whether cleansing oil is best applied to dry or damp skin, so a little trial and error may be necessary to find what works best. In either case, Greene says oil cleansing should always involve facial massage — "It's a great way to stimulate circulation and lymphatic drainage," she adds — which is, admittedly, not a hard sell.
Before you get to the application, though, you need to select the product that's best for your skin type (and other needs, too). The following recommendations from the derms and estheticians we spoke to cover a wide spectrum of complexions, most of which they deal with on a daily basis.
Best overall cleansing oil
Consider this oil a best of both worlds situation: intensely hydrating and nourishing but, because of a mild sugar-derived surfactant, also able to cleanse deeply. "It dissolves dirt, oil, and makeup from the skin without drying it out like many cleansers can do. And even though it's oil-based, it's non-comedogenic so it won't clog pores or cause acne," says New York dermatologist Dr. Dendy Engelman. "A bonus is that it contains superoxide dismutase, a powerful antioxidant that protects against free radical damage." Mattioli also notes its free radical destroying capabilities and the formula of "safflower, sunflower, and apricot oils," which she considers "good for all skin types." Greene loves that it's microbiome-friendly — the cleanser has no ingredients that would disrupt the skin's microbial or barrier function, as well as a pre + probiotic complex — and that it's entirely free of essential oils (that's the EO in the name), which are notoriously sneaky skin sensitizers.
The runner-up
An elegant, featherweight texture, plus the ability to play nicely with myriad skin types, make this a perpetual favorite (just barely edged out by the Marie Veronique in recommendations). Dermatologist Dr. Sejal Shah finds that all skin types will benefit from it, but especially dry skin. "Camellia oil is rich in omega fatty acids, in particular oleic acids, and antioxidants, so it hydrates, nourishes, and protects while cleansing," says Shah. Czech also counts herself a fan. "It's very light, and when you mix it with water it becomes slightly milky, which I like a lot, and it leaves the skin nicely conditioned without any tightness," she says. A nice perk: A little goes a long way, so one bottle will last a while.
Best gateway cleansing oil
Ideal for those most hesitant about veering outside their cleanser comfort zone, this "oil" is really less of an oil at first than a buttery balm; you scoop it out and massage it onto dry skin, at which point it swiftly transforms into an oil, before, when water is added, becoming milky. Even those with oily skin, says Mattioli, will find themselves converted "because it rinses really clean with no residue."
Best no-frills cleansing oil
Olive oil–based, infused with antioxidant Vitamin E, and fragrance-free, the formula (and even the label for that matter) is refreshingly basic and extremely gentle. And that is true for all skin types, says Shah, who also underscores the appeal of its water-soluble formula, which makes it supremely easy to rinse off. Couple all that with an approachable price tag ($28 for a 6oz bottle that, even with daily use, should last around six months), and one can see why it has a five-star rating on Dermstore and reams of positive reviews.
Best cleansing oil for makeup removal
"For even the most stubborn makeup-removal purposes, this one simply does the best job," says celebrity aesthetician Joomee Song, who works with many clients for whom heavy makeup is a regular occurrence. That's thanks to the inclusion of an ingredient called PEG20 Glycerl Triisosterate, an emulsifier and surfactant: "It's very effective for removing waterproof mascara, foundation, and sunscreen," says Song. For the most efficient removal, Song says massaging the cleanser onto a canvas of dry skin is key, so it can grab all the makeup and oil along with it. "Apply to dry skin then add plenty of water to emulsify and rinse off thoroughly. You don't need a washcloth to remove it, but, if you'd like, you can use a damp cotton gauze to wipe and clean up after your rinse to make sure there isn't any residue, especially on the hairline or jawline to avoid potential for future breakouts."
Best cleansing-oil splurge
If you want the moments you spend cleansing to be more of an all-encompassing sensorial experience, consider squirreling away your beauty dollars for this oil cleanser. At $125, it's the only product in the triple digits on this list, but one that Greene says, simply, she will never be without. In Fiore is known for its meticulous formulation and sourcing of wildcrafted and organic oils and floral absolutes, which accounts for the heftier price tag. Greene thinks it's worth it. "Not only is it a purifying cleanser that benefits clogged pores and dry skin, but it has a scent that is utterly intoxicating." The blend of jasmine, frankincense, and cypress is "decadent … an alchemic and sensory experience."
Best cleansing oil for dry skin
Truth be told, this is less of a cleansing oil and more of a hybrid. "It has such an interesting texture, an oil gel that gets milky when you apply water," explains Mattioli. Infused with microalgae oil and alguronic acid, the cleanser's formula is rooted in thicker, denser oils (specifically olive and avocado), which is what makes it best suited for drier skin types. Generally speaking, when scanning ingredient lists of oils for nourishing dry skin, Greene always looks for those that include the aforementioned olive and avocado, plus camellia and marula.
Best pre-cleansing oil
Cleansing oil is itself a deep cleanser, Czech points out, but for those among us who feel like their pores could use some extra dredging, her favorite double cleanse is Environ Pre Cleansing Oil followed by their Clay Masque. The oil by the cult-favorite, medical-grade skin-care line is "completely fragrance free and very light," and it does a swift job at lifting makeup, sunscreen, and any other residue hanging out on the skin. "Then, if someone feels they really need extra cleansing, the clay detaches whatever impurities the oil has softened and it smooths skin as well," says Czech. And, she adds, said mask doesn't have to be the one by Environ; any favorite clay-based mask will do the trick.
Best cleansing oil for acne-prone or inflamed skin
This lighter-weight version of PAI's original, and much loved, cleansing oil is particularly well-suited for those with inflamed skin, says Song. Both Greene and New York dermatologist Joshua Zeichner namecheck rosehip oil, which is anti-inflammatory and anti-microbial, as key for combatting acne. "Astringent oils high in tannins calm overactive sebaceous glands," says Greene. A naturally-derived emulsifier (Polyglyceryl-4 Oleate) will work for light makeup removal, "and the rest of the natural ingredients provide brightening, anti-inflammation, regeneration of new skin and hydration," Song explains, adding that, because of the purity of the ingredients, it can also do double duty as a hydrating body oil.
Best cleansing oil for hypersensitive skin