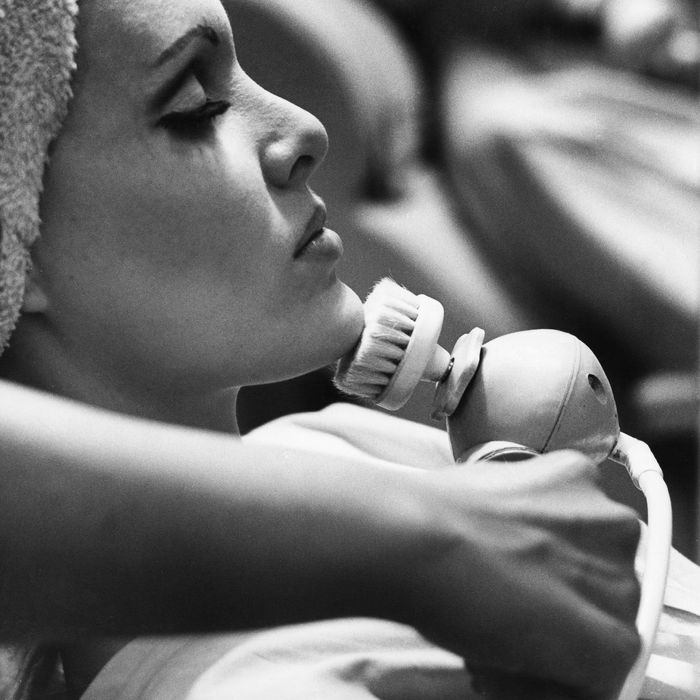 Photo: ullstein bild via Getty Images
"There is no way your hands could move this effectively" is how one dermatologist summed up the power of a really good facial cleansing brush, which, whether made from nylon bristles or silicone, typically operates on a battery charge and uses sonic frequency to deliver tiny vibrations that deep-clean your skin. Adds certified physician assistant Ami Dalal of Schweiger Dermatology Group, "You get that extra exfoliation and cleansing that you are unable to get with your bare hands or a washcloth." She cautions, however, that "you do need to be very careful about over-cleansing and over-exfoliating when using a brush device," and recommends limiting the use of most brushes to one to two times a week for those with sensitive skin. Many of our experts also mentioned that it's important to clean the brushes regularly (and in the case of bristled brushes, to replace brush heads every three months). And some models, of course, are better than others — which is why we consulted eight skin-care and makeup professionals to find out their favorites, including those that are gentle enough for every day (twice daily) use, those that have guided timers for the different zones of your face, and those that stay charged for a full 650 washes.
Best overall facial cleansing brush
While a cleansing brush made of nylon bristles — like the classic Clarisonic — may be what first comes to mind when you think of these electronic devices, the latest iterations of the genre are now being made of silicone, and the Foreo Luna is at the forefront of this new breed. It was recommended by five of our experts, including Dr. Adarsh Vijay Mudgil, founder of Mudgil Dermatology in New York City, who prefers silicone brushes, "as they're easier to clean," he says. "It's all about the silicone, rather than bristles, which is much more hygienic." (Foreo even claims that its brushes are 35 times more hygienic than nylon bristles.) The others agree, all noting that silicone is resistant to bacteria and non-abrasive, making it ideal for all skin types. And while it may seem surprising that the top pick on our list is also the most expensive, here's one of the first things you need to know about silicone cleansing brushes: You never have to change out the heads as you do with bristle-based models, which require replacing every couple of months at about $30 a pop. In the long run, you're actually saving money. And the silicone is gentle enough on your skin that you can use it twice a day, every day.
The Luna device, which comes in multiple models and sizes, works by way of T-sonic pulsations (the "T" stands for "transdermal") that pulse 8,000 times per minute through silicone touchpoints (Foreo's equivalent of bristles) to gently but effectively "reach into your pores," according to the brand, to remove dirt, oil, sweat, makeup residue, and dead skin cells. Dr. Sheel Desai Solomon, a board certified dermatologist in North Carolina, likes the Luna because it's "very user friendly and non-abrasive to the skin." Makeup artist Sofiia Strykova at Honey Artists agrees, saying that it's "very gentle for all skin types," and notes that, for the best results, you should use the brush twice daily with your favorite cleanser. Dalal also emphasizes that, as the most effective cleansing brushes do, "it allows skin-care products to absorb better into your skin after use." For makeup artist Kornelija Slunjski, who likes to use it with a gel cleanser, says, "When I first started using it, I noticed a major difference in my skin's texture." It's also convenient, not only because of its compact size but also the fact that it can stay charged for up to 650 uses: "For those who like low-maintenance product, it lasts for months after a full charge," says Solomon. Another perk of the Luna 3? The back side features ridges that offer timed firming massage routines via the app that target the eyes, neck and décolletage area, cheeks, jawbones, and jawline. It's worth noting, too, that all of these devices, whether silicone or not, are fully waterproof and can be taken into the shower.
Best (less-expensive) silicone facial cleansing brush
While Mudgil agrees that Clarisonic and Foreo brushes are the most popular models, he also likes this silicone device from PMD. Harnessing the power of SonicGlow technology, the brush operates with 7,000 vibrations per minute that gently break down dirt, oil, and other impurities from the skin. The PMD brush is odor-resistant, antibacterial, hypoallergenic, and (again) waterproof, thanks to the silicone, and (again) the brush head never needs to be replaced (unlike regular bristled brush heads). As far as frequency of use, Mudgil says that "once a week is really all folks need," saying that "overuse is the main issue, which can irritate the skin, which in turn can stimulate acne and eczema." He also says that it's important to be mindful of what else is being used in your skin-care regimen. For example, "The use of retinoids or other exfoliants will make one more sensitive to the effects of facial brushing." He suggests using a mild facial cleanser like Cetaphil or CeraVe instead.
Best facial cleansing brush with bristles