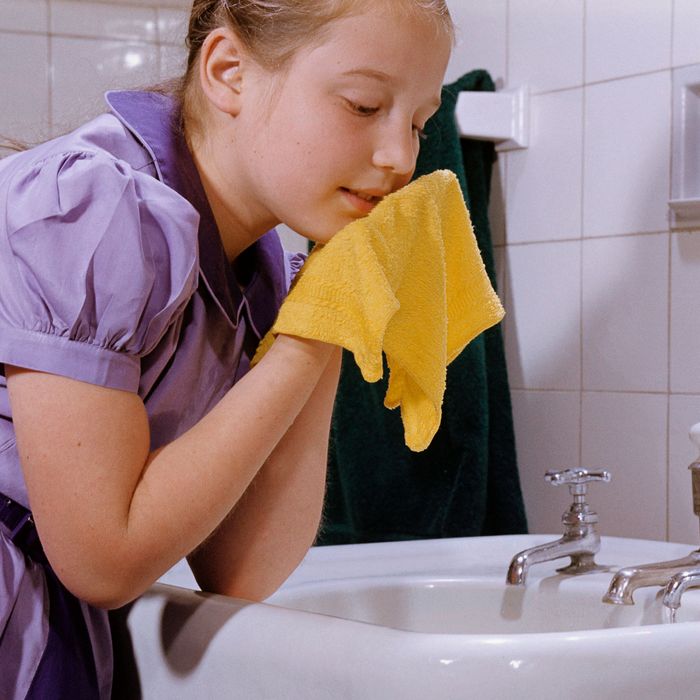 Photo: Steven Gottlieb/Corbis via Getty Images
If you're anything like us, you put a lot of thought into washing your face. Maybe you found a Holy Grail cleanser that isn't too drying or too oily, or maybe you rely on the double-cleansing method to fully remove makeup and sunscreen. But even if you have the cleanser part down pat, you might be undoing all of your hard work by washing and drying your face with a towel that's too harsh or — if you use the same towel for your hands and the rest of your body — by introducing grime back onto your face. We spoke to two dermatologists and an aesthetician about their favorite facial washcloths for all types of skin.
Best silk washcloths
We're already believers in the skin benefits of silk pillowcases, and dermatologist Patricia Wexler says raw silk works wonders as a cleansing cloth as well. "It's soft enough to be good for any skin type, but loosens up dead skin cells, toxins, makeup, and anything you want to get rid of." She explains that sericin, a protein found in silk, helps with "cellular regeneration, cellular repair, and skin hydration." All natural and reusable, silk cloths are environmentally-friendly, too.
Wexler recommends looking for raw "noil" silk that feels a bit stiffer and more cottonlike than the typical, smooth type. In its raw form, noil silk makes for a durable cleansing cloth.
Best muslin washcloths
Muslin, a lightweight cotton, is a popular option for facial cloths. Wexler says the loosely woven material "dries very quickly, so it's not prone to bacterial growth like a sponge or the brush on a mechanical device." Diana Yerkes, lead aesthetician at Rescue Spa agrees that muslin cloths are "great because they're gentle on skin and easy to rinse out." She's a fan of these luxe Eve Lom cloths, which Wexler calls "the Hermès of washcloths."
Yerkes recommends using a clean cloth each day to "prevent bacteria from accumulating and guarantee the freshness of your cloth." Since you'll be tossing one in the laundry daily, it's smart to invest in a week's worth. Unlike terry cloth, which Yerkes says "might be good initially, but it gets too rough when washed too many times," muslin will stay soft after every wash.
Best bamboo washcloths
Since bamboo is "naturally antibacterial and antifungal," according Yerkes, cloths made from the plant's fibers can help control acne-causing bacteria in those with blemish-prone skin. Like muslin, the soft material is gentle enough that it won't irritate existing pimples.