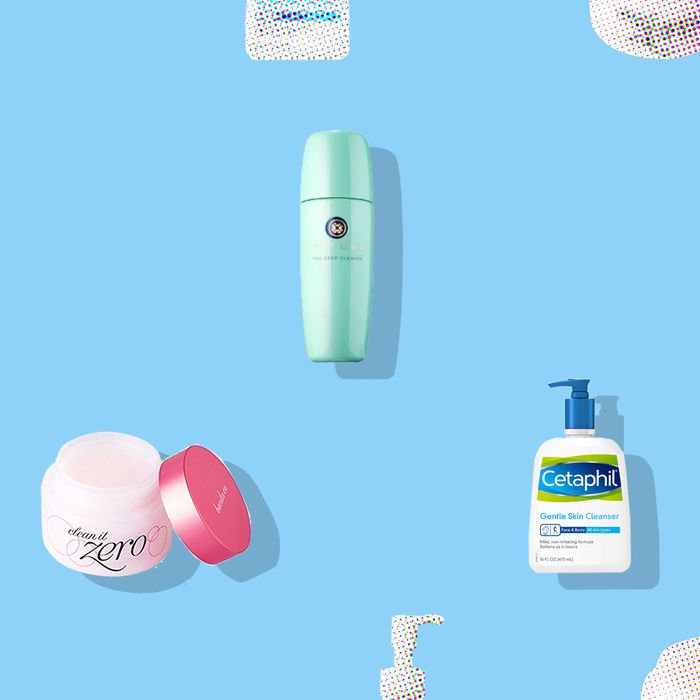 Few things relax me more than thoroughly cleansing my face after a long, tough day — there's a certain satisfaction in splashing cold water on my face and watching the makeup and dirt melt off. But, for New Yorkers at least, cleansing isn't done solely for meditative purposes. Between the muggy weather, ghastly subway rides, and constant human contact, my skin is exposed on the daily to an unthinkable amount of dirt and germs, making my daily scrub-down extremely necessary. And I have evidence to back this up: When I slip up and sleep in my makeup (this does not happen often, I can assure you) I will, without fail, wake up with a major breakout.
Recently, people are voicing some skepticism over cleansing, and whether it will strip away natural skin oils. Is it even really necessary? these people ask. My answer: Umm, yeah! You must wash your face, especially if you live in the city, and double especially if you are acne-prone or have oily skin.
I tend to overheat and sweat in my sleep, so I wash my face twice daily. If you have very dry skin, just skip out on the morning wash — when you wake up you have not yet been exposed to the outside world and all its grime.
There is no universally "perfect cleanser," because different skin types require different formulas. I have dry, acne-prone, sensitive skin, so I can only represent that skin type. However, after doing diligent research on Reddit and YouTube, and quizzing a few of my trusted peers (with various skin types), I've put together a comprehensive list of some of the most beloved and effective cleansers on the market.
Since my skin is both dry and sensitive, and since I find that the two often go hand in hand, I've grouped them together for simplicity's sake. I've searched high and low for a cleansing milk that is as spectacular as Biologique's, and even though I've found some pretty convincing dupes, this has, and probably will always, hold the No. 1 spot when it comes to cleansing my dry-ass, sensitive, blemish-prone skin. This cleanser hydrates and soothes intensely, and while it doesn't actively fight against rashes or blemishes, it preps skin perfectly for serums. I've heard some complaints that this cleanser doesn't do an incredible job of removing makeup. This is true: When I come home with a full face of makeup after a night out, I go in with micellar water first.
When I'm in need of a slightly less expensive substitute for the Biologique, I sub in this cleansing milk from Nuxe. Similarly gentle, this cleanser delicately washes away any dirt and grime without breaking you out or stripping your skin of its natural oils. This is the perfect I'm-scared-of-cleansers cleanser to start on if you have dry skin. Biologique can be kind of a pain to find, both in person and online, so I order this on Jet when I just don't feel like going through the hoopla.
If you've read anything I've written, you know how I feel about my Cetaphil. I've been using it forever now and it's never ever made me break out or made my skin feel dry. I keep a huge tub of this in my bathroom, always.
Though I don't have oily skin, even I can appreciate the wonders of this pH-balanced gel cleanser from the beloved brand Cosrx. If your skin is oily, this cleanser will prep your skin for the day by providing you with the perfect amount of pH, meaning it ensures nice, soft skin but also preps for whatever toner or essence you're putting on next.
I read about how good this cleanser is for oily skin on Reddit's r/AsianBeauty. There were hundreds (seriously) of testimonials about how wonderfully purifying this cleanser is for those with acne and excess oil.