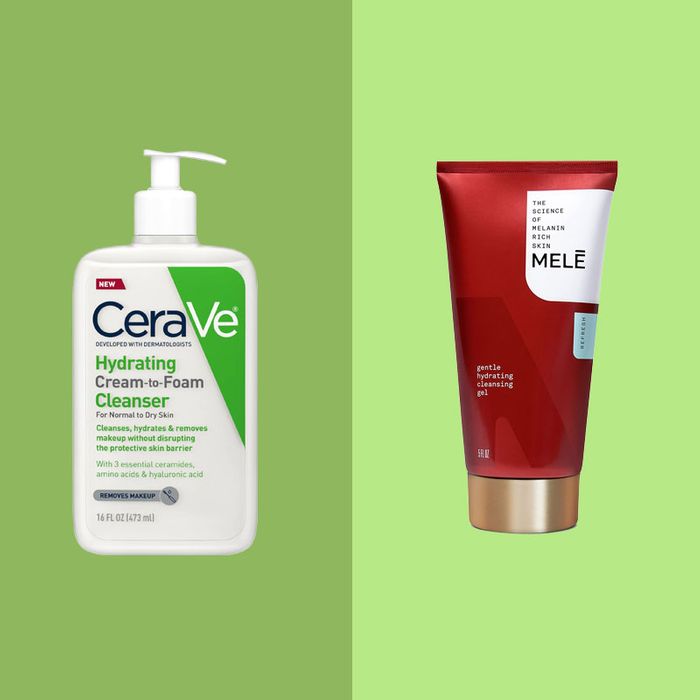 Photo-Illustration: The Strategist; Photos: Retailers
As the first step in your skin-care routine, face wash plays a very important role in keeping your skin balanced. Too harsh of a cleanser can strip the skin of precious natural oils, while too light of one won't effectively wash away extra sebum and product residue, especially if your complexion leans oily. A good cleanser does no harm; after washing your face, your skin should feel refreshed, not tight and parched, while your pores should feel clear and primed for a serum or moisturizer. Because it can be tricky to find the perfect one for you, I spoke to 15 skin-care experts from dermatologists to facialists about what to look for, plus which cleansers they recommend for each skin type. If you already have an idea of what you want in mind, skip directly to the section that suits your skin type from our table of contents below. Otherwise, read on for nine options for all different types of skin, from oily to sensitive to dry.
Best overall| Best for dry skin | Best for acne-prone skin | Best for oily skin | Best exfoliating for oily skin | Best for sensitive skin | Best less expensive for sensitive skin | Best for combination skin | Best for hyperpigmentation | Best cleansing oil
What we're looking for:
Skin type: To get the obvious stuff out of the way first: Pick a cleanser appropriate for your skin type. If you're a self-proclaimed beauty guru, you may be thinking, No duh. But in my experience, most people actually have no idea what their skin type is when asked. If you have zero problems, like acne or dry skin, you were most likely blessed with "normal" skin. But for those with more complicated issues — like excessive dryness that causes tightness and flaking, or blemishes stemming from oily skin — things aren't quite as straightforward. You need to be mindful of ingredients and the texture of your cleanser, choosing one specifically for your dry, oily, acne-prone, sensitive, or combination skin type.
Texture: Once you figure out your skin type, take into consideration the texture of the cleanser. Dry skin types need creamy, almost moisturizer-like face washes or hydrating oil cleansers to remedy the damaged skin, while oily and acne-prone types should opt for foam or gel textures, which will sop up any excess oil. Oily skin can sometimes get away with cleansing oils, too, because believe it or not, oil attracts oil, which leaves your skin balanced. Sensitive skin types should use something creamier because it'll likely be less harsh and irritating on your already fragile skin.
Some standout ingredients: What ingredients you need depends on your skin type. For most people, a good rule of thumb is to pick something that is "both oil-free or noncomedogenic," which means it won't clog your pores, says certified physician assistant Alexandra Gold of SmarterSkin Dermatology in New York City. If your skin tends to be dry, you should also look for ingredients like ceramides and hyaluronic acid to lock in as much moisture as possible. They can also be helpful for those using drying ingredients to treat acne. But acne-prone and oily skin benefits most from exfoliating ingredients like "salicylic acid, glycolic acid, or alpha hydroxy acids," says Gold. Those will remove extra oil, debris, and dirt buildup, which can cause acne. Sensitive skin types should avoid anything harsh altogether and focus more on "calming ingredients such as aloe, cucumber, or clay," notes makeup artist Clara Rae.
Best overall face wash
All skin types | Creamy | Glycerin, vitamin B5, and niacinamide
Backed by three of the experts I spoke to, this Cetaphil face wash features powerful ingredients like glycerin to hydrate, vitamin B5 to protect the skin's barriers, and niacinamide, which smoothes and helps retain moisture. Plus, this noncomedogenic face wash "works on every skin type, even sensitive skin," according to Raleigh-based Dr. Sheel Desai Solomon, who has recommended it to patients with acne, eczema, and rosacea. It's nothing fancy, and honestly, won't be life-changing, but it's a simple, soap-free, hypoallergenic, and fragrance-free cleanser that removes dirt, oil, and makeup without stripping the skin or causing irritation. The best part is it's extremely affordable, allowing you to focus your dollar on other products like moisturizers and serums that have a longer-lasting impact on your skin.
Best face wash for dry skin
Dry skin | Creamy | Glycerin, ceramides, and niacinamide
Dermatologists seemed to like CeraVe Hydrating Cleanser and this La Roche-Posay pick equally for dry skin. The CeraVe face wash has hyaluronic acid, which the La Roche-Posay cleanser doesn't include. But in our expert opinion, the La Roche-Posay might actually be a little bit better because you get an ounce more product for the same price, and it has more actives than the CeraVe, including ceramides, glycerin, and niacinamide. It also features the brand's famed thermal spring water, which hydrates and soothes irritated, dry skin thanks to its antioxidant properties. Ami Dalal, a certified physician assistant with Schweiger Dermatology Group, specifically calls out the glycerin within the formula, because it's "a wonderful ingredient that helps hydrate your skin without the overproduction of oil."