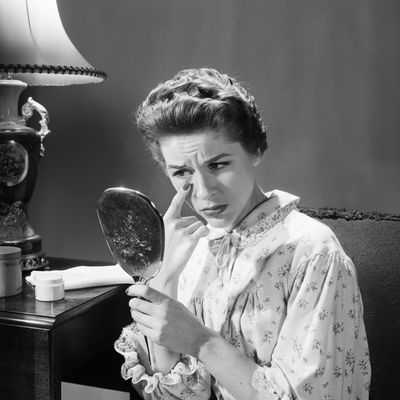 Photo: Getty Images/Debrocke/ClassicStock / Contributor
During this time of self-quarantine and social distancing, we've all become a little more aware of how much we depend on professionals — whether that's a plumber to unclog our toilet, a fitness instructor to correct our form in yoga, or a nail technician to give us the perfect manicure. If you're someone who regularly heads to your dermatologist's office for a zit-flattening cortisone shot, a prescription eczema cream, or a little bit of Botox for your forehead lines, you might be missing your derm most of all. Many dermatologists are scheduling tele–health appointments during this time, so if you have a new or worrisome skin issue, be sure to contact your doctor about setting up a video call. For other (slightly less essential) problems, we asked five dermatologists their advice for getting professional results at home.
If you have a pimple that needs a cortisone shot
According to dermatologist Julie Russak, it's not unusual to see stress-related pimples popping up along the jawline or on the forehead, so if you're battling acne for the first time (or first time in a while), you're not alone. For deep cystic acne, there's nothing that works faster at reducing redness, pain, and swelling than a cortisone shot. When that's not an option, the dermatologists we spoke with suggest combining exfoliating salicylic acid, antibacterial benzoyl peroxide, and anti-inflammatory hydrocortisone cream to attack the pimple from three fronts. "You can make a little combination mask treatment for your pimples that you put on overnight," says Melissa Kanchanapoomi Levin, a dermatologist and founder of Entière Dermatology. Russak says the earlier you start treatment, the better, and she strongly recommends not picking or squeezing your cystic pimples. "There's nothing there to squeeze," she says. "The only thing that you're going to accomplish by trying to manipulate it is making it bigger."
We've been fans of hydrocolloid pimple patches ever since Strategist writer Rio Viera-Newton included them in her original Google Doc skin-care story, and dermatologist Dendy Engelman agrees that they're a good option when you can't get to the derm. These Rio-approved patches (she says they're the best for cystic pimples) contain salicylic acid and tea tree oil, two ingredients Engleman says to look for.
If you had to cancel your Botox appointment
Botox users generally need injections every few months to keep fine lines smoothed out. While you can't totally duplicate the wrinkle-reducing effect at home, all of the derms we spoke with recommend using retinol, which boosts cell turnover for smoother-looking skin, to your routine for best results. It can take a while for your skin to adjust to retinol, which is less of an issue when you're stuck at home. "A lot of my patients who weren't on retinols or retinoids are now taking this time to actually get on it, because they don't care if they're flaking or dry," says Levin. Georgina Ferzli, a dermatologist at Sadick Dermatology, agrees that "retinols can be irritating without proper moisturizing, but since we are at home, we have plenty of time to moisturize," You'll need a prescription for the strongest stuff, but there are lots of over-the-counter creams that dermatologists also recommend. Both Ferzli and Levin like this retinol from Alastin. As Ferzli says, "it's nonirritating and also contains a humectifying ingredient, so even those who are usually too sensitive for retinols can handle it."
Our top expert-recommended wrinkle cream is also one of Russak's favorites if you're looking for a more affordable retinol option.
Using collagen-boosting peptides — broken-down proteins in the form of small amino acid chains — promotes elasticity in the skin, which can also reduce the look of wrinkles. Russak says that different peptides affect the skin in different ways, and she likes that this serum combines seven of the most effective options. "Some of those peptides are collagen-boosting, but some are actually neuromodulatory. They work very similarly to what we do with Botox molecules," she says. "They modulate how tightly we squeeze muscles in our forehead [and other areas of the face] so they actually relax the muscles [and] help to prevent the lines from getting deeper."
If you'd rather not use retinol (maybe you have extremely sensitive skin or are pregnant), Engelman likes these medical-grade silicone patches that you wear overnight to reduce the appearance of fine lines. This pack comes with patches shaped specifically for common problem areas like the neck, forehead, smile lines, and around the eyes.
If you missed your fillers appointment
As with Botox, the results you get from fillers — plumper skin, restored volume, and filled-in line and creases — can't be exactly replicated at home, but you can see some temporary improvement by using hyaluronic acid, which is actually a main ingredient in most fillers. That's because, as Russak explains, hyaluronic acid is a large molecule that can't easily penetrate the skin, making topical applications less effective. Levin likes this serum from L'Oréal, which is on the more affordable end.
Along with adding hyaluronic acid to your routine, Russak recommends looking for products that contain enzymes called hyaluronidases that stop the body's natural breakdown of hyaluronic acid. She recommends this serum from SkinCeuticals that has enzymes derived from purple rice.
If you can't go in for a chemical peel or laser treatment
These types of treatments are typically done in a series of sessions to brighten the skin and remove dark spots, hyperpigmentation, or melasma (a patchy type of hyperpigmentation). If you have to skip a peel or two during the coronavirus outbreak, there are some at-home options for maintaining your progress. Most of the experts we spoke with recommend exfoliating-peel pads with a combination of alpha hydroxy acids (like glycolic acid and lactic acid) and beta hydroxy acid (usually in the form of salicylic acid). Russak says these acids "decrease pigment production and increase cellular turnover, removing superficial spots on the skin." These two-step peel pads, which Levin says some of her patients have seen results with, contain a powerful blend of acids for evening out skin tone.
Both Russak and Engelman recommend this serum for treating hyperpigmentation. It's expensive, but the derms love that it contains tranexamic acid, a powerful ingredient that's proved to inhibit the body's production of skin-darkening melanin.
Dermatologists often prescribe hydroquinone for lightening stubborn dark spots. Russak recommends this Ambi cream that has the highest concentration of hydroquinone available over the counter.
"The most important thing you can do for dark spots and melasma is sun protection," says dermatologist Natalie Moulton-Levy. "It might not seem necessary when you are inside, but the sun can stream through windows and can cause worsening of melasma in that way." Levin agrees that sunscreen indoors is essential for blocking UVA rays (which can also be a rosacea trigger), and she recommends EltaMD UV Clear (a longtime Strategist favorite), which also contains calming niacinamide.
If you have an eczema flare-up
When you're suffering from red, itchy, and scaly skin due to eczema, dermatologists say the key is to look for products that won't further irritate the skin and make sure you're using plenty of moisturizer. "The backbone of eczema care is making sure that you're using a gentle cleanser without any fragrances," says Levin. Both she and Ferzli like Dove's fragrance-free bar soap made for sensitive skin.
As Russak explains, eczema is caused by a breakdown of the skin's protective layers, and she suggests using creams that contain ceramides — the proteins in skin that make up its protective barrier. She and Levin recommend gentle CeraVe cream, which is rich in ceramides.
Since it's meant for babies' delicate skin, this gentle body wash and lotion pair is one of Engelman's picks for treating eczema. She likes that both products are fragrance-free and have the seal of approval from the National Eczema Association.
If you have a rosacea flare-up
"High levels of stress increase the amount of cortisol in the body and lead to flares of both eczema and rosacea," says Moulton-Levy. That explains why several dermatologists report an increased number of rosacea flare-ups among their patients in the past few weeks. There's no denying we're living through a stressful time, but Moulton-Levy says anything you can do to relax — like yoga or meditation — will help calm your skin. While you're working on minimizing stress, Russak suggests face washes with sulfur, an anti-inflammatory agent that can reduce redness. It's labeled for acne use, but Russak recommends this sulfur-based soap for soothing rosacea. Additionally, Moulton-Levy says to stay away from typical rosacea triggers like alcohol, caffeine, hot showers, and spicy foods.
For a rosacea-friendly moisturizer, Russak likes CeraVe PM because it contains niacinamide which has anti-inflammatory and skin-soothing properties.
The Strategist is designed to surface the most useful, expert recommendations for things to buy across the vast e-commerce landscape. Some of our latest conquests include the best acne treatments, rolling luggage, pillows for side sleepers, natural anxiety remedies, and bath towels. We update links when possible, but note that deals can expire and all prices are subject to change.