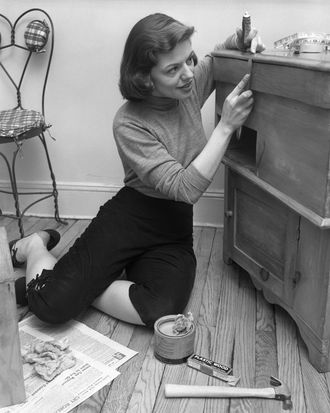 Photo: Bettmann Archive/Getty Images
The coronavirus pandemic, with its seemingly never-ending imperative to stay inside and not invite other people in, is testing our ingenuity (and sanity) when it comes to all parts of life — especially those that we usually outsource to others, like cutting hair or unclogging clogged sinks. So we've rounded up some of our best advice from the experts themselves to tide you over while we're physically distant: There's a contractor on how to deal with some basic home-repair problems, skin-care experts with advice on how to wax at home without hurting yourself, and a bunch of personal trainers who weigh in on worthwhile exercise equipment. Until you can see a professional, these might be your best bets.
If you're having issues with your toilet or a squeaky door is driving you crazy, you can either wait until self-isolation ends or deal with it yourself. So we talked with a contractor to learn how to deal with some of the most common home issues — like a clogged sink or drain, which can be fixed with a small drain snake plunger because it's pliable enough to twist into clogged spaces and has little barbs to help with debris removal. Read more here.
For those who live in hot and humid cities without central air conditioning (read: New Yorkers), the threat of having to install your own window air conditioner looms large as the weather warms. Fortunately, the HVAC experts we spoke to agree that the only thing you need to install your own air conditioner is a safety bracket — like this no-drill metal bracket from Black and Decker, which they say is easiest for amateur installation — but gloves and window sealant are also helpful. Read more here.
If you're trying to limit nonessential trips outside but don't have an in-unit washer-dryer, consider doing your laundry at home. According to the experts we spoke with, a nontoxic, liquid soap is the best way to get started (as long as it's not dish soap), and Patric Richardson, a.k.a. The Laundry Evangelist, likes this honey-scented hand soap because he already keeps it near his kitchen sink — the best place to wash laundry, by his estimate. There's also some specific product recommendations for spot-treatments, cleaning sweaters, and drying those freshly laundered clothes. Read more here.
Just because your dermatologist's offices are closed doesn't mean your skin will cooperate during this stressful time — or that your canceled laser peel will go unnoticed — which is why we consulted with five dermatologists about how to get professional-level results for these common skin questions at home. For deep, stress-induced cystic acne that many people might be experiencing right now, dermatologists suggest combining an exfoliating salicylic acid, like this Clean & Clear spot treatment, with antibacterial benzoyl peroxide, and anti-inflammatory hydrocortisone for overnight treatment. Read more here.
Prenatal and postpartum appointments during the coronavirus will differ based on peoples' pregnancy needs, but for those who will be having virtual checkups, we spoke to a half-dozen experts (including some OB/GYN's) to learn about the best self-monitoring tools. While you can use a Doppler device to hear your baby's heartbeat during pregnancy, and an infant thermometer is helpful to have on hand after your baby is born, a blood-pressure monitor is useful to ensure that your blood pressure is in the normal range (and not heightened due to preeclampsia) before and after birth. Read more here.
Among the many beauty treatments that most people would prefer to not do themselves, maintaining your own brows is one of the trickiest. Thankfully, Benefit global brow expert Jared Bailey gave us step-by-step instructions of how to shape your own brows, starting by sketching out your ideal shape with a brow pencil before you go in with tweezers. Read more here.