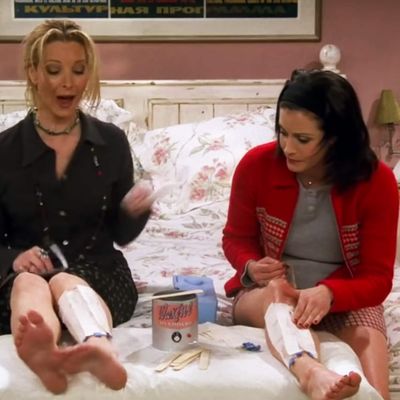 If you've committed to removing any amount of body hair, you probably know that waxing is a reliable option. Next to professional laser hair removal, it's one of the best techniques for long-lasting hair removal. And although waxing might still result in some ingrowns (which there are plenty of ways to address) you won't have to worry about accidentally nicking your skin, or getting razor burn, like you would if you regularly used a razor.
But waxing can still be painful — and expensive, especially during warmer weather, when the cost can quickly add up if you do it more often. Luckily, there are plenty of products you can use to wax at home, which may not be less painful on your body, but will ease the strain on your wallet (which counts for something, right?). To find the best products and techniques for waxing at home, we spoke to an aesthetician, beauty editor, the head of research and development for a women's and a men's hair-removal line, and five other experts. Read on for their picks.
Best overall at-home waxing kit
Gigi's waxing products have something of a cult following. They've been recommended everywhere from the Today show to Into the Gloss (not to mention in our article on the best manscaping tools), so it's not surprising that two of the experts we spoke to recommended the brand's at-home waxing kit by name. Beauty writer and consultant Jeanette Zinno compared Gigi's kit — which includes honey wax, muslin, and applicators — to a professional's set up. And Concetta Cassella, an aesthetician at New London Pharmacy, also likes this kit. While there are several products below that address pre- and post-waxing needs, Gigi's kit is all-in-one: in addition to the waxing warmer and wax, it comes with pre-wax cleaner, muslin cloths, a cream that slows hair growth, post-epilation lotion, post-wax concealer, and post-wax cooling gel.
Before you attempt to wax, though, Zinno advises to make sure your hair is long enough — a quarter-inch is the general rule of thumb — then clean the area before getting started. "Apply wax in the direction of the hair growth, and pull off in the opposite direction … and voilà! You're hair-free and have saved a lot of money," she says. Cassella adds that "when you're using the honey wax, you could do a larger area," she says. "I've put wax on a large area and then just put the strip down, and whatever the strip covered I would pull, and then immediately put the muslin cloth on the next area and pull again." 
Best at-home strip waxing kit
As someone who's perpetually hairy and has a low tolerance for pain, finding wax strips that don't hurt like hell has been something of a journey. My go-to is the oft-socialed Flamingo Body Wax Kit, which the Cut's Kathleen Hou wrote doesn't hurt much more than "yanking off a bandaid." This has also been my experience, and the wide wax strips make it easy to use them until the area is hairless and smooth. The kit comes with 24 wax strips and six post-wax cloths which help to clean up the stickiness the strips leave behind. I like that you don't have to heat the wax up (been there, burned myself) and that each pull apart strip is good for a least two pulls, often more.
Best no-strip at-home waxing kit
"If you're going for a more traditional at-home wax experience, I'd try the Bliss Kit — the blue wax is hard to miss," says Brittania Boey, the head of research and development and product innovation Harry's and Flamingo. "The Bliss Kit is a hot wax, so it requires a little more preparation and bravery, but it does a great job at grabbing fine hairs." Like the Gigi waxing kit, the Bliss Poetic Waxing Kit requires heating the wax first (though in your microwave, not a heating pot), and applying with a spatula. Unlike the Gigi kit, this one doesn't need muslin strips — you just rip the wax off once it hardens. "Pull your skin taught and rip in the opposite direction your hair grows, parallel to your skin," she explains. "Approach it like you're teaching a kid to remove a band-aid, that way the pain is just physical; if you move too slow, the pain becomes emotional." She also notes that even with the right tools, "waxing is a traumatic experience for your skin, so it helps that [Bliss's] wax is free of fragrance and parabens, and the kit comes with post-wax essentials to clean and calm your skin."
Best waxing beans to use at home
If using honey wax seems like a big old mess, you might consider wax beans (or beads), which are easier to portion — meaning you'll have less excess melted wax to clean up when you're done. Cassella likes Wakse's beans for their "really good, clean removal — it comes off in one piece and you don't need strips." To use the Wakse beans, all you have to do is put them in the brand's silicon pot (which is sold separately) and then heat them up in the microwave. "You microwave it until it melts, and then you let it cool down and apply it to your skin with a little spatula or Popsicle stick," she explains. After applying the wax, Cassella says to wait until it gets a little less tacky ("It'll still feel a little pliable"), then press down evenly across the area that you're waxing, lift up one end and, while holding your skin, pull it in the opposite direction of hair growth. "You could definitely use it anywhere, and it's really good for sensitive skin, too," she adds.
Best strips for waxing facial hair at home
If you don't want to splurge on a full kit for your face, Kristina Rodulfo, senior beauty editor at Elle.com, has an inexpensive recommendation that you can find at most drugstores: Nair's Hair Remover Wax Strips. She likes them because "you don't need any extra tools, and they don't require pre-warming so you can just use them right out of the box." Rodulfo notes that the strong formula can remove even coarse hair from the root, which will save you from having to go over the same spot several times. "I have pretty sensitive skin that's gotten swollen and red from salon waxes, but this is gentle enough for me."
Best products to use on skin before waxing at home
"To avoid ingrowns, it's always good to exfoliate your body — not just right before, but the day before, a couple days before, and really on a regular basis," says Cassella. She recommends dry brushing over using exfoliant scrubs, because it's less messy, and dry brushing "is good for your skin in general — and great to increase circulation." Cassella notes it's best to dry brush before showering, and to brush from the bottom of your body upward in long strokes. "The rule is always working up towards your heart." She did not recommend a dry brush by name, but our friends at the Cut like this one (just heed their warning not to brush too hard on sensitive skin).
This scrub is a sister product of body hair-care company Fur's Fur Oil, a pubic hair conditioner we've written about before (Shen Beauty aesthetician Lara Kaiser previously recommended it to us as one of the best things to treat and prevent razor bumps). Sara Jane Eammons, Fur's Associate Manager of Brand Development, suggests using the scrub before waxing, because it "contains both physical and chemical exfoliants to really make sure the dead skin is sloughed away for radiant resurfacing."
When we talked to Kaiser last year, she told us Fur Oil is an "antiseptic" product that "helps soften hair and hair regrowth." It's formulated with moisturizing grape-seed and jojoba oils, as well as tea tree oil — all of which help keep sensitive pores clean, according to Eammons, who notes "a lot of salons that carry Fur products will actually apply a tiny bit of Fur Oil before a wax, to soften the skin."
Best products to soothe skin after an at-home wax
According to Great Jones Spa's skin-care manager Mihoko Ninomiya, when you wax your skin, it "goes through a shocking experience in a flash, and it needs some TLC to calm the redness and irritation." A wax technician will generally apply some kind of post-depilatory product like an aloe gel, but Ninomiya (along with our other experts) says it's best to supplement that by using of lotions and moisturizers for sensitive skin at home. "My personal favorite is applying a mixture of Naturopathica's Carrot Seed Soothing Facial Oil (a few drops) and Calendula Essential Hydrating Cream," she says. Ninomiya also says to avoid "sun exposure, hot showers, steam rooms, and saunas for a few days post-waxing," so that your skin has time to recover.
In addition to redness and irritation, some people (like me) can experience post-wax hyperpigmentation due to the trauma the skin experiences from waxing (this is common with darker skin tones). I like to use a little hydrocortisone on areas that look irritated after waxing (particularly ones with aloe, like this one). This helps reduce the risk of hyperpigmentation, and soothes any irritation as well.
I also like to use a broad spectrum SPF after I wax, specifically Supergoop's Unseen Sunscreen. Sunscreen is the best way to combat hyperpigmentation, no matter where it crops up, so I use this in the morning to help any darkened areas fade more quickly.
Best product to soothe skin after an at-home bikini wax
For calming skin after a bikini wax, Ninomiya suggests Soothe: Calming Cream from Rosebud Woman, which she says "can help care for the delicate skin."
Best ingrown-hair treatment to use after an at-home wax
To treat ingrown hairs that grow after a wax, Ninomiya recommends using this gel. While it's "designed for male skin suffering razor burns and ingrown facial hairs," she says it is "also effective on female skin with ingrowns anywhere."
The Strategist is designed to surface the most useful, expert recommendations for things to buy across the vast e-commerce landscape. Some of our latest conquests include the best acne treatments, rolling luggage, pillows for side sleepers, natural anxiety remedies, and bath towels. We update links when possible, but note that deals can expire and all prices are subject to change.