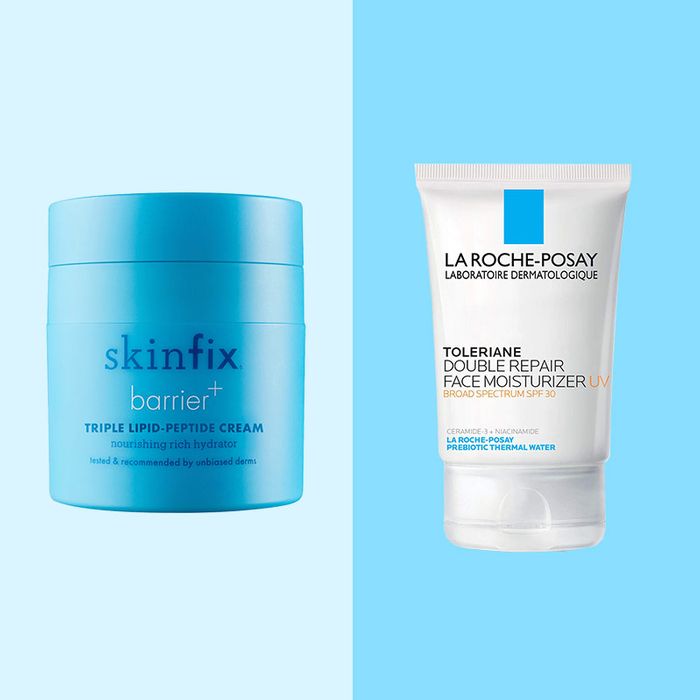 Photo-Illustration: retailers
Regardless of age, everyone wants their skin to look glowy, radiant, and plump. But the moisturizer that worked so well in your 20s and 30s might not meet the same needs your skin has by the time you hit your 40s and 50s. That's because, with age, your skin begins to produce less oil and there is a breakdown of elastic and collagen fibers, according to Dr. Marla Diakow of Schweiger Dermatology Group. "The skin becomes drier and thinner with more laxity," she explains. Generally, this means a proper skin-care regimen needs to include "products that strengthen and thicken the dermis, provide moisture retention and barrier renewal, and are not too harsh or abrasive," she says.
To find out which moisturizers are the best for all types of mature skin (and budgets), we asked Diakow and twelve more dermatologists about the ones they recommend. The best, according to the pros, include ingredients such as hydrating hyaluronic acid, skin-barrier-protecting ceramides, brightening niacinamide, and wrinkle-fighting retinol. (Not every moisturizer will have all of them — and not every person will need all of them, either — but the experts are in agreement that these are the most common ingredients that will give the most noticeable results.) Read on for all their favorite moisturizers for mature skin — and although we're mainly talking about moisturizers for the skin on your face, there are a few options specifically for bodies and lips, too.
Best overall moisturizer for mature skin


According to Dr. Debra Jaliman, an assistant professor of dermatology at Mount Sinai's Icahn School of Medicine, "Cerave Moisturizing Cream is a very basic, inexpensive product that is great for dry skin," because it contains glycerin, ceramides, and hyaluronic acid in order to deliver excellent hydration. "As we age, our hyaluronic acid levels decrease," which can cause mature skin to become itchy or irritated, explains Dr. Noelani Gonzalez. "This moisturizer helps replenish hyaluronic acid" — which Dr. Joshua Zeichner, the director of cosmetic and clinical research in dermatology at Mount Sinai Hospital, calls "a hero ingredient," especially for mature skin. Dr. Hadley King, a clinical instructor of dermatology at the Weill Medical College of Cornell University, adds that hyaluronic acid "can hold over 1,000 times its weight in water," which is what makes it such an effective skin hydrator and plumper. In addition to being packed with key ingredients, this moisturizer is also fragrance-free, making it suitable for those with sensitive skin, and it doesn't feel greasy, Gonzalez says.
Best moisturizer for acne-prone mature skin
As we age, "using gentle products made from high-quality ingredients with less irritants, fragrances, and additives becomes more important," explains Diakow. This moisturizer from Cetaphil, a brand you can find on the physical (or virtual) shelves of many retailers, came recommended as one of the gentlest you can buy. It will "hydrate skin without clogging pores, can be used year-round, and is tolerated well by almost all skin types," says Dr. Francesca Fusco. King agrees: It's noncomedogenic and packed with hydrating ingredients, including moisturizing glycerin and hyaluronic acid, skin-softening glyceryl stearate and sweet almond oil, and vitamin E, an antioxidant that fights UV damage.
Best drugstore moisturizer for mature skin


Zeichner also loves this hyaluronic acid–packed Hydro Boost Gel Cream from Neutrogena, which "acts like a sponge to pull water into the outer skin layer to hydrate and plump, and even improve the appearance of some fine lines." The lightweight, gel-based cream has also earned a spot in our roundups of the best moisturizers for dry skin and the best moisturizers for oily skin, making it a good choice for many different skin types. It's also a favorite of Birmingham-based dermatologist Corey L. Hartman, founder of Skin Wellness Dermatology, who recommends it for very dry skin. He likes that it goes on nicely and doesn't leave a "thick, gross film." It also gives skin, he says, "a good mix of hydration and moisturization."
Best moisturizer for itchy mature skin
"Many patients with mature skin come to the office complaining of itching or irritation," says Gonzalez, who explains that is a sign the skin barrier is compromised. For these patients, she recommends moisturizers that contain ceramides, which are lipids that work to repair and protect the skin barrier. While it's not cheap, Gonzalez says SkinCeuticals AGE Interrupter is one of the most effective moisturizers you can buy to treat itchy mature skin because, in addition to ceramides, it also contains blueberry extract, which "acts as an antioxidant that helps to both strengthen the skin and prevent wrinkles." It also "helps diminish the appearance of crepey skin, which makes it a great option for aging skin," she adds.
Best moisturizer for uneven mature skin


According to Jaliman, the powerhouse ingredient niacinamide "helps even pigment and skin color." In addition to niacinamide, this fragrance-free option from Olay also contains glycerin, hyaluronic acid, and aloe which is super-soothing to the skin.
Best moisturizer for oily mature skin
She also recommends this oil-free, noncomedogenic moisturizer from Peter Thomas Roth that will give your skin a glow, without getting it greasy.
Best moisturizers for severely dry mature skin
According to Dr. Julie Russak, the founder of the Russak Dermatology Group, aging causes "our cells to become less robust and dry up and shrink." As a result, "what we see are lines and dry skin." SkinCeuticals Triple Lipid Restore 2:4:2 is a lipid replenisher that "restores the natural physiological composition of our cell wall" so that "younger, healthier cells" can take over. "You can literally feel the ingredients quench depleted skin," she promises, due to the ceramide and antioxidant-infused formula. "This is full of essential lipids like ceramides, fatty acids, and natural cholesterol that all improve the skin barrier and provide deep — but not heavy — moisture, improving texture, fullness, and uneven skin tones," adds dermatologist Annie Chiu. "It also contains vitamin E, which supports cell reproduction, helps skin repair itself, and defends skin against environmental damage." Dr. Marisa Garshick is also a fan and recommends using it if you're using a retinoid. "It does a great job keeping the skin moisturized," she says, "enabling people to better tolerate their retinoid." It's also a favorite of Hartman's patients. "I don't usually recommend something so expensive for just a moisturizer, but once they try it, their skin soaks it up and they just can't get enough."
"I love anything with peptides for mature skin," says Dr. Charles. "They're intensely hydrating and help to plump and firm the skin." He likes this moisturizer from SkinFix, which has a triple lipid complex, a peptide protein blend to help maintain the skin's barrier, and lily root, which helps skin to look tighter and maintain moisture. "It's thick, luxurious, and leaves skin feeling noticeably softer."
Best affordable moisturizer for severely dry mature skin
If you're looking for something a little more affordable, Dr. Caroline Robinson recommends this moisturizer from Hero, which she calls "super hydrating." Similar to Skinceuticals, this moisturizer contains ceramides in addition to other hydrating ingredients like hyaluronic acid and squalane. It also helps to clear pores using sage, a natural clarifier.
Best moisturizer for mildly dry mature skin


According to King, "the most effective moisturizers combine both humectants and emollients" — or ingredients that attract and lock in moisture. Vichy Aqualia Thermal Rich Cream, she says, is packed with both, including hyaluronic acid ("a powerful humectant"), shea butter ("a great emollient"), and glycerin (which acts as both). While effective at quenching dry skin, its ingredients are slightly less intense than the ceramides and fatty acids found in the SkinCeuticals product above, making it a good option for those experiencing mild dryness. Buyers should know this cream has a light fragrance, which means it may not be the best bet for those with sensitive skin. But if you don't mind fragrance, King promises this one is "light and very nice."
Best moisturizer for sensitive mature skin
"The texture of the skin can appear more crepey and wrinkly when it's dry, so it is always best to hydrate," says Garshick, who recommends this from La Roche-Posay. She likes this one in particular for sensitive skin types, thanks to soothing, skin-barrier-supporting ingredients like ceramides and niacinamide. It also has an SPF of 30, so it's pretty much two skin-care products in one.
Best exfoliating moisturizer for mature skin