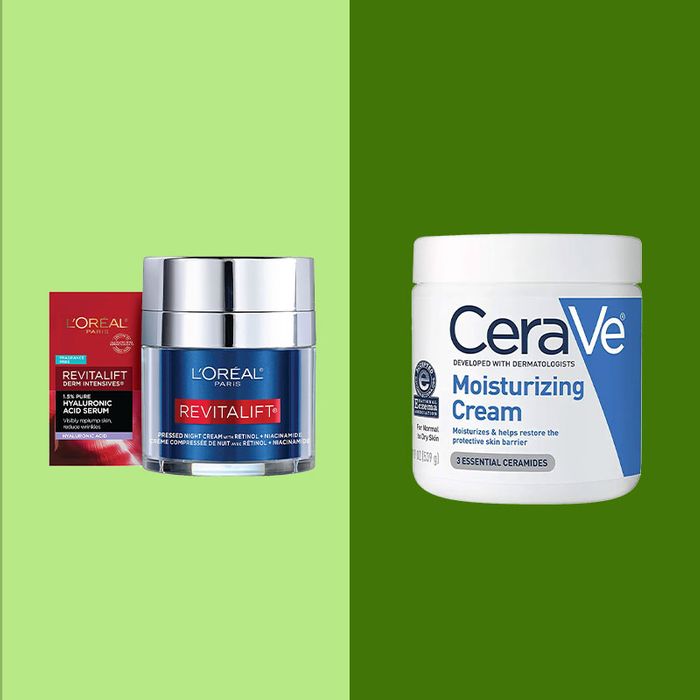 Photo-Illustration: The Strategist; Photos: Retailers
Regardless of age, everyone wants their skin to look glowy, radiant, and plump. But the moisturizer that worked so well in your 20s and 30s might not meet the same needs your skin has by the time you hit your 50s. That's because, with age, skin begins to produce less oil and there is a breakdown of elastic and collagen fibers, according to Dr. Marla Diakow of Schweiger Dermatology Group. "The skin becomes drier and thinner with more laxity," she explains. Generally, this means a proper skin-care regimen needs to include "products that strengthen and thicken the dermis, provide moisture retention and barrier renewal, and are not too harsh or abrasive," she says.
To find out which moisturizers are the best for all types of mature skin (and budgets), we asked Diakow and nine more dermatologists about the ones they recommend.
Best overall | Best for oily skin | Best for dry skin | Best (less expensive) for dry skin | Best for sensitive skin | Best for uneven skin | Best tinted SPF | Best with retinol | Best (less expensive) with retinol | Best (less expensive) moisturizer with retinol and SPF | Best nighttime moisturizer for mature skin | Best for eyes
Ingredients: A few things happen to skin as it ages. Because collagen begins to break down and skin produces less oil, new skin concerns start to crop up. That can range from dullness to wrinkling to hyperpigmentation. A good moisturizer can be helpful at addressing all of these concerns, provided you have the right combination of ingredients. According to our experts, the best moisturizers for mature skin — whether it's for your face, body, or lips — include ingredients such as hydrating hyaluronic acid, skin-barrier-protecting ceramides, brightening niacinamide, and wrinkle-fighting retinol. Not every moisturizer will have all of them — and not every person will need all of them, either — but the experts are in agreement that these are the most common ingredients that will give the most noticeable results. We've noted which products contain them, with many containing a combination.
Retinol: A little more about retinol. We've noted when it's included in a formula because if you're already using a prescription retinoid, there's no need to double up with your moisturizer. It also requires you to invest extra TLC in your skin. First, you need to use sunscreen when adding a retinol into your routine because it causes skin to be more light-sensitive. Starting a retinoid can also trigger an adjustment period for skin, marked by redness, dryness, and flaking. In other words, things tend to get worse before they get better. Lots of retinoid formulas — particularly the ones mentioned on this list — contain nourishing ingredients to address these side effects, like glycerin, shea butter, or oils. Despite the added steps to a skincare routine, it's still the most-recommended by dermatologists for brightening skin and smoothing wrinkles. The vitamin A derivative speeds up cell turnover and encourages collagen production, which diminishes the look of fine lines and wrinkles and also helps give skin that bright, plump glow.
Consistency: Consistency is also important when picking a product. Formulas designed specifically for mature skin types tend to have a richer texture — we've noted whether a moisturizer is light like a serum or ultrarich and thick, so you can pick one that fits your needs and routine.
Best overall moisturizer for mature skin


Contains ceramides, hyaluronic acid, glycerin | Does not contain retinol | Rich cream
When thinking about the best moisturizer for most people, Cerave came up a number of times. It's a basic, inexpensive option that contains good-for-skin ingredients like glycerin, ceramides, and hyaluronic acid — all of which help to hydrate the skin. "As we age, our hyaluronic acid levels decrease," which can cause mature skin to become itchy or irritated, explains Dr. Noelani Gonzalez. "This moisturizer helps replenish hyaluronic acid" — which Dr. Joshua Zeichner, the director of cosmetic and clinical research in dermatology at Mount Sinai Hospital, calls "a hero ingredient," especially for mature skin. Dr. Hadley King, a clinical instructor of dermatology at the Weill Medical College of Cornell University, adds that hyaluronic acid "can hold over 1,000 times its weight in water," which is what makes it such an effective skin hydrator and plumper. In addition to being packed with key ingredients, this moisturizer is also fragrance-free, making it suitable for those with sensitive skin, and it doesn't feel greasy, Gonzalez says.
Best moisturizer for oily mature skin
Contains hyaluronic acid, glycerin | Does not contain retinol | Lightweight gel cream
Even though mature skin tends to lose moisture as you age, some people continue to have oily skin throughout their life. We've written about the Hydro Boost Gel Cream from Neutrogena a bunch before. It made our best-seller list more than ten times and has been dubbed the best overall moisturizer for oily skin. The lightweight moisturizer is alcohol- and oil-free and noncomedogenic but manages to be deeply moisturizing thanks to ingredients like glycerin and hyaluronic acid. It's also a dermatologist favorite. Zeichner loves this hyaluronic acid–packed Hydro Boost Gel Cream from Neutrogena because it "acts like a sponge to pull water into the outer skin layer to hydrate and plump and even improve the appearance of some fine lines."