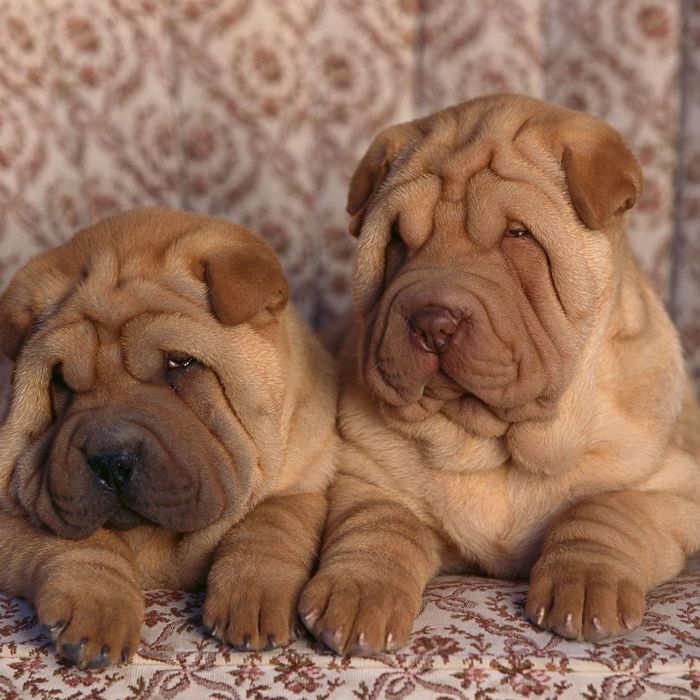 While your skin-care routine may currently be heavy with stuff to treat acne or get a covetable glow, it's never a bad idea to incorporate products that prevent and treat signs of aging. "As we get older, our skin gets thinner and produces less collagen and elastin — which means it doesn't repair itself as well and isn't as plump or moist, which in turn causes our expression lines and wrinkles to stick around," explains dermatologist Noelani Gonzalez, a specialist at Mount Sinai Health System. Wrinkle creams can be a great, all-around solution to the skin's natural aging process because the best will "provide support to your aging skin and deliver ingredients to the skin that help it better repair and renew itself," she says.
To find the best wrinkle creams for preventing and treating fine lines, we spoke to Gonzalez and six other dermatologists. Read on for their picks, which include wrinkle creams with SPF, overnight wrinkle creams, ones specifically for under the eyes, and more.
Best overall wrinkle cream
Every dermatologist we spoke to agreed that the vitamin A derivative retinol is the most potent ingredient when it comes to getting rid of wrinkles (other important ingredients to look for are SPF, antioxidants, acids, and peptides). "When I think about the best anti-wrinkle creams, I immediately think about which over-the-counter creams contain retinols — which, in my opinion, are the No. 1 most important ingredient when looking for an anti-aging cream," says Morgan Rabach, a dermatologist at LM Medical NYC. Dermatologist Marnie Nussbaum concurs that retinols are the "gold standard" and "one of the hardest working products — the MVP — in your beauty arsenal" for treating aging skin. That's because retinols can help increase cellular turnover and encourage the formation of new skin, as well as the production of collagen and elastin, all of which help to reduce fine lines and wrinkles, according to Nussbaum. They also help fade discoloration, improve the appearance of pores, and repair UV damage.
Dermatologist Carlos A. Charles, the founder of New York City–based Derma di Colore, told us he typically suggests that patients use retinols' prescription-strength cousin, retinoids, to treat wrinkles, but says that "in the over-the-counter world, RoC Retinol Correxion Deep Wrinkle Night Cream can be used for those who prefer a milder retinol formulation." Rabach agrees, adding that the RoC is gentle enough to use on more sensitive, wrinkly skin around the eyes, too. When using a retinol, correct application is key to avoid irritating skin (which may still occur if you're just starting out). According to Gonzales, start slow and apply pea-size, just two to three times a week, and work up from there. Nussbaum adds that it's best to only use this (or any anti-aging cream with retinol) at night, since your skin has a better chance to repair itself while you sleep — and because retinol makes skin more sun-sensitive (so she additionally advises to wear a broad-spectrum sunscreen daily if you're using retinol creams nightly).
Best drugstore wrinkle cream
"Slathering a moisturizer on every night will also help" plump wrinkles and fine lines, according to Rabach, who suggests Olay Regenerist for its thicker texture — which she notes is particularly good for wrinkly skin that's also super dry. It is infused with hyaluronic acid, peptides, and niacinamide, all of which work together to plump and smooth fine lines. And if wrinkles are really stressing you out, Rabach adds that some small lifestyle changes can make a big difference. "Simple things like cutting down on smoking, hydrating when you're out drinking, using a moisturizer every morning with sunscreen, and remembering to take off makeup will help reduce wrinkles over time."
Best wrinkle cream for deep wrinkles
If you're looking to treat particularly deep lines, say, around your mouth or in between your brow, they may likely require extra attention, according to dermatologist Samer Jaber, founder of Washington Square Dermatology. He told us that Olay Pro-X Deep Wrinkle is "an effective" option, but it's admittedly more expensive than others on this list. However, Jaber pointed us to a 2010 study published in the British Journal of Dermatology that showed this cream effectively minimized facial wrinkles in just eight weeks, making it seem worth the price. He notes that this cream, which contains retinol, is also "fragrance-free, and has the anti-inflammatory vitamin niacinamide, which improves tolerability for those with sensitive skin."
Best tinted wrinkle cream with SPF


Revision Skincare Intellishade is a combination anti-aging moisturizer (with collagen-boosting peptides) and broad-spectrum sunscreen (with SPF 45) that also contains a slight tint, making it a versatile product that "helps protect, correct, and even hydrate the skin," according to dermatologist Ainah Tan. This can also be worn in place of makeup to help even your skin tone and smooth out any imperfections.
Best wrinkle cream with peptides
"Peptides help signal and support the dermal collagen, which aids in maintaining skin elasticity and helps reduce visible fine lines and wrinkles," says board-certified dermatologist Audrey Kunin, who recommends this wrinkle cream from Peter Thomas Roth. Formulated with 21 peptides and neuropeptides and proteins, it helps reduce the look of fine lines and wrinkles while hydrating the skin.
Kunin also likes this moisturizer from StriVectin, which started out as a popular stretch-mark cream and has since become an anti-wrinkle staple. The original was reformulated to specifically target ten types of collagen and contains both peptides and niacinamide. The latter supports the skin's barrier, reduces moisture loss, and smooths the skin's texture.
Celebrity facialist Joanna Czech likes this cream from Jan Marini, which has both peptides and growth factors. Together, they help stimulate collagen production and reduce the look of fine lines and wrinkles. "It will quickly and significantly improve the appearance of enlarged pores, elasticity, and volume of the skin," she says, noting that it can help with texture and tone, too.
"It's lightweight but hydrates," says Dr. Rachel Cheung of this moisturizer from M-61, which contains a mix of vegan collagen, vitamin B5, peptides, and kakadu plum. "The vitamin B5 draws in moisture to restore the skin barrier, while antioxidants protect from free radicals and peptides boost collagen production," she says. It's also incredibly lightweight, a good option if you are on the oilier side.
Best wrinkle cream with retinol
While most wrinkle creams focus on stimulating collagen, this night cream from Emepelle, which makes products specifically for maturing skin, targets and activates the skin's estrogen receptors. "Estrogen plays a critical role in moisture retention and maintaining collagen and elastin levels," says Cheung, noting that this cream helps to deliver plumper, glowier skin. It also contains the usual suspects, like retinol, niacinamide, and peptides, which, combined, she says, attack wrinkles from all directions.
Best wrinkle cream for sensitive skin
Tan calls this a "great anti-aging cream for patients with sensitive skin." The product is formulated with retinaldehyde, which, while gentler than traditional retinol, is still an effective active ingredient. She adds that this also contains antioxidants to protect sensitive skin from free-radical damage.
If you want the smoothing benefits of a retinol but worry about potential irritation, Kunin recommends this retinol treatment from DERMAdoctor formulated specifically for sensitive skin. "It's gentle yet effective," she says, "and is less likely to cause dryness, redness, or irritation." Even though it has a serious concentration of retinol (one percent), it includes botanical extracts to soothe and hydrate.
Best brightening wrinkle cream
Jaber notes that, in addition to retinol, this cream is "formulated with lactic acid, so you get the brightening effects of that in addition to the anti-aging effects of the retinol." If you're concerned that combining the two potent, active ingredients will irritate your skin, Jaber assures that even his patients with the most sensitive of skin, who have struggled with irritation from other retinol formulas, find this "very tolerable." Nussbaum also loves the product, recommending you apply it nightly like other retinol formulas — none of which should be used if you are pregnant or breastfeeding, she cautions.
Czech also likes this cream from Environ. In addition to smoothing wrinkles, it helps brighten skin with vitamin C. "It stimulates collagen production, which automatically increases elasticity of the skin and brightens it," she says. Vitamin C also acts as an antioxidant and helps to protect skin from sun damage (which can speed up the aging process, thus leading to more wrinkles).
Best natural wrinkle cream
If you have sensitive skin and are looking for a less irritating alternative to retinol, Cheung recommends this moisturizer from Alpyn Beauty, which uses common anti-aging staples like peptides along with bakuchiol, a natural ingredient that works similarly to retinol. "It's a plant-derived alternative to retinol that delivers the same collagen-boosting effects without the irritation," Cheung says, adding that the formula also contains moisture-barrier-supporting ingredients like squalane to help maintain and hydrate the skin.