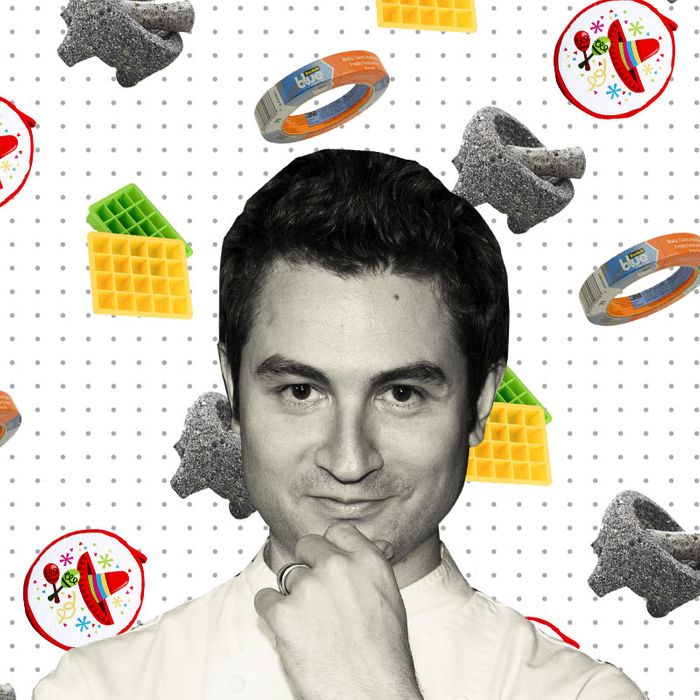 We reached out to Chef Alex Stupak, a former molecular pastry chef at Alinea who's currently running the high-end Mexican-food empire at Empellón's three New York City restaurants, to talk about his absolute favorite kitchen items. What we ended up with is a list of unexpected but useful kitchen items (painter's tape, a scale) and cooking hacks (ice-cube trays, but for broth; rubber baking spatulas, but for cooking) that'll spark some ideas for even the more experienced home chefs out there.
The Olfa Stainless utility knife is a little retractable art blade. It's not meant for cooking, they're made for cutting paper or acetate, but I started using them in the pastry kitchen because they're incredibly handy. I always keep a couple of them on my knife magnet at home because people need knives for a lot of things, like cutting strings or opening a box or package, and they tend to use a kitchen knife, which is inappropriate. This is to prevent a person from using a kitchen knife for the wrong things. They're addictive once you start using them.
I'm a big fan of labeling and organization in the kitchen, and even at home there's something really gratifying about having everything neatly organized. That's why I always use this painter's tape. You write on it with a Sharpie, and when you put it on containers, it peels away without leaving any residue because it's designed to not peel away paint, which is great. You can be super OCD and cut the tape's edges really clean with the Olfa utility knife.
One of my favorite things to do on my day off is make stocks and broths at home. It's really awesome and gratifying. Everyone should buy pig's feet or chicken wings and simmer them, and just have it stored for later use. I always recommend making a big batch of it and then freezing it. The thing is that freezing broth in a large container is inconvenient. So I actually like making stock and then freezing it in ice-cube trays. Once they're frozen I pop them out and store them in an airtight container because then you can just use one stock cube at a time and add it to whatever. It's just a cleverer and more convenient way to dole something like that out.
I like to use a Peugeot French-style pepper mill. They come with a warranty and feel really good in the hand when you're cracking black pepper. Black peppercorns that have been freshly ground have a floral character that pre-ground pepper just doesn't have, and it's a shame that buying black pepper is such an atrocity. Also, the way most mills force you to use your wrist is a deterrent because the act of grinding can be so unpleasurable. These are pretty, feel good, and they're fun to use. I always have one by my side.
We use these plastic deli containers in restaurants and they're incredibly inexpensive and common. They're like Chinese-takeout soup containers, but the plastic is sturdier. You can use them for whatever — microwave them, refrigerate them, freeze them, and run them through the dishwasher. They come in three sizes and they're a tremendous thing to have on hand to store all of your stuff. At home people have all these knickknacks and odds and ends of Tupperware and plastic containers, but you can buy hundreds of these for not that many dollars. If you take all of your food products out and put them back in the fridge in these containers, you're going to feel like a god in your own mini-world. And then you label them with the blue painter's tape. It just feels so much better.
This is basically a rubber spatula that cannot melt. You can put it in a 600-degree oven and nothing will happen. When stirring or transferring food, people tend to use a wooden spoon or, even worse, a metal spoon, but this just works so much better. You can use it to flip an omelette, or it'll even scrape every little thing out of a container. I used to be a pastry chef, so I always used a rubber spatula for mixing mousses and such, but I find that in the kitchen in my home, I use them for almost everything.