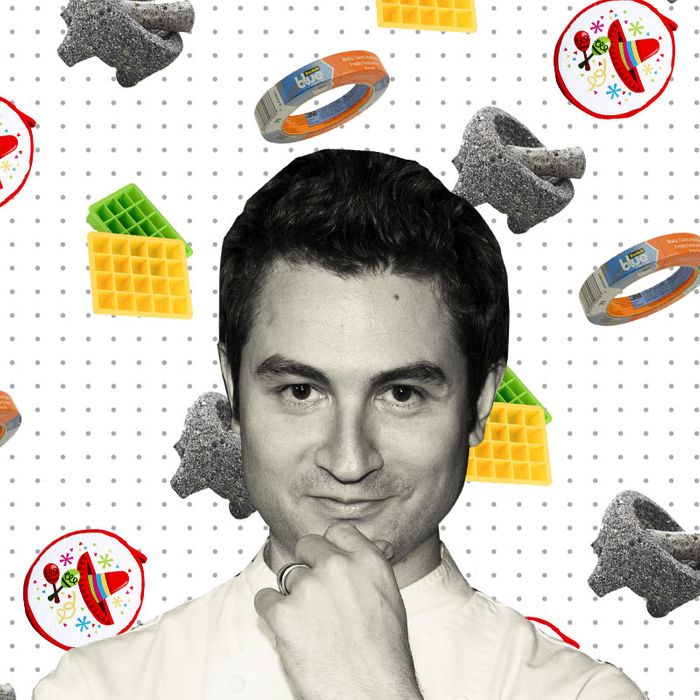 We reached out to Chef Alex Stupak, a former molecular pastry chef at Alinea who's currently running the high-end Mexican-food empire at Empellón's three New York City restaurants, to talk about his absolute favorite kitchen items. What we ended up with is a list of unexpected but useful kitchen items (painter's tape, a scale) and cooking hacks (ice-cube trays, but for broth; rubber baking spatulas, but for cooking) that'll spark some ideas for even the more experienced home chefs out there.
The Olfa Stainless utility knife is a little retractable art blade. It's not meant for cooking, they're made for cutting paper or acetate, but I started using them in the pastry kitchen because they're incredibly handy. I always keep a couple of them on my knife magnet at home because people need knives for a lot of things, like cutting strings or opening a box or package, and they tend to use a kitchen knife, which is inappropriate. This is to prevent a person from using a kitchen knife for the wrong things. They're addictive once you start using them.
I'm a big fan of labeling and organization in the kitchen, and even at home there's something really gratifying about having everything neatly organized. That's why I always use this painter's tape. You write on it with a Sharpie, and when you put it on containers, it peels away without leaving any residue because it's designed to not peel away paint, which is great. You can be super OCD and cut the tape's edges really clean with the Olfa utility knife.
One of my favorite things to do on my day off is make stocks and broths at home. It's really awesome and gratifying. Everyone should buy pig's feet or chicken wings and simmer them, and just have it stored for later use. I always recommend making a big batch of it and then freezing it. The thing is that freezing broth in a large container is inconvenient. So I actually like making stock and then freezing it in ice-cube trays. Once they're frozen I pop them out and store them in an airtight container because then you can just use one stock cube at a time and add it to whatever. It's just a cleverer and more convenient way to dole something like that out.
I like to use a Peugeot French-style pepper mill. They come with a warranty and feel really good in the hand when you're cracking black pepper. Black peppercorns that have been freshly ground have a floral character that pre-ground pepper just doesn't have, and it's a shame that buying black pepper is such an atrocity. Also, the way most mills force you to use your wrist is a deterrent because the act of grinding can be so unpleasurable. These are pretty, feel good, and they're fun to use. I always have one by my side.
We use these plastic deli containers in restaurants and they're incredibly inexpensive and common. They're like Chinese-takeout soup containers, but the plastic is sturdier. You can use them for whatever — microwave them, refrigerate them, freeze them, and run them through the dishwasher. They come in three sizes and they're a tremendous thing to have on hand to store all of your stuff. At home people have all these knickknacks and odds and ends of Tupperware and plastic containers, but you can buy hundreds of these for not that many dollars. If you take all of your food products out and put them back in the fridge in these containers, you're going to feel like a god in your own mini-world. And then you label them with the blue painter's tape. It just feels so much better.
This is basically a rubber spatula that cannot melt. You can put it in a 600-degree oven and nothing will happen. When stirring or transferring food, people tend to use a wooden spoon or, even worse, a metal spoon, but this just works so much better. You can use it to flip an omelette, or it'll even scrape every little thing out of a container. I used to be a pastry chef, so I always used a rubber spatula for mixing mousses and such, but I find that in the kitchen in my home, I use them for almost everything.
I'm a big believer in accuracy in cooking. Sometimes people think baking and pastry is meant to be accurate, while savory foods are willy-nilly, but I just don't think that way. If you like to cook at home and research recipes, I think you should start evolving and seeking out recipes that work in metric because they're just so much more accurate. For example, an ounce is exactly 28 grams, but when you start doing conversions, 32 grams will also register as an ounce. But that's not accurate, an ounce is only 28 grams. The digital scale I have here is durable and accurate. I weigh and measure everything.
I'm in the Mexican-food world, and I still cook a lot of tortillas at home. There's a big chapter about tortillas in my book, and when Jordana Rothman and I were writing, we tested basically every tortilla warmer we could find on the market. We did that by putting 16 hot tortillas in a warmer and monitoring the temperature over the course of the hour. The one that worked far and away the best was this ugly fabric pocket with stereotypical images of chiles with sombreros and maracas, but the thing kept tortillas hot for longer than any fancier warmers. I just loved the irony of that. The least-expensive thing actually did the best job.
I always have a good, sturdy cast-iron plancha. This is basically a slab of cast iron that's designed to rest on an outdoor grill so that it becomes a flat surface griddle, but I use them in my home. Like most New Yorkers, I have a sort of depressing four-burner range, and I always have this plancha laid across two of the burners. The cast iron acts as a heat diffuser, so if you can normally only fit two pots on the stove, you can fit four across this slab of iron. Sure you can cook on it, make a grilled cheese and eggs, but I like using it to hold pots and pans because it keeps everything tremendously clean. It prevents any flames coming up the side of the pot, so it creates a gentler cooking without burning sauces or soups just on the sides.
This is a traditional Mexican cooking implement called a molcajete. People often call them a mortar and pestle, but that's actually quite different. A mortar and pestle are usually made out of marble or a nonporous stone because they're designed for apothecary work, not cooking. This is made out of volcanic rock and it stands on three feet. Architecturally, a tripod is always much more stable. This is something that I think everyone should have when making their own salsa. My wife's Mexican, and she gave me her great-grandmother's as a gift. It's that thing where no one can make salsa as good as grandma, and a big part of that is because she was using a seasoned molcajete over and over again. These get seasoned over time, so you'll develop your own proprietary flavor throughout the years that no one else can produce. You'll always end up with better flavors than using a blender or food processor. It's also a very fun and primordial way to crush garlic and peppers.
The Strategist is designed to surface the most useful, expert recommendations for things to buy across the vast e-commerce landscape. Some of our latest conquests include the best women's jeans, rolling luggage, pillows for side sleepers, ultra-flattering pants, and bath towels. We update links when possible, but note that deals can expire and all prices are subject to change.
Every editorial product is independently selected. If you buy something through our links, New York may earn an affiliate commission.