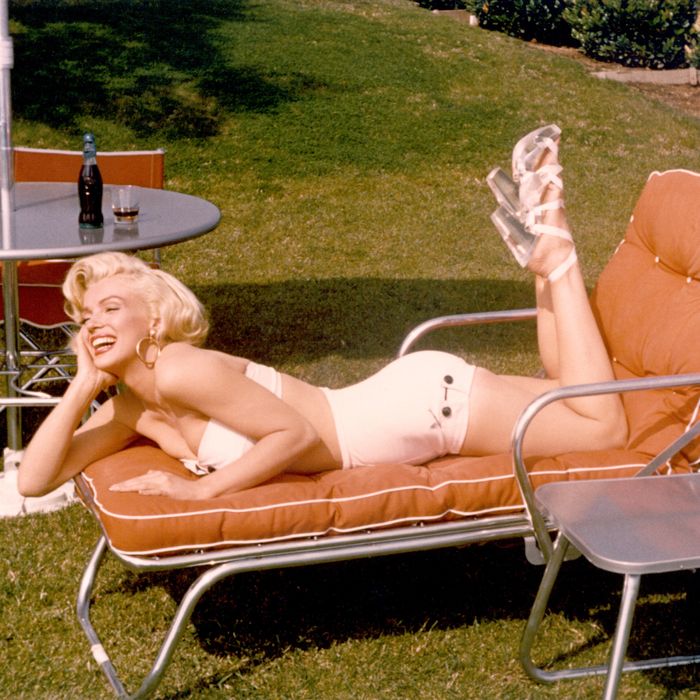 Photo: Michael Ochs Archives/Getty Images
Swimsuit season is upon us, and to help you hit the beach (or lake, or pool) in style, we spoke to more than two dozen fashionable women — including stylists, fashion editors, and chefs — about their favorite bikini or two-piece bathing suits. Each person sent along personal recommendations based on fit, style, body type, and activity (could you surf in it? Is it more of a sunbathing suit?), all of which we used as a blueprint to find some similar options to round out your search.
For a Bigger Bust
For a range of styles made for women with bigger busts, Bustle fashion and beauty features editor Amanda Richards recommends Swimsuits for All's bikinis (which run up to size 34). "They have anything from sporty swimwear, to boring one-pieces (which I love), to Ashley Graham's super-sexy, super-revealing collection in a wide range of sizes." Australian swim brand Matteu also makes a minimal two-piece for busty women that Tatiana Ikasovic, the founder of jewelry line Fade to Black Studio, says "has the perfect cut and style; I have a bigger bust, and don't like wearing overwhelming patterns or unnecessary padding."
For a Smaller Bust
If you have a small chest and just want to accentuate what you've got, fashion marketing associate Keena Bautista says, "It's always good to opt for ruffles and anything frilly." She recommends Hawaiian label Made by Dawn for an added boost of confidence. For tinier busts, Chloe Kernaghan, co-founder of Sky Ting Yoga, also loves the two-pieces in the Onia x We Wore What collaboration, because their "perfect balconette-style" tops "look good even though I have a small chest." Flannery Klette-Kolton, the co-founder of Big Little Get Together, also raved about the pieces from this collaboration.
Should you want more of a supported, push-up effect, stylist Lotta-Liina Lavanti also recommends a retro swimsuit with underwire, like hers from Lahana Swim, which "reminds me of the bikinis girls used to wear in California in the late '90s."
For a High-Waisted Fit
High-waisted styles, which have reemerged since their heyday in the '40s and '50s, were popular among the women we surveyed for their modest, slimming effect and "throwback feel." Kristen Nichols, an associate editor at Who What Wear, directed us to French brand Oséree's "lumière" bikini set for its fit and style. "The high-waisted bottoms have a waist-defining effect that I'm always missing, with a low-slung style, but my favorite part is its metallic glitter finish," she says. Caitlin Mociun, founder and designer of Mociun, says that the fabric "adds a touch of interest and shimmer without looking cheesy."
Aza Ziegler, the designer behind surf-inspired brand Calle del Mar, prefers Pale Swimwear's high-waisted bottoms, which "make me feel like a '50s movie star and fit like the comfiest shorts." If you're looking for something with personality and structure, we would also recommend one of