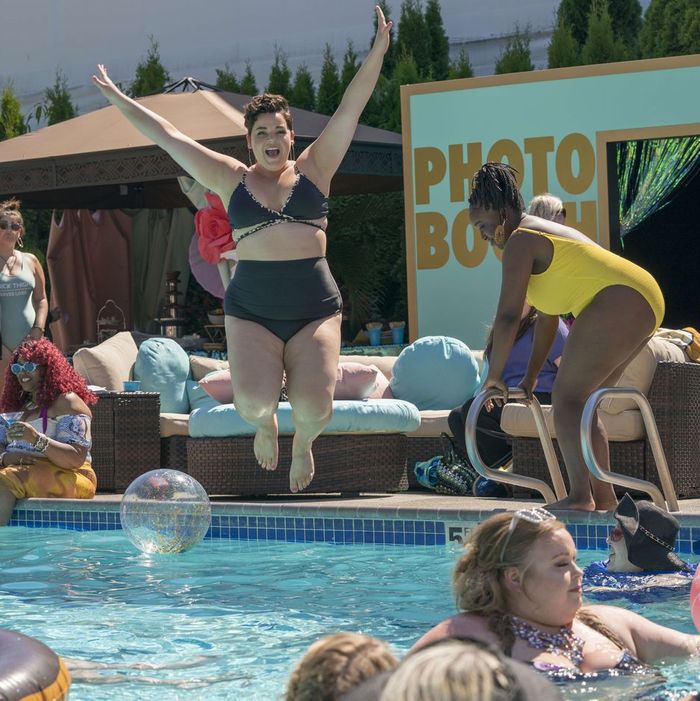 Whether you're taking a trip to the beach or just sunbathing on your patio, finding the right swimsuit is sometimes the least fun part of summer. While stylist Ansley Morgan notes that "plus-size women have a lot more choices today," she admits that shopping for swimsuits in all sizes "can still be a daunting task." To help make it (a lot) less daunting, we asked Morgan and 12 other cool women — including models, style influencers, and two of our writers — about their favorite women's plus-size bathing suits. Below are the one-pieces, bikinis, and other styles they say are the best — which come in a range of sizes, the largest of which is 34.
Best under-$50 women's plus-size swimsuits
Strategist contributor Alyse Whitney tried on 24 swimsuits from Amazon and dubbed this cold-shoulder, high-waisted bikini her favorite "by far." She says "it's comfortable standing or sitting, doesn't make me look lumpy, and the elastic and soft padded cups at the chest are supportive enough to keep the girls in check but not push them up." It comes in three different patterns, but Whitney likes this flower-and-pineapple print, calling it "playful without being too kitschy." The suit goes up to a size 20.
"I used to never wear swimsuits," says style expert and model Sharonda Grandberry. But now, she "absolutely loves wearing them" after finding affirming plus-size styles from several brands, including Monif C, Ashley Stewart, and Fashion to Figure (three she says to check out). Her favorite swimsuit comes from an even unlikelier retailer: Walmart, of all places, where Grandberry picked up this simple ruched one-piece from Terra & Sky. She likes the purple (and we do, too), but it also comes in black, with both colors going up to a size 4XL.
One place to shop for inexpensive sets in a range of sizes is Aerie, which is where Strategist beauty writer Tembe Denton-Hurst buys all of her swimsuits. (While this one, at full price, is technically $55, that feels a lot closer to $50 than $100, which is why we've listed it here.) "It was the first brand I tried that had bathing-suit tops that fit me (I'm a 38H) and bottoms that came up to my belly button, but still made my butt look good," she says. "I like that the stock rotates every season so I can continuously add to my collection." Denton-Hurst currently has her eye on this set: The top, she says, "has a little bit of a scoop neck, but won't make me feel like I'm spilling out of the suit," and the high-waisted bottoms "are high enough to be a little cheeky." While she loves the cherry red, the suit comes in six other colors and goes up to a size XXL, or an 18.
Best under-$100 women's plus-size swimsuits
As we've written, a growing crop of brands are not only focusing on offering more size-inclusive garments, but on making those garments more sustainably, too. Environmentally minded shoppers looking for plus-size swimsuits should check out the options from Summersalt, according to Morgan and fit model Rachel Richardson, the style blogger behind Lovely in L.A. The brand makes swimsuits using recycled fabrics and offers most of its styles in up to a size 24. Richardson, who owns two versions of this Sidestroke one-piece (and is eyeing a third), says that the line's "range of cute, colorful, and functional silhouettes fit like a glove." Morgan also likes this "classic style," recommending the brand's ruffle Sidestroke one-piece to anyone who wants a bit more detail. As she explains, it's basically the same swimsuit but with "a ruffle added for some fun dimension."
Photo: retailer
Morgan also loves this ruched, strapless, one-piece that comes in nine colors and goes up to a size 24. "I think every woman should have a classic, practical one-piece in a solid color and this J. Crew suit fits the bill," she says. It is strapless — so you don't have to worry about tan lines — but conveniently comes with an optional strap in case you need the extra support, Mogan notes.
Girlfriend Collective recently expanded its line with a swim collection that it sent to the writer of this story (Dominique Pariso) to test out. After wearing this one-piece in my parents' hot tub for a few weeks, I could tell it has the quality I've come to expect from the brand. It has a scoop back and thick straps that offer a lot of support while giving it a sleek look, kind of like my favorite Girlfriend Collective bodysuit. Aside from the fit, I appreciate that it has a UPF of 50+ for added sun protection. Available in four other colors, the Koi swimsuit (and entire swim line) goes up to a size 6XL, like all Girlfriend Collective clothes. But, as can be the case with many of its new drops, some of the upper sizes of this style are currently sold out. The brand invites shoppers to sign up for restock notifications, something we suggest to anyone who can't find their size.
Model and plus-size fashion expert Alysse Dalessandro Santiago told us "one of the trends I am seeing a lot in plus-size swimsuits this year is a square neck." She went on the hunt to find a square neckline that provides support and says this zebra-print bikini "definitely delivers." The fully lined swimsuit, which comes in sizes up to 24, has a top with underwire that holds you in and "high-waisted bottoms that have ruching, which adds a bit of visual interest to an already fun suit," she explains.
"Alpine Butterfly is a small, boutique swimwear company for sexy options in a size-inclusive range, with collections inspired by the late singer Selena, Marie Antoinette, and '90s supermodels," explains podcast host Ashby Vose. "What I particularly love about its collections is how they offer a variety of coverage levels, from string bikinis to full-on swim dresses that are on-trend, detailed, and flaunt-worthy." Fashion blogger Ashley Carter and model Anastasia Savelyeva also name-checked the line — Savelyeva calls it "sultry, intimate, and dreamy." Carter owns this Naomi set, which she says "is not only fun and flirty but even a little cheeky." She loves that it comes in multiple colors and how it "looks great on every body type." The set goes up to a size 6XL, or 34.
Best under-$150 women's plus-size swimsuits