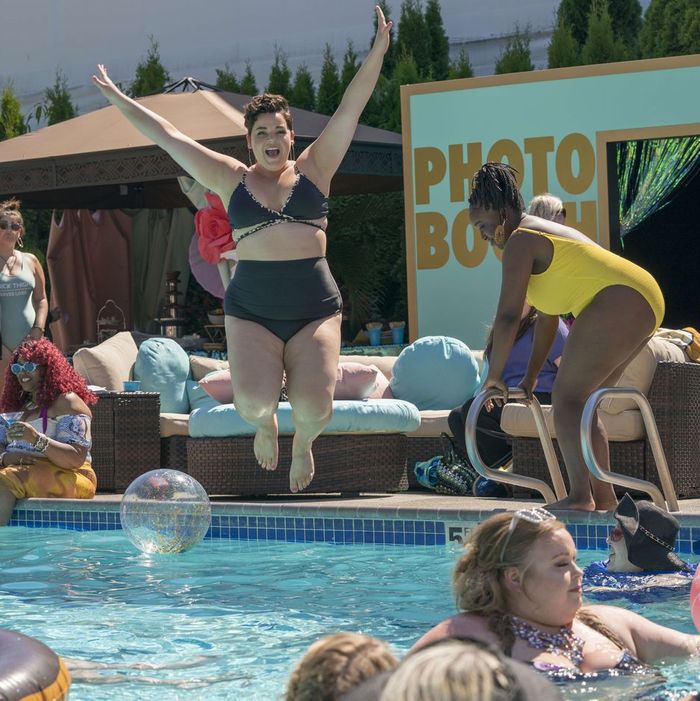 Whether you're braving a (socially distant) trip to the beach or just sunbathing on your patio, finding the right swimsuit is sometimes the least fun part of summer. While plus-size women and people "have a lot more choices today," according to stylist Ansley Morgan, shopping for swimsuits in all sizes "can still be a daunting task." To help make it (a lot) less daunting, we asked Morgan and nine other cool people — including models, style influencers, and two of our writers — about their favorite plus-size women's bathing suits. Below are the one-pieces, bikinis, swim dresses, and other styles they say are the best — which come in a range of sizes, from 14 to 34.
Best
under-$50
plus-size
women's
swimsuits
Photo: retailer
"I have tried swimsuits from really expensive brands, cheap fast-fashion brands, and everything in between," says Ashby Vose, the head of brand at Ori. "Shockingly, I keep coming back to Forever21 for cheerful swimsuits because the fit has been consistently on point throughout the years." While Vose notes that their suits don't offer the same support you'd get from swimsuits with underwire, she says hers "have stayed put in even the most aggressive Pacific Ocean waves and hold up to overly chlorinated public pools." Plus, they're so affordable, she'll often buy two of the same style — one for lounging and one for the pool. This way, she doesn't mind "if one gets faded from the harsh pool chemicals." For a one-piece, Vose told us she particularly loves this swimsuit because its '90s-inspired daisy print is "playful and fun" and the cut is "super-flattering." The suit goes up to a size 3X, or 20.
If you prefer a bikini, Vose is a fan of this citrus-printed option that she says "provides an instant dose of brightness." She also told us that the top's bralette-style silhouette provides "low-impact support and a flexible fit that would work for many bust sizes." The separates each go up to a size 3X, or 20.
Another place to shop for inexpensive swimsuits in a range of sizes is Aerie, which is where Strategist writer Tembe Denton-Hurst buys all of her swimsuits. "It was the first brand I tried that had bathing-suit tops that fit me (I'm a 38H) and bottoms that came up to my belly button but still made my butt look good," she says. "I like that the stock rotates every season, so I can continuously add to my collection." Denton-Hurst currently has her eye on this set: The top, she says, "has a little bit of a scoop neck, but won't make me feel like I'm spilling out of the suit," and the high-waisted bottoms "are high enough to be a little cheeky." While she loves the cherry-red color, the suit also comes in black and olive green and goes up to a size XXL, or an 18.
"There are two ways most brands do plus-size swimwear," says Strategist junior writer Jenna Milliner-Waddell. "They either make a bunch of cute suits in straight sizes and leave a bunch of neutral-colored one-pieces for their plus-size shoppers — or they don't think about us at all." She says one exception to this is ASOS, which, according to Milliner-Waddell, makes "a lot of the same trendy styles for their curve line that have all the extra fabric and support that you're looking for." She loves the "dainty floral pattern" and "sports bra–style design" of this suit, which goes up to a 26. Plus, like other brands' bikinis on this list, these and all of ASOS's tops and bottoms are sold separately, which Milliner-Waddell notes is super-helpful "if you're smaller in one area and need more room in another."
Model Isabelle Yong loves H&M for inexpensive swimsuits, telling us the brand makes particularly good high-waisted bottoms: "They are the perfect antidote for days where you are feeling a little bloated but still want to get some sun, because they give an hourglass illusion, cinching in the waist," she says. The bottoms on this bikini that she recommends go up to a size 18, and the top will fit up to a D.