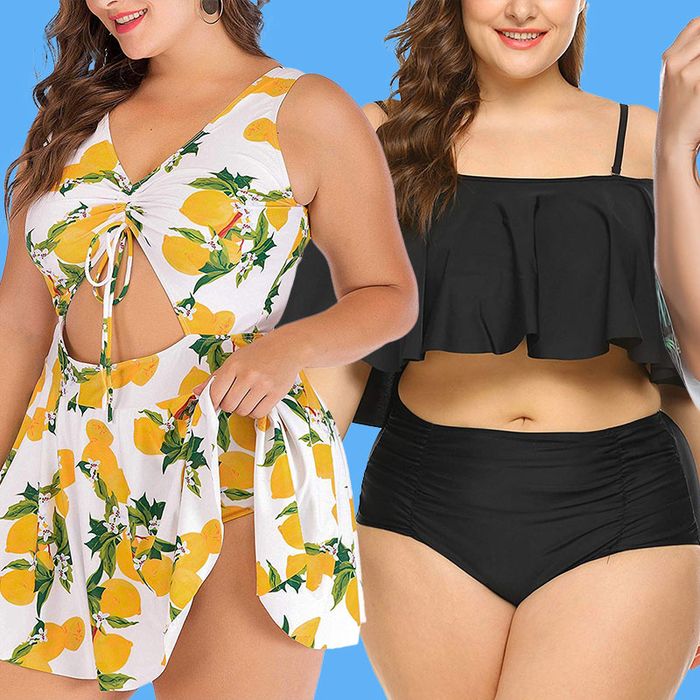 Photo: courtesy of the Retailers
On my journey to find a perfectly fitting plus-size bathing suit on Amazon, my first (time-consuming) step involved going through hundreds of pages of reviews, evaluating sizing and support and styles. Once I realized that high-waisted bottoms were widely available, I went for those first and foremost (because they're comfortable and flattering), and closely examined photos of how they fit on other women. For one-pieces, I checked the amount of spandex and stretch, and looked for adjustable straps since I have a longer torso. Surprisingly, I didn't come across any Amazon Fashion–branded suits, but instead a lot of unknown-to-me companies with generic names like Daci Woman and Cocopear, and a handful from department store brands Maidenform and Swimsuits for All.
Over the course of a few weeks, I tried on 24 bikinis, longline bikinis, tankinis, and one-pieces, hoping to find my match. I had not bought a new bathing suit in more than five years, so trying on in the comfort of my own home with free returns and exchanges was liberating. Ultimately, only six of them worked for my body type: 44DDD chest, size 18/20, five-foot-one, with a long torso. The biggest issues I found with most suits was support — most of them were not tailored correctly for women with larger chests. Either they had awkward foam cups that you had to try to move around (many were not removable), a thin piece of elastic that was supposed to act as a "shelf," or just made everything look droopy. The ones that did have an underwire often didn't clasp easily (some had a "clasp" more like a tiny tube of plastic you try to slide a straight piece of metal into) or dug into my skin, and I only found two well-rated suits that went by cup size. I adjusted straps, I pulled up bottoms as much as I could for muffin top coverage without giving myself a wedgie, and I danced around my apartment since I did not have access to a pool to test. Even if our body types aren't exactly alike, I hope these also work for you for a confident, swim-filled summer.
My Favorite Cold-Shoulder, High-Waisted Bikinis
After watching the swimsuit party episode of Shrill, I was ready for bold, fun patterns … and finally wearing my first bikini. (Previously, I only wore one-pieces or tankinis, sometimes even with a swim skirt to cover up.) This was the first suit I tried on, and by far my favorite. It had a cold-shoulder (!) top that covered the area I'm most self-conscious about (my upper arms) and only showed two inches of skin since the bottoms were so high-waisted. All six prints were tropical, and I picked one that was playful without being too kitschy: flowers and pineapples on a black background. The pattern doesn't make you look bigger, but you also can't keep your eyes off it. The best part? It's comfortable standing or sitting and didn't make me look lumpy, and the elastic and soft padded cups at the chest were supportive enough to keep the girls in check but not push them up. The skinny straps are adjustable and removable, but I found them to be just right for my size (20W) straight out of the box. It's flattering with a flowy fabric up top, and great for a day at the beach where I want to look good but not expose myself to teenage boys by accident.
This isn't the same brand (IN'VOLAND?) but it fit almost exactly the same as my favorite cold-shoulder suit. This one is just in black, in case you aren't feeling tropical.
My Favorite Bikini From Separates
The most difficult part of buying swimsuits on Amazon is that you often have to buy an entire set and can't mix and match sizes. Toward the end of my testing, I realized I should try to seek out tops in bra sizes and bottoms in whatever I typically wore for pants. This longline underwire top from notoriously size-inclusive brand Swimsuits for All fit like a glove and made my chest look amazing. I was supported in a way no other suit did for me, with a three-clasp hidden mesh closure underneath the elasticized patterned fabric. The straps were adjustable too, and everything stayed in place even when I speed-walked around my apartment to test impact. I'm confident I can cannonball into a pool if I want to without this top flying off; it sits a few inches below where a regular bra would hit, and with super high-waisted bottoms (see below!), I am comfortably covered.