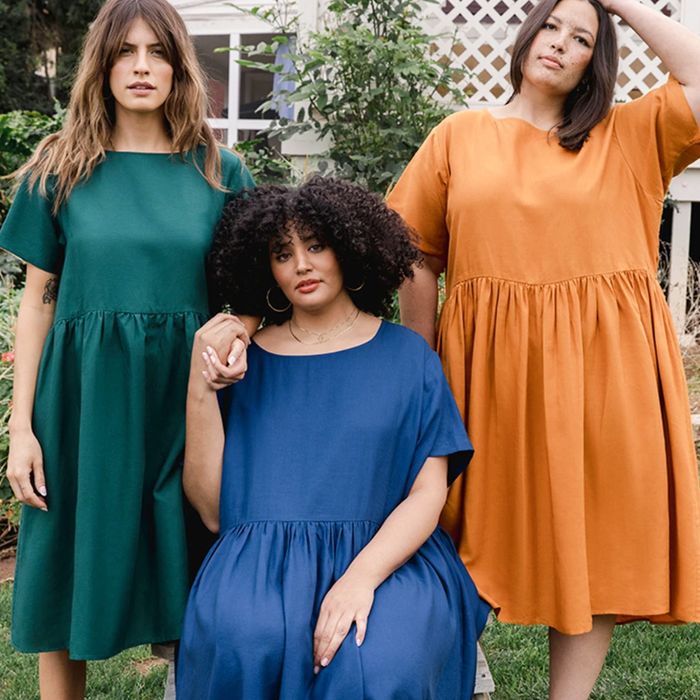 There was a time when most plus-size clothes could only be found at fast-fashion retailers. But, as we've learned in reporting on the best plus-size jeans, jumpsuits, coats, swimsuits, and lingerie, a new wave of size-inclusive brands has gone a long way in expanding the category over the last few years, inspiring some more established companies to revamp their own plus-size offerings in return. Many of these companies — both new and old — also claim to be sustainable. But, like their "straight-size" counterparts, it can be hard to differentiate from brands that are actually sustainable and brands that are just greenwashing. To find the best plus-size sustainable brands, we spoke with 11 cool people — including plus-size stylists and fashion sustainability experts — about the ones they think make great clothing and do so in a way that's better for the planet.
In general, sustainable brands are ones that work to prioritize environmental responsibility, whether that's investing in ways to reduce waste during the production process, using renewable or recyclable materials, making garments that will last, or, ideally, all three. In addition to environmental responsibility, many sustainable brands also work to ensure there are fair labor practices in place throughout their supply chains. While all of this might sound straightforward enough, as Strategist writer Liza Corsillo wrote after reporting her story on the best sustainable fashion brands, "very few companies are able to achieve true sustainability at every stage of the process." That's why she and those in the sustainable fashion space suggest taking a more personal approach. "Instead of trying to find the perfect company that's accounting for everything," Corsillo writes, "it's easiest to think about what is most important to you — better labor practices, less waste, or renewable raw materials — and focus your purchasing power on a brand with similar aims." With this in mind, we've organized the 16 recommended brands below by what sustainability practices the experts say they excel in; where applicable, we've also noted the type of plus-size clothes — from jeans to bathing suits to spring dresses — that any brand came particularly recommended for.
If your main concern is responsibly sourced raw materials
This Los Angeles–based brand is best known for its vintage-inspired floral dresses, which are produced from dead-stock fabrics in sizes from 1XL to 3XL. "Somewhere between cottagecore and the version of yourself walking through a wheat field in slow motion, you'll find Christy Dawn," says photographer and sustainable style expert Marielle Elizabeth. Solene Rauturier, a digital marketing and PR manager for Good On You, a website that ranks fashion brands by how sustainable they are, adds that it's a "fabulous boho option for your wardrobe." In addition to reusing old fabrics to make its pieces, Christy Dawn launched what it calls a farm-to-closet initiative, in which it is partnering with an Indian cotton farm that practices regenerative agriculture to create a new collection with fabrics made from the farm's sustainably grown raw materials.
Sarah Chiwaya, a plus-size brand consultant and the founder of Curvily, calls Chromat — which offers sizes up to 4XL — "arguably the best fashion-forward swimwear." Plus-size fashion expert and model Alysse Dalessandro Santiago adds that its designer, Becca McCharen-Tran, is not only known for her "diverse and inclusive runway shows, but for using recycled materials, too." Chiwaya adds the brand's commitment to using responsibly sourced materials can be found in such small details as the threat that holds a garment together: "The thread is made of discarded fishing nets and post-consumer plastic waste pulled out of the ocean," she tells us.
Elizabeth says that ARQ, the maker of some of our favorite underwear and wireless bras, is also where she goes to get her intimates. That's in part because the brand makes its garments using GOTS-certified organic cotton — or cotton that meets a set of globally recognized production requirements that conserve water, reduce pollution, and create more biodiversity. But also because ARQ works with a family-owned sewing factory in the U.S. to produce its products and ships them using recyclable, entirely plastic-free materials. Available in sizes up to 6X, she describes ARQ's underwear as the "softest, most breathable undies in covetable shades and prints." Elizabeth likes to pair it with the brand's equally soft bras (which come in sizes up to 3XL) for a cute matching set. "I cannot fathom a cuter, ethically made look for lounging at home," she says.