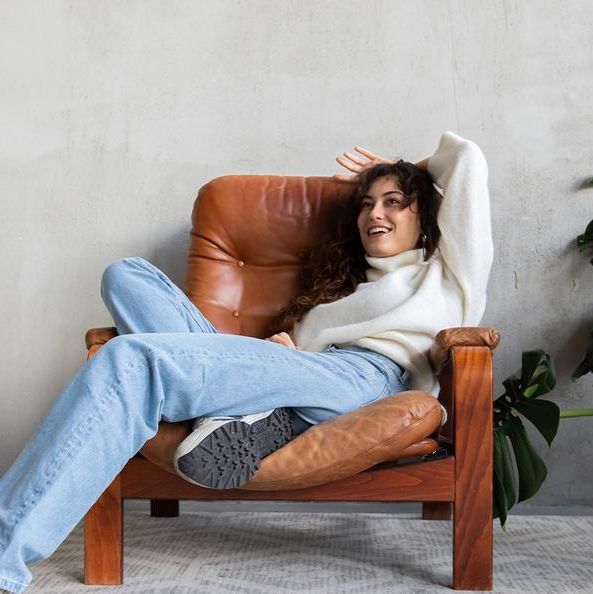 As we've mentioned before, the best way to shop sustainably is to buy vintage or second hand — and that's especially true for denim. "No amount of organic cotton or lower-impact chemical treatments on new jeans can compare to the sustainability factor of just using some of the clothing that already exists on this planet," says Whitney Bauck, a sustainability reporter for Fashionista. But if you have difficulty finding your size or do want something new, opting for a sustainable denim brand can lessen your impact on the environment. (Traditional denim production, for example, takes thousands of gallons of water, while the dyes can be toxic to the workers and the environment.)
When looking at brands, it's important to take into consideration how transparent they are to start. "Denim producers are so proud of their product," says Alden Wicker, freelance journalist specializing in sustainable fashion, so they'll be eager to discuss their sustainable efforts, rather than wash it down with vague language. "Sustainability language should be very easy to digest and understand. You shouldn't have to sift through a 90-page document in order to understand what they're doing in terms of sustainability," adds Ayesha Barenblat, founder and CEO of sustainable fashion non-profit Remake.
So when you're looking for sustainable denim, focus on where the brands are sourcing and producing their products, how their workers are treated, and what they're doing to prevent the environmental impact. While many companies still have a long way to go, more than a dozen denim brands came recommended by the seven leading sustainability experts we spoke to, including worthy options for men and women, in a variety of price points, sizes, and styles.
Best
affordable
sustainable
denim
Warp + Weft
For sustainable denim under $100, Warp + Weft stood out to our experts. Kristy Drutman of Brown Girl Green appreciates that they're size inclusive, too — "that's a huge plus for me," she says – and they offer jeans in all sorts of styles and washes for men, women, and kids. This brand is owned by the same company as better-known DL1961 (which also comes recommended by the people we spoke to), and it checks many of the boxes that our experts say to look for when buying sustainable denim, disclosing information on their factories, fair labor practices, resources used, and processes. There are even videos giving you an inside look. Drutman wishes they were more transparent about where exactly they source their materials from — "They vaguely state that they meet fair labor practices," she says — but that's the only downside for her with this brand.
Kuyichi
Drutman recommends Kuyichi because "they use organic cotton and care a lot about fair labor conditions for workers." They share sustainability reports on their website, which outline everything from where they source cotton to their fair labor practice standards to their process for creating products. They also do deep dives into what each product is made of and who they're certified by (such as PETA or GOTS). Sandra Capponi, co-founder of sustainability rating platform Good on You, adds that they create "ethical and durable, yet trendy and modern pieces that never go out of style," so you'll have these classic jeans for years to come.
MUD Jeans
Three experts suggest Netherland-based brand MUD. Capponi calls them her "wardrobe staple" because they're well-fitting, nicely designed jeans from a label that's "all about sustainability." She elaborates: "They use GOTS-certified cotton, recycled materials, and non-toxic dyes to make sturdy, versatile jeans. They work closely with all their suppliers to make sure workers are paid fairly, plus they offer repair and recycling for jeans that need a new life," much like Nudie Jeans. (However, because they're based in the Netherlands, the brand suggests going to a local tailor for repairs to cut down on the cost and resources needed to send them back.) Caroline Priebe, founder of the Center for the Advancement of Garment Making, points out that they offer a 12 month leasing program for jeans (think Rent The Runway but for sustainable denim), making them a very circular company. "Their business model is really pioneering," she adds. They produce four classic fits for both men and women and offer a handful of washes.