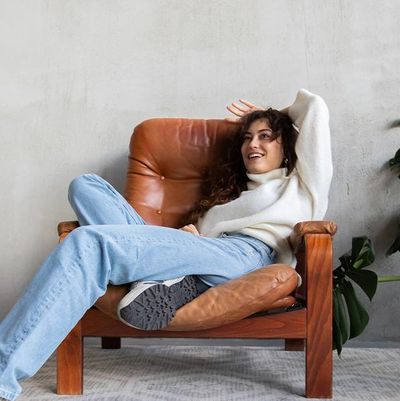 As we've mentioned before, the best way to shop sustainably is to buy vintage or second hand — and that's especially true for denim. "No amount of organic cotton or lower-impact chemical treatments on new jeans can compare to the sustainability factor of just using some of the clothing that already exists on this planet," says Whitney Bauck, a sustainability reporter for Fashionista. But if you have difficulty finding your size or do want something new, opting for a sustainable denim brand can lessen your impact on the environment. (Traditional denim production, for example, takes thousands of gallons of water, while the dyes can be toxic to the workers and the environment.)
When looking at brands, it's important to take into consideration how transparent they are to start. "Denim producers are so proud of their product," says Alden Wicker, freelance journalist specializing in sustainable fashion, so they'll be eager to discuss their sustainable efforts, rather than wash it down with vague language. "Sustainability language should be very easy to digest and understand. You shouldn't have to sift through a 90-page document in order to understand what they're doing in terms of sustainability," adds Ayesha Barenblat, founder and CEO of sustainable fashion non-profit Remake.
So when you're looking for sustainable denim, focus on where the brands are sourcing and producing their products, how their workers are treated, and what they're doing to prevent the environmental impact. While many companies still have a long way to go, more than a dozen denim brands came recommended by the seven leading sustainability experts we spoke to, including worthy options for men and women, in a variety of price points, sizes, and styles.
Best
affordable
sustainable
denim
Warp + Weft
For sustainable denim under $100, Warp + Weft stood out to our experts. Kristy Drutman of Brown Girl Green appreciates that they're size inclusive, too — "that's a huge plus for me," she says – and they offer jeans in all sorts of styles and washes for men, women, and kids. This brand is owned by the same company as better-known DL1961 (which also comes recommended by the people we spoke to), and it checks many of the boxes that our experts say to look for when buying sustainable denim, disclosing information on their factories, fair labor practices, resources used, and processes. There are even videos giving you an inside look. Drutman wishes they were more transparent about where exactly they source their materials from — "They vaguely state that they meet fair labor practices," she says — but that's the only downside for her with this brand.
Kuyichi
Drutman recommends Kuyichi because "they use organic cotton and care a lot about fair labor conditions for workers." They share sustainability reports on their website, which outline everything from where they source cotton to their fair labor practice standards to their process for creating products. They also do deep dives into what each product is made of and who they're certified by (such as PETA or GOTS). Sandra Capponi, co-founder of sustainability rating platform Good on You, adds that they create "ethical and durable, yet trendy and modern pieces that never go out of style," so you'll have these classic jeans for years to come.
MUD Jeans
Three experts suggest Netherland-based brand MUD. Capponi calls them her "wardrobe staple" because they're well-fitting, nicely designed jeans from a label that's "all about sustainability." She elaborates: "They use GOTS-certified cotton, recycled materials, and non-toxic dyes to make sturdy, versatile jeans. They work closely with all their suppliers to make sure workers are paid fairly, plus they offer repair and recycling for jeans that need a new life," much like Nudie Jeans. (However, because they're based in the Netherlands, the brand suggests going to a local tailor for repairs to cut down on the cost and resources needed to send them back.) Caroline Priebe, founder of the Center for the Advancement of Garment Making, points out that they offer a 12 month leasing program for jeans (think Rent The Runway but for sustainable denim), making them a very circular company. "Their business model is really pioneering," she adds. They produce four classic fits for both men and women and offer a handful of washes.
Armed Angels
Wicker first heard about Armed Angels from a friend within the cotton industry and is continuously impressed by them. The German brand is known for what they call "detox denim," meaning their jeans are made using zero toxic ingredients. "They really care deeply about the integrity of their supply chain, so they work directly with organic cotton farmers in India. And they use a lot of other sustainable materials like alpaca, recycled polyester, Tencel, and more," she explains. They also use non-toxic solvents for their dyes and lighten their denim with a laser and ozone washing technology "to keep volatile chlorine-based bleach salts out of the environment and factory workers' lungs," says Capponi. This brand is also Fair Trade and Fair Wear certified.
Levi's Second Hand
As the name implies, "Levi's Second Hand is literally just Levi's re-selling pre-owned wares," says Bauck. They sell jeans for men and women in a wide range of sizes, and you'll find pretty much all the same styles you can buy new. Some of the jeans have fraying on the hems or slight imperfections consistent with years of use, but each issue is noted in the description. A few of our experts also mentioned Levi's new jeans as an option for sustainable denim, but most agree that while they're better than many fast-fashion brands, they have a long way to go with their sustainability practices.
Madewell
Several of our experts say Madewell could be doing more (they don't disclose where their materials are sourced and other crucial information), but Wicker told us she's visited their factories and is impressed by their sustainability efforts. She notes that they were awarded Fairtrade certification, "which means those jeans are very sustainably made with a very small water footprint and the latest technology, like lasers." She also points out that their workers receive fair wages. Another plus: Madewell has a denim recycling program called "Do Well" to help keep jeans out of landfills, as well as an "archive" program, where you can buy pre-owned Madewell jeans in certain locations.
Best
mid-range
sustainable
denim
Nudie Jeans
Of all the brands mentioned, Nudie Jeans received the most praise from our experts. "It's one of the only denim brands that's looking at not just environmental sustainability, but also human rights and the wellbeing of the people that make their clothes," says Barenblat. "It's not just about the sustainable raw materials either, but the entire lifecycle of their products." Nudie offers free repairs on all of their jeans, which extends their lifespan; as soon as they rip, customers can have them patched them up without charge instead of tossing them. And if you can't get to a Nudie location where repair services are offered, Emily Torres, managing editor for The Good Trade, says they'll send you a free repair kit to do it yourself. Wicker and Capponi say the brand's mostly known for their men's selection — "My co-founder Gordan's go-to pair of jeans for comfort, style, and longevity are from Nudie," adds Capponi — but they have a nice selection of women's and kid's jeans, too.
Outland Denim
Australian-based brand Outland Denim, which offers a tightly edited selection of both men's and women's jeans, also came up a lot with our experts. "They own their own factory in Cambodia, which is incredibly rare for a fashion brand. That means that they take responsibility for the process of manufacturing their jeans. The washing facility uses all the latest non-toxic and safe technology, like ozone fading and laser distressing," says Wicker. They "deeply care about their workers," Wicker adds. Capponi agrees, saying Outland goes "above and beyond to protect their female workers." They provide victims of sexual exploitation and other vulnerable backgrounds a living wage, education, and training to help promote a stable career and high standard of living.
[Editor's note: Only a few sizes of these jeans are available right now, but you can sign up and get notified when your size is back in stock.]
DL1961
Two experts spoke highly of DL1961, which has a "vertically integrated factory to reduce manufacturing shipping emissions and help with water recycling, since denim can be highly water-intensive," says Torres. "This brand has it all," adds Capponi. "Designed in and inspired by New York City, it specializes in high-quality fabrics." DL1961 uses organic and recycled cotton as well as other renewable (and biodegradable) fibers, such as Tencel and Modal, and they practice ethical manufacturing, giving their workers fair wages and treatment. Instead of traditional dying, which can be harmful to both the workers and the environment, they use lasers and clean forms of indigo dye. DL1961 has lots of timeless fits — straight, skinny, bootcut — but they also make a few of-the-moment pieces each season (like, say, eggshell-hued high-rise wide-leg).
Outerknown
Outerknown, co-founded by pro surfer Kelly Slater, has sustainability built into its core. By 2030, the brand — which is Fair Labor Certified — aims to have a completely circular company, meaning that aside from responsible production, they will make sure their garments are continuously repaired, resold, or recycled, so nothing ends up in a landfill. Torres particularly likes their S.E.A. Jeans made from organic and recycled cotton from Turkey and sewn in Los Angeles. She says they're "guaranteed for life."
Boyish
"Boyish is an L.A.-based denim brand that has all the quality, fit, and authentic washes that you could want without the harmful practices," says Capponi of this women's brand. Their denim is a bit more trend-forward than the others on this list, but they're sure to last you longer than one season. Priebe appreciates that their "cute jeans" are "designed for durability with eco-friendly materials like GOTS certified cotton and Tencel." Their denim is also traceable because of their "participation in the Jeans Redesign project," which sets guidelines and rules for brands to create a more circular lifecycle for their denim, and they've minimized the need for plastic fibers in their designs, giving their jeans a longer lifespan. And when you're done with your jeans, they can be recycled.
Photo: 20-09-23 kianamorales AM1 B5 ray/4858
Best
splurge-worthy
sustainable
denim
RE/DONE
"Re/Done features vintage denim that's been lightly tailored for more modern fits," says Bauck. To date, the brand has upcycled more than 90,000 pairs of Levi's jeans. Some include handiwork, such as these patchwork jeans, but others just have been tailored and trimmed to suit modern fit preferences. Re/Done does offer new jeans, but because there's very little information on their sustainability efforts for their non-upcycled jeans — they only vaguely mention they use water conserving energy and no-harsh chemicals — your best bet is to stick with jeans marked as upcycled and reworked Levi's.
Atelier & Repairs
Bauck also loves the work Atelier & Repairs does with vintage Levi's. Like RE/DONE, they upcycle 501s, giving them a more modern fit and adding unique detailing, such as patches and embroidery. They're pricey to be sure, but they're one of a kind.
E.L.V. Denim
E.L.V. Denim takes discarded denim that's headed for a landfill and repurposes them. Capponi appreciates that their designs are on-trend and "never uniform," while still being pieces you'll keep forever. The brand describes themselves as "zero waste," meaning all the denim they're producing has zero impact on the environment — even their leather labels come from scraps found in a local leather factory. "They produce everything locally in factories in East London, reducing their eco-footprint even more," adds Capponi. Plus, they use local laundromats to wash their denim, which cuts down on the amount of water used per pair.
Unspun
Because Unspun is an American made-to-order brand, they hold onto zero inventory, which cuts down on excess waste, explains Capponi. Each pair of jeans is completely customizable — down to what color you want the thread to be — and they use recycled cotton and no plastic materials (with the exception of biodegradable lycra). The brand doesn't have fair labor practices for their factories in place but they say it's a goal for the future and something they're working on.
The Strategist is designed to surface the most useful, expert recommendations for things to buy across the vast e-commerce landscape. Some of our latest conquests include the best acne treatments, rolling luggage, pillows for side sleepers, natural anxiety remedies, and bath towels. We update links when possible, but note that deals can expire and all prices are subject to change.