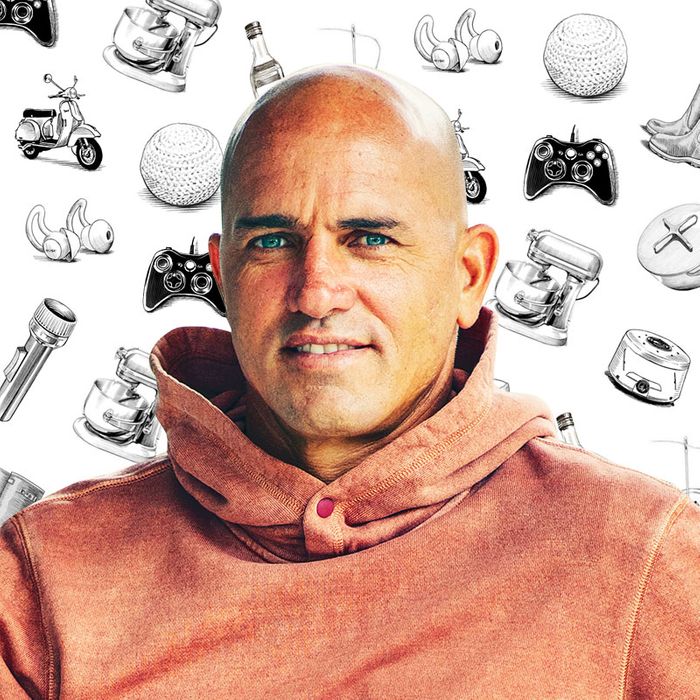 Photo-Illustration: Sterling Hardy (Outerknown)
If you're like us, you've probably wondered what famous people add to their carts. Not the JAR brooch and Louis XV chair but the hairspray and the electric toothbrush. We asked surfer Kelly Slater — who's also the co-founder of clothing brand Outerknown — about the massage tool, reef-safe sunscreen, and blender he can't live without.
They're really big at surf competitions. Anytime one is sitting around the warm-up area at a contest, the other surfers will steal it and use the batteries up, so you have to hide it if you have one. I use it anytime my body needs some loosening up — mostly after I surf, though. I'll take a really hot bath for an hour or two and then use it once my muscles are loose. I'll also use it on a plane because if I'm sitting for 10, 12, 14 hours, it's a great time to focus on a little bit of body work. The Hypervolt is pretty quiet, so you don't really hear it. I had a Theragun before this, but I found it to be really loud — and if I'm being honest, too expensive. The Hypervolt has different heads I can put on, is half the price, and much quieter.
Manda just makes a good, simple product. It's a physical, reef-safe sunscreen, which is important because I'm in the ocean a lot. And there are minimal ingredients. If you read the label, I think there are like five to seven ingredients in it? Because it's a paste, it's a lot thicker, but that's really good when you're in the tropics. I like my sunscreens to be really thick, where it's almost hard to put on. You have to rub this around in your hands first to heat it up before you can get it on. I feel like it lasts longer that way. I wipe my nose a lot — it's kind of a thing that all surfers do, just wipe their face all the time in the water — but this will stay on for a long time, sometimes all day long.
I always wondered what made a Vitamix blender so special. People would say I needed one, but I was like, "Whatever, a blender is a blender." Then, after I moved into a new house about 13 years ago, my friend sent me one as a housewarming gift. Now I understand why it's so popular. My main requirement for a blender is that it's strong enough to grind up ice and frozen fruits and that kind of thing — many blenders kind of cavitate and don't work properly. The Vitamix is really powerful. It has two or three horsepower, so it'll grind up anything. I own two or three Vitamixes; I have one in each place I live. This Drink Machine Advance model is the one I like the most. Mine's at least ten years old and I use it every single day. I mostly make smoothies in the morning, but occasionally I'll make veggie soups in it. If you use the Vitamix to blend vegetables into a purée, it'll actually get hot due to centrifugal force: The friction of the blade on the vegetables over a ten-minute period of time will actually heat the purée up, so you can literally pour it straight out of there into a bowl.