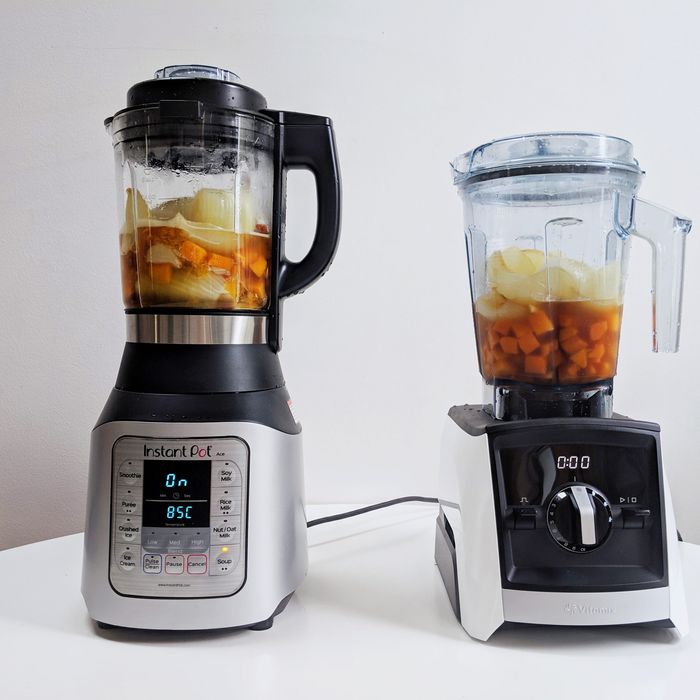 Getting ready to make hot soup.
Photo: Maxine Builder
In the same way that Kleenex has come to refer to all tissues or Ziploc means any resealable plastic bags, some brands become synonymous with the thing they make (arguably) better than anyone else. For blenders, that's Vitamix, and though they're notoriously expensive, Vitamix blenders are powerful and beloved by home cooks and professional chefs alike. So when Instant Pot, the Canadian company best known for its culty electric pressure cooker with over 28,000 reviews on Amazon, came out with the Instant Pot Ace 60 blender for just $99 — which, for now, you can only get at Walmart — it was hard not to wonder just how it would stack up.
On paper, the features of the Instant Pot Ace blender seem to blow the Vitamix Ascent series, the brand's newest and most high-tech line, out of the water. The Ascent 2500, which cost $500 on Amazon, has three smart programs; the Ace has eight. The Ascent has a plastic container, while the Ace's is heavy-duty glass. The Instant Pot Ace even has a hidden heating element that can also cook raw vegetables before puréeing (no Vitamix does that). This feature is why the blender is heralded as a "Multiuse Cooking and Beverage Blender," not just a blender.
So if the Instant Pot blender claims to do it all for just $99, why would anyone pay $500 for a Vitamix? To discover the actual difference between these two blenders, I called in samples from each of the companies, which kindly sent them my way, and tested each in three head-to-head categories: nut milk, smoothies, and hot soup.
Nut Milk
Nut milk is easy to make, but it requires a good blender, so it seemed like a great place to start my testing. Plus, the Instant Pot Ace has programs for several types of dairy-free milk, including nut milk, oat milk, rice milk, and soy milk — and I wanted to put at least one of these eight programs to the test, to see how well they were dialed in. So after soaking two cups of raw, unsalted cashews in water overnight, I put half of the nuts in each blender's container, along with four cups of water and a pinch of salt.
And even with all of the prep, making cashew milk in the Ace couldn't have been a more straightforward process. All I did was press the button for the "Nut/Oat Milk" program, and the blender started churning. Four minutes and 36 seconds later, it stopped, and I had nut milk, ready to strain. The resulting cashew milk was a little frothy and lukewarm, likely because of the long blending time, but I deemed it pretty good, but not great, which was disappointing, given that I had followed Instant Pot's instructions fairly closely and used the specific program.
Then I tasted the cashew milk I made in the Vitamix. On this blender, there is no nut-milk program, so I had to babysit the nut-and-water mixture while it blended; that meant it was a slightly more labor-intensive process than pressing a button. But the results were definitely worth the extra effort, and since the Ascent is so powerful, I only needed to blend for a minute. (When you manually blend on the Ascent, a digital timer pops up to keep track of how long it's been running, which is a nice feature to prevent over-blending and to help ensure repeatable results.) Given that the Ace took over four minutes to churn up some nut milk, I thought just a minute on the Vitamix might not be long enough, but I was wrong. The strained cashew milk from the Vitamix was smooth, well-combined, and creamy rather than frothy. The best part? It was still cold, since it had barely been blended; that also meant that I was able to use it immediately in my next test.
I guess if I really wanted cold nut milk from the Instant Pot blender, I could've just put the soaked cashews into the container and lightly pulsed with water until I had the right consistency, but the manual settings are much easier to manipulate on the Vitamix, which uses a dial to adjust power, than the Instant Pot, which has hard-to-find, small, black buttons that indicate low, medium, and high. And, at the end of the day, the fact that the highly publicized, preprogrammed setting for nut milk on the Instant Pot blender didn't yield the better-tasting nut milk makes it a win for Vitamix.
Smoothies
My smoothie recipe for this test was, admittedly, disgusting. It was a cup of that freshly made cashew milk from the Vitamix, three stalks of kale, a tablespoon of crunchy peanut butter, a frozen banana, and about a cup of frozen berries. But I wasn't looking for flavor; I wanted texture, since all of these smoothie ingredients are notoriously hard to blend. Kale can be stringy, especially if you're including the stalks (which I did), and frozen berries can leave behind seeds. Plus, both the Ace and the Vitamix have smoothie programs, so it seemed like a straightforward head-to-head competition.
The Ace's preset smoothie program took just one minute and 38 seconds, whereas the Ascent's lasted a mere 50 seconds, and if you just look at the resulting smoothies, the Ace's looks a lot tastier, with a healthy purple hue rather than the Ascent's grim brown. However, I think the difference in color is because the Ascent did a better job of mixing all of the ingredients into a single, consistent liquid. The Vitamix Ascent made a smoothie that was, in fact, smooth, while the smoothie from the Instant Pot Ace was gritty, from both the kale and the berry seeds. Neither smoothie tasted all that good, but for the straight-up blendability, I had to give it to the Vitamix, once again.
Hot Soup
If you really want to understand the difference between the Instant Pot Ace blender and a Vitamix, look no further than the hot-soup function. The Ace makes hot soup with its internal heating element; it's hidden inside the bottom of the glass pitcher, and it can heat the ingredients inside so that they cook or steam before they get puréed. The Vitamix Ascent 2500 also has a hot-soup functionality, but it relies on the friction of the blades to heat up the soup in question. In other words, the Vitamix's blades spin around so quickly and with such force that the motion is enough to make room-temperature vegetables hot, no hidden heating element required
So I decided to make butternut-squash soup. In each blender, I put two cups of beef broth; a pound of defrosted butternut-squash cubes; a whole roasted onion, cut in half; and several cloves of roasted garlic. By the time I got to adding all of the ingredients, they were at room temperature, so I figured it would be a great way to see how well the heating elements worked.
I started with the Instant Pot because making soup in this bad boy takes a long time. That's because before the Ace starts even thinking about blending the ingredients, the heating element has to come up to temperature. I lost track of how long this preheat process took, and walked away a few times, but every once in a while, I raced back when the blades lightly whirred, agitating the ingredients safely, but making me worried that something was stuck. It wasn't until the machine got up to 100 degrees Celsius (I couldn't figure out how to put the display temperature in Fahrenheit but that's 212 degrees Fahrenheit — water's boiling point) that it even started the timer — for 22 minutes and 44 seconds. And for most of that time, the ingredients just stewed in the glass container, with the broth getting so hot that it bubbled up along the sides. It was only in the last three minutes of the program that the blades began to whir in earnest, but the resulting soup was creamy and thick and hot, coming in at 211 degrees Fahrenheit, according to my favorite thermometer. It was almost too hot to eat (and still retained heat when I brought it to the office over two hours later), but the bites I was able to take tasted delicious.
The Vitamix, however, took just five minutes and 45 seconds to blend the ingredients into a puréed soup, though it was a loud five minutes and 45 seconds. If the Instant Pot Ace purred, this thing roared. Still, when I took the container off the base and removed the lid, I was shocked to see steam coming out. The temperature had reached 126 degrees Fahrenheit, which is tepid for soup, but impressive for a blender without any heating element. However, the mix was a little frothier than I'd like for a puréed soup, so I had to give it to the Instant Pot Ace for making soup with a creamier texture — but the waiting game was frustrating.
Final Thoughts
For a blender that costs just $99, the Instant Pot Ace is an impressive piece of gear. Though I was initially skeptical about the functionality of the hidden heating element, the butternut-squash soup that I made far exceeded my expectations, and I would be curious to learn how to cook in the blender itself. The cold blending programs I tested were just as solid, and I especially liked that I could let the blender run unsupervised, walking away to clean up or brush my teeth while my nut milk whirred around. There were some issues with grittiness, especially in my smoothie-making test, but it's got a lot of power for a $99 blender, certainly more than any other comparably priced blender I've ever tried.
However, when you're learning the ins and outs of the Instant Pot Ace blender, you're only really learning how to use this one piece of gear. For all its different programs — none of which is adjustable — the Instant Pot Ace only has three manual speeds, so pulsing something for a little bit longer, to your taste, or stopping a program short is kind of annoying. The Vitamix Ascent 2500, on the other hand, has ten speeds, and you can easily switch between them while you're using the blender with the turn of a dial. That gives you way more versatility when you're cooking, since you're not stuck to the preset programs (though they are there if you want them, and they work well). There are also other small design features that make the Vitamix a little easier to handle; the glass container of the Ace, though handsome, is heavy and a little tougher to clean than the slightly larger plastic Vitamix one.
The bottom line
Yes, the Ascent 2500 is $500, which is decidedly not a bargain, but when you buy a Vitamix, you're getting a high-performing blender that will truly handle any task you throw at it, not just the ones it's programmed to do. If, though, you're looking for a blender that will do the work for you, with select programs that mostly work well, or if you're on a budget and don't want to spend more than $100 on a kitchen appliance, then the Instant Pot Ace is a totally solid choice.
The Strategist is designed to surface the most useful, expert recommendations for things to buy across the vast e-commerce landscape. Some of our latest conquests include the best acne treatments, rolling luggage, pillows for side sleepers, natural anxiety remedies, and bath towels. We update links when possible, but note that deals can expire and all prices are subject to change.
Every editorial product is independently selected. If you buy something through our links, New York may earn an affiliate commission.