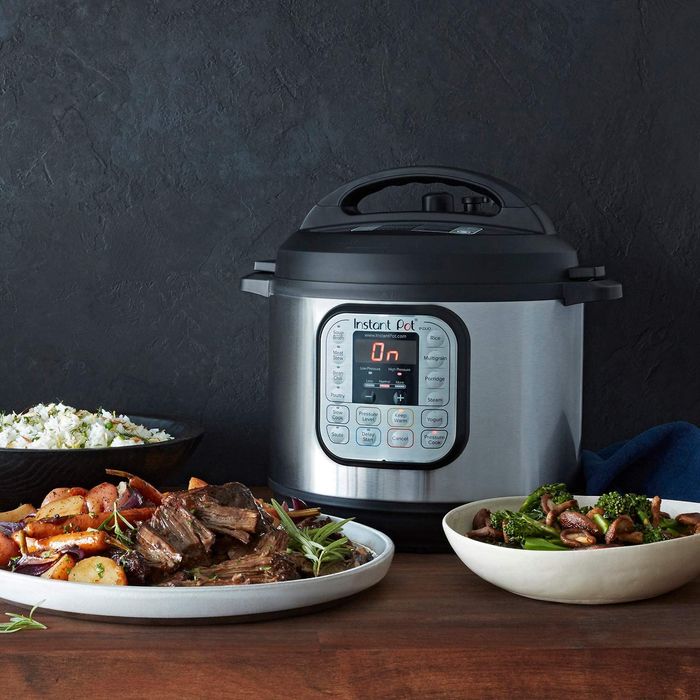 Whether you're meal prepping or just want to cut down time in the kitchen, a good pressure cooker can make the process a lot easier. It's versatile, can cook in bulk, and fast. There's a few different types of pressure cookers — including electric, stovetop, and even microwave —and we found options for every type of home cook, with the help of some hyperenthusiastic Amazon reviewers. And if you're looking for other appliances to stock your counters with, we have roundups on the best slow cookers, air fryers, and rice cookers, too.
Related Articles: Best Instant Pot Cookbooks | Best Le Creuset Dutch-Oven Dupes
Best-rated pressure cooker
Though the Instant Pot has seven different functions, over 8,000 five-star reviewers specifically call out this multifunctional kitchen gadget's pressure-cooking capabilities. And lots of them appreciate that it's got a bunch of built-in safety features to reduce the risk of pressure-cooking mishaps. "It is almost impossible to mess up with this thing to a point of being dangerous, so if you're concerned about the exploding pressure cookers of yore, you needn't be (I said 'almost,' don't go overriding your pot's safety features and then blame me when you poke an eye out)," one reviewer writes. And the cooking possibilities in the Instant Pot are seemingly endless, though many say the results are reliable and quick. "I've been making a lot of stews, and I'll sauté the onions, carrots, and meat, then add everything else, seal it, and set it for seven minutes on high pressure. I let it release naturally and have a perfectly cooked, tasty meal every time," says one reviewer. Another customer warns, "It has the pressure release valve that will scare the (*#!&) out of you every single time you switch it over. But don't let that intimidate you out of this purchase."
Best-rated (less expensive) pressure cooker
"I use this every week for cooking up meals," one user says of this pressure cooker. "It is durable, easy to clean, and great value for your money." With only a two-liter capacity, it is relatively small, but one reviewer says, "It is perfect size for family of two to four," and another writes that they can still use it "for almost all kinds of recipes." The reviewer cooking for a small family says "The pressure is extremely good to make rajma in 45 minutes without soaking overnight." Another uses it mainly to make rice. But no matter what you're putting in it, one reviewer concludes, "Overall, this pressure cooker is very well built and should provide you with years of use." They add, "The handle appears to be Bakelite or similar material and feels very durable. The pressure release valve works well and is relatively easy to clean in the unlikely event it gets dirty."
Best stovetop pressure cooker for beginners
If you don't know how to use a pressure cooker, they can be dangerous, but one user describes this stovetop model as "idiot-proof" because of all the safety features. "The seal is very sturdy, the correct positions are marked and the lid is easy to lock firmly onto the base," another reviewer writes. "The pressure valve is also clearly marked and very easy to set. The instructions are clear about maximum fill levels and the minimum amount of liquid required for the cooker to work properly—and there are markings on the side of the cooker itself." Because of all these precautions, "I don't think twice about my safety when it's at full pressure (my old one used to scare the pants off of me)," one reviewer says. Another first-time pressure cooker user notes that the actual cooking is pretty simple too: "My first attempt was carnitas. … 45 minutes after it was up to pressure and they came out perfect — stirred to shred and poured through a strainer — awesome!"
Best stovetop pressure cooker for canning
With the ability to fit up to five Mason jars, this large-capacity stovetop pressure cooker from Zavor is ideal for canning. One reviewer was able to can "several batches of chili, Tex-Mex beans, and ginger-peach butter" and called this pressure cooker "very solid and surprisingly easy to use." Another reviewer was able to can 120 pints of salsa in an "amazingly short period of time," adding that it's "EZ to use and good-looking. Saves on water which is an issue for me." And besides its canning abilities, reviewers say that this is an all-around great pressure cooker. That includes one reviewer who wanted something for both canning and cooking brisket or corned beef. "This pot does it all. Quality and finish are excellent."
Best stainless-steel stovetop pressure cooker
Out of the four different pressure cookers one reviewer has owned, they dub this Fissler one the best. "The Fissler is a functional thing of beauty!" they write. "The first dish I made was a paella-flavored risotto — no scorching, and it was completely perfect in exactly the time noted. My husband then made a Korean stew with tofu and beef short ribs — the meat was falling off the bone after 20 minutes at pressure and a natural release. Amazing!" It's made from 100 percent heavy-duty stainless steel, which means it "cleans up easily, and I am certain it will still look good in ten years' time," according to another reviewer. And a third reviewer used an Instant Pot for many years but loves how much more "tactile" this stovetop cooker is: "[It] is so much more satisfying than bending over and fiddling with buttons … I feel more absorbed in the cooking process with a stovetop model, while an electronic interface gets in the way and feels distracting."
Best electric pressure cooker for canning
This Instant Pot pressure cooker can sustain a pressure of 15 PSI, which makes it the best Instant Pot for canning — but with the same one-touch ease of the original. One reviewer was on the hunt for "something I could use that wouldn't take forever" and was delighted to find this: "I canned so many green beans after figuring out the setting I needed to use for it. Now I'm canning all kinds of tomatoes with it, and am loving every minute of it." Another who's used other pressure canners for over 20 years calls this an "absolute workhorse," adding that it "puts 'Grandma's' pressure canner to shame." And reviewers are just as impressed with how it cooks, too. A reviewer who attempted homemade vanilla extract reports: "The results were perfect! What normally would take a year to make while it sat in a jar in the pantry only took 25 minutes! Incredible."
Best smart pressure cooker
Claiming to be the "world's smartest" pressure cooker, this Chef iQ device has Wi-Fi and Bluetooth capabilities that let you connect to the Chef iQ app on your phone. "Not only does the app have an entire catalog of recipes making meal planning easier, it walks you through the cooking step-by-step," writes a reviewer who's new to using a pressure cooker. They note that it "helps alleviate so much time and effort on a weekly basis" since they work from home — and the app is so helpful they "find myself curating my grocery list around what I can get cooked in my ChefIQ." Another helpful feature is this pressure cooker's built-in scale that cuts down even more prep time. One reviewer thought this sounded gimmicky at first but calls it "one of the best parts of the machine. You put in two cups of rice and then it tells you to start to pour the water in and it just tells you when you have reached the correct amount of water in real time. SO COOL! I'm in love with it!"
Best pressure rice cooker
"I have NEVER cooked better straight rice out of the rice cooker than I have with this," declares one reviewer of this Cuckoo pressure rice cooker. "The rice is evenly cooked from top to bottom. There are zero 'hard' pieces of rice, nor a collection of burnt rice on the bottom of the bowl, reducing waste. Each grain is soft and is as sticky as I want. This is one of the best cooking appliances I've purchased in a while." Another reviewer raved about this cooker, calling it "the Rolls-Royce of pressure rice cookers" — not just for its good looks but also for how well it cooks any kind of rice. "Being raised in a Korean American family, I know how serious it is to have well-prepared rice," they write. In addition to making rice, another reviewer likes to use this pressure cooker for "hard-boiling eggs and making other pressure-cooked dishes," though they do warn that if "you're pressure-cooking meats, etc., DO NOT overfill!" They were a bit worried "about it blowing up, but it thankfully did not and kept making great rice & other dishes after a couple rounds of thorough cleaning."
Best combination pressure and slow cooker
At this point, Crock-Pot is just about synonymous with the electric slow cooker, so it's little surprise that the slow cooking function on this multi-use pressure cooker gets a lot of praise. And though the slow-cooking function meets reviewers' high standards, the pressure cooking does, too. One reviewer who cooks for "8 or more people (5 kids, the man, family/friends) on a nightly basis," calls this appliance, "the love of my life. I can cook FROZEN SOLID MEAT ( as in 5-10 lbs of it) in an hour or less…. I can make yogurt, sterilize yucky baby things, make delicious soups/chilli/stews quickly that taste like they simmered all day." As one user concludes "Of all 'gadgets' for the kitchen, this cooker is the all time #1."
Best combination pressure cooker and air fryer
Reviewers agree if you're in the market for a multi-use kitchen appliance, this pressure cooker saves valuable counter space, since it works as an air fryer as well. But that doesn't mean it's compact. "The only flaw for this cook-everything machine is its size on my counter. It has a big footprint," writes one reviewer, before adding, "For me though, I was able to reluctantly take several items off my counter, which made up for the size. I reluctantly and sadly removed my Instant Pot, gladly took out my rice cooker, and removed the air fryer I have mixed feelings about. This machine takes the place of all three and is a net win in counter space." Another reviewer says, "After visiting my daughter's home a couple of months ago, and using her Instant Pot for the first time, my wife and I decided we wanted one. We also had been wanting an air fryer. Friday night we decided to make chicken wings and WOW!! … I couldn't believe how good they were!"
Best automatic electric pressure cooker
This multifunctional cooker from Breville has many different settings, including slow-cooking, simmering, and sautéing, but the feature that comes up most often in reviews is the way it takes control of cooking. "What makes this so useful to me is that once you set it up and close the lid, you no longer need to be in the kitchen," one reviewer explains. "It automatically comes up to pressure, cooks, releases pressure (three different ways), and then keeps food warm." Another customer writes, "There is no burning in this mode which was a problem with the cheaper one. It is very intuitive and does not require a seminar on how to operate it." And though dozens of reviewers admit that it's expensive, they also say it's worth the extra price because of its user-friendly design: "Yes, I could have saved money of the cheaper Instant Pot but my thinking is if the Breville is doing the job of other appliances then it worth spending money on a better quality product that's easier to use," one writes.
Best microwave pressure cooker
Though it is cheaper than our best-rated, less-expensive pick, reviewers agree that this microwavable pressure cooker excels at some basic cooking techniques — like quickly cooking rice and vegetables — but can't replace all the functions of a stovetop or electric model. "If making rice is the objective then I highly recommend this purchase," says one reviewer, who adds that this microwavable device makes rice "better than my old electric appliance" but prefers another product for cooking pasta. Another customer who eats rice every day prefers this product to his electric rice cooker, and says that it boils "rice, vegetables, pasta, and eggs" with ease, adding that it's "easy to clean and highly durable." Whereas food often sticks to the bottom of other pressure cookers, dozens of other reviewers say that this plastic pressure cooker is easy to clean. "No more scrubbing pots or the rice cooker!" says one, who attests that this product makes "PERFECT rice out of the microwave" and appreciates that the clip-on lid makes for easy storage "in my fridge, right inside the cooker!"
The Strategist is designed to surface the most useful, expert recommendations for things to buy across the vast e-commerce landscape. Some of our latest conquests include the best dining room decor items, coffee makers, knife sets, Japanese coffee brewer, charcoal water filter, and drinking glasses for water and more. We update links when possible, but note that deals can expire and all prices are subject to change.
Every editorial product is independently selected. If you buy something through our links, New York may earn an affiliate commission.