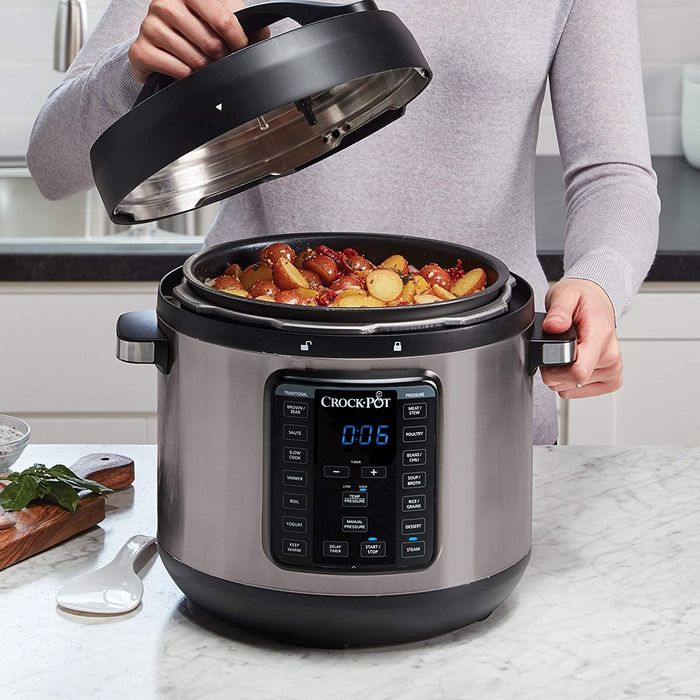 We've written about all the best items to stock your kitchen — including Dutch ovens and slow cookers — here, we've rounded up the best pressure cookers, as praised by the most enthusiastic reviewers on Amazon.
Since everyone is sheltering in place — and cooking — at home during the pandemic, the demand for kitchen appliances, including pressure cookers, has increased, and stock has been constantly fluctuating at Amazon. We'll keep updating this post as more best-rated pressure cookers come back in stock.
Related Articles: Best Le Creuset Dutch Oven Dupes
Best-rated pressure cooker
Though the Instant Pot has seven different functions, over 5,000 five-star reviewers specifically call out this multifunctional kitchen gadget's pressure-cooking capabilities. And lots of them appreciate that it's got a bunch of built-in safety features to reduce the risk of pressure-cooking mishaps. "It is almost impossible to mess up with this thing to a point of being dangerous, so if you're concerned about the exploding pressure cookers of yore, you needn't be (I said 'almost,' don't go overriding your pot's safety features and then blame me when you poke an eye out)," one reviewer writes. And the cooking possibilities in the Instant Pot are seemingly endless, though many say the results are reliable and quick. "I've been making a lot of stews, and I'll sauté the onions, carrots, and meat, then add everything else, seal it, and set it for seven minutes on high pressure. I let it release naturally and have a perfectly cooked, tasty meal every time," says one reviewer. Another customer warns, "It has the pressure release valve that will scare the (*#!&) out of you every single time you switch it over. But don't let that intimidate you out of this purchase."
Best-rated (less expensive) pressure cooker
"I use this every week for cooking up meals," one user says of this pressure cooker. "It is durable, easy to clean, and great value for your money." With only a two-liter capacity, it is relatively small, but one reviewer says, "It is perfect size for family of two to four," and another writes that they can still use it "for almost all kinds of recipes." The reviewer cooking for a small family says "The pressure is extremely good to make rajma in 45 minutes without soaking overnight." Another uses it mainly to make rice. But no matter what you're putting in it, one reviewer concludes, "Overall, this pressure cooker is very well built and should provide you with years of use." They add, "The handle appears to be Bakelite or similar material and feels very durable. The pressure release valve works well and is relatively easy to clean in the unlikely event it gets dirty."
Best stainless steel stovetop pressure cooker
While there are plenty well-rated electric pressure cookers out there, this traditional stovetop option is still preferred by over 2,000 reviewers. One thinks it offers a "Higher pressure than electric models," and many others think the stovetop version is faster too. "When I want quick 'barbequed' St. Louis-style ribs, onion, garlic, liquid smoke, barbeque sauce, seasonings and water to cover, and I have delicious ribs in 45 minutes," one writes. "Same for pot roast with carrots and potatoes. Chicken's a breeze. Beef or pork roast, country-style pork ribs, beef bones, short ribs, tongue, lamb shanks or small leg of lamb, brisket with cabbage, carrots, and potatoes done to a turn in minutes rather than hours." And what makes this particular stovetop option so popular is that it's made of stainless steel, not aluminum. According to one reviewer, that "allows me to wash it in the dishwasher (after removing the rubber seal from the lid), without it turning black like my old aluminum cooker."
Best stovetop pressure cooker for beginners
If you don't know how to use a pressure cooker, they can be dangerous, but one user describes this stovetop model as "idiot-proof" because of all the safety features. "The seal is very sturdy, the correct positions are marked and the lid is easy to lock firmly onto the base," another reviewer writes. "The pressure valve is also clearly marked and very easy to set. The instructions are clear about maximum fill levels and the minimum amount of liquid required for the cooker to work properly—and there are markings on the side of the cooker itself." Because of all these precautions, "I don't think twice about my safety when it's at full pressure (my old one used to scare the pants off of me)," one reviewer says. Another first-time pressure cooker user notes that the actual cooking is pretty simple too: "My first attempt was carnitas. … 45 minutes after it was up to pressure and they came out perfect — stirred to shred and poured through a strainer — awesome!"
Best stovetop pressure cooker for canning
"The MultiPot was very intuitive from the beginning; there were simple, straightforward directions in the box that easily explained how to set it up. I was ready to start cooking in no time. The pot also came with a lot of extras like silicone mitts, a trivet, a steaming basket, and two different rubber seals. The pot itself is a really beautiful charcoal grey color and I quickly replaced my old, ugly rice cooker for this beautiful 9-in-1 magical cooking machine. So far I've cooked a ham in just 15 minutes and a favorite pasta dish in four minutes. The Mealthy app is also really helpful as it has lots of tips and recipes. Learning how to cook in a multipurpose pressure cooker is different than regular cooking, so having recipes and guides is helpful."
Best microwave pressure cooker
"Excellent combination of old (pressure cooker) and new (microwave) traditions!" writes one reviewer, and according to other users, there are really no limitations when using this microwave pressure cooker. "I would have been happy with just a locking lid, but this little cooker actually manages to achieve cooking times relatively close to my stovetop pressure cooker, and I don't have to clean my microwave constantly," one says. Many say that it's great for cooking rice and beans, but it does meat well, too. "Can cook a whole chicken to tender perfection in a microwave oven," one says while another writes they "Have done several roasts, 24 minutes and delicious." One does warn, " You have to wait quite a while (10 mins at least) before you can open the lid after cooking so plan for that in your cooking time." Reviewers also suggest figuring out the wattage of your microwave — "lower wattage will require longer cooking time and higher wattage will require shorter cooking time" — before deciding how long your food needs to cook.
Best smart pressure cooker