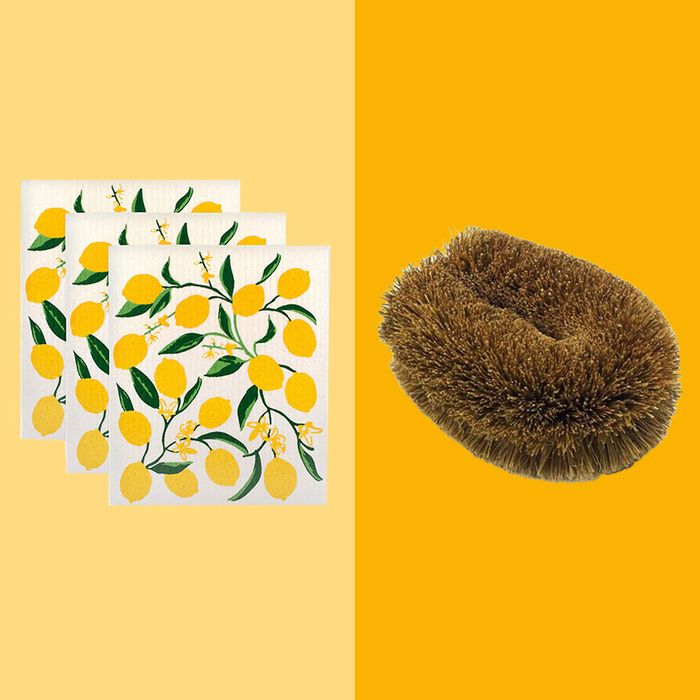 Photo-Illustration: retailers
Anyone who has used a disposable sponge to wash dishes or clean surfaces knows none of them last very long (except when you "forget" to toss them for months at a time). Regularly replacing them is obviously less than ideal for folks who want to live more of a zero-waste lifestyle. Sustainable-living advocate Addie Fisher, who writes about how to be more eco-friendly on her website Old World New, adds that disposable sponges can also "shed microplastics," leaving the planet a bit more polluted with each use. If you're looking to replace disposable sponges in your kitchen, Fisher and the three other sustainability experts we talked to say there are many options to consider, noting that the best eco-friendly alternatives to sponges will be made with natural materials that are biodegradable (a.k.a. not plastics) and last longer than your typical Scotch-Brites, so you're replacing them less frequently. To help you find the right eco-friendly sponge alternative, we asked the experts about what they use in their own kitchens, then combed through our archives to find any standout products we have written about before. The 12 products below take many forms, from cloths to sponges to scrubbers. All will not only get your dishes or surfaces spick-and-span but also make your kitchen a bit more green, according to our experts.
Best eco-friendly cloth alternatives to sponges
Best overall eco-friendly cloth
Three of our experts — Fisher; Micaela Preston of the natural-living blog Mindful Momma; and Laura Durenberger, the blogger behind Reduce, Reuse, Renew — recommend replacing disposable sponges with Swedish dishcloths, a product we first heard about from contributor Ashlea Halpern. As Preston explains, "they're an eco-friendly alternative because they are made with absorbent cellulose from wood pulp, rather than plastic." According to Fisher, because they're made from cotton and cellulose (both natural materials), "they are biodegradable and compostable at the end of their lifespan." If you don't want a three-pack, Durenberger likes the Swedish dishcloths from Tare Market, which are sold individually and can be washed up to 200 times (in a dishwasher or washing machine) — just note you have to air dry them. Because Swedish dishcloths are quick-drying, she explains, there is "less time for bacteria and odors to accumulate," adding that in addition to using them to wash dishes, you can also use Swedish dishcloths as "unpaper towels."
Best recycled-cotton cloth
Preston's arsenal of eco-friendly alternatives to sponges also includes these more textured scrubbing cloths that she calls "pretty much indestructible." She explains the scrubbing cloths are made "from remnants from the toweling industry," specifically, 98 percent recycled cotton and 2 percent resin. They last longer than your typical scrubbing cloth, she says, and can be washed in the top rack of your dishwasher. Like Swedish dishcloths, these also "come in fun colors to brighten up your dishwashing experience," Preston adds.
Best cotton cloth
While products made with recycled materials may be eco-friendlier than those made with new ones, a dishcloth made of cotton is still far less wasteful than a disposable sponge. Contributor Rachel Khong previously told us cotton dishcloths like these "provide innumerable advantages over sponges — particularly their shape." Unlike a sponge, she says, "a cloth can be bunched up to fit inside glasses. Or it can be spread to cover the curves of a bigger pot or bowl." And, of course, dishcloths made from cotton (whether new or recycled) can be washed and dried "to be reused ad infinitum," she adds.
Best eco-friendly sponge alternatives to sponges
Best overall eco-friendly sponge
If you're looking for more of a 1:1 swap, a couple of experts told us about eco-friendly sponges that mimic their disposable counterparts in form and function but are made more sustainably. Durenberger recommends these Eco Sponges that, like many disposable ones, are two sided: One side is made from upcycled fair-trade coffee sacks and the other from cotton. She says the reusable sponges are "easy to clean" — just throw them in the dishwasher or washing machine — and that their materials are biodegradable. Making them even more eco-friendly is the fact that they're compostable (it's for this reason we gave them the title of best overall, even though the sponges only got one recommendation.) "Once you're done with one, it can be thrown into the compost," she says.
Best (slightly larger) fabric sponge
According to Preston, "a great alternative to the traditional disposable sponge is a washable, reusable sponge made from cotton flannel, with a polyester mesh for scrubbing." She finds her favorites on Etsy, like these by Marley's Monsters. Slightly larger than your average sponge, each has a cotton-terry backing on one side, a polyester mesh-covered cotton flannel scrubber on the other side, and is filled in the middle with mildew-resistant, washable, and hypoallergenic recycled materials. You can also throw this in the dishwasher or washing machine, making it just as easy to clean and reuse.
Best eco-friendly loofahs
Durenberger says that loofahs made from the fibers of a luffa gourd, like her favorite one shaped like a sunflower, are "a great, all-natural alternative to sponges." She explains all-natural loofahs are made "by letting the gourds dry on the vine," resulting in a product that "can scrub and wash like a sponge without being too harsh on dishes." All-natural loofahs also "dry really fast," according to her, and because they're plant-based, they, too, can be composted at the end of their life. If you want to stock up (or prefer something with a more natural look), you might consider the four-pack of Eney loofah sponges, which are also entirely plant-based.
Best eco-friendly scrubber alternatives to sponges
Best overall eco-friendly scrubber