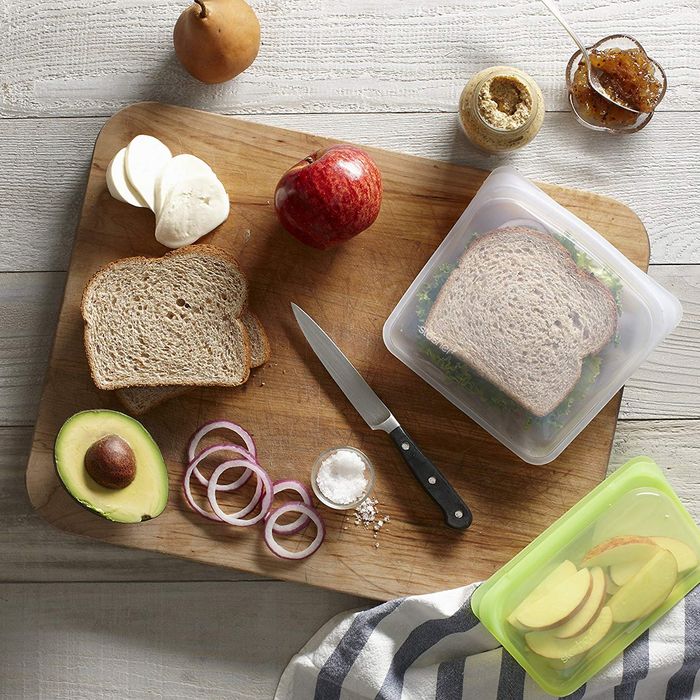 We all learned to reduce, reuse, and recycle as early as we learned to read — but truly practicing those tenets in your daily life takes conscious thought. Perhaps you have a reusable water bottle you take with you everywhere, but you're pretty heavily reliant on paper towels in your kitchen. Or maybe you have a drawer full of cloth dish towels, but you go through ziplock bags like nobody's business. The point is there are always ways to make your kitchen more ecofriendly.
"My philosophy is to help people understand the small choices they can make and that any choice they make is a good choice," says Micaela Preston of the natural-living blog Mindful Momma. A great place to start is by finding products that allow you to avoid plastic wrap and paper waste, according to Preston, who adds that lots of those items are more durable, attractive, and nicer to use than their single-use counterparts — not to mention, as LaToya Tucciarone, owner of SustainAble Home Goods in Atlanta, points out, more affordable in the long run. To find ways to create an ecofriendly kitchen, we asked Preston and 12 other experts who make it their business to live as sustainably as possible for their recommendations.
We ended up with many different versions of the same type of reusable products, so we've grouped together similar ones to help you compare and choose what will best fit your lifestyle and taste. Read on for all our picks.
Best alternatives to paper towels and napkins
As Preston says, one of the simplest and affordable ways to kickstart an eco-friendly kitchen makeover is by swapping out single-use paper products for reusable cloths. She directed us to this 12-pack of heavy-duty "paperless towels" that costs $15. Handmade from soft and absorbent bird's eye cotton (so-called for the fabric's diamond-weave pattern), they're machine washable and come in bleached or unbleached options. (You can also choose from more than a dozen thread colors for the outer edges, or spring for a "rainbow" pack that includes them all.) Preston likes to keep her towels under the sink and uses them for almost every kind of mess.
According to Strategist contributor Ashlea Halpern, a self-described compulsive cleaner who "could plough through half a roll [of paper towels] in one cleaning session," these Swedish dishcloths are "a game-changer." Invented by a Swedish engineer in 1949, the rags, which she calls "superabsorbent," are made of "100 percent naturally biodegradable cellulose or a combination of wood pulp and renewable cotton," dry quickly, and can be thrown in the wash. She uses them just as she would a paper towel and estimates that she's cut down on her paper-towel consumption by at least 80 percent. They come in "a zillion cheerful prints," Halpern notes, as well as in solid colors. Tucciarone is also a huge fan.
Tucciarone uses tea towels on the regular, too. "Not only can they clean like the Swedish dishcloths, but they're great for drying your dishes and hands as well," she says. Not to mention you can fold them up to use as pot holders and trivets. "Having multipurpose items really cuts down on the crap in your kitchen," she says.
Best alternatives to plastic wrap
To wrap up food without using plastic, two of our experts — Preston and Ali Rosen, the author of the potluck cookbook Bring It!: Tried and True Recipes for Potlucks and Casual Entertaining — recommend using beeswax paper. "I am obsessed with beeswax paper to wrap things," says Rosen. "It replaces plastic bags and plastic wrap and is super easy to clean." Etee is one of the brands Rosen turns to for reusable wax food wraps — and if it sounds familiar, that's because she told us about it before when we asked her to share some of her picnic accessories with us: "Made of beeswax and tree resin and hemp, this breathable wrap can be reused and is biodegradable. I don't trust it with anything liquid, but for sandwiches and solids, it's surprisingly sturdy and keeps food very fresh."
Strategist contributor Laura Perciasepe and Phantila Phataraprasit, a co-founder and the COO of the sustainable-furniture company Sabai, swear by these beeswax covers from Bee's Wrap. Perciasepe explains each one as "a classy little reusable scrap of organic cotton covered in beeswax, organic jojoba oil, and tree resin, which can be used as an alternative to plastic wrap." Each wrap is washable and good for up to a year. (If cutting down on purchasing is part of your eco-friendly turn, Preston notes that you can also make your own beeswax wraps.)
Laura Durenberger, the blogger behind Reduce, Reuse, Renew, points out that "if you're vegan or primarily plant based, you may be looking for a product that doesn't contain beeswax." These wraps that she recommends function similarly to the two products above but are made with candelilla and non-GMO soy wax instead of beeswax. Sold in packs of three, the wraps come in three different themed patterns and include one bigger size, which the brand says is good for "large salad bowls," and two smaller ones it says are "perfect for sandwiches."
Preston opts for fabric bowl covers with elasticized edges. The elastic lets each cover fit snugly around a bowl, and the fabric is easy to wipe down or launder. Her favorite covers, from Etsy, are currently unavailable, but these well-reviewed polyester ones on Amazon are very similar — and cost a fraction of her favorite's price.
For a sturdier alternative to plastic wrap (or any of the reusable covers above), Preston suggests these stretchy lids from Food Huggers that she says can go over bowls you already own. "Made from clear tempered glass and safe silicone, they are durable, flexible, and stackable," she explains. The latter attribute makes them a touch more versatile than the wraps and covers.
In addition to its reusable bowl lids, Food Covers makes this kit of reusable storage items that really lean into the brand's name. The pieces are quite literally covers made to fit around foods like avocados, onions, lemons, and other fruits and vegetables you may only want half of at any given time. Preston is a fan. "Got half an onion or lemon or tomato? Gently press the cut end of your fruit or vegetable into the flexible food hugger, and it will create a snug seal around the food," she says.
If you're looking for a microwave-safe bowl cover, Preston recommends one made out of silicone. "Silicone is inert, so you don't have to worry about leaching. It'll keep the splatters from coming up and keep heat in there, too." This set includes five covers ranging in size from 4 inches to 12 inches in diameter, so you can cover everything from a small cup to a large mixing bowl.
This similar set of reusable silicone lids comes recommended by Haley Boyd, the founder of shoe company Marais USA and another proponent of a zero-waste lifestyle. "These covers are great because they're not so size-specific," she told us when we spoke to her about the products she can't live without. "If the lid is a little bit bigger than the bowl, it doesn't matter." She likes that they're multi-use, noting that you can "just plop one on top of your bowl before sticking it in the fridge, cook on the stove top with one instead of using a regular lid," and that "they can even go in the oven."
Best alternative to ziplock bags
Several of our experts — including Preston, Boyd, and Phataraprasit — told us they swear by Stasher's reusable silicone bags as an alternative to plastic storage bags. Billed as "the world's first fully functional, self-sealing, non-plastic bag," Stasher bags come in a variety of sizes, are airtight, and can be put into the freezer, the microwave, and even boiling water for sous-vide cooking.
Strategist contributor Alison Freer also swears by reusable food bags, specifically Rezip's stand-up, airtight, leakproof, zipper-top bags made from FDA–grade PEVA material, which are "the closest thing I've found to the classic disposable zipper-lock storage bag," according to her. They come in a set of three, which makes them a little more budget-friendly than the Stasher bag, which is sold individually.