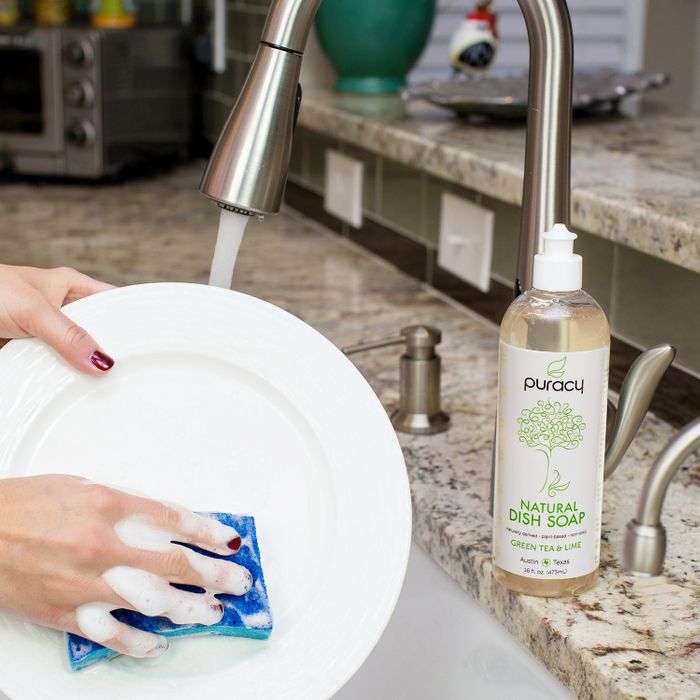 Photo: Courtesy of Retailer
Here at the Strategist, we like to think of ourselves as crazy (in the good way) about the stuff we buy, but as much as we'd like to, we can't try everything. Which is why we have People's Choice, in which we find the best-reviewed products and single out the most convincing ones. (You can learn more about our rating system and how we pick each item here.)
And while we've written about lots of soap before — including soaps for babies, one writer's favorite dish soap, and bar soap — here, we've rounded up the best natural dish soaps, as praised by the most enthusiastic reviewers on Amazon.
Best-rated natural dish soap
Most dish soaps contain harsh chemical detergents, and while, yes, those do effectively clean your pots and pans, they can also irritate your skin. One customer says that this Mrs. Meyer's dish soap doesn't leave her hands "cracked, peeling and itchy," but it does actually clean her dishes, which is more than she can say for most other "natural or natural-ish" dish soaps. With Mrs. Meyer's, she no longer has "to be crazy diligent about wearing gloves." She loves the scent, too. According to another reviewer, "it smells like summertime." If that's not appealing to you, the soap also comes in Basil and Honeysuckle fragrances. Another reviewer endorses the dish soap in a slightly less discreet way: "Holy balls I love this stuff. Not only does it smell wonderful, but it got gorilla glue off my counter!" He refuses to use anything else. "I'm hooked," he says.
Best-rated (less expensive) natural dish soap
As with Mrs Meyer's, reviewers like that this soap is made without harsh chemicals and won't dry out or irritate your hands. And they say that doesn't stop it from cleaning. According to one customer, the real benefit is that this scent-free soap doesn't leave an "overpowering" detergent smell or fragrance on everything. One reviewer does warn that this soap "doesn't suds up as much as others," but, she says, that's not the true mark of a good cleaner anyway.
Best fragrance- and dye-free natural dish soap
The ultrasensitive buyers of this group specifically wanted fragrance- and dye-free natural soap. As one customer puts it, "Our world is filled with chemicals and chemical smells and more and more and enough is enough." He steps down off of his (dish)soap box for a second, though, to let us know that this soap does "bubble plenty and works very well." One woman who is allergic to most dish soaps says this is the first she hasn't reacted to. "For people sensitive to fragrances, this is the best dish soap," she says. Plus, "it does a great job at getting the dishes clean," according to her.
Best preservative-free dish soap
Not all natural dish soaps are preservative-free, which poses a problem for those allergic to preservatives. Like this woman, who is allergic to methylisothiazolinone, which, she says, is in 99 percent of dish soaps. But not this soap, which "actually suds" and doesn't require "half a bottle to get a load done." Another reviewer is allergic to "artificial fragrance and isothiazolinone preservatives" and searched for years to find a dish soap that didn't irritate her and "actually gets things CLEAN." This is the first she's found that does both, and it "doesn't leave a weird film or bad taste on the dishes," she says. "It smells fantastic, foams nicely, and is a great deal."
Best sulfate-free natural dish soap
For all this talk of finding a dish soap that bubbles, some people need one that doesn't. Sulfates are the agents that cause soap to foam, and they can irritate sensitive skin. One man blames sulfates for exacerbating the eczema on his hands, but since switching to Puracy, he hasn't had an issue. A reviewer with allergies says this soap is "better than my old Dawn" and "doesn't leave smears or spots." His bottle lasted an entire month. Another reviewer went through his much faster than that, warning that soaps without sodium lauryl sulfate "require a greater amount to get dishes clean." But he would rather "avoid the potential dangers."
Best natural dish soap for pans
When it comes to cleaning pans, You typically need to use a harsher detergent and a little more elbow grease. But reviewers think this Green Works dish soap is just as good as tougher scrubs. "When I cook I tend to BURN everything and have this huge black spot in the pot," one woman says. But this soap can handle it. "I put a little soap with hot water and let it soak and it came out easily." Another agrees: "The quality of this dish soap is excellent," they say. "It cuts grease with ease and is exceptionally gentle to my hands."
Best natural dish soap for baby bottles
"As a new mom, it didn't even occur to me to wash my daughters bottles with anything but dish soap. Why waste money on some fancy bottle soap when dish soap does the same thing? Boy was I WRONG," says one mom. After buying Dapple, "the difference is incredible," she says. "It removed all of the breast milk residue all off the bottle parts and was noticeably cleaner." Another mom is also hooked and will "never go back to just using regular dish soap."