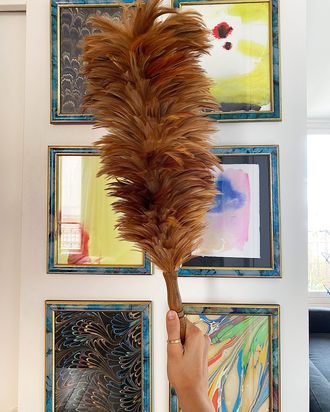 In Paris, an island of elite fromageries and parfumeries, my favorite type of shop is simply the droguerie, the hardware or general store. Namely, these are drogueries in the tony Left Bank and hip Right Bank hoods, where plastic is eschewed like the plague that it is and store stock is edited to honest tools and European heritage products: beeswax candles and broomsticks, galvanized-steel pails and Portuguese wood and silver polishes, natural sponges and wicker hampers.
I'm a proud sucker for such stuff. It was the case even before Lockdowns I, II, and III. But being constantly penned in our apartment put me in the mood for home maintenance, and I leaned, like never before, into my adoration of la drog's classic offerings: old-world — plastic-free— household items that work hard and look pretty and are a pleasure to handle as you maintain your petite corner of this world. If I'm right, you'll be humming the tune of "C'est Si Bon."
Vacuuming and the rare dry cleaning aren't enough to keep area carpets and runners fresh if you have pets or kids or — quelle horreur — wear your shoes indoors. Here comes the traditional rug beater, about the size and shape of a badminton racket and woven from flexible rattan. Every couple of weeks or so, I look forward to dragging our kilim rugs to the balcony, draping them over the railing, and paddling them. It is satisfying. (Though I am often horrified by how much yuck I can get out despite religious vac action.) And the beater is attractive enough to display hooked onto the side of a bookshelf.
Bird feathers are microscopically barbed. This structure, along with the static electricity generated by whooshing them over surfaces, holds dust until it's shaken out. It doesn't just push it around. (I did not understand this until a scientist friend at the Institut Pasteur — laughingly overqualified, here — explained it to me.) Real feather dusters are supremely effective as well as aesthetic. The dusters best suited to the task have ostrich plumes because they're so long in the barb, but rooster feathers also make good. As they're objets d'utilisation, unlike Swiffers, it seems a shame to keep these dusters in a closet. I keep them out on top of a cabinet in a vase, like a fluffy bouquet.
In college, a lecture by Jain nuns left me mostly unwilling to kill insects to this day. (I am from Florida, so mosquitos are an exception.) My husband has no such qualms, however, and it is annoying when he launches himself to clap after a housefly or clothes moth. Recently, I gave him one of these Amish-style swatters from the Redecker brush works. With a leather flap and a wood handle, it splats with pizzazz — and zero plastics.
Called ramasse-miette ("garbage collector"), the crumb brush excels on tablecloths flaked with remnants of baked goods as well as on your bare-back table and laptop keyboard. Antique examples can be found at flea markets — lacquered, scalloped, or inset with mother of pearl from times Napoléon. Obviously, these palm-size Nordic-style pans and brooms with natural bristles are way more practical. Bonus: Toddlers love crumb brushes and can be trained to tidy up with them.
There's no dearth here of sturdy brooms that look as if they could ferry a witch far and wide. But the type I fell for is Japanese — more Kiki's Delivery Service. It's an investment piece for your arsenal: Made from long-lasting shuro palm fibers tied with copper wire and bamboo handles, it's a really robust sweeper despite how soft and fine the bristles are. (For a haptic experience that's extra, pair this broom with a Harimi dustpan, which is composed of layered washi paper that has been toughened with persimmon tannin. It's quite meditative.)
My husband got me this doorstop, also from Redecker, as a joke after I kept missing the hedgehog that lives at our friends' place in Normandy. It has solved the problem of our bedroom door slamming shut on windy days, and it's so cottagecore that our kiddo considers it a toy. Its quills are made of stiff bassine bristles and it's meant to do double duty as a boot scraper. (The German heritage brand also manufactures a football-size version specifically for shoe cleaning.)
Haws is the Jaguar of watering cans. A Haws is deeply, classily English. The handmade cans were patented in the late 1800s for their ergonomics. This discrete indoor metal model holds a quart and, after tipping water into the potted plants, looks nice resting near at hand. But don't forget its "rose" (even if it is plastic)! While not strictly necessary, these nozzles modulate the water flow so your plants aren't doused or flooded. I use the medium-spray No. 8, which has the effect of a light rain shower.
This is precious for a plunger, but clogged basins are such an unpretty prospect. Maybe it's okay to overcorrect? I acquired a French-made one with an oatmeal-colored suction cup and an ash handle and realized (as long as the rubber is high quality and will not crack with use) that this is really about editing the traditionally red or black sucker to beige: i.e., "not an eyesore." Basically, when the tool is pretty, tub-drain hairballs appear less ugly.
[Editor's note: Le Bazar Français lists all prices in euros, so the price shown is an approximate conversion to U.S. dollars.]
The Strategist is designed to surface the most useful, expert recommendations for things to buy across the vast e-commerce landscape. Some of our latest conquests include the best acne treatments, rolling luggage, pillows for side sleepers, natural anxiety remedies, and bath towels. We update links when possible, but note that deals can expire and all prices are subject to change.