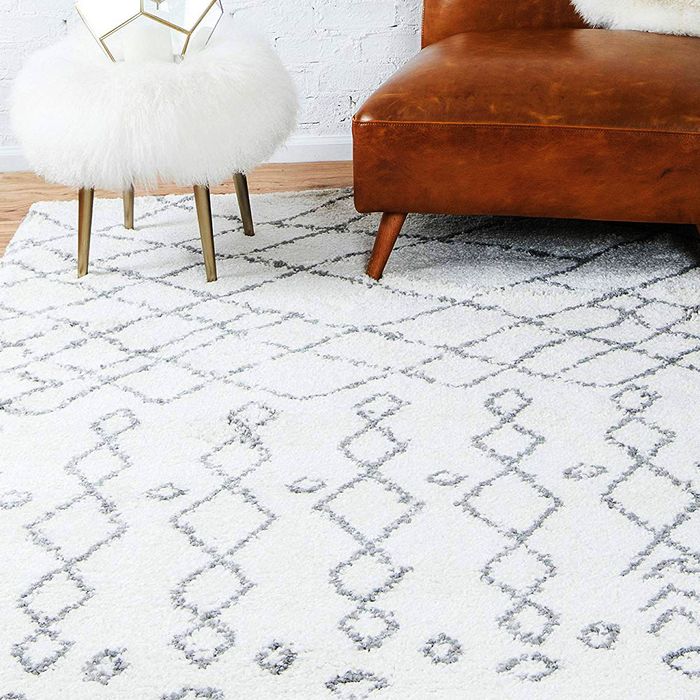 Photo: Courtesy of the vendor
The quickest way to kill the thrill of moving into a new apartment is settling in and noticing that the furniture that looked good in your previous home is totally wrong in your new space. One way to pull together your hodgepodge collection of Ikea pieces, street finds, and vintage furniture is by rolling out an area rug, an instant fix that "ties the room together" and adds a bit of coziness underfoot. (We're of the opinion that there's nothing like sprawling out on a cushy floor rug after a long day.) After speaking to plenty of interior designers about their favorites, we've learned that area rugs can quickly get expensive, but luckily there are also a ton of affordable options out there in a range of on-trend styles like Moroccan and sheepskin, as well as rugs made from natural fiber. Below, we've rounded up 18 of the nicest-looking area rugs you can buy on Amazon to help make your home feel a little more pulled together. And for more affordable Amazon finds, check out our list of the 11 best area rugs, as praised by hyperenthusiastic reviewers.
Moroccan-inspired rugs are everywhere these days, as the thick pile and abstract designs make them a popular choice in homes of all décor aesthetics. But getting an authentic one woven by members of the Berber tribe, for instance, can be costly. Here's an extremely affordable option inspired by the real deal, with traditional shapes and lines that would look great paired with a streamlined sofa. Bonus points for the fact that it's waterproof, stain resistant, and, importantly, does not shed.
Here's another Moroccan-inspired design. We particularly like its tassels and diamond motifs.
This Moroccan-style rug looks especially plush, and the diamond trellis pattern is generous in scale.
Here's a contemporary twist on that instantly recognizable diamond trellis in 100 percent wool. It seems perfect for a nursery.
If you prefer a rug with a more traditional pattern, there's a bunch of handsome Persian-inspired ones that come pre-distressed for that lived-in look. We love the medallion and deep red and blue dyes on this one.