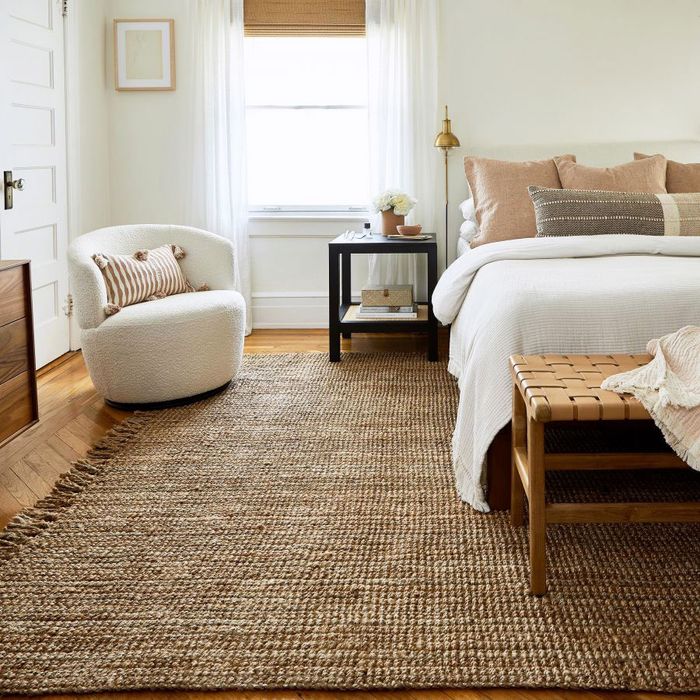 Photo: Courtesy of the retailer
Sisal and jute rugs are like the white T-shirts of the design world. Thanks to their neutral color palette and natural fibers, they layer quite well with almost any décor. "Throw them over large rugs or under smaller ones to add depth, warmth, and texture," says designer Leanne Ford. "Mix them with antiques and neutral colors or with jewel tones and lots of pattern," says designer Lauren Ashley Allan. Whichever direction you go, "they're an easy way to add an imperfect touch to a room," adds Decorilla lead designer Devin Shaffer.
Another standout feature: "They're budget friendly compared to most other styles of rugs," says Ford. Many picks on this list are under $600 for an eight-by-ten-foot rug, and you don't necessarily need to pay more than that to get something great looking. In terms of where to place them, "They can be mixed and moved between main rooms or secondary rooms such as bedrooms," says Allan. "There is a lot of flexibility with these rugs, which can either be dressed up or dressed down." To help you choose the right natural-fiber rug for your home, we've laid out the differences between sisal, jute, and abaca rugs, and we also asked Shaffer, Ford, Allan, and 13 other décor experts and interior designers about their favorites. Read on for their picks and advice on how best to incorporate the rugs into your décor scheme.
Best overall sisal | Best light-colored sisal | Best customizable sisal | Best (less expensive) customizable sisal | Best dark customizable sisal | Best customizable sisal-wool blend | Best overall jute | Best chunky jute | Best braided jute | Best jute with border | Best patterned jute | Best vintage-patterned jute | Best patterned jute-wool blend | Best colorful jute-cotton blend | Best patterned jute-cotton blend | Best abaca 
What we're looking for
Material: As far as choosing between area rugs made from sisal, jute, and other natural fibers such as abaca, the experts we spoke with say to consider the space you'll use them in — for aesthetics, of course, but also because certain fibers may be better in certain locations. "Generally speaking, sisal rugs," which are made from the fibers of the agave plant, "are a bit more durable than jute rugs, so they're good for high-traffic areas of the home," according to prop stylist Cat Dash. Allan agrees, and because she says sisal rugs are the most durable of the group and have a tighter weave than the others, she likes to use them on the stairs as a runner.
Rugs made from jute (which comes from the stem of the jute plant) or abaca fibers (which come from the abaca plant), on the other hand, are usually softer to the touch, making them "more comfortable for bare feet, so there's a trade off," Dash says. Jute rugs have a softer feel, which makes them a bit more pliable than sisal but also less durable and harder to clean. That's why the experts say they work better in low-traffic spaces such as bedrooms as opposed to hallways and living areas. Allan's preference is for rugs made out of jute because of its overall lighter color, texture, and sheen, but she recommends always requesting samples to make sure your choice isn't too scratchy.
If you're looking for a "chunkier, more textural surface," Allan recommends abaca, which is a thicker fiber with a bit of sheen. Similarly to jute rugs, they feel soft underfoot and are not as durable as sisal, working better in medium- to low-traffic areas of the home. If you like the look of these rugs but are nervous about their feel (even after trying a sample), consider one that's blended with a softer material such as cotton or wool, which would take the edge off a bit.
Style: The rugs come in a variety of styles and color options no matter the fiber you choose. You can certainly go for a plain-woven or hand-braided rug, but some come with fringe while others come with patterns like checkers or a more traditional motif. And as mentioned above, sisal will generally have a more tightly woven look, while jute and abaca will be a little chunkier.
Customization options: Another benefit of natural-fiber rugs is their customizability. Because of the plain weave of many of these rugs, they come in various preset sizes, but some allow for even further customization by letting you choose specifications including dimensions and trim.
Best overall sisal rug
Best light-colored sisal rug
Best customizable sisal rug


Best (less expensive) customizable sisal rug
Best dark customizable sisal rug
Best customizable blended sisal-wool rug
Best overall jute rug
Best chunky jute rug