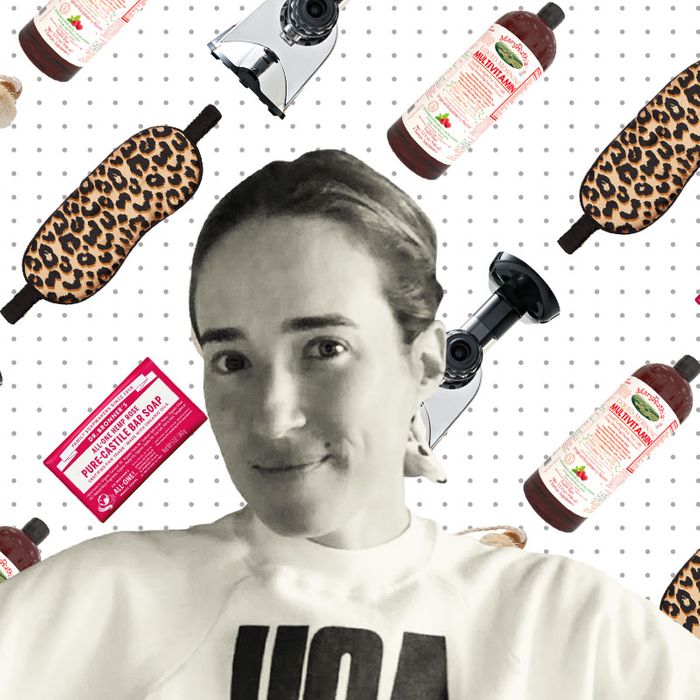 Photo: Courtesy of Daphne Javitch
If you're like us, you've probably wondered what famous people add to their carts. Not the JAR brooch or the Louis XV chair, but the hand sanitizer and the electric toothbrush. We asked nutritionist Daphne Javitch about the lip balm, dry brush, and kitchen appliance she can't live without.
My go-to for my lips had always been Aquaphor, but it's not homeopathic and not very chic. But I think this packaging is just so cute. It's the simplest natural lip balm — there's no flavor, no residue. It's one of those Parisian pharmacy things where you can get it on Amazon. I went to Paris a year ago and I bought ten of them. I throw one in every bag; they last forever.
I was really thinking: What are the things I cannot live without? And I cannot live without the juicer. That's because it's so much a part of my daily routine. It's a horizontal juicer, so it's a slow juicer, like a masticator, rather than a centrifugal juicer, which uses an engine that heats up the vegetables. I just want to stress that all juicing is amazing, and I am pleased with anyone who has a juicer and is juicing on a daily basis. The main reason I love this juicer is it preserves more enzymes and prevents them from oxidizing. People also say that centrifugal juicers are easier to clean, but the Omega 900 is extremely easy to clean. It looks insane: you're like, What is this robot monster on my kitchen counter?, especially if you live in New York. My daily juice is cucumber, celery, fennel, green apple, and lime, but I have 12 different recipes that I send my clients. Sometimes I add cilantro, ginger, turmeric.
I really love recommending the dry brush — it's portable, affordable, and something you can do in 30 seconds. Not everyone is going to juice, not everyone is going to do a sauna, not everyone is even going to exercise, but everyone can apply a gentle pressure and sweep their body for thirty seconds. Once you get into the groove of using it, it activates your lymphatic system, which helps moves toxins from your tissue to your blood for elimination. It also increases circulation. My philosophy of cleansing and healing and wellness is the idea that we always want there to be motion and flow in the body because that is the definition of vibrancy and vitality and youth. And stagnation or congestion or accumulation in the body is disease and aging, etc. So this is a tool that we can use to activate that flow, and also it's just so nice to sweep your body and rinse off any debris in the shower.
I mostly use Natren probiotics — I take them at night. Your gut bacteria loves food (it's very piggish). I notice the biggest difference in my digestion if I take it before bed. The Dr. Ohira probiotics are slightly more affordable and also don't need to be refrigerated, so they're great to take in your travel bag or to work if you feel a cold coming on. We are mostly gut, so if you don't have diversity and strength in your gut, your [health] can be compromised. When I'm not feeling so hot, I find that it helps to take two extra probiotics a day.
MaryRuth Ghiyam was one of my teachers before I went to school and got certified. She went from being a nutritionist to fully focusing on her product line. I love her daily liquid vitamins and nightly liquid minerals because I'm not really a supplement person and can neither remember nor feel good about popping six, seven pills a day. She just designed these super high-quality, effective formulas — you just take a capful in the morning and a capful at night. It's full-spectrum, and everything is there. I just trust her so much, her standards are so high. If you're just taking those two things, you're good.
I'm a person who likes to slather myself in lotion after I shower, but now, as I transition to a more holistic lifestyle, I've realized that anything you put on your skin, if you wouldn't eat it, you really shouldn't put it on your body. You're absorbing everything. And sensitive skin is kind of the result of chemical exposure, whether it's from the outside or the food we eat. I like that this lotion is light; I'm not a thick-lotion girl. And it has absolutely no scent, it feels like nothing, but it has an impact on how my skin feels.
I like that Dr. Bronner's is a sustainable, responsible brand, but they also just have the coolest packaging — it's timeless, and it's colorful. And it says things like, "One for all … All for one." I just like the message. They're like the Patagonia of soap. I like the rose in my shower, and the almond in my bathtub. Everyone loves the Dr. Bronner's liquid, and I love it too, but I really love the bar soap. I somehow find it less drying. Also with bar soap, so little goes a long way.
This serum in particular has chlorophyll in it, and the way my facialist, Joanna Vargas, describes it, it's like a green juice for your skin. Obviously I was sold on that. I'm very scent-sensitive, and I love the way it smells. I could live without serum I guess, but I don't want to.
These pajamas. I can't even. A couple years ago my friend's sister told me she was starting a pajama line — I used to have an underwear line so she asked me one or two questions. Then, randomly, I think a client or someone on Instagram asked me if I knew these pajamas. Turns out it was my friend's sister's new line. I'm telling you, these pajamas are insane. I'm usually a nightgown or a cute undies kind of girl. Now my husband is like, can you please wash those pajamas? Literally people come to dinner, and I'm wearing the pajamas. They're so cute, they look like an outfit. They're made out of cotton, but it's that kind that has a natural crinkle. I have the cloud color, though all the colors are amazing.
I cannot live without the Nido box, it's is such a brilliant, beautiful concept. Basically, every two months for the first year of your child's life, you receive curated boxes of simple educational toys and items that are age-appropriate. For example, when it was time to start introducing solids, it came with a set of spoons and a fork and a beautiful organic towel. It also always comes with a card that tells you where your child is at developmentally, and how each toy corresponds to their developmental stage. When they're beginning to crawl, there's a soft ball that's not perfectly round and doesn't roll that far. There's a toothbrush for when their teeth are starting to come in. Each item is so thoughtful, I basically have not bought any other toys for my son; he is just so entertained. And these toys are also just really beautiful objects.
My husband and I were spending a lot of time with friends of ours on Long Island in the North Fork, and they're obsessed with this coffee place. It's this cult coffee shop there, so much so that I think Starbucks once tried to open a location there but it folded within a month. Aldo, the founder, is this Argentinian guy, and he has his own way of roasting the beans. They're literally so delicious that we order our beans from Long Island. The beans, you'll notice, they're not like the dry, light-brown beans. It's an Italian way of roasting where all the oil remains on the beans. It's so good. I love the Guatemala and Seductive blends.
For optimal sleep, you want to be in a dark, cold, quiet environment — especially when you have a young child or a stressful job, or if you're a student and you really need quality sleep — and I just find an eye mask really does make a huge difference. It blocks out the light, but it also indicates to your body that you're turning inward. Sometimes an eye mask can kind of trigger memories of your mom in an airplane mask — or a Duane Reade eye mask, if it was my mom — but that's why I like these silk ones. They're kind of an investment, they're not cheap. But I got one of these as a present to myself. When I was about to have my baby, I was told that for labor it's good to have an eye mask so you can have your own private space that you can go to to endure the work of labor. It's so soft, you don't even feel it.
Any headset, I truly can't live without. Cell phones emit radiation. And a lot of people don't know this, but your thyroid is in the front of your throat, and it's extremely sensitive to radiation, especially for women. So we want to keep the cell phone away from our thyroid. The great news is that just holding your phone one foot away from your head reduces exposure by 80 percent. So that's why it's good to have a headset — and I'm not talking about those AirPods, because that just seems like more radiation. But finally you need a headset to do my favorite thing of all time, which is listening to podcasts endlessly.
The Strategist is designed to surface the most useful, expert recommendations for things to buy across the vast e-commerce landscape. Some of our latest conquests include the best acne treatments, rolling luggage, pillows for side sleepers, natural anxiety remedies, and bath towels. We update links when possible, but note that deals can expire and all prices are subject to change.
Every editorial product is independently selected. If you buy something through our links, New York may earn an affiliate commission.