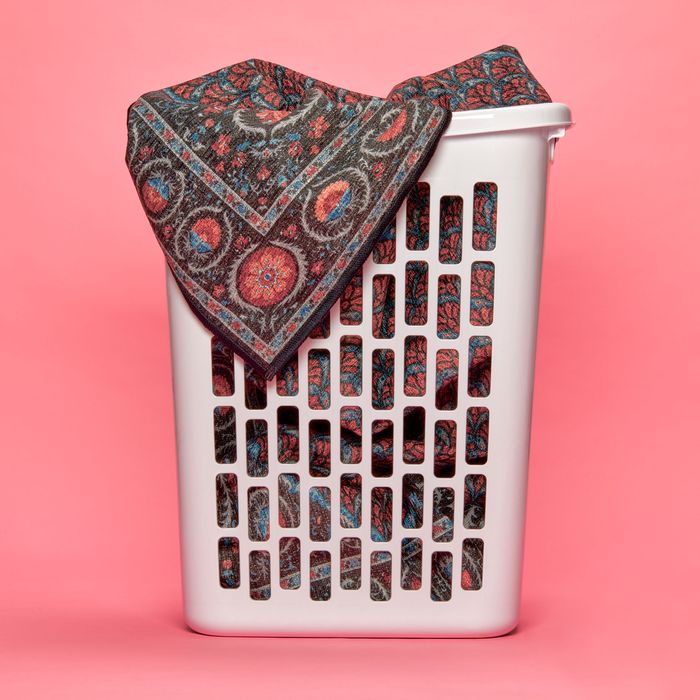 If you have a child, a pet, or one of the messier hobbies, you know that the fancy rugs of your dreams are often better left in those dreams. For real life, where preventing mess and spills is impossible, consider a washable rug, which are designed to look good as new after a cycle in the washing machine (or, for some indoor-outdoor rugs, a quick rinse with a hose). To find the best available options, we asked interior designers, pet owners, and parents of toddlers for advice on rugs that can handle grime and that you can throw straight in the washing machine.
Best overall | Best rag | Best bargain rag | Best organic cotton | Best sophisticated | Best for kids' rooms | Best plush | Best for pet hair | Best indoor-outdoor | Best tiles | Best less-expensive tiles
What we're looking for
Material: Washability requires materials that won't shrink, pill, tangle, warp, or discolor in the laundry machine. Rugs follow many of the same guidelines as clothing: Cotton and many synthetic fibers are okay in the wash; some other materials commonly used for rugs — like wool, jute, or animal hide — don't like to get wet and should be cleaned by vacuuming. For washable rugs, be sure to follow the product's care instructions — for example, some products require a cold wash or need to be line dried — as they'll provide you with the best direction for keeping your rug looking like new.
Textile type: Material is one component of rug washability; the way the fibers are held together is another. Most non-animal-hide rugs are either woven, which generally produces a flatter surface, or pile, tied by hand or with a machine to produce a surface of soft, cut-end-up fibers. There's tons of variability within both categories — a woven rug can range from a hardy rag rug to a fluffy, long-fibered flokati area rug, for example. In general, the weave of a washable rug should be tight enough that threads won't come loose during a tumble cycle, so we're favoring rugs with a dense pile or a tighter weave.
Size range: A quandary of washable rugs is that they need to cover large spill-prone areas, but still be small and flexible enough that you don't dread wrestling them into a too-small washing machine. The right size will depend on your washing machine (one of the retailers on this list, Ruggable, has a useful chart of the sizes of washing machines their rugs will fit), and in general, we're favoring rugs with a wide size range, from doormats to area rugs. Where only one size is available, we're listing its dimensions.
Best overall
Polyester with polyurethane barrier | Pile | Ten sizes
Several experts we spoke to praised Ruggable's rugs — they are "without question the best washable rugs we use," says Sherri Monte, co-owner of the interior-design and home-organization company Elegant Simplicity. The rugs come in two parts: a cover with a water-resistant polyurethane barrier that lets you wipe up smaller spills before a stain forms, and a rug pad that grips and holds the rug in place. When there's a spill, you simply roll up the cover and toss it in the wash. "As the owner of an elderly dog that occasionally pees inside, I can easily throw the whole rug in the washing machine, which keeps me from freaking out over occasional accidents," says Strategist senior writer Liza Corsillo. Lesley Suter, travel editor at Eater, has a neutral runner in her kitchen that "gets disgusting, and I'm very glad I can wash it."
Haleema Shah, a producer of the podcast Today, Explained and a mom, has two six-by-nine-foot area rugs from Ruggable. One is white, and she reports that it always brightens up noticeably in the wash. The other is this darker-patterned one that she got for her living room. She continues to be impressed by its quality. "It's actually way more striking and pretty in real life," she says. Corsillo agrees: "I was a little worried that the pattern would look cheap, but that's not the case at all."
Best rag rug
Photo: Retailer
Cotton | Woven | 16 sizes
If you prefer a lower-tech washable rug, most of the experts we spoke to mentioned cotton rag rugs, a style made by weaving strips of recycled textiles on a loom. They're lightweight, they can be thrown into the washing machine, and their marbled patterns are great for camouflaging stains. Maine interior designer Kelly O'Connell especially loves rag rugs, like this one from Safavieh, "for the kitchen and playrooms, where they get the most abuse."
Best bargain rag rug
Cotton | Woven | Two feet by two feet and 11 inches
Amory Wooden, a marketing executive at StreetEasy, house flipper, mother of four and dog owner, is a fan of rag rugs for their versatility. "The door to our backyard sees a lot of mud-filled foot traffic. While it would make the most sense to use an outdoor rug at this door, they aren't easily washable. So instead, I use rag rugs from Ikea," she says, which are woven from the company's textile scraps. "It's easy to toss them into a load of laundry and clean in a few hours. As an added bonus, we use it to mop up under the water dish from our slobbery bulldog."
Best organic-cotton washable rug
Photo: Retailer
Organic cotton | Woven | Eight sizes
These minimalist, organic-cotton rugs from Willaby were enthusiastically recommended by two of our experts: Francesca Santi, owner of Playdate Goods, a children's store in Asheville, North Carolina, and Laura Fenton, author of The Little Book of Living Small. Santi loves that these rugs are dyed with nontoxic materials and says that the runner she has is "very soft on bare feet." Fenton used the small cotton-rag rug in her son's nursery. "It was very handy to be able to wash it when he was crawling (and in the spitting-up-and-exploding-diapers phase of life)," she says. "I especially like their undyed rag rugs or super-subtle stripes."
Best sophisticated washable cotton rug
Cotton | Woven | Five sizes
Singer-songwriter Melaena Cadiz works from home, so finding the right mix of form and function was important. "We have a toddler and, needless to say, have lots of mishaps, so we wanted practical but beautiful rugs. My friend has these made in Brazil, and they're awesome for folks with kids and pets," she says. The lightweight, machine-washable rugs have a simpler, more grown-up pattern than many other hard-wearing rugs, and can also be used as blankets or as a nice-looking couch cover to protect against pets.
Best washable rug for kids' rooms
Cotton | Pile | Five-foot circle
Interior designers Devin Shaffer, Cathie Hong, and Becca Casey all recommend the washable rugs from Lorena Canals for nurseries because they're super-soft, come in a variety of cute patterns, and have a reputation for durability. "They're easy to incorporate into many design styles, machine washable, and soft enough to be placed in a nursery," says Shaffer. Kelli Lamb, editorial director of Rue magazine, recommends them as well. She says their low pile gives them a "cozier texture than most washable options on the market," and "their [washable] wool line has some beautiful, colorful options that would brighten up any playroom and encourage imagination."
Best plush washable rug
Modacrylic and acrylic blend with polyurethane barrier | Nine sizes
Although she recommends Ruggable's lower-pile rugs and has one in her own kitchen, Lamb recommends the brand's shag and plush collections for people with pets. "We know pets love a soft spot to snuggle, and these are really cozy but can still go right in the washing machine," she says. Plus, the Ruggable pads are nonslip, so they will "stay in place if your pet has the zoomies."
Best washable rug for repelling pet hair
85 percent cotton; 12 percent polyester; 3 percent other clothing fibers | Woven | Ten sizes
Galina Holechek, an interior designer in L.A., prefers "smaller, tighter-patterned rugs in darker tones for areas prone to lots of spills and wear and tear." She recommends the brand Hook & Loom, also mentioned by Lamb, because it has some "pretty fantastic machine washable rugs in the flat-weave eco-cotton line." Matt Clayton, the founder of Pet Hair Patrol, also recommends cotton rugs with a tight weave: "The tightly woven surface prevents pet hair from getting embedded into the surface," he says.
Best indoor-outdoor washable rug
Polypropylene | Woven | 11 sizes
Indoor-outdoor rugs are made of polypropylene (a form of plastic), which makes them incredibly easy to clean — they can be hosed down — and resistant to staining. Interior designer Andrew Howard recommends Dash and Albert indoor-outdoor rugs for their designs, like this tattersall plaid option. If a plastic rug sounds less than eco-friendly, Casey recommends Dash and Albert's line of indoor-outdoor rugs made from recycled plastic.
Best washable rug tiles
Photo: Retailer
Nylon, PET, and nylon blends | 19.7-inch-by-19.7-inch tiles
Monte, who has a young son and a golden retriever, recommends using carpet tiles as an alternative to a traditional rug — if a mess is limited to one or two tiles, it saves you the hassle of washing the entire rug. She especially likes these Flor carpet tiles, which are easy to clean, durable, and come in a range of styles and finishes.
Best less-expensive washable rug tiles
Polyester | One-foot-by-one-foot tiles
Home-organization YouTuber Melissa Maker recommends Triluc carpet tiles, which she's used in her own kitchen. She says you can throw them right in the washing machine (just be sure to hang them to dry rather than using the dryer). Because they're modular, you can arrange them in tons of fun patterns.
[Editor's note: These carpet tile squares are currently sold out everywhere, but we're keeping an eye out and will update this post when they're back on stock.]
Some more machine-washable rugs we've written about
Our experts
• Melaena Cadiz, singer-songwriter
• Becca Casey, interior designer
• Matt Clayton, founder of Pet Hair Patrol
• Laura Fenton, author of The Little Book of Living Small
• Galina Holechek, interior designer
• Cathie Hong, interior designer
• Andrew Howard, interior designer
• Melissa Maker, home-organization YouTuber
• Sherri Monte, co-owner of Elegant Simplicity
• Kelly O'Connell, interior designer
• Francesca Santi, owner of Playdate Goods
• Devin Shaffer, interior designer
• Haleema Shah, producer at Today, Explained
• Lesley Suter, travel editor at Eater
• Amory Wooden, marketing executive at StreetEasy and house flipper
The Strategist is designed to surface the most useful, expert recommendations for things to buy across the vast e-commerce landscape. Some of our latest conquests include the best acne treatments, rolling luggage, pillows for side sleepers, natural anxiety remedies, and bath towels. We update links when possible, but note that deals can expire and all prices are subject to change.
Every editorial product is independently selected. If you buy something through our links, New York may earn an affiliate commission.