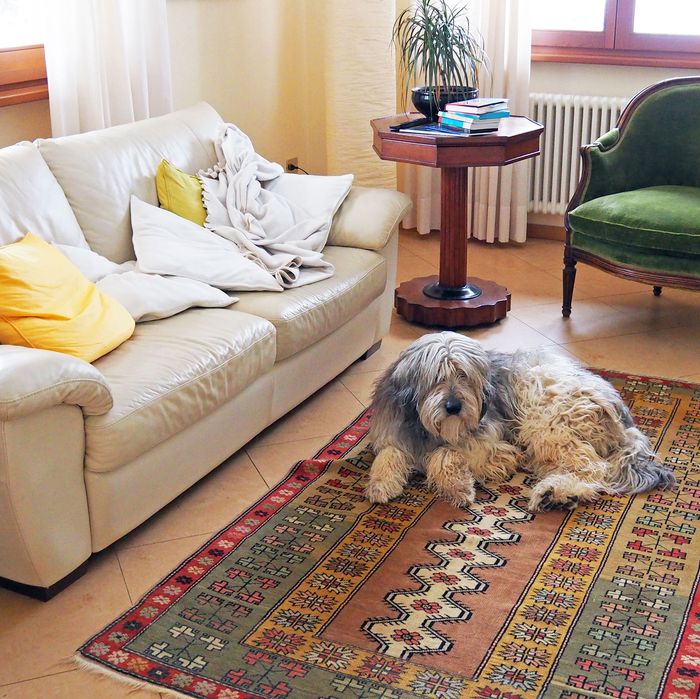 Photo: Rosmarie Wirz/Getty Images
If you have child or a pet, you know that the fancy rugs of your dreams are often better left in those dreams. Trying to protect rugs from children or animals (or both) is nearly impossible. Whether you have a pup who pees when she gets excited or a toddler who doesn't always respect your no-throwing-blackberries-in-the-house policy, you know that there are going to be accidents — oftentimes right in the middle of your white shag rug. Since you're not going to get rid of the kids or the pets, you might think the rug has to go. But with a new batch of washable and stain-hiding rugs, you can have both.
To find the best available options, we asked a handful of interior designers, pet owners, and parents of toddlers for advice on rugs that can handle grime and look good doing it. Here are their recommendations, many of which you can throw straight in the washing machine.
Best all-purpose washable rugs
Almost everyone we talked to mentioned some sort of cotton or wool rag rug because they're easy to throw in the washing machine, and their inherent marbled patterns are genius for hiding stains. Kelly O'Connell, an interior designer based in Brooklyn, is well-versed in kid-proof textiles, since most of her clients are parents or parents-to-be. She says "I love machine-washable rugs for the kitchen and play rooms, where they get the most abuse. Personally, I've stuck with cotton rag rugs — we have a vintage Swedish one in our kitchen." Even if your rug says it's washable, however, O'Connell suggests that you still read the care tags carefully; some rugs require a cold wash or to be line dried.
Amory Wooden — a marketing executive at StreetEasy, house flipper, and mother of three (four if you count the dog) — is a fan of rag rugs for their versatility. "The door to our backyard sees a lot of mud-filled foot traffic. While it would make the most sense to use an outdoor rug at this door, they aren't easily washable. So instead, I use rag rugs from Ikea. It's easy to toss them into a load of laundry and clean in a few hours. As an added bonus, we use it to mop up under the water dish from our slobbery bulldog." Laura Fenton, author of The Little Book of Living Small, has a cotton rag rug that she used in her son's nursery when he was a baby: "It was very handy to be able to wash it when he was crawling (and in the spitting-up-and-exploding-diapers phase of life). I especially like un-dyed rag rugs or super subtle stripes."
Best washable rugs for babies and toddlers
Interior designers Devin Shaffer, Cathie Hong, and Becca Casey all recommend the washable rugs from Lorena Canals for nurseries because they're super soft, come in a variety of cute patterns, and have a great reputation. "Lorena Canals rugs are a common favorite that many of our mom clients have shared with us. They're easy to incorporate into many designs styles, machine washable, and soft enough to be placed in a nursery," says Shaffer.
Best washable rugs for pets
Sherri Monte, co-owner of the interior design and home organization company Elegant Simplicity, is a big fan of the brand Ruggable, which she recommends to all her clients. "They are, without question, the best washable rugs we use," she says. When there's a spill, you simply roll up the rug (leaving behind the rug pad) and toss the entire thing in your washing machine. Ruggable rugs also have an impressive water-resistant barrier, she says, which lets you wipe up smaller spills before a stain forms. And in the case of big spills, that barrier helps keep your wood floors from getting ruined.
Russell Hartstein, a certified dog behaviorist and CEO of Fun Paw Care, didn't recommend a specific rug but makes an important point about washing rugs after a pet accident: "If you simply use laundry detergent to clean the mess, your pet will continue to smell the urine or feces even after it is no longer detectable to you," he says. He recommends pre-treating urine and feces stains with an enzymatic cleaning spray. Otherwise your dog or cat will continue to pee in the same spot until you properly remove the odor.
Best for hiding stains and repelling pet hair
Galina Holechek, an interior designer based in LA, says she "tend[s] to lean toward smaller, tighter-patterned rugs in darker tones for areas prone to lots of spills and wear and tear." She recommends the brand Hook & Loom because they have some "pretty fantastic machine washable rugs in their flat-weave eco-cotton line." Matt Clayton, Founder of pethairpatrol.com, also recommends rugs made from tightly woven cotton, like the one pictured above from Hook & Loom. They can often be machine washed, he says, "and the tightly woven surface prevents pet hair from getting embedded into the surface."
Best for high traffic areas
Indoor/outdoor rugs are made of polypropylene (a form of plastic) making them less porous and therefore more resistant to stains and wear. Interior designer Andrew Howard recommends Dash and Albert indoor/outdoor rugs for their great designs that work just as well in your foyer as they do on your deck. He likes that you can hose them down outside when they are dirty, and, once dry, they should look like new. If a plastic rug sounds less than eco-friendly, Casey recommends Dash and Albert's line of indoor/outdoor rugs made from recycled plastic bottles.
Most stylish washable rug
Singer-songwriter Melaena Cadiz lives and works from home, so finding the right mix of form and function was extra important. "We have a toddler, and needless to say have lots of mishaps, so we wanted practical but beautiful rugs. My friend has these made in Brazil, and they're awesome for folks with kids and pets." Joinery rugs are so soft you can also use them as blankets or as a nice-looking couch cover to protect against pets. Plus they're machine washable.
Best modular washable rugs
Both Monte and Melissa Maker, whose YouTube channel, Clean My Space, boasts over 1.3 million subscribers, mentioned using carpet tiles as an alternative to a traditional rug. Monte needs rugs that are easy to clean and durable because of her wild 2-year old son and golden retriever, and she likes that Flor carpet tiles do that while looking great. Maker recommends Triluc carpet tiles after using them in the kitchen of her own home. She says you can throw them right in the washing machine (just be sure to hang them to dry rather than using the dryer). And because they're modular you can arrange them in tons of fun patterns.
Best for bathrooms