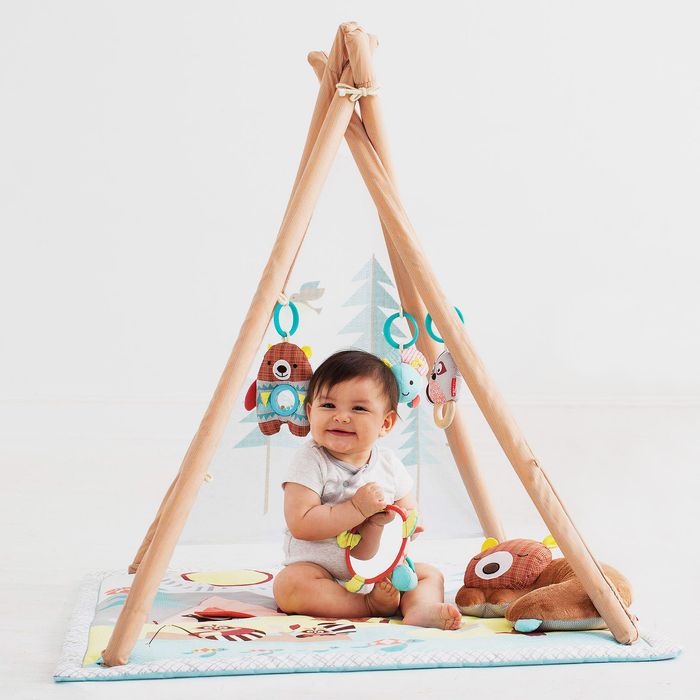 Photo: Courtesy of the Retailer
A baby's first year is a period of remarkable development, with little ones growing and learning new skills at a dizzying pace. One of the few toy purchases that will last through these first 12 months is a play mat, also known as a play gym or activity mat. Rebecca Parlakian, senior director of programs at child-development organization Zero to Three, called play mats "a 'one-stop shop' for infant playtime, offering babies a range of sensory experiences — sights, sounds and textures — as they play."
These soft, brightly colored surfaces are perfect for "tummy time," when newborns are placed on their stomachs to build neck and trunk strength. Add-on toys like hanging rattles and squeaky stuffed animals engage babies' curiosity as they become more aware of the world around them. Below, we've rounded up the best play mats based on expert recommendations.
According to Ashlee Neuman, senior editor at The Bump, "a play mat can be a new mom's best friend. Whether baby is ready to do some tummy time or wriggle around and bat at toys, or you just need a rest from holding your little one, a [mat] can be just the thing to keep baby safely entertained." The different colored and patterned squares of this quilted mat give babies plenty to look at during tummy time. Dawn Dais, author of The Sh!t No One Tells You About Pregnancy, said the pillow is especially useful to place under baby's arms or chest for added support. Dangling animal toys and a baby-safe mirror also capture baby's attention.
Neuman recommends this mat because "it features loads of fun textures and a tummy-time pillow shaped like a sleeping bear." There's also a light-up firefly, music-playing raccoon, and a turtle mirror to pique baby's curiosity. Joyce Slaton, editor and product expert at BabyCenter, said mirrors are great features in play mats, because "although they won't realize it's themselves they're seeing at this stage, babies find their own reflection fascinating."
Experts love this multifunctional mat that combines a reposition-able arch with hanging toys like teethers and rattles, and a light-up, music-playing keyboard. Sandra Gordon, founder of baby-gear review site Baby Products Mom said the mini-piano is "a fun way to help your baby learn cause and effect, as in 'if I kick the keys, they light up.' It's fun to watch, too." Because there are so many ways for babies to entertain themselves, it's great for parents who are multitasking or also taking care of older siblings. Dais said it "was a lifesaver when I had to make meals or help the other kid." Slaton pointed out it was also voted best baby toy of 2018 by BabyCenter readers in their annual Moms' Picks awards.
The best play mats engage multiple senses since babies learn through seeing, touching, hearing, and even tasting different objects. Gordon recommended this mat "because it has everything, including classical music, lights, mirrors, and crinkly toys. Plus, it's machine-washable and folds for travel. It's a classic."