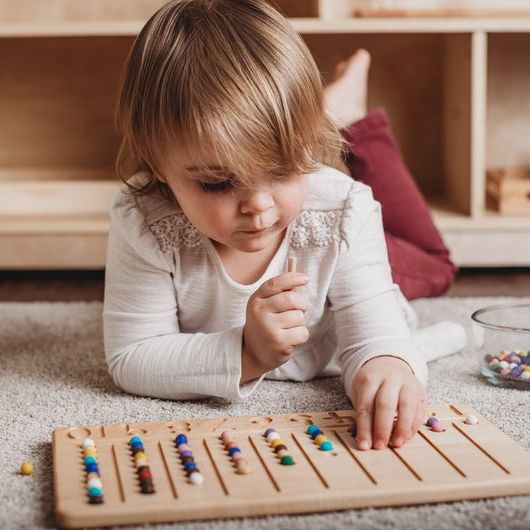 Photo: courtesy of retailer
The Montessori method of education — of which, notably, Prince George is a student and Beyoncé is a graduate — is built on the idea that children are naturally creative and curious, and therefore already have the keys to learning about the world around them. They just need a little encouragement, with the right alphabet toys and sets of building blocks, to become independent learners.
Much of this can happen just as easily outside of the classroom: Parents can set up a DIY Montessori space at home as a supplement to remote learning to keep kids thinking and playing while practicing social distancing. "Work," the Montessori word for an activity, is usually centered around analog toys that require focus, giving kids (and adults) a welcome break from social media and screens in general. According to Marissa Poole, a Montessori teacher in Denver, the key to applying the Montessori method at home is preparation, or as she calls it "the prepared environment." "If you want your child to be independent and successful while you try to take care of other children, yourself, and your work, you need to have what they need to execute the activities ready and available to them," Poole says. To help you do that, we talked to Montessori teachers about the best educational toys, games, and props commonly found in Montessori classrooms and the ones best suited for "working" from home.
A work mat
Rika Motohashi, a longtime Montessori teacher in Vancouver, says that a clean work space is essential to the Montessori method, so start by picking out a cloth work mat (Poole also recommends getting a cloth work mat). Think of it like a desk: It's where the "work" happens. A good work mat should be small enough to be manageable by little hands, because Montessori kids are responsible for unrolling it and setting materials on it, and when work time is over, rolling it back up and putting it into a safe spot. We like this light-blue option, which is neutral enough for any style of décor.
For learning the alphabet
Montessori schools teach the alphabet through phonetics, and often with activities that go way beyond flash cards. One good way to start is with these sandpaper letters. Young children trace the letters with their fingers, both in upper- and lowercase, to create muscle memory. At the same time, kids are encouraged to learn and identify the phonetic sounds — so while tracing S, they can make an sssssss noise.
This book employs the same method — tracing letters and numbers with your finger — but keeps it all bound together in one place and comes with some suggested activities for mixing it up.
The Montessori method also puts a premium on tactile play and learning. These colorful, place mat–size plastic letters snap apart so that kids can physically learn how to form each character.
For young children who are not yet working on their letters, Poole recommends this two-sided board to help children practice making letter-like shapes.
For learning about nature
"Montessori is all about connecting children to nature," Motohashi says, so it's always a good idea to bring the outside world indoors. Exploring the life cycles of nature is an important part of educational growth. Rather than raising insect colonies in your living room, Motohashi recommends looking for some beautifully made games that showcase how nature works. Motohashi, Poole, and Nichole Holtvluwer, a Montessori toddler specialist and owner of Radicle Beginnings, a resource for Montessori parents and teachers, all recommend puzzles depicting nature for toddler-aged children and up. Puzzles, like this one of a fish, combine pre-K entomology with hand-eye coordination. This company makes similar puzzles featuring insects, chickens, and poppy blossoms.
For slightly more advanced puzzle masters, these intricate painterly puzzles will get kids studying and thinking about all kinds of animals, as well as how the rain forest ecosystem is connected, branch by branch.
Pretend play and games are another fun way of bringing nature inside. Holtvluwer suggests teaching children about animals by encouraging them to pretend and asking them, "Can you slither like a snake? Can you hop like a rabbit? Can you run like a cheetah?" But if you're looking for a game that doesn't involve running and jumping, Poole recommends this collaborative board game, that she says is great for preschool-aged children, about a house cat named Max. "It supports cooperation and concentration and teamwork," she says.
Both Poole and Holtvluwer say they love the company Mirus Toys for their handcrafted writing and counting toys, as well as their toys that teach children about the natural world. This set of wooden stamps, meant to be pressed into Play-Doh or clay, helps familiarize kids with different kinds of bird footprints.
Sensory toys
Sensory toys are not unique to the Montessori method, but they are an important part of it, because they engage children's five senses: tactile, visual, auditory, olfactory, and gustatory. Not every activity can include all five, of course, but it's good to engage as many senses as possible. Holtvluwer recommends giving children the chance to work with both Play-Doh and real clay. "Play Doh is fun," she says, while "clay strengthens the hands, which is a precursor to writing."
A classic in the Montessori classroom, according to Motohashi, the Pink Tower is another important part of sensory work. Children stack the pink boxes by size, which requires balance and coordination.
"Some of the best educational toys for the home are those that are open-ended, such as wooden blocks," says Holtvluwer. Both Motohashi and Britt Hawthorne, a former Montessori teacher and homeschool mom of two, recommend these wood-patterned foam blocks that help little kids develop their fine motor skills, creative thinking, and cause and effect without weighing a ton.
Poole says she loves the idea of having plain wooden building blocks at home for children to build and play with. But she prefers this set made from actual wood rather than foam, saying, "Children need to feel the weight of their materials."
Poole also recommends this rainbow shaped wooden stacking set from Odin Parker. The arched pieces help kids improve coordination and use their imagination. Each piece can be used in to form a ton of different imaginary shapes, like bridges and houses, or turned upside down to become a doll-sized bed.
For learning by doing
A big component of Montessori learning is centered on children taking part in daily life. Hawthorne, Poole, and Holtvluwer all spoke about the importance of children learning by participating in everyday tasks like snack and meal prep. "There is so much to learn and absorb while cooking and doing meal preparation," says Holtvluwer, who lists sequencing, self-control, joy, language, cleaning up messes, and feeling like a valued and contributing member of the household as the benefits for kids as young as 3 years old. Poole adds that children love helping with mixing, pouring, stirring, smashing, tearing, and pounding. And she says, as a bonus, that they are much more likely to eat the food they help prepare. Kid-sized kitchen tools, like this set from Opinel that includes a finger guard, make helping out in the kitchen easier, more enjoyable, and safe for small hands.
"It's also important to invite the child to serve themselves at meals," says Holtvluwer, who suggests encouraging young children to use family-style utensils like tongs, scoops, and large spoons for snacks and other meals. She also suggests getting a small pitcher, like the ones available in many Montessori classrooms, so children can continue to practice pouring their own beverage.
You might prefer coloring or building a tower out of boxes to sweeping up crumbs, but according to Hawthorne, children around 5 and 6 years old love being given jobs around the house because it makes them feel helpful. Just don't expect your 5-year-old to use an adult-sized broom or dust pan. Both Hawthorne and Poole stress the importance of size-appropriate tools, like this set from Melissa & Doug. Hawthorne suggests making a game of sweeping by taping a square on the floor and asking your child to go around and sweep all the crumbs into that square. "Then when they are done you can help them with the dustpan," she says.
For learning about numbers
Counting from one to ten by memory is simple, but Motohashi says demonstrating the concept of quantity and the sequence of numbers requires some visual aides. She calls it "counting that is concrete." Toy sets like these basic counting cards and checker-like chips make it easy for kids to spread out and start connecting numbers with amounts. For little ones, getting to ten takes concentration — and a bit of quiet time.
This set from Mirus Toys, which comes recommended by Poole, is a little more structured than the above. It provides the correct number of corresponding divots for each number and matching colored beads to further guide children. It also features carved-out numbers so kids can practice tracing each number.
Books
Developed by kindergarten teacher Bobby Lynn Maslen in the 1970s, (and recommended by both Motohashi and Poole), Bob Books are still perfect for children who have mastered the phonetic alphabet and are right on the cusp of reading. All of the books use simple illustration, repetition, and rhyme to tell a short story.
According to Holtvluwer, books that are based in reality not only help enrich a young child's language development, they also provide plenty of opportunity for expanded conversation. This beautifully illustrated picture book, which Holtvluwer recommends to the families she works with, offers insight into the daily lives of children from all around the world. This helps young children understand community and their role in the world, while giving them perspective into different types of families.
Another recommendation from Holtvluwer is Eric Carle's classic board book about a caterpillar who eats and eats and eats before taking a long nap and turning into a butterfly. The Very Hungry Caterpillar depicts science and the natural world as well as aspects of everyday life they are familiar with through engaging cut-paper illustrations and interactive pages.
The Strategist is designed to surface the most useful, expert recommendations for things to buy across the vast e-commerce landscape. Some of our latest conquests include the best women's jeans, rolling luggage, pillows for side sleepers, ultra-flattering pants, and bath towels. We update links when possible, but note that deals can expire and all prices are subject to change.
Every editorial product is independently selected. If you buy something through our links, New York may earn an affiliate commission.