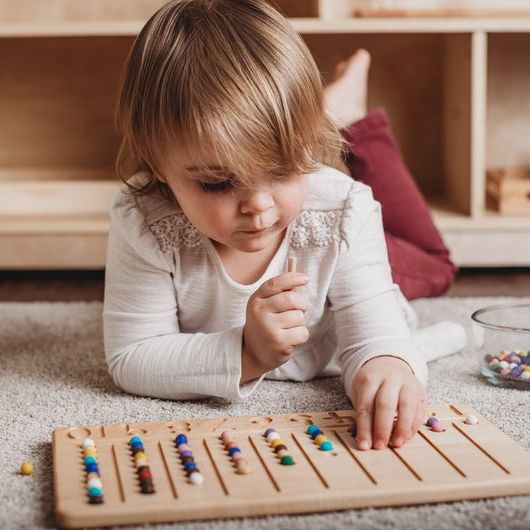 Photo: courtesy of retailer
The Montessori method of education — of which, notably, Prince George is a student and Beyoncé is a graduate — is built on the idea that children are naturally creative and curious, and therefore already have the keys to learning about the world around them. They just need a little encouragement, with the right alphabet toys and sets of building blocks, to become independent learners.
Much of this can happen just as easily outside of the classroom: Parents can set up a DIY Montessori space at home as a supplement to remote learning to keep kids thinking and playing while practicing social distancing. "Work," the Montessori word for an activity, is usually centered around analog toys that require focus, giving kids (and adults) a welcome break from social media and screens in general. According to Marissa Poole, a Montessori teacher in Denver, the key to applying the Montessori method at home is preparation, or as she calls it "the prepared environment." "If you want your child to be independent and successful while you try to take care of other children, yourself, and your work, you need to have what they need to execute the activities ready and available to them," Poole says. To help you do that, we talked to Montessori teachers about the best educational toys, games, and props commonly found in Montessori classrooms and the ones best suited for "working" from home.
A work mat
Rika Motohashi, a longtime Montessori teacher in Vancouver, says that a clean work space is essential to the Montessori method, so start by picking out a cloth work mat (Poole also recommends getting a cloth work mat). Think of it like a desk: It's where the "work" happens. A good work mat should be small enough to be manageable by little hands, because Montessori kids are responsible for unrolling it and setting materials on it, and when work time is over, rolling it back up and putting it into a safe spot. We like this light-blue option, which is neutral enough for any style of décor.
For learning the alphabet
Montessori schools teach the alphabet through phonetics, and often with activities that go way beyond flash cards. One good way to start is with these sandpaper letters. Young children trace the letters with their fingers, both in upper- and lowercase, to create muscle memory. At the same time, kids are encouraged to learn and identify the phonetic sounds — so while tracing S, they can make an sssssss noise.
This book employs the same method — tracing letters and numbers with your finger — but keeps it all bound together in one place and comes with some suggested activities for mixing it up.