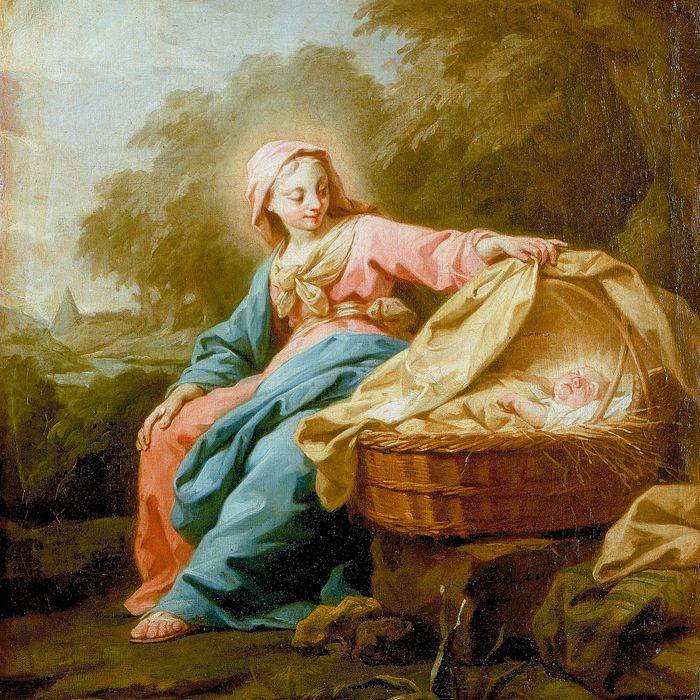 Things were a lot simpler back then.
Photo: Print Collector/Getty Images
In 2013, when I found out I was pregnant, a fastidious friend passed along a spreadsheet to me of all the baby essentials I'd need for the first six or so months. My secret skill is that I am a powerhouse Googler, so I ended up using my friend's list as a jumping-off point to satisfy my need to obsessively research every possible thing on planet Earth. Now, two kids later, and as founder of a maternity company, I am waist-deep in mama/baby/parent stuff all day, every day. I'll admit that I've probably gone deeper than most (sane) people are willing to go, and have since created my own Google doc that I email around to any friend of mine who I find out is pregnant. I've easily passed this on to 40 friends who have in turn passed it on to their friends in the sisterhood of the traveling spreadsheet fashion. I edited it once after the babe arrived, once more after babe No. 2, and then one more time after hearing from some of my best friends who had kids.
Even though this looks like a ton of stuff, you can absolutely survive with just onesies, diapers, wipes, a few swaddle blankets, and a car seat to start — the rest you can add as you go, or put on a registry and let friends and family treat you. (They want to! Trust me.) If some things look expensive, don't worry; you can easily find a lot of the big-ticket items on Craigslist. (Local parent groups are also a great resource for lightly used UPPAbabys.) I've divided this into various categories, and will be publishing this in two parts. Below, you'll find products for sleeping, changing, feeding and pumping, and transporting. The second installment will feature clothing, bathing and grooming, playing, first aid, and gadgets. One thing to note: Baby-having is a deeply personal experience, so what works wonders for one person may be totally useless for someone else, which is why I'll also include some things that other people swear by but I didn't find particularly useful.
Bassinet
This one is fairly small, rocks, and is easy to carry around the house. If we didn't have a dog, we may have gone with a Moses basket or Pack 'n Play instead. You can also skip right to the crib (more on that later) if you want, but I liked having the bassinet by my bed in the early days with a tiny new babe.
Bassinet Sheets
I shelled out for the matching BabyBjörn sheets the first time around, but with kid No. 2, I went with these cheaper cradle sheets and they are totally fine.
Swaddling Blankets
The muslin makes it easy to swaddle, and these are available on Amazon Prime. For slightly cuter swaddles, head to Te Adoro or Neve & Hawk.
Baby Blanket
We got so many baby blankets as gifts. It really is one of those things that people just love to gift. If, for some crazy reason, you don't get a baby blanket gifted to you, this is one of our faves.
Crib
You don't need a crib from the get-go; it becomes more of a necessity around the four- to six-month mark, depending on your baby's size. I first saw the Sniglar during a pre-baby trip to Ikea and it's actually quite handsome (and $70!). We've now converted kid No. 1's into a toddler bed and plan to do the same for kid No. 2. The design is so popular that it's sold out worldwide until February 2018. Here's a similarly minimal alternative if you can't wait to get your hands on the Sniglar.
Crib Mattress
Hypoallergenic, breathable, washable, and recyclable. My strategy was to save on the crib and spend on the mattress.
Mattress-Pad Cover
A mattress-pad cover in the event of a total crib soak-through or blowout.
Crib Sheets
Solid basic sheets. Organic and reasonably priced.
Swaddler
I didn't use this with my first, who loved a regular swaddle. But we started to use this with our second when he got stronger and could break out of blankets. I'm no expert, but he seemed to derive comfort from the bean thing on his chest.
Sleep Sack
You don't need to buy one until your baby can roll over and can't be swaddled anymore. The Woolino is expensive, but it's lined in a nice, soft merino wool that works in any season and fits until the kid is 2, instead of being sized for just a few months like most of the others.
Travel Crib
To cut down on luggage, we put the kids in bed with us until they were able to move around (a.k.a. crawl off of the bed to their doom). We chose the Guava Lotus because it can be taken as carry-on on planes. We had the grandparents buy Graco Pack 'n Plays, so we don't have to take anything when we travel to their place, and if we're staying in a hotel, we just request a crib.
Diapers
These are good starter diapers because they're ecolabel-certified, have no scent or weird pattern (my personal preference is for no pattern), are nice and high in the back, and are available on Amazon Prime. That said, you'll probably experiment with diaper brands over the first year and what works can change depending on the stage you're at or your child's size. It's recommended that you have 200 diapers on hand when the baby arrives. I thought that was crazy, but you'd be shocked how quickly you go through them.
Baby Wipes
I like that these are just water and a little grapefruit extract and work well. Lots of wipes out there have unpleasant scents.
Diaper Cream
This is the everyday stuff.
Diaper-Rash Cream
For clearing up the for-realsies diaper rash.
Changing Pad
I had a regular changing pad with covers the first time around, and it can be exhausting to deal with the mess of the fabric-poop combo (you will be shocked how it manages to go everywhere in the beginning). This one easily wipes clean and cuts down on laundry. You can keep it on top of a dresser or on the floor, whatever works best with your set up.
Diaper Pail
I guess the question is, are you ever going to love the thing that you put poop dipes in? Any trash can with a lid can serve as a diaper repository, but I learned the hard way (don't ask) that the lid-locking feature of the Ubbi can in fact be useful.
Travel Changing Clutch
This fits everything you need for diaper changes on the go, and you can just throw it in any bag of your choosing versus always having to haul around your entire diaper bag. It helps everyone feel more confident and prepared in the beginning when you're especially nervous to change a new babe in public, plus it stays useful till you potty train. (Note: My company designed it!)
Carrier, Structured
The original BabyBjörn is easy for when you're first getting the hang of babywearing, and isn't as bulky (or expensive!) as most of the other structured carriers out there. Bonus parental style points if you can snag a vintage denim one on eBay.
Carrier, Wrap
Loved the Solly Baby Wrap when the babes were tiny. It's softer, smaller, and more lightweight than any of the other wraps I tried. Once they were a bit older with more head control, I switched to a WildBird Sling. It has similar qualities to what I liked about the wrap, but I found it easier to get my squirmy kids into.
Car Seat
This has a "lightweight" and "small" profile as far as car seats go with a solid safety rating. The "dream drape" extended canopy is also amazing for outings. And it's very easy to use without the base for cab rides.
Stroller
Strollers are totally personal. I like this one because it's easy to collapse with a high seat and has lots of storage space. It's nice to be able to attach the car seat to the stroller in the early days. For something lightweight and small, my other fave is the Mountain Buggy Nano, which you can also strap a car seat to.
Stroller Adapter
If you're mixing and matching brands, you may need an adapter to attach your car seat to your stroller, which is how newborns roll since they're too small for the regular stroller seat. The Maxi Cosi adapters work for the Nuna PIPA as well.
Bottles
Both kids took to these bottles right away. I started pumping once a day at 3 weeks to have a little supply in case I wanted to sleep through a feeding here or there. They're made of soft silicon, so a baby can hold on to it fairly early on, and the wide mouth makes them easy to clean.
Bottle-Drying Rack
I prefer this non-baby-specific drying-mat option to the bottle-specific trees or dryers. It looks totally normal next to your sink and easily stores when not in use. Something more standard would be the Boon Countertop Drying Rack.
Burp Cloths
I like my burp cloths cheap and plentiful. You may not have a ton of spit-up to deal with at first, but it'll happen eventually, and baby spit-up smells gross. You can just toss these in the wash without worrying.
Breast Pump
First time around, I rented a hospital-grade Medela pump (most insurance will cover it). Second time, I went ahead and bought the Spectra S1 at the recommendation of a friend. It works great and runs off of a rechargeable battery, so you're not forced to be near an outlet. I also have a Medela hand pump that I use to take a couple of ounces off post-feed, when traveling, or when I don't want to plug into the whole setup.
Milk-Storage Bags
I just stored milk in extra bottles the first time around and never ended up using these. Second time around, I went deep on building up a milk stash in the freezer, and these stack up easily to save space in there.
Formula
For families who aren't breastfeeding or need to supplement, I found that this formula works well on sensitive stomachs, and it's corn-syrup-free, etc.
Bibs
These bibs go over the head (no Velcro or snaps), so despite their best efforts, babes can't pull them off. You don't really need these until the kid is eating solid foods at around 4 to 6 months.
High Chair
I waited until the kids could sit up on their own to get one and went with the Inglesina snap-on, as it doesn't take up much room, your kid can eat at the table with you, and you can hide it away when you have dinner guests. If you want a stand-alone high chair, Ikea makes a solid option.
The Strategist is designed to surface the most useful, expert recommendations for things to buy across the vast e-commerce landscape. Some of our latest conquests include the best women's jeans, rolling luggage, bed sheets, coffee makers, and bath towels. We update links when possible, but note that deals can expire and all prices are subject to change.

Every editorial product is independently selected. If you buy something through our links, New York may earn an affiliate commission.