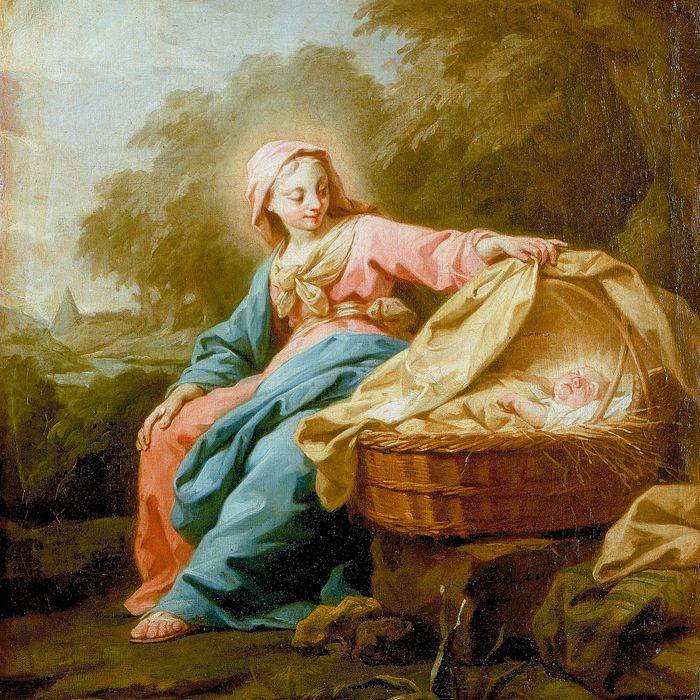 Things were a lot simpler back then.
Photo: Print Collector/Getty Images
In 2013, when I found out I was pregnant, a fastidious friend passed along a spreadsheet to me of all the baby essentials I'd need for the first six or so months. My secret skill is that I am a powerhouse Googler, so I ended up using my friend's list as a jumping-off point to satisfy my need to obsessively research every possible thing on planet Earth. Now, two kids later, and as founder of a maternity company, I am waist-deep in mama/baby/parent stuff all day, every day. I'll admit that I've probably gone deeper than most (sane) people are willing to go, and have since created my own Google doc that I email around to any friend of mine who I find out is pregnant. I've easily passed this on to 40 friends who have in turn passed it on to their friends in the sisterhood of the traveling spreadsheet fashion. I edited it once after the babe arrived, once more after babe No. 2, and then one more time after hearing from some of my best friends who had kids.
Even though this looks like a ton of stuff, you can absolutely survive with just onesies, diapers, wipes, a few swaddle blankets, and a car seat to start — the rest you can add as you go, or put on a registry and let friends and family treat you. (They want to! Trust me.) If some things look expensive, don't worry; you can easily find a lot of the big-ticket items on Craigslist. (Local parent groups are also a great resource for lightly used UPPAbabys.) I've divided this into various categories, and will be publishing this in two parts. Below, you'll find products for sleeping, changing, feeding and pumping, and transporting. The second installment will feature clothing, bathing and grooming, playing, first aid, and gadgets. One thing to note: Baby-having is a deeply personal experience, so what works wonders for one person may be totally useless for someone else, which is why I'll also include some things that other people swear by but I didn't find particularly useful.
Bassinet
This one is fairly small, rocks, and is easy to carry around the house. If we didn't have a dog, we may have gone with a Moses basket or Pack 'n Play instead. You can also skip right to the crib (more on that later) if you want, but I liked having the bassinet by my bed in the early days with a tiny new babe.
Bassinet Sheets
I shelled out for the matching BabyBjörn sheets the first time around, but with kid No. 2, I went with these cheaper cradle sheets and they are totally fine.
Swaddling Blankets
The muslin makes it easy to swaddle, and these are available on Amazon Prime. For slightly cuter swaddles, head to Te Adoro or Neve & Hawk.
Baby Blanket
We got so many baby blankets as gifts. It really is one of those things that people just love to gift. If, for some crazy reason, you don't get a baby blanket gifted to you, this is one of our faves.
Crib
You don't need a crib from the get-go; it becomes more of a necessity around the four- to six-month mark, depending on your baby's size. I first saw the Sniglar during a pre-baby trip to Ikea and it's actually quite handsome (and $70!). We've now converted kid No. 1's into a toddler bed and plan to do the same for kid No. 2. The design is so popular that it's sold out worldwide until February 2018. Here's a similarly minimal alternative if you can't wait to get your hands on the Sniglar.
Crib Mattress
Hypoallergenic, breathable, washable, and recyclable. My strategy was to save on the crib and spend on the mattress.
Mattress-Pad Cover
A mattress-pad cover in the event of a total crib soak-through or blowout.