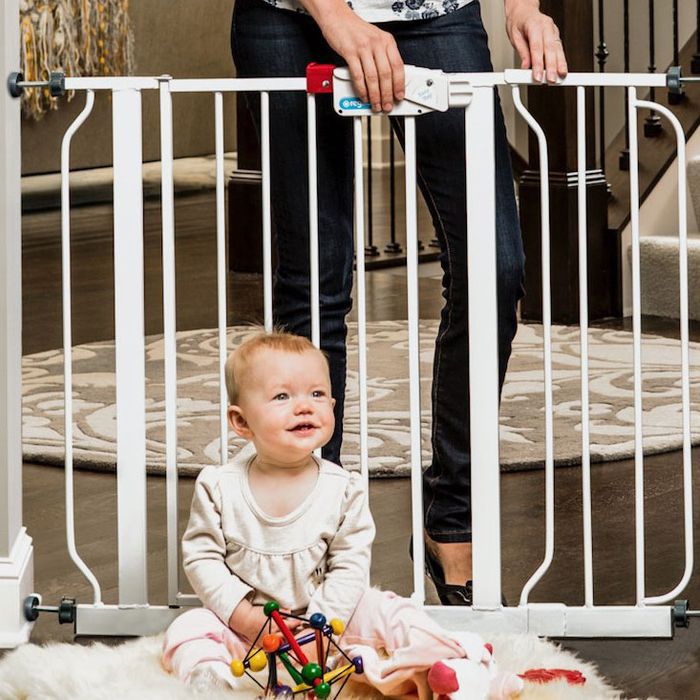 A baby gate that doesn't scream "baby gate."
My wife and I live in a brand-new house just outside of New York City, and we're the proud parents of a newborn and a 4-year-old. The new house has two flights of stairs and outlets every six or seven feet along almost every wall. On top of that, of course, are the cleaning products in the cabinets under the sink, the kitchen drawers with knives, the door to the garage, and all of the other things that adults take for granted but pose potential hazards to little kids.
But on top of that, we're trying to keep the place looking as normal as possible because who wants to live in a house that's filled with big, clunky gates and plastic locks on everything? These are the only-kind-of-ugly babyproofing products that we're using to get the job done.
Safety 1st has been at the cutting edge of baby safety products for decades. (They're also the ones who created the yellow "Baby on Board" stickers you'll spot on windshields.) Recently, they released a line of products that take the pain out of some of the most important but annoying babyproofing procedures: securing cabinets, drawers, and appliance doors. In the past, babyproofing a cabinet involved infuriatingly precise measurements prior to drilling holes all over you kitchen, but now, Safety 1st makes a cabinet lock perfect for the drawers under the sink. It has a tab that pops up to prevent a cabinet from swinging open — you open it with a magnetic key just outside the lock.
There's also the Safety 1st OutSmart line: Latches that can be secured to the door of a microwave or fridge, on a toilet seat, or used on cabinets, too. You open it by squeezing down on both sides of the square-shaped locking mechanism, but set into the front of this square is a prominent button that pushes in but does … nothing. A kid will poke at the decoy button for a while, then lose interest and move on. Just make sure to explain the OutSmart system to the adults in the house, as it will defeat many of them as well.
We have a hardwood set of stairs with 14 steps just waiting for a curious baby to bounce down, but that's not going to happen because we use the Easy Step Walk Thru Safety Gate as well as a Regalo Top of Stair Safety Gate. Why two gates? Because a kid can fall down the stairs from the top of the staircase — or she can climb on up from the bottom of the staircase, then roll down. That makes having two sets of gates pretty crucial. The Top of Stairs gate works for either end of the staircase, whereas the Walk Thru Gate is good for the bottom or for closing off rooms. It took me all of