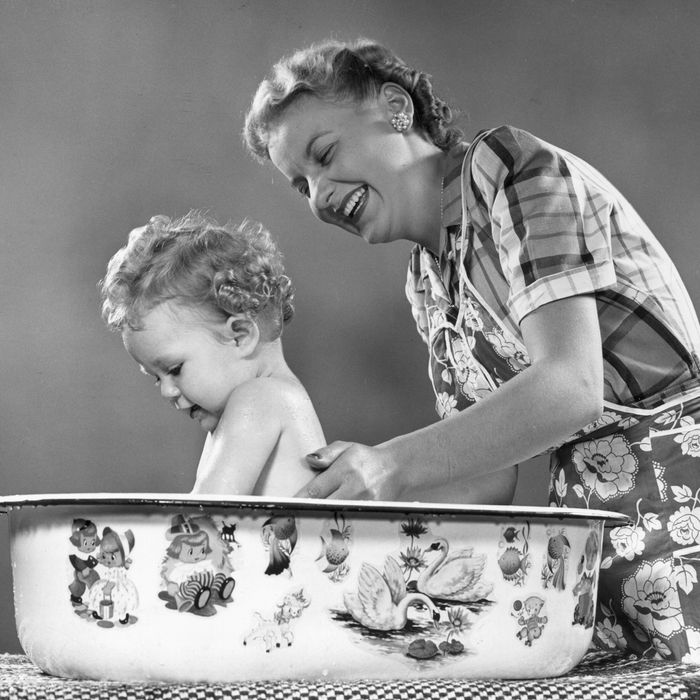 Photo: Lambert/Getty Images
Even if you've grown up using Clorox bleach or Tide pods, your grocery list for cleaning supplies may change a good deal when you start having kids. Many pregnant women, new parents, and caregivers find themselves scouring the web for natural, nontoxic cleaning brands that aren't harmful to babies. The only trouble is that the catchall term natural can be misleading. Natural substances are often combined with synthetics and toxins within "natural" products, while some brands won't even disclose all of their ingredients in the first place. For insider knowledge on where to find the best kid-safe and nontoxic products, we consulted a panel of six experts that includes editors, bloggers, and entrepreneurs in the parenting and wellness space, all of whom have a vested interest in environmental health and green solutions. Below, their recommendations for the best dish soaps, laundry detergents, and all-purpose cleaners that are safe for kids and the environment. According to Jennifer LaBracio, the gear editor at baby-registry website Babylist, "it's important to test out what you want first," so we've included multiple expert-recommended picks across four categories of cleaners, with products that got multiple nods from our experts kicking off each category.
Best baby-friendly dish soaps
While there are plenty of baby-specific dish soaps on the market, Seventh Generation's free and clear detergent works for the whole family while also being safe for the little ones. LaBracio likes it for this reason, saying users of her site give it good reviews overall for both regular dishes and baby stuff. "It's nice that you don't have to buy a specific baby soap," she says. "You can kind of interchange between the baby stuff and the regular dishes." The plant-based and hypoallergenic liquid is free of dyes, phosphates, and triclosan, and is also vegan, not tested on animals, and is EPA- and USDA-certified. Lotus, the blogger behind Mommy to Max, also likes Seventh Generation, and suggests its dishwashing detergent to anyone who uses a dishwasher. "I just put the pods in with some Seventh Generation Rinse Aid, and it makes my dishes super clean without any unnecessary scents," she says.
When it comes to choosing a baby-specific, natural dish soap, LaBracio says that it can be tricky finding one that actually cleans well. "I did not know until I actually washed a baby bottle that the milk leaves a very filmy residue if you don't clean them properly," she says. "I've tried a bunch that don't clean the bottles well, and that is really frustrating." Babyganics, however, makes a baby-specific dish soap that LaBracio recommends, and Tovah Haim, the CEO of Bodily (a company that makes products for postpartum-care), also swears by the company's line of cleaning products. "They're a trusted brand in our home," Haim told us. Babyganics's plant-derived, hypoallergenic dish soap is non-irritating to the skin and is formulated without phosphates, phthalates, or synthetic fragrances or dyes. It's also safe for washing baby bottles. "It cuts through that milk film pretty well and doesn't leave behind any reside," according to LaBracio.
Babylist users also love this dish soap from Dapple, which LaBracio actually calls her "top pick." She explains: "It's made from all natural ingredients, doesn't have any parabens or sulfates, and really works." LaBracio adds that the hypoallergenic, fragrance-free product "does a great job of cleaning," and although it is baby-specific, the plant-based, non-toxic dish soap can also be used to do the whole family's dishes, too.
LaBracio also recommends Puracy's dish soap for similar reasons. Like Dapple, it's naturally derived using plant-based ingredients and non-toxic, meaning that it doesn't include sulfates, parabens, and other harsh chemicals. It's also vegan, hypoallergenic, gluten-free, biodegradable — and effective. "It does a good job of cleaning," says LaBracio.
When she's washing dishes by hand, Lotus likes Better Life's soap. "It's very gentle on the skin and doesn't have any smell," she says. "At the same time, it effectively cuts grease and works as well as Palmolive or Dawn, without the toxic chemicals and fragrances." Sulfate-free and plant-based, this detergent is naturally scented with bergamot, lemon, lemongrass, peppermint and grapefruit.
Lori Alper of Groovy Green Living recommends Ecos's hypoallergenic dish soap. "It cuts through grease and grime without a problem," she says, adding that "it comes in five different scents, including an unscented 'free and clear' option; my favorite is the grapefruit scent." Concentrated to last a while, this plant-derived soap is made without dyes, parabens, phosphates, and phthalates, and is pH-balanced for the skin.
If you prefer to use a dish soap that comes packaging-free, consider this soap block that Laura Durenberger, the blogger behind Reduce, Reuse, Renew, recommends. Vegan and cruelty-free, it's made of vegetable oils with a hint of lemon peel oil for scent. "Not only does it have simple ingredients, but it also lasts a really long time," she says. "To use, you just rub your dish brush over the block, then wash your dish. If you're hand washing dishes, you can scrape or grate some off into the water." To store, place on a well-draining soap dish or rack so it can dry between washing (which will help it last longer).
Best baby-friendly laundry detergents
According to LaBracio, when Babylist spoke to a dermatologist about baby-safe laundry detergents, the derm said that the most important things to look for are formulations that are hypoallergenic, fragrance-free (which is not the same as unscented), free of dyes, and plant-based, which tends to make a detergent less irritating to the skin. LaBracio also says that detergents should be free of brighteners, which can be irritating. And definitely stay away from laundry pods, which, in addition to being toxic, are highly dangerous because of how easily they can be ingested by children, she says. Seventh Generation's plant-based Free and Clear detergent checks all those boxes, and comes recommended by both LaBracio and Durenberger. (LaBracio says that it's another popular choice among Babylist users.) It's hypoallergenic and gentle on sensitive skin, but also effective at removing tough stains thanks to its triple-enzyme formula. Durenberger appreciates that "the company is very transparent about their ingredients and where they come from," she says. "It puts a focus on environmental justice and the climate crisis, which is something I like to support."
If you're looking for a powder instead of a liquid laundry detergent, consider Molly's Suds, which comes recommended by Alper, who calls it "amazing": "This detergent doesn't contain harsh chemicals, dyes, synthetic fragrance, toxins, preservatives, or GMOs. It's also safe for septic systems and high-efficiency washers." Durenberger is also a fan of Molly's Suds, saying that "they are very transparent about their ingredients, and seem like a good overall company that cares about people and the environment." The super-concentrated powder was designed for people who are chemically sensitive, and have sensitive skin, allergies, or eczema. It's also certified cruelty-free and certified vegan.
LaBracio's go-to laundry soap is Tide's Free and Gentle detergent, which is hypoallergenic and free of dyes, perfumes, and phosphates. It's also the "first and only detergent accepted by both NEA and NPF (National Eczema Association and National Psoriasis Foundation)," according to the company, and appropriate for both high-efficiency and regular washing machines.
All's Free Clear is just as good as the Tide, but cheaper (per load), according to LaBracio. This double-concentrated laundry detergent is similarly free of perfumes and dyes, good for sensitive skin, hypoallergenic, and safe for both standard and high-efficiency machines. And because it's double-concentrated, you only have to use half as much detergent per load, meaning that a single bottle will last twice as long.
If you're looking for an ultra-concentrated detergent, consider this one from Puracy that LaBracio told us about. One bottle is 10 times more concentrated than an average formulation, which means a little goes a long way. This detergent is also plant-derived and non-toxic (meaning no phosphates, sulfates, petrochemicals, animal by-products, chlorine, perfumes, gluten, tree nut-based ingredients, dyes, and allergens).
Alper also recommends Greenshield Organic's laundry detergent, which she likes for its non-toxic, certified-organic ingredients. She told us it "was created by a dad on a mission to protect families from the harmful chemicals found in most cleaning products." The liquid detergent contains no harsh chemicals or GMOs, is not tested on animals, and is dye-free. Although it has a lavender fragrance, the scent comes from essential oils, and the bottle, which is made from sugar-cane resin, is 100 percent recyclable.
Durenberger likes Ecos's laundry detergents because they're available in a scent-free option for those who want to avoid fragrances and perfume. She also appreciates that "they are very transparent about their ingredients and what they are used for." The Ecos Free and Clear formulation is hypoallergenic, plant-based, free of dyes, formaldehyde, phosphates, dioxane, and other harmful ingredients, and is vegan, gluten-free, and not tested on animals. Additionally, "the company follows zero-waste guidelines for manufacturing and uses renewable energy," something Durenberger says is important to her (she says that her family buys the biggest container that they can afford to keep the packaging as eco-friendly as possible). This detergent is also double concentrated, meaning it will take (roughly) twice as much time before you have to restock.
Best baby-friendly all-purpose cleaners
These wipes from Babyganics are convenient for wiping off toys, tables, and highchairs, though they could theoretically be used to clean any surface that your baby might come into contact with. LaBracio especially likes how convenient they are when you're on-the-go. "They come in these portable little packages, and they're perfect for throwing in your diaper bag," she says, "so you can clean the restaurant table when you're out, or if you're flying, the seat tray tables. I've always kept them in my bag." Babyganics fan Haim also likes the wipes (and Babyganics's multi-surface spray, which is appropriate for both hard and glass surfaces). Both the toy wipes and the multi-surface cleaner are plant-based and free of fragrances, ammonia, bleach, phosphates, phthalates, and sulfates.
The all-purpose cleaner that LaBracio relies on is Honest Company's multi-surface cleaner. "It does everything from counters, to highchair trays, to toys, and it does a really good job on cleaning," she says. "It leaves no residue, it's not overly soapy, and it actually cleans really well." The multi-surface cleaner — which Honest says can be used on virtually any sealed surface including including hardwood floors and bathroom fixtures — is plant-derived and is made without dyes, synthetic fragrances, ammonia, and chlorine bleach, while still effectively cutting through grease and food residue.
Photo: Retailer
If you're looking for a non-baby-specific household cleaning product (that is still safe for babies), LaBracio recommends Branch Basics' concentrated multi-purpose cleaner, which you can mix in different ratios depending on whether you want to use it as a glass cleaner, counter cleaner, or dish soap. "From what I've tried, this is the best one," she says. "It mixes really easily and the concentrate lasts forever. I've had a bottle that I've probably used for almost two years and I'm still not done with it." For a general multi-purpose cleaner, she says this works really well and doesn't leave any kind of film behind. The non-toxic formulation is plant- and mineral-based, hypoallergenic, non-GMO, gluten-free, and contains no parabens, phthalates, synthetic preservatives, synthetic fragrances, or alcohols. It can also be used as a foaming hand soap, body wash, and even as a laundry detergent.
Dr. Bronner's castile soap is another effective multi-purpose cleaner. Made with fair trade ingredients and organic oils, it's vegan and fully biodegradable. Alper uses it for everything, and it's her "go-to for washing dishes, laundry, floors, all-purpose cleaning, windows, toilets, and more." It's concentrated and meant to be diluted with water, which means that one bottle (made with 100 percent recycled plastic) will last a long time.
Alper also stands by Greenshield Organics's multi-surface cleaner (in addition to its laundry detergent), calling it one of her favorites. "It has only six ingredients and does a good job of getting rid of dirt and debris all over the home," she says. Made with USDA-certified-organic and non-toxic ingredients, it uses no harsh chemicals, is not tested on animals, and is recommended for use on stainless steel, sealed countertops, tile, and painted or plastic surfaces. Like with the brand's laundry detergent, the bottle the cleaner comes in is also 100 percent recyclable.
Lotus's go-to brand for an all-purpose cleaner is Attitude. "This cleaner has a light, fresh smell and is effective at cleaning most things around the house," she says. "It has very few ingredients and the ones that are rated the lowest by the Environmental Working Group." [Editor's note: An ingredient's lower rankings signifies less toxicity.] It's made from plant- and mineral-based ingredients, hypoallergenic, and is safe for food-preparation surfaces.
Kerrigan Behrens, the co-CEO of Sagely Naturals, a brand that makes CBD-infused wellness products, opts for Mrs. Meyer's plant-derived multi-surface cleaner, which she likes for its "light citrus smell that's derived from essential oils and safe synthetics." It's made to use on floors, tiles, countertops, walls, and other nonporous surfaces.
Best baby-friendly floor and glass cleaners
While most of the all-purpose products above can be used to clean floors and glass, if you're looking for something specifically for floors, consider Method's Squirt and Mop cleaner, which Behrens recommends. With a baby on the way and a dog that sheds, Behrens likes that the plant-based solution is nontoxic, biodegradable, and smells nice. Simply squirt and mop (or use a cloth) — no rinsing necessary.
Durenberger told us she prefers to mix her own vinegar-based solutions for both glass and floors. But if you'd rather not do kitchen alchemy, you can buy something similar, like this cleaning vinegar from our expert-recommended list of natural cleaning products (for people of all ages), which has a lavender scent to make it smell a little more pleasant.
And if you're looking for a glass-specific spray, Lotus swears by Attitude's, saying, "Many Windex products contain ammonia, but this glass cleaner's scent is light and fresh." She adds that, "In my opinion, it cleans my glass and windows even better than Windex."
The Strategist is designed to surface the most useful, expert recommendations for things to buy across the vast e-commerce landscape. Some of our latest conquests include the best acne treatments, rolling luggage, pillows for side sleepers, natural anxiety remedies, and bath towels. We update links when possible, but note that deals can expire and all prices are subject to change.